If you've been interested in getting into the travel blogging game and have ever wondered what equipment is necessary to run this kind of business, you've come to the right post. This is my complete travel blogging gear list.
The breakdown below is literally everything I use and need to run my blogging business from a tech perspective—from writing and editing the posts on this blog and taking photos for my Instagram page, to delivering content to clients and everything in between.
My Updated Travel Blogging Gear List for 2022
Before we dive in, though, I want to point out that I've been doing this for over 5 years now and I definitely didn't start on day one with everything listed below! A lot of travel blogging equipment—especially cameras and lenses—come with a hefty pricetag and are an investment. They're an investment I believe you won't regret, but an investment nonetheless, so don't beat yourself up if you're starting small.
Over the years as my business has grown and with it my need for different equipment, I've expanded and updated the items I use regularly.
Please also note that this is only the external gear that I use and love. There are tons of programs, software, and iPhone apps that I use daily that help make this blogging life possible (and way more efficient!) but perhaps that's a whole separate blog post for you.
If you have any questions at all, leave a comment at the bottom of the post and know that by no means do you need everything below to start a blog or become a successful blogger. Everyone has their own set of gear that works for them, and just starting out taking photos with your iPhone is better than not starting at all!
I hope that at the very least this post helps shed some light on what type of gear is needed to be a full-time blogger and will help guide you in making your own decisions as you find what works for you.
If you'd prefer to skip reading and head straight to my Amazon Storefront, I've included a full list of Travel Blogger Gear here.
My Travel Blogging Gear Essentials
Below is my essential list of travel blogging equipment that I probably couldn't live without. Start with this list first before you scroll down to the additional accessories as these are the pieces of equipment that will really make an impact in your business.
I've been using Sony's camera systems for at least four years now and upgraded from the A7RII to the A7RIII more recently. When I first started blogging, I was using a basic Canon Rebel model and while that got the job done, my photos have improved tremendously since making the switch to Sony. Plus, I find Sony cameras to be more compact and easier to travel with.
You can certainly start with an older model like the A7RII if you're more budget-conscious but I can't say enough good things about the A7RIII that I'm currently using.
This is always my go-to lens when out and about traveling because it's the most versatile. Since it's a zoom lens, I can capture a variety of types of shots with it and don't have to worry about switching from lens to lens if I'm in a location where that would be a hassle. This lens is awesome for everything from landscape shots to more detail shots in the places I visit, however it's not always the best lens for low light situations or portraits where you'd want that nice bokeh and depth of field.
At some point, I will probably upgrade this lens to the F2.8 model here, which provides just as much versatility with an even lower f-stop for more depth of field in your shots.
This was one of the very first lenses I shot with when I originally bought my Sony DSLR as it gave me an option with a shallower depth of field compared to the 24-70mm at F/4. This is a great go-to fixed lens for travel because at 35mm you can capture a lot in the frame, and it's small and lightweight enough that it can be super discreet and easy to handle when you're out traveling.
I don't use this lens on every trip anymore, but I still think it's an awesome lens especially if you need something to get you started as it's significantly less expensive than the others on this list.
This was a more recent purchase I made specifically so I would have more options as far as shooting with a lower F-stop as this one is a F/1.4. When I want to shoot more portrait style shots with a dynamic depth of field that still capture a lot in the frame at 24mm, this Sigma is great.
I was SO excited when I finally bought this lens as I had rented it first on several trips and fell in love with the compression effect it created. This lens is definitely an investment but could be an important one depending on what type of subjects you're shooting.
For example, if you plan on capturing wildlife or going on safari, you definitely need a zoom lens like this in your repertoire to be able to get the shots you want with any detail. I also love this lens for landscape photos in general if you plan on putting a person in frame as the compression gives images a magical effect.
When you're your own boss, you rarely get a day off—and for that reason, my laptop comes with me pretty much everywhere. I just upgraded last year to this MacBook Pro with the M1 Chip and have loved it so far. Especially if you're planning on doing a lot of photo editing on your laptop, getting a model with the retina display is optimal for photography editing.
I purchased this drone a few years back and it's really expanded the range of shots I'm able to get for my blog and clients. I was really nervous at first about learning to fly a drone, but with the help of a few YouTube videos, I was pretty much up and running within a day and have found it much easier to use than anticipated.
I highly recommend investing in the Fly More Combo which comes with all of the accessories you need to make sure you don't have downtime should you lose battery or propellers during a flight. It also comes with a nice carrying case to take along on your adventures.
The perfect travel tripod. Small enough to fit in my suitcase and large enough to give me flexibility with my shots.
I think it goes without saying that a large portion of my business is done directly on my phone. From posting to Instagram and Tik Tok to editing Reels, my iPhone is basically my right hand and/or assistant. This model features the extra camera for more range in your iPhone photos, which is awesome if you're still not ready to invest in a ton of camera gear for blogging.
There's nothing more important in this business than the quality of the content you create and protecting that content is paramount. That's why having great memory cards that won't fail on you to store all your imagery is so important. These memory cards are expensive but worth it—especially if you're a travel photographer and know you are going to be shooting in different weather conditions, these Tough cards can handle it all.
This is the brand of external hard drives I use to store all of my important files and photographs off my laptop. I have at least 6 of these and have an identical backup of each drive to ensure that if one gets damaged I still have all my files secure in another location.
The battery life for the A7RIII cameras is a massive improvement from the past models, but it's still necessary to have an extra charged battery or two on hand for those long days of shooting—or if you happen to misplace one on the job. If you have a different camera model for Sony, make sure you're buying the correct size for your camera as they can vary!
Your camera lenses will inevitably get dirty when you're out in the elements, so having lens tissue on hand to keep your camera clean is a must.
This is my current camera go-to camera backpack that comes with me on every trip. It's one of the only bags I've found that's large enough to carry all my gear while still being functional and stylish! If you're looking for something a bit different, I have a whole blog post on the top 25 best camera bags for women.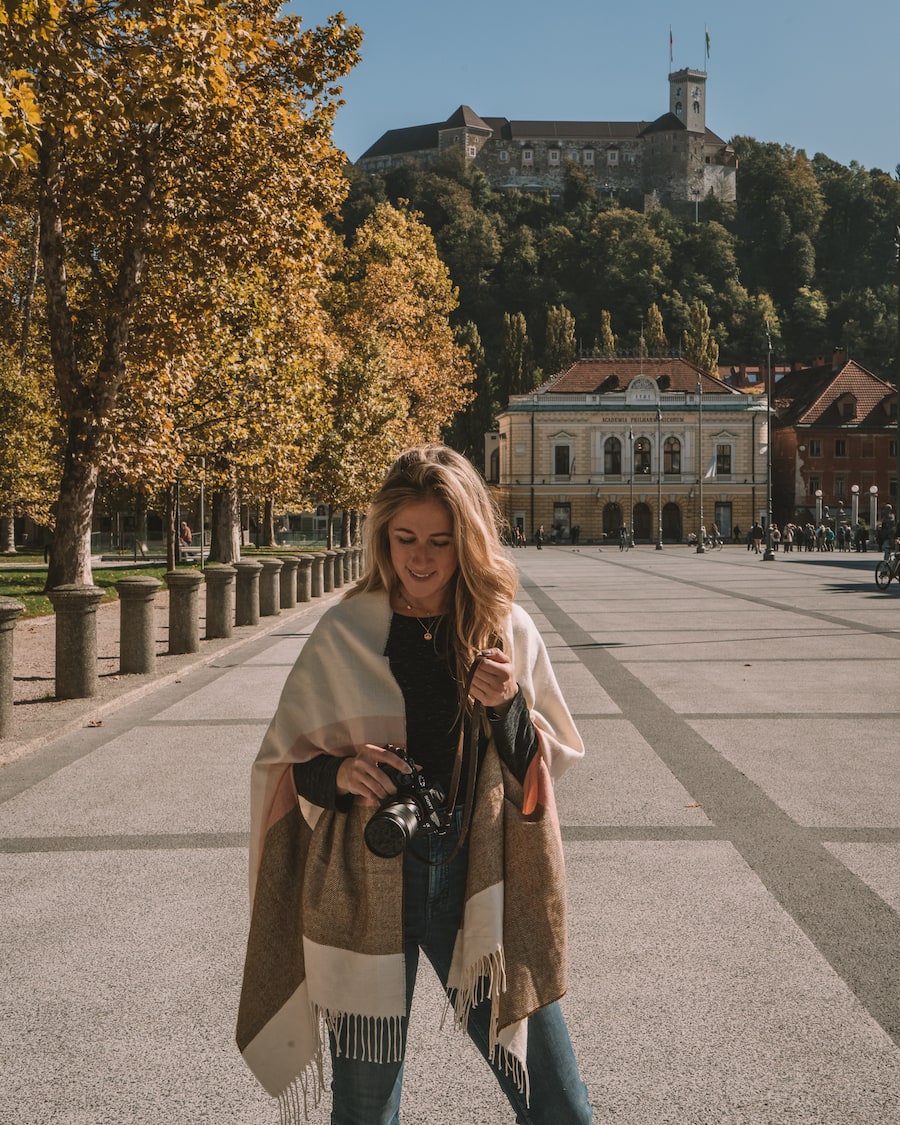 Camera + Tech Accessories
Have all the essentials and ready to move on to some fun accessories? Below are some of the additional items you'll find in my camera bag that help keep my photography game in top notch.
These inexpensive neutral filters add an extra layer of protection in the unfortunate event that I drop my camera or crack a lens.
If you're not ready to invest in one of the Tough cards that I linked above, then these are also a great option for a more affordable price. I have many different memory cards I've used over the years, but the Sandisk Extreme Pro memory cards are great starter cards that get the job done.
Since memory cards are so tiny and easy to lose track of, I like storing them all in one place where I know where to find them. This Tamrac one has been great and I have no complaints!
If you're looking for a way to transfer your camera images to your phone more quickly, this is the accessory you need! You can plug your camera's SD card straight into this device that connects to your iPhone and pick and choose which images to upload and edit. Especially if you do all your photo editing on mobile, this card reader will be a game changer for you.
This dry bag has been essential in giving me peace of mind while shooting in various weather or wet conditions. I recently used this to store my camera on a kayak ride out to the Benagil Caves in Portugal, and it's protected my gear in torrential downpours on safari in South Africa. The 13L is a good size if you want to fit your camera, some clothes, and some other travel essentials for a day trip.
Admittedly I haven't used my GoPro in quite some time as I typically only use it for underwater photography (which I don't do a lot), but I'm including this here since they're so great to have for capturing action-packed adventures and underwater scenes. It's amazing how much the GoPros improve with each new model, so if you're in the market for one I'd definitely recommend going with the latest edition.
This little holder is great for water activities in case you drop your GoPro—with this handy accessory it will float to the surface rather than sink!
Since I don't own any super wide angle, fish eye or macro lenses for my Sony A7RII, I love this Sandmarc iPhone attachment lens kit that includes these capabilities. They're super easy to use, switch out and are great quality if you're really into iPhone photography. Plus, they're just fun to play with!
Used for getting dust particles off of your camera lens or out of your sensor.
If your phone is prone to losing charge quickly, then a portable charge like this one from Anker will be a life saver on long travel days.
Another great tool for cleaning your lenses, this LensPen allows you to remove dust, grime and particles easily and safely without fear of scratching your lens.
For any grime that's extra difficult to remove off your camera lens, this Optic Clean solution is super helpful and will ensure your images come out crisp.
A must have for anyone with lots of devices and gear to charge on a regular basis (aka-every single travel blogger on the planet).
When you start to rack up a collection of tech gear, it's essential to have some sort of organizational system and designated place to put everything so you don't misplace items. I find that cables especially have a sneaky way of going missing so I like to keep them all together or in a smaller pouch like these.
So there you have it! These are the exact items I use to run this travel blogging life of mine. I hope you found this post helpful!
Read More