Finding the perfect camera bag to travel with is a topic that has caused me much frustration since I started travel blogging and taking photography more seriously.
Time and time again, I find that camera bags are geared more towards men than women, and end up having a more masculine or rugged design—or to be honest, they're just plain ugly! Finding the best stylish camera bags for women has been honestly, a real struggle.
Are you in the same boat? Well, I hope this post will help!
While I still don't feel that I've found the holy grail of stylish camera bags quite yet (I'm not sure it exists), the below are the absolute best women's camera bags I've discovered after trying some out myself (like the one shown below), and through hours and hours scouring the web for the best of the best out there.
The 25 styles I've included are hands down the best women's camera bags that I think make the cut when it comes to being both aesthetically appealing AND functional.
Some on the list are fully equipped with the organization and pockets needed for more serious photographers with a lot of gear (aka someone like me that does this professionally or as a very serious hobby).
Other styles you'll find below fall into more of the fashion camera bag category and are still functional for more basic photography needs or with a little extra help in the organization department.
You can always purchase a separate camera cube like this one to make any bag instantly more organized.
If you're looking for something stylish to carry your gear in, I'm confident you'll find something you like in one of these options below!
Let me know in the comments below which are your favorites and if you've found any amazing designs that I should add to the list – do tell!
My Top 3 Camera Bags Picks!
Don't have time to read the whole post? Check out my absolute favorites below.

➡️ The PRVKE by Wandrd – This is the one I use and LOVE
➡️ The Emilee Camera Backpack – For the ultimate in style meets function!
➡️ The Tog Bag – For the bag that doesn't look like a camera bag at all!

Your Ultimate Guide to the Most Stylish Camera Bags For Women
1. PRVKE Series Backpack by Wandrd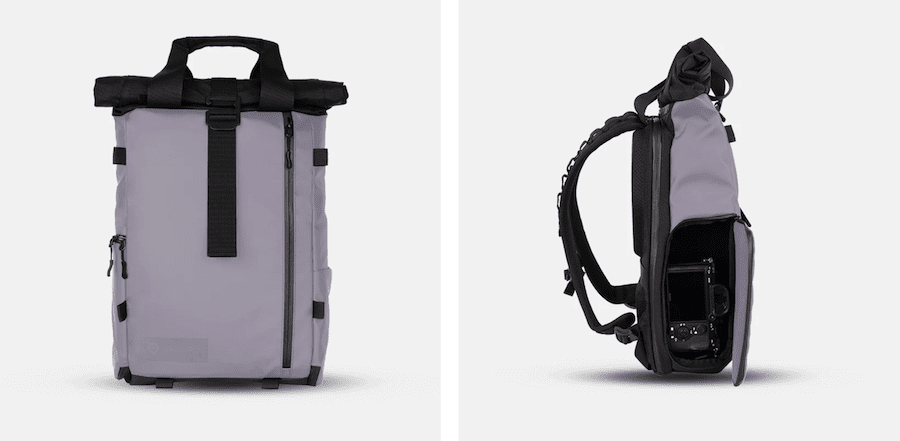 If we're talking women's camera bags with both a combination of aesthetics and function, then the Wandrd PRVKE series backpack might just be the best camera bag out there right now.
This is the one I've been personally using for a couple years now and I absolutely LOVE it. It has all the features I need as a more serious photographer and allows me to pack a ton of gear for every trip.
They even recently came out with a PRVKE Lite version that's a bit more compact for those that don't want to carry so much weight.
While it's technically unisex and not considered a women's camera backpack, I like that the design is pretty sleek and not overly masculine, plus it comes in a multitude of color options including some that are more feminine.
What's especially unique about the Wandrd PRVKE camera backpack is that it comes in two size options–a 21L and 31L–and the customizations don't stop there.
Depending on your tech and photography needs, you can choose the basic organization system up to the pro photography bundle, which includes maximum organization for your gear and the best accessories so you have everything you need while you're out shooting.
2. Emilee Camera Backpack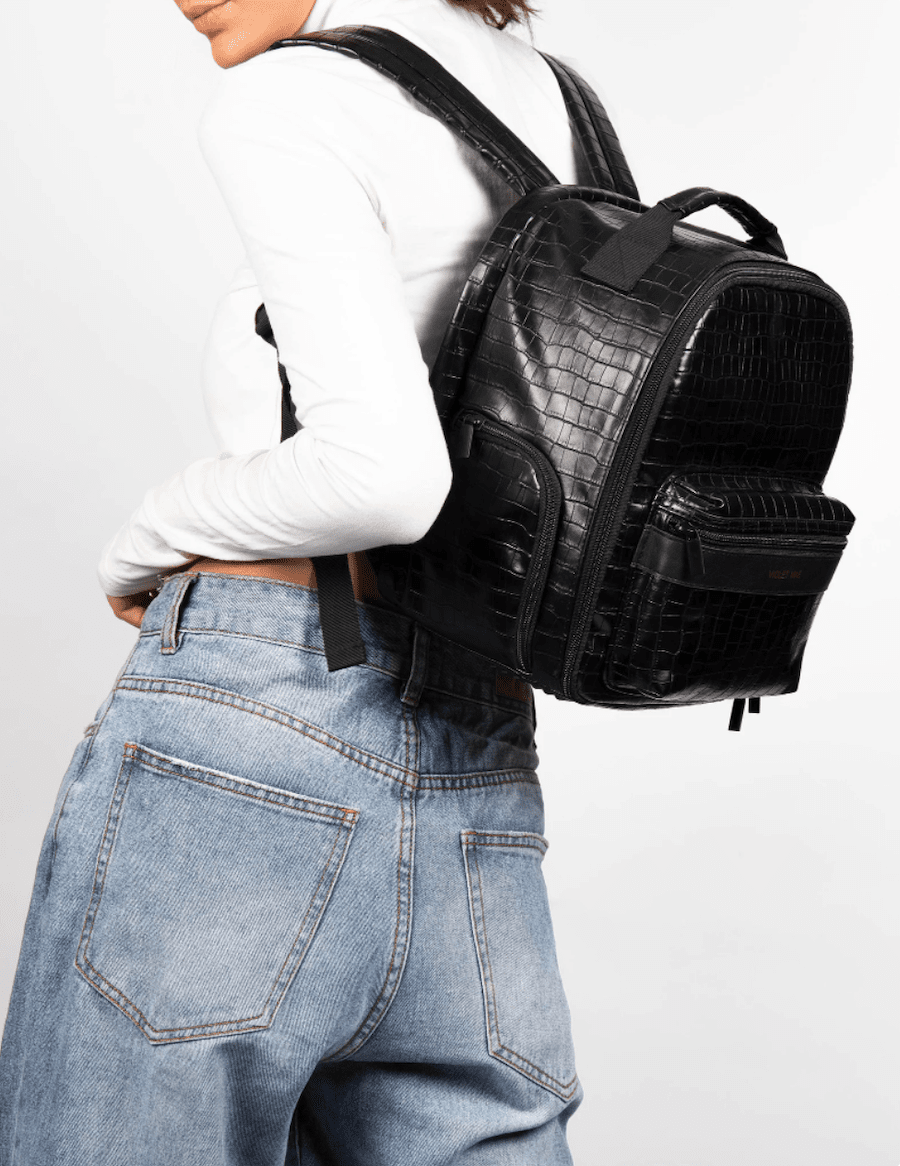 You'll be pleasantly surprised by how much this mini camera bag can fit without sacrificing on style!
With included adjustable velcro dividers for gear organization and several compartments for hard drives and accessories, the Emilee bag has great reviews from photography lovers who want to look stylish while out in the field.
3. The Christie Bag By Gatta
If you're on the hunt for a more fashionable camera backpack, look no further than Gatta's Christie Bag. I personally own this bag and I love it for shorter day trips out exploring a city when I know I'll only be using one or two lenses.
What's great about this bag is that it doesn't look like a typical camera backpack at all, so it calls less attention to your gear.
Plus it not only has a snap closure but an additional zipper closure for added security and five interior pockets so you can keep your lenses and camera accessories organized.
4. DSLR Camera Purse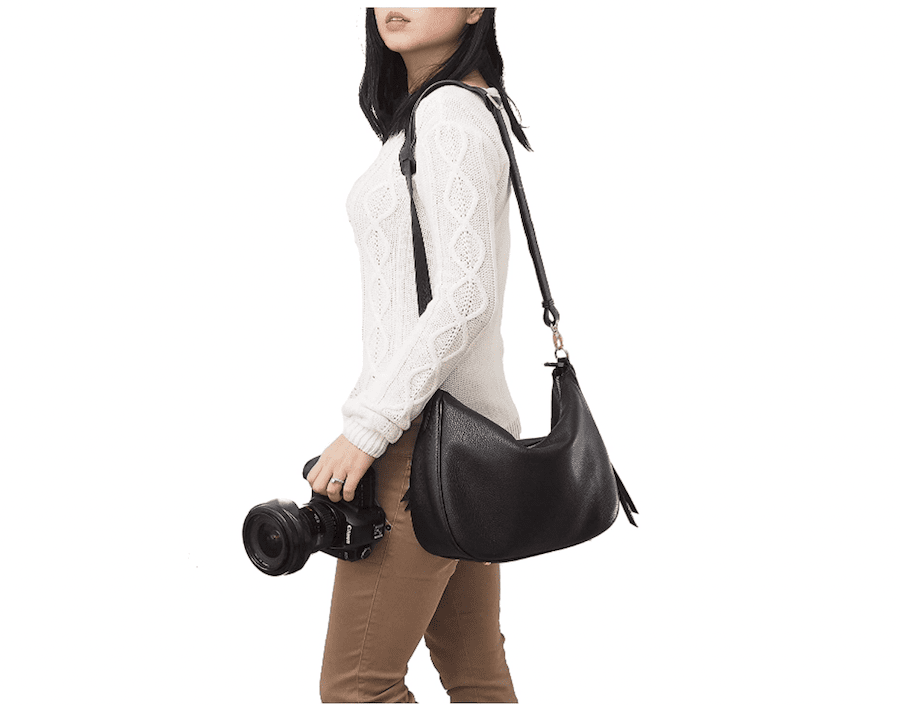 If your photography needs don't require a whole array of gear, then the ease of a shoulder bag might be perfect for you. I love that this one doesn't look like a camera bag, making it not only more fashion-forward but also discreet.
Plus, it's a lot easier grabbing your camera out of a bag that sits at your waist rather than having to remove it from your back each time.
This bag comes in three different colors, fits up to one camera body and lens, and features an adjustable and removable crossbody and shoulder strap.
5. Claremont Leather Crossbody by Lo & Sons
In the world of cute camera bags, Lo & Sons is definitely a go-to option for photographers looking for a fashion conscious and simple day bag when they don't require carrying a ton of gear.
What's great about this crossbody camera bag is that you can use it to carry your DSLR when duty calls, but also double it as a normal day bag when you're off the clock.
The Claremont Bag features interior padding to keep your camera safe, discreet pockets for added security, and even includes two tiny pockets for SD card storage.
6. The Tog Bag
The larger version of the Tog Bag, this fashionable camera backpack is perfect for anyone who needs to carry a ton of gear, without looking like they're lugging $2000 worth of tech on their backs.
The vegan leather design comes in three sleek neutral colors and the Tog Bag gets an upgrade from the Mini Tog with an added laptop sleeve for up to a 15" laptop, a side pocket for easy grab and go access to your gear, and more.
7. Dakota Backpack by Dagne Dover
I have the mini version of this Dagne Dover backpack, and while it isn't technically meant to be a women's camera bag, hear me out. I get SO MANY compliments on this bag.
It's adorable and the cool neoprene material is really different from a lot of styles I've seen out there—plus, it's super lightweight.
In the larger size, there's room for a laptop and a small camera insert if you purchased separately, plus the neoprene is hand washable and water resistant and super cushiony which is great for gear protection.
Added bonus: the cushiony straps are really comfortable on the shoulders and there's a sleeve to connect to your luggage when you're off jetsetting. If you don't need a traditional camera bag with all the pro features, this could be a great option for you.
8. Tarion Waterproof Backpack
With 4.5 stars on over 3,000 reviews, this Tarion bag is one of the best women's camera bags on Amazon and is fully loaded with all the features you need as a photographer.
The Tarion bag features ergonomic back support, a super high waterproof rating for adventurous photographers, and plenty of space to hold all your lenses, tripod, laptop and more.
9. The Ramverk 21L Backpack by Db
Created by influencer and former pro skier, Jon Olsson, Db is a brand truly crafted by traveling creatives, for traveling creatives.
They have tons of bags to choose from including full sized luggage, but I love The Ramverk 21L Backpack as a daily camera backpack for women because it includes tons of pro level features while still looking like it could be a basic travel backpack.
A few design features worth noting: It includes a full frontal opening for easily accessibility, interior mesh pockets and comes in 11 different gorgeous colors.
10. Oliday Camera Backpack
For serious photographers who need maximum carrying capacity, this gorgeous Oliday camera backpack checks all the boxes.
The reviews speak for themselves. Not only does this stylish camera backpack feature a beautiful design, it has two separate compartments–one on top and one on bottom–both with easy access, so you can get to all your gear quickly.
Even better, the camera inserts are removable so when you want to leave the camera at home, you can fill the Olliday up with personal belongings for an easy weekend adventure.
11. Brevité Jumper Photo Backpack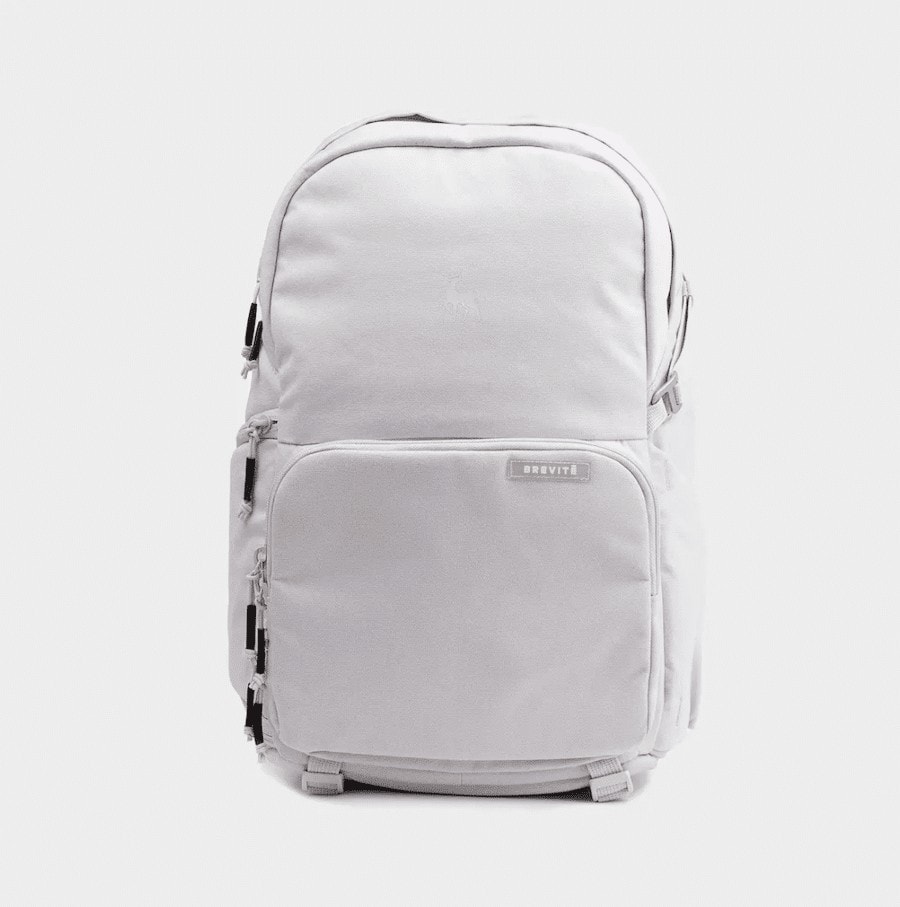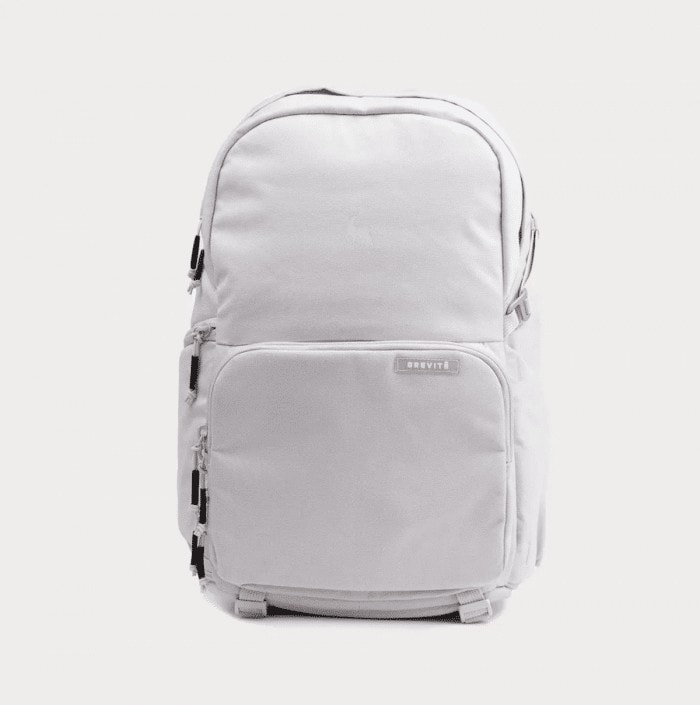 This stylish camera backpack features a super minimal design which is ideal when you want to keep a low profile while exploring in more urban environments.
The Brevité Jumper bag comes in 10 different colors including more feminine hues and I love that it was designed with just enough features (like mesh pockets, water bottle holder, and side pocket for easy gear removal) without a ton of extra unnecessary bells and whistles.
12. BAGSMART Waterproof Camera Backpack
If you're looking for a women's camera bag for under $100, this BAGSMART backpack is a solid choice that is still easy on the eyes. This bag includes A TON of room for camera gear that's all adjustable based on your particular equipment and needs.
Plus, there's an additional top compartment for clothing, spacious side pockets for water bottles or tripods, a laptop compartment—the list goes on!
My favorite feature of this bag though is the quick access side pocket so you can grab your camera easily in a pinch as well as the anti-theft lockable zipper and metal hook.
13. The Mini Tog Bag
The ultimate compact design when it comes to camera bags for women, the Mini Tog Bag is one of Etsy's most highly reviewed camera bags.
This is a great option for day trips when you don't need to carry around 100% of your gear and includes removable velcro dividers so you can customize the layout to your specific needs.
This mini camera bag is made from vegan leather and comes in grey, black or tan. The only downside is that I've noticed they've been having a hard time keeping it in stock, so it's not always available. If that's the case, you can always opt for the larger size here.
14. Lola Noir Crossbody by Gatta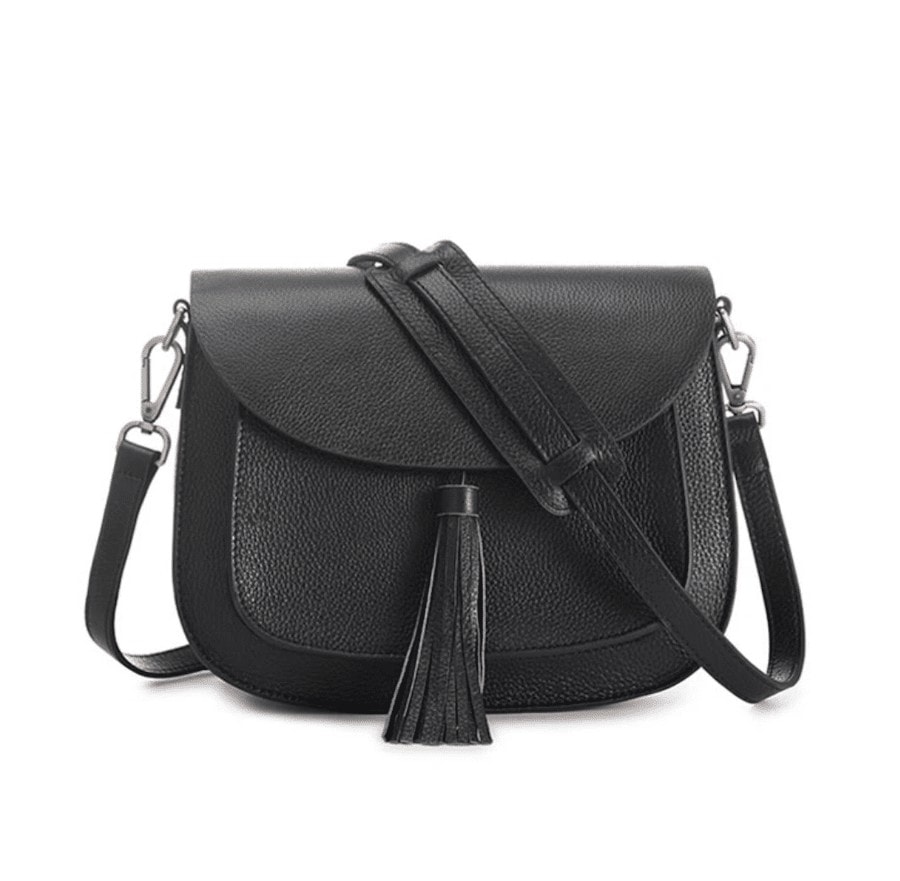 Another great crossbody camera bag option, the Lola Noir by Gatta is a compact camera bag for less gear intensive photographers who just need a few key items while they're out exploring.
This bag should fit any DSLR camera plus an extra lens along with a few small everyday essentials.
15. The ReNew Transit Backpack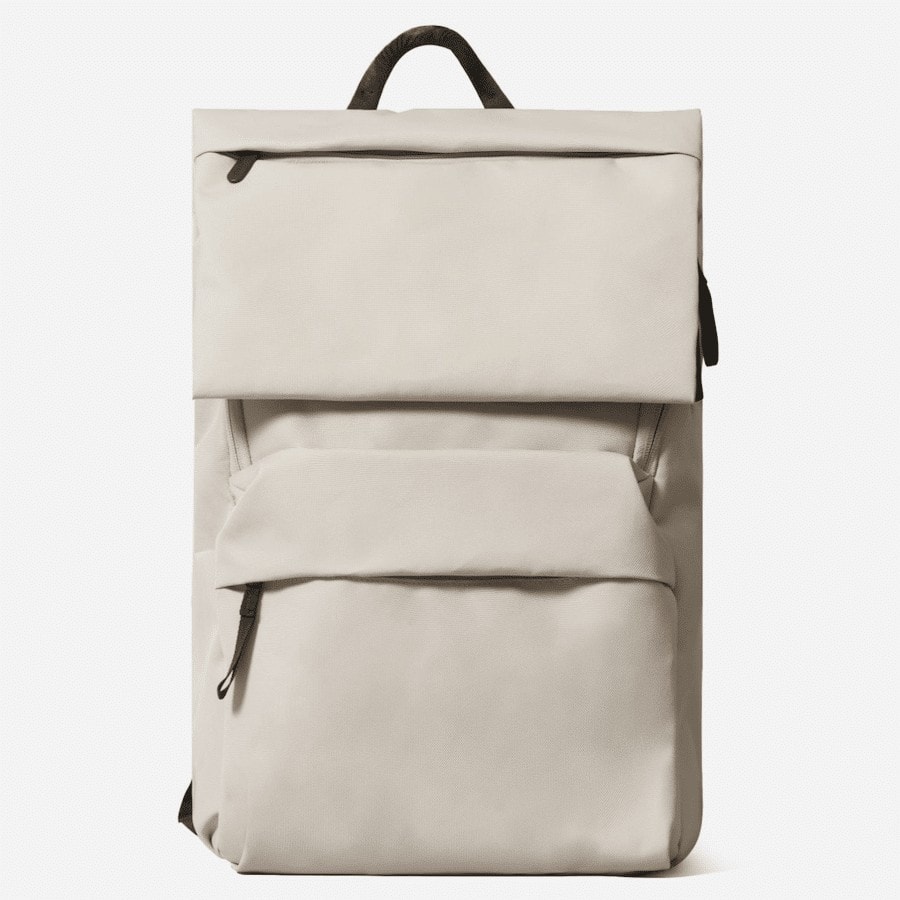 If you're looking for something that can double as your everyday work backpack and service photography needs as well, Everlane's ReNew Transit backpack is a nice option that's super sleek and minimal.
It has tons of different pockets and departments to keep your gear organized, but with an added camera insert (you would need to purchase separately), you could totally make this sustainable backpack into a full-fledged camera bag.
16. Peak Design Everyday Totepack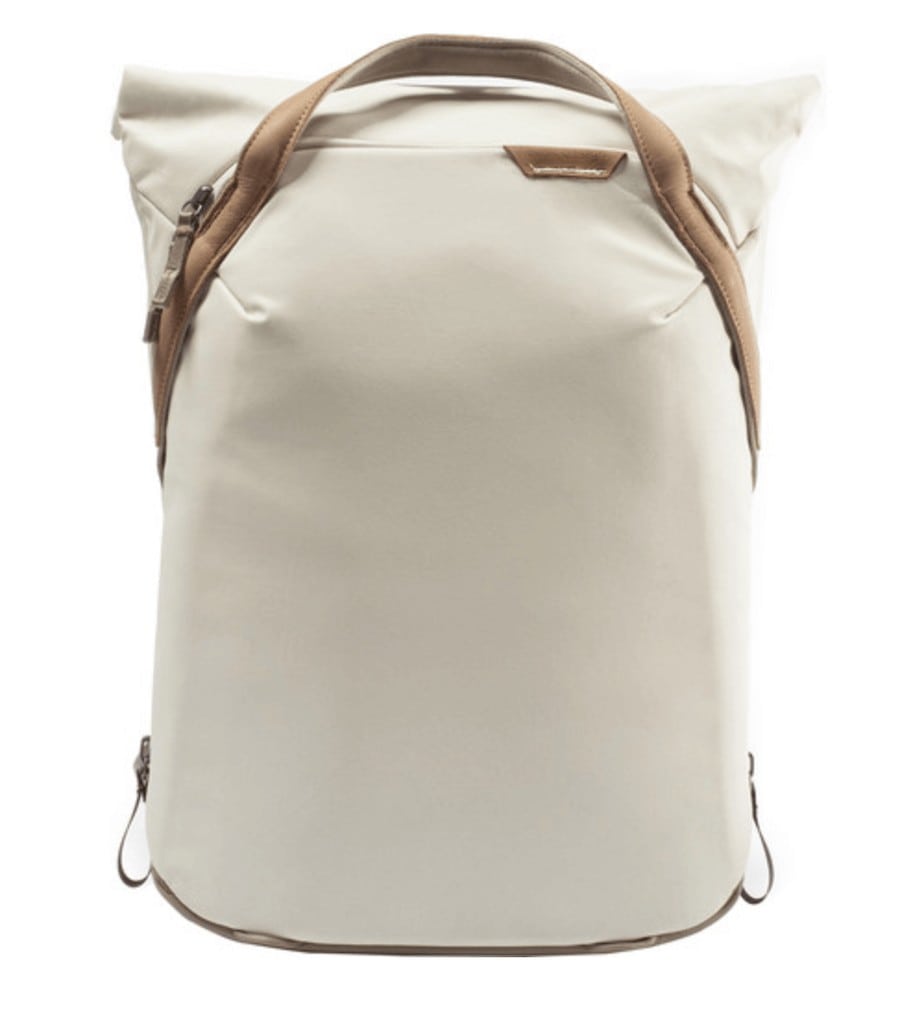 For versatility, the Peak Design Totepack is a cool design that allows two different carrying options: as a tote bag or backpack.
With 20L of capacity, this bag has awesome accessibility from both the top of the bag and the sides so you don't have to go digging around for your gear.
One feature I really love in this bag are the external carrying straps that allow you to strap on any extra items like jackets or blankets onto the outside rather than having to fit it all inside on days you can't pack light.
17. Beis Beige Backpack
If you're looking for a women's camera backpack that is both feminine and chic, Beis is a great go-to brand.
This backpack isn't crafted specifically for photography needs, but the padded shoulder straps, water resistant material and fully unzippable front make it an easy bag to transition into a camera bag with a separate insert.
18. Weekender Backpack + Camera Cube by Langly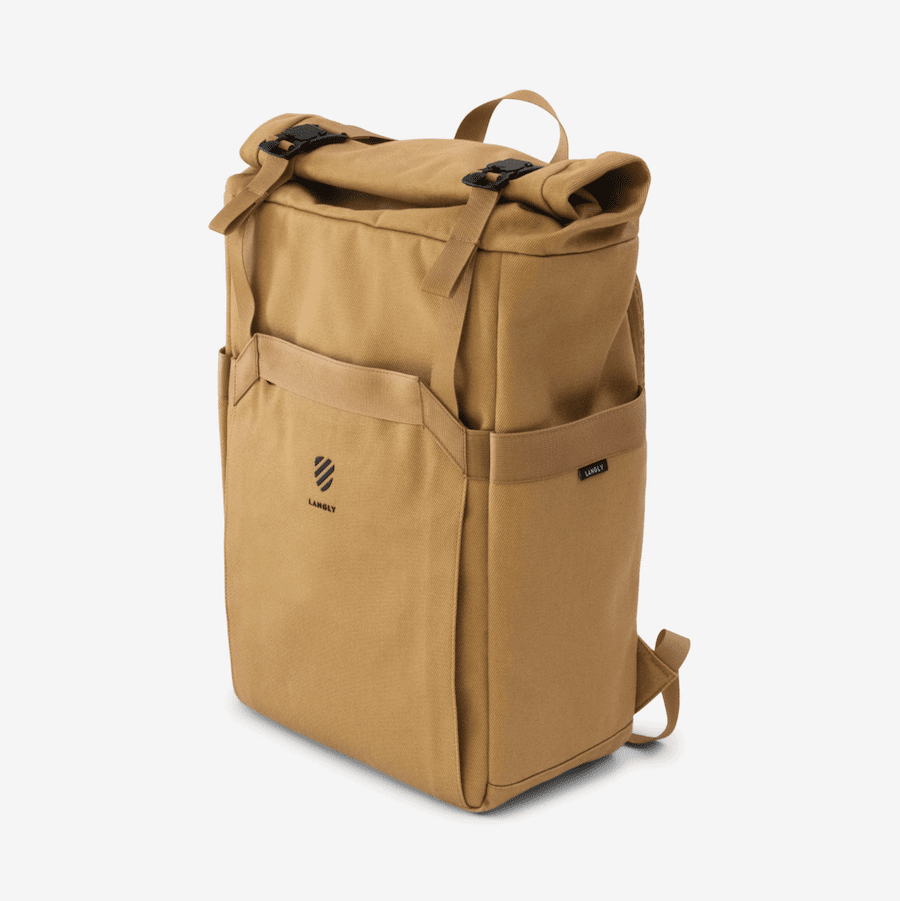 If you're looking for a style that feels a bit more rugged and outdoorsy but still features thoughtful aesthetics, than definitely check out Langly's range of bags.
This camera backpack can hold up to four lenses and a camera body for those days when you need all your armor to get the job done.
However, the camera cube is removable, which makes it an easy transition item from shoot days to regular days out exploring or heading to the office.
19. Lowepro Flipside Backpack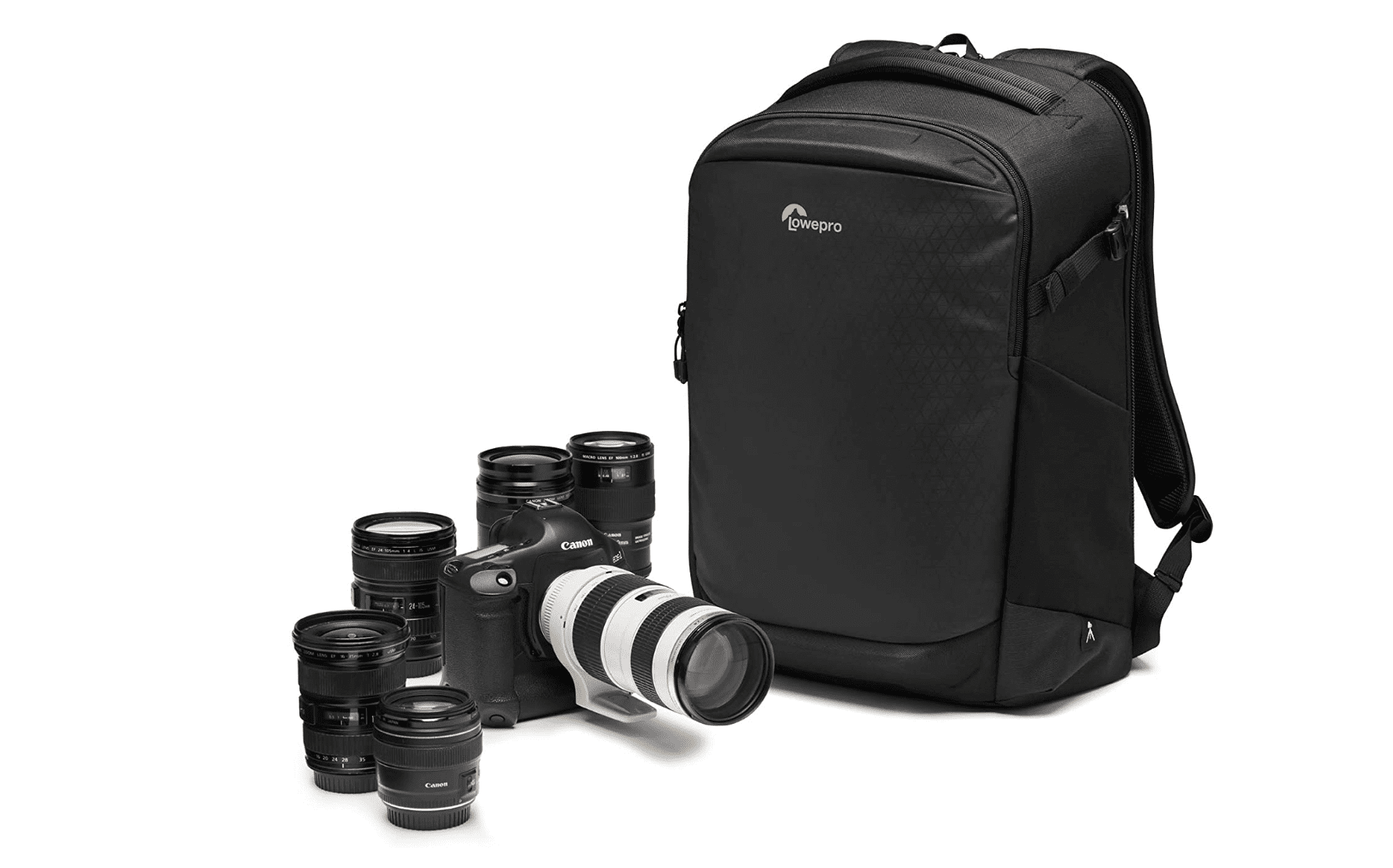 While I wouldn't call this the most fashionable of the women's camera bags on this list, I have to include Lowepro on here because they're well respected for making some of the best camera bags in the game.
This Flipside Backpack for mirrorless and DSLR cameras is definitely their sleekest and most attractive bag—in my opinion!
What can you expect from this bag? Well to start, this bag series has multiple size options so you can really choose the right volume for your needs.
Additionally, you'll get tons of versatile camera storage with customizable dividers to hold up to a camera body and 4-5 lenses plus accessories.
With all of Lowepro's products, you can also expect maximum protection from the elements and a convenient design to help you grab your gear as quickly as possible.
---
Shop more of my favorite Live Like it's the Weekend approved travel products
---
20. Fawn Design Bags
A couple years ago I was sitting in a cafe in Austin, Texas and in walked a woman wearing this cute Fawn Design bag made from vegan leather. I immediately thought it was a camera bag but when I inquired found out it was actually designed as a diaper bag.
The good news: Moms need lots of pockets, but photographers do too—which is why I think these bags can easily double as a cute camera backpack.
I love that these bags have detachable backpack straps so you can use this bag as both a messenger bag or backpack depending on your style.
21. The Backpack 2.0 by Compagnon
This camera backpack is definitely one of the more rugged looking on the list, but I like that they've added new color options like a mustard and dark blue hue to provide different options for customers.
This bag is definitely for more serious photographers who need all the bells and whistles in their pack, from standard laptop sleeves and camera gear organization to extra wide shoulder straps for superior comfort to multiple exterior tripod mounts for both compact and medium sized tripods.
The roll-top design also allows for even more personal goods to be carried beyond your gear.
22. Nomatic McKinnon Camera Cube Pack
Designed in collaboration with travel photographer Peter McKinnon, this Nomatic pack is more on the unisex side but I like that it can double as a women's camera bag without being too masculine.
This bag was specifically made in a carry-on size so it will easily fit in the seat in front of you on flights and it has superior padding to make sure your gear is protected at all times.
23. MOSISO Hardshell Camera Backpack
What makes this camera backpack so unique is its hardshell construction that makes it super durable and shockproof. Add in camera compartments compatible with every major camera brand like Canon, Sony, etc and even drones, and you've got yourself a strong contender.
All the inner cubes can be adjusted to your liking, plus the back trolley makes it super convenient to slide on top of luggage in transit.
24. Kelly Moore Eco Leather Bag
There are 19 different pockets in this bag. Whoa. Just whoa. Even still, the design of this backpack is so sleek, you'd never know it was a camera bag.
With a laptop sleeve, organizational padding for a DSLR and lenses, plus tons of other pockets for credit cards and small accessories, the Woodstock is going to be your go-to bag for every scenario, from shooting on the go to day trips out with friends.
25. ONA Monterey Backpack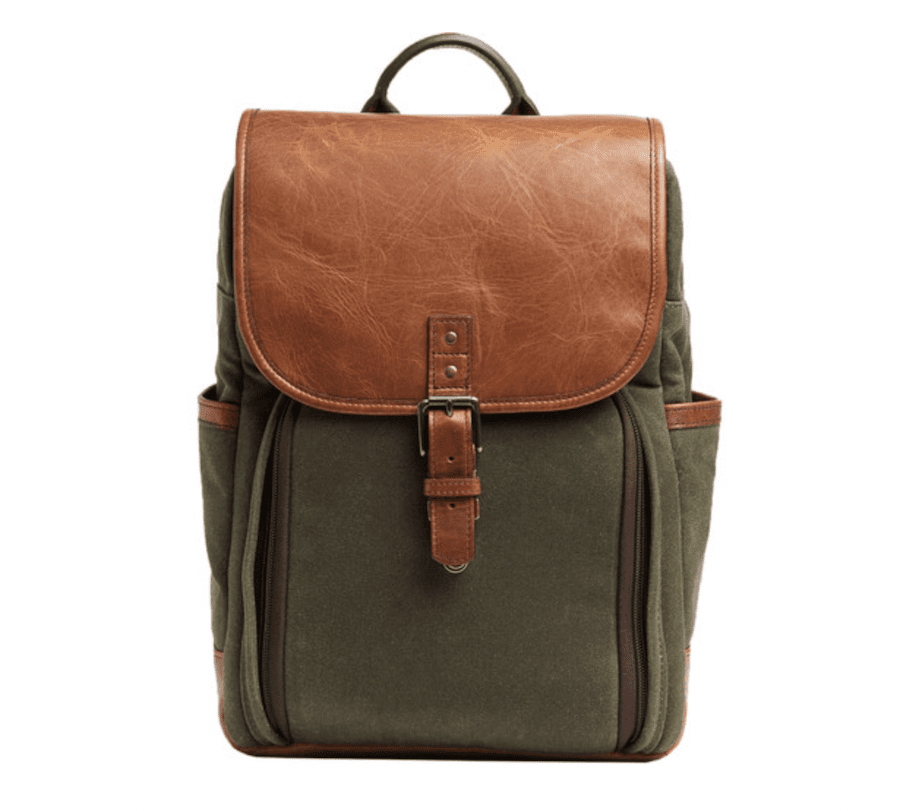 This beautiful classic camera backpack by ONA is made from waxed canvas in leather in timeless hues that will make you feel like a photographer before your time.
However, beyond being beautiful, this backpack also comes equipped with tons of interior cubes to fit a camera body and up to five lenses.