Of all the places I've traveled in my lifetime, Byron Bay is one that feels like it could be home. It's tranquil and beachy, buzzing with creative energy, and don't even get me started on all the delicious cafes and coffee shops.
Another part of what makes Byron so appealing is the design — creatives here have found a formula that is just the right combo of modern elegance and laid-back coastal vibes.
And if you're a design lover like me, then you'll love these cozy abodes I've included below — they're the best places to stay in Byron Bay for those with a design eye — and they'll make you want to toss out your suitcase and stay forever.
When you do ultimately have to pack up and go (probably sulking and sobbing the whole way), you'll at the very least have a few design tips to take home with you and incorporate into your own cozy sanctuary.
I'm willing to bet you'll have a cool Instagram photo or two, too.
If you're more interested in exploring around Byron's natural beauty and lively downtown than scoping out your next hotel bed, check out this post on things to do in Byron Bay.
But for all the drool-worthy interior inspo and tips on where to stay in Byron, scroll on through.
To make the planning even easier, I've included a handy map at the beginning of this post that will give you a quick look at where each spot is located in comparison to the beach and some of my favorite spots in town.
The Absolute Best Places to Stay in Byron Bay for Design Lovers
Atlantic Byron Bay
When it comes to convenience, The Atlantic Byron Bay is situated in the ultimate location. Most central to the main part of town than any other accommodations on this list, The Atlantic nails the ideal combination of style and accessibility.
This was where I personally chose to stay during my time in Byron as I didn't rent a car.
Just three blocks from the beach and one over from some of the best restaurants in Byron (you have to try Bayleaf Cafe), those who prefer to explore on foot will love this design dream of a boutique hotel.
Prices start at $195 AUD a night in off season. Book the Atlantic Byron Bay
The Bower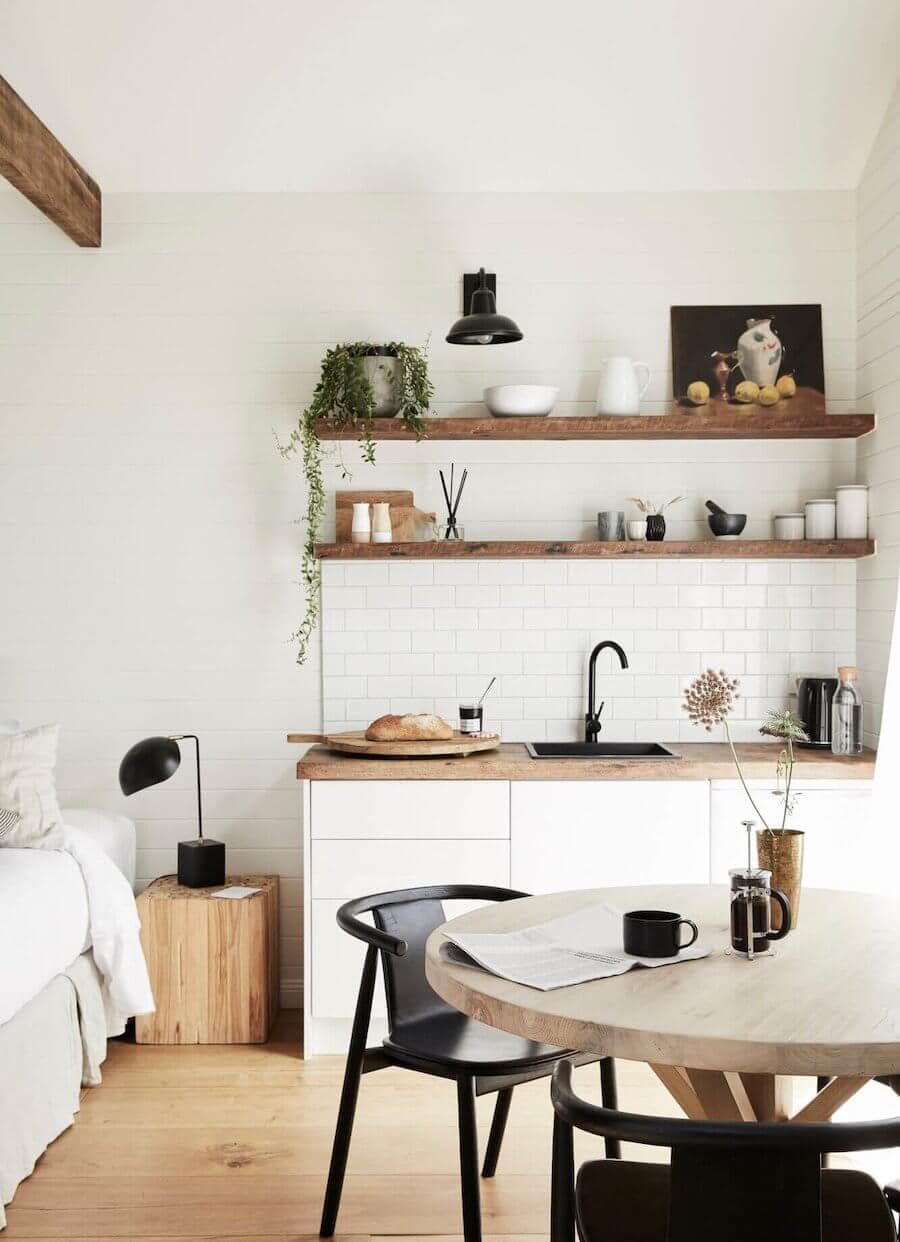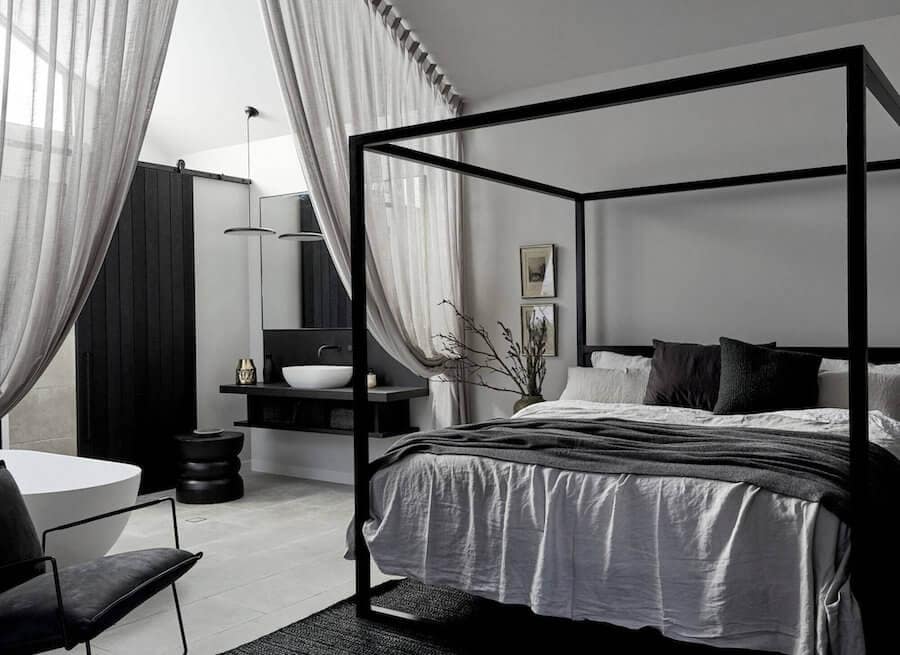 Part of the Byron Beach Abodes group, The Bower is the brand's newest addition to their stylish collection of places to stay in Byron Bay.
With its mix of bright white and neutral tones styled with moodier black pieces, The Bower is definitely a place for those with high standards when it comes to design.
The Bower is about a 20 minute walk from the Main Beach and 15 minutes walk from some of Byron's top restaurants, but bicycles are also available for rent.
Rates start at about $200 in off season. Book the Bower Byron Bay
The Loft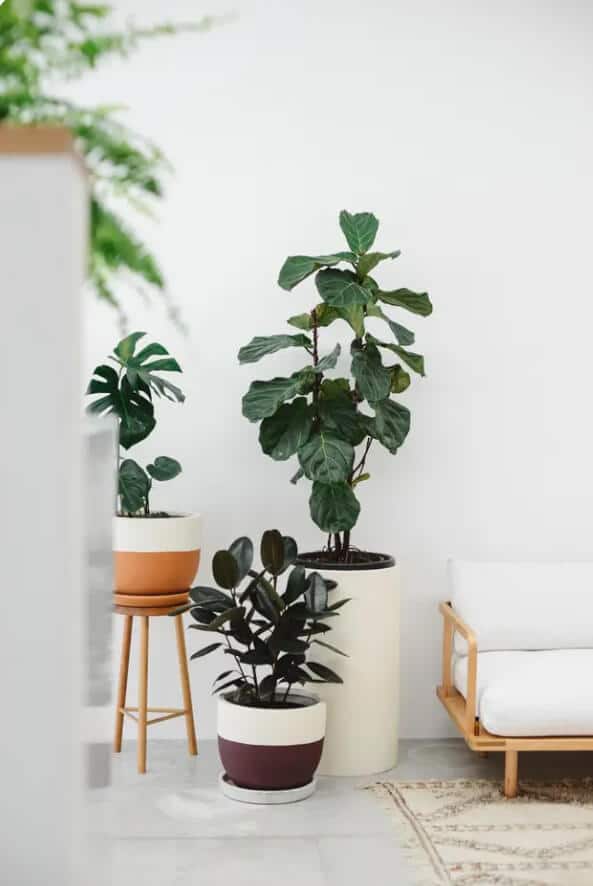 This artistic, feminine space is bright and happy, bringing all the good vibes for your trip to Byron.
Located atop the owner's showroom, it's a little off the beaten path along Ewingsdale Road, but if you have access to a vehicle during your time in Byron then this is a great option for groups of up to 4 people.
Book The Loft on Airbnb for $172 per night (and get $40 off your first rental with this link)
The Lodge
Modern rustic vibes and beachy cabin luxury come together at The Lodge for the perfect Byron oasis. The Lodge is the ideal place to stay in Byron Bay for groups of up to 8 people looking for something a bit more intimate.
The Lodge features 4 bedrooms, a pool, spa, fireplace, kitchen, and plenty of other incredible amenities to make your stay unforgettable.
Book The Lodge, prices available upon request.
The Manor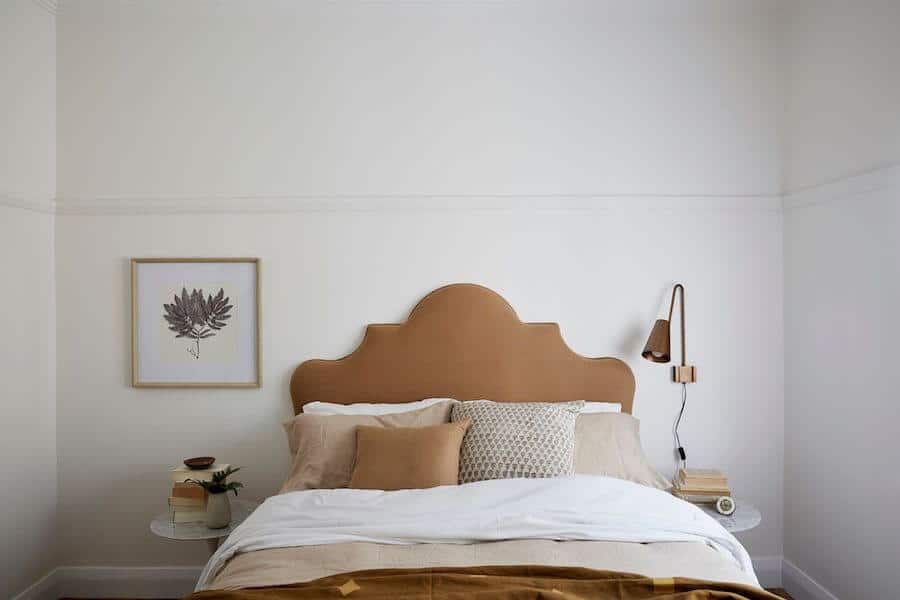 Another stunning project by Byron Beach Abodes, The Manor sleeps 8 guests and features a sunroom, laundry, kitchen, and pool — everything you could want for an extended stay.
I especially love the interior touches in this space that marry quintessential Australian coastal decor with Scandi design details.
Rates start at about $900 per night in the off season. Book The Manor.
Rae's on Wategos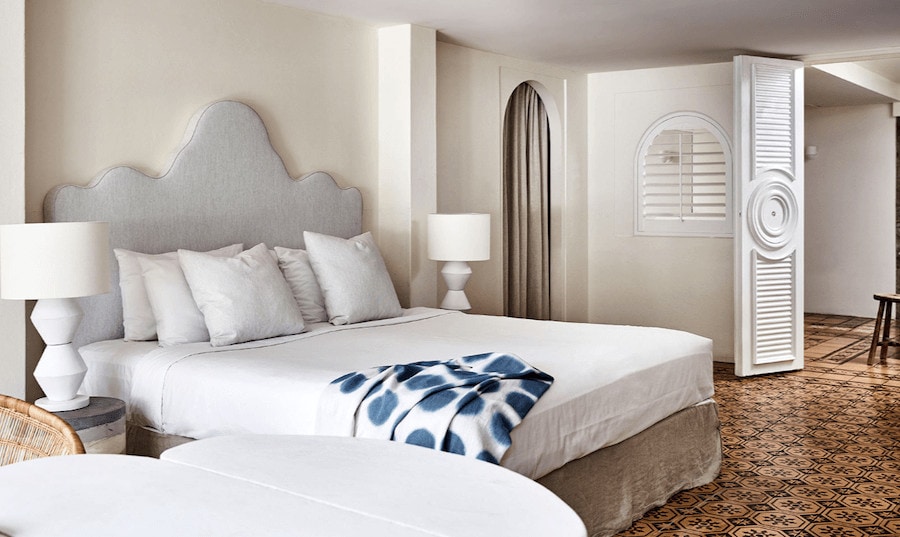 A staple in Byron for many decades, Rae's on Wategos has a storied past but recently got a full makeover under new ownership in 2014 to modernize the beachfront property.
With just seven rooms total, Rae's is an intimate, secluded paradise with the convenience of being situated right on the sand.
The design feels contemporary Australian but has hints of Mediterranean influences throughout the white-washed retreat.
If you don't choose to stay here, you can still grab dinner at Rae's Dining Room or drinks at the Cellar Bar to experience this Byron legend without the high price tag.
Rates start at around $650 per night. Book Rae's on Wategos in Byron Bay
Cacti Mi Casa
For a more modern industrial vibe, visitors to Byron can stay in this epic Airbnb rental with open loft space and its own private patio.
Tucked away in the Industrial Estate in Byron Bay, Cacti Mi Casa is a bit further from the coastline, but has all the amenities you'll need for a great day. Bonus: it's perfect for anyone traveling with pets.
Book Cacti Mi Casa for $266 per night on Airbnb + get $40 off your first rental with this link
The House at Bask and Stow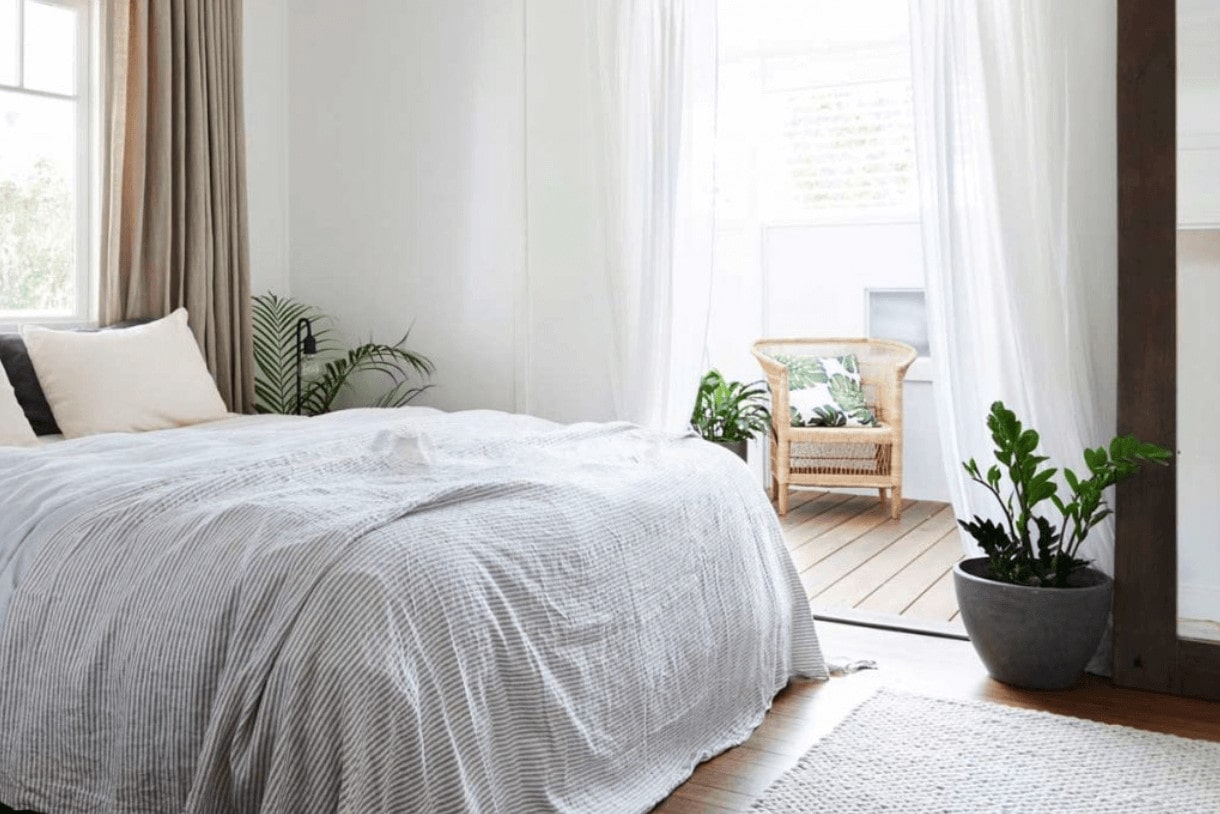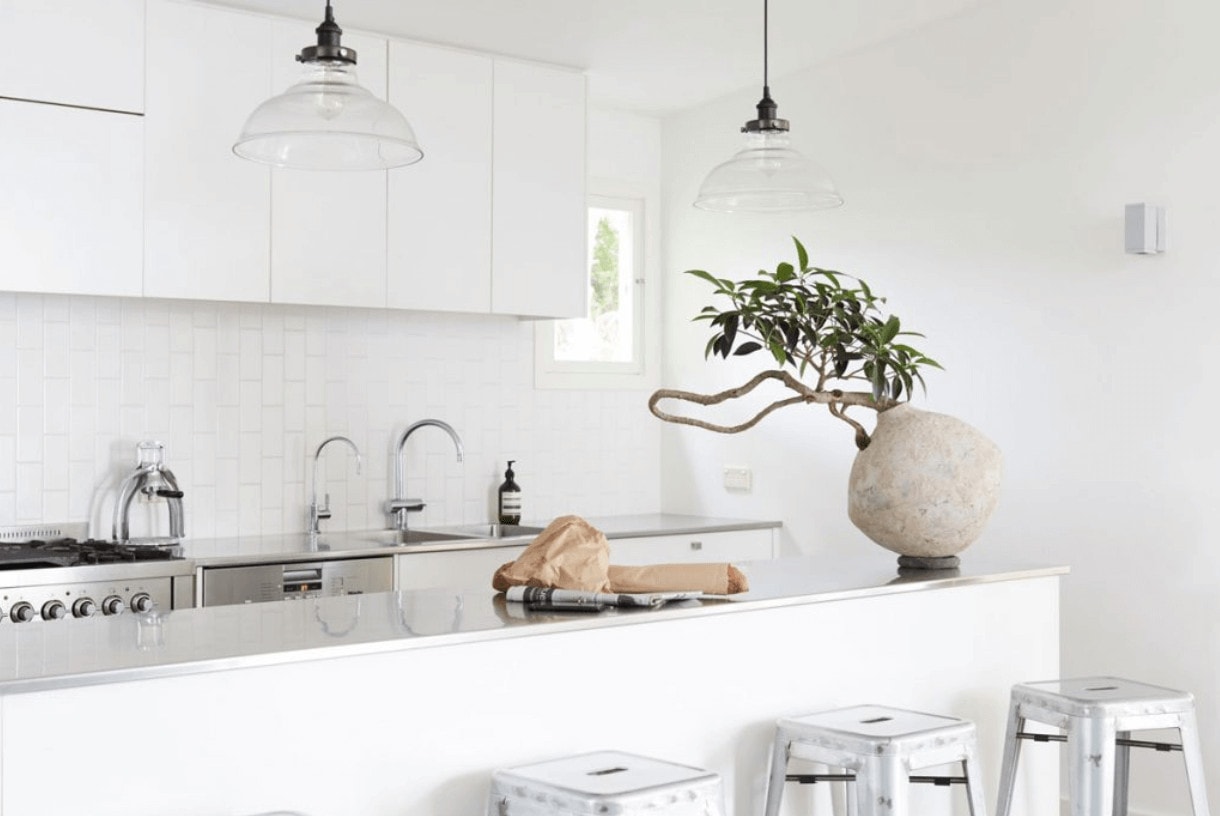 Light, bright and airy, The House at Bask and Stow is a beautifully restored federation cottage that has 3 bedrooms for up to 6 guests.
Situated in a more quiet neighborhood, this property is still within striking distance to the main downtown area and plenty of fun things to do around Byron.
This minimalist, calming space is one of the best places to stay in Byron Bay hands down and has been a popular choice amongst Australia's Instagrammers as of late.
Book The House at Bask and Stow for $414 per night (and get $40 off your first Airbnb rental with this link)
Byron at Byron Resort and Spa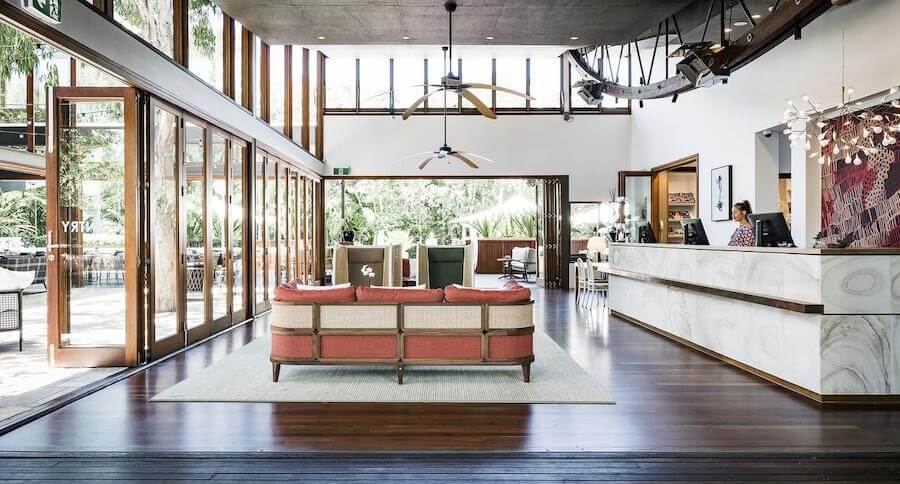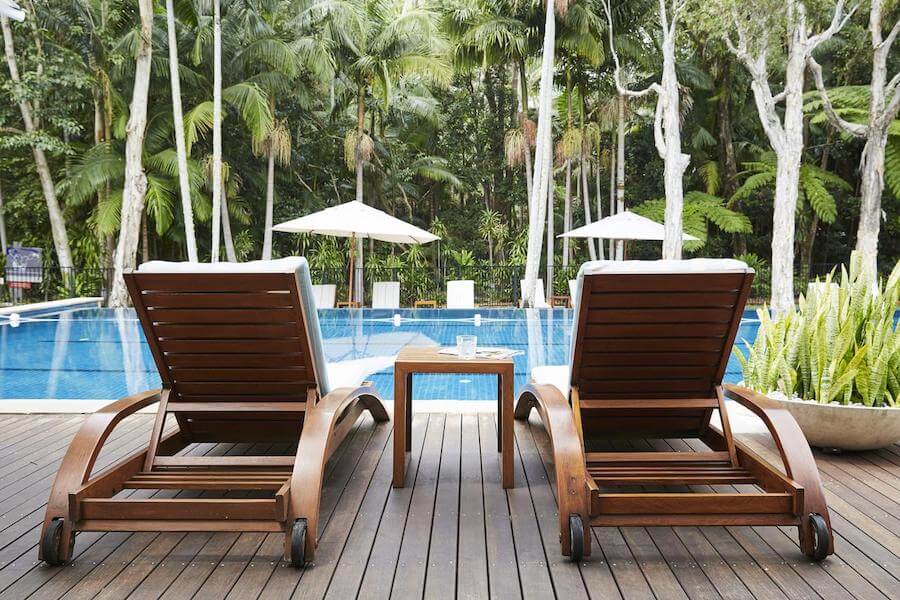 For those looking for more of a resort setting, the Byron at Byron might be the perfect place for you.
It's a bit outside of any of the main areas of Byron, so a car is recommended, but its rainforest locale provides a bit something different than other Byron Bay accommodations.
On site you'll find free daily yoga classes, boardwalks for exploring throughout the rainforest, a pool and ranger tours on offer for getting lost in the area's unique ecosystem.
Rates start at around $300 per night in off season. Book the Byron at Byron Resort and Spa
Elements of Byron Resort and Spa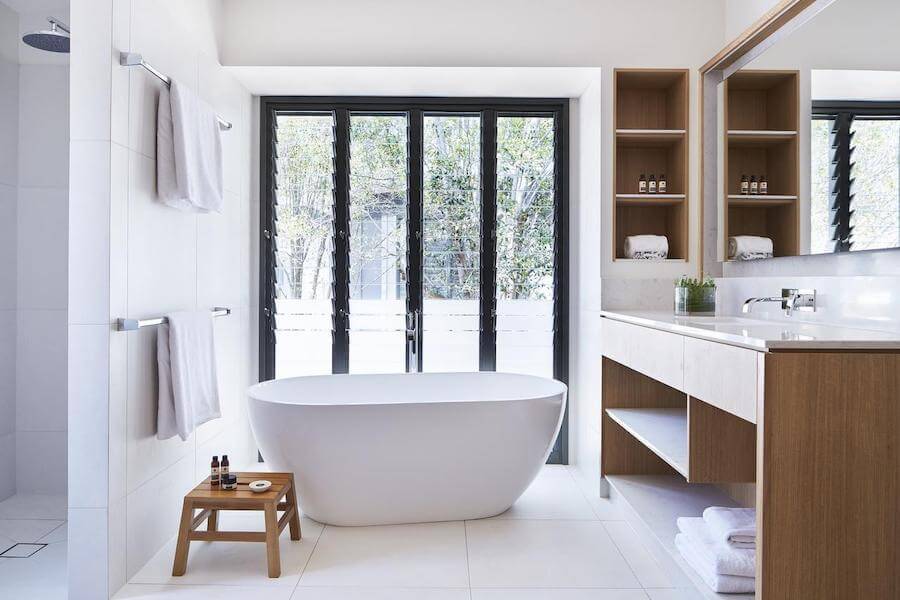 Another resort option that sits on the completely opposite side of town from the Byron at Byron, Elements is one of the premier beachfront resort style accommodations in Byron Bay.
Featuring 50 acres of beachfront, a day spa, private villas, and functional spaces for business meetings and work sessions, Elements is a destination that caters to the business traveler who appreciates good design.
Rates start at about $260 per night in the off season. Book Elements of Byron by Sofitel
Cape Beach House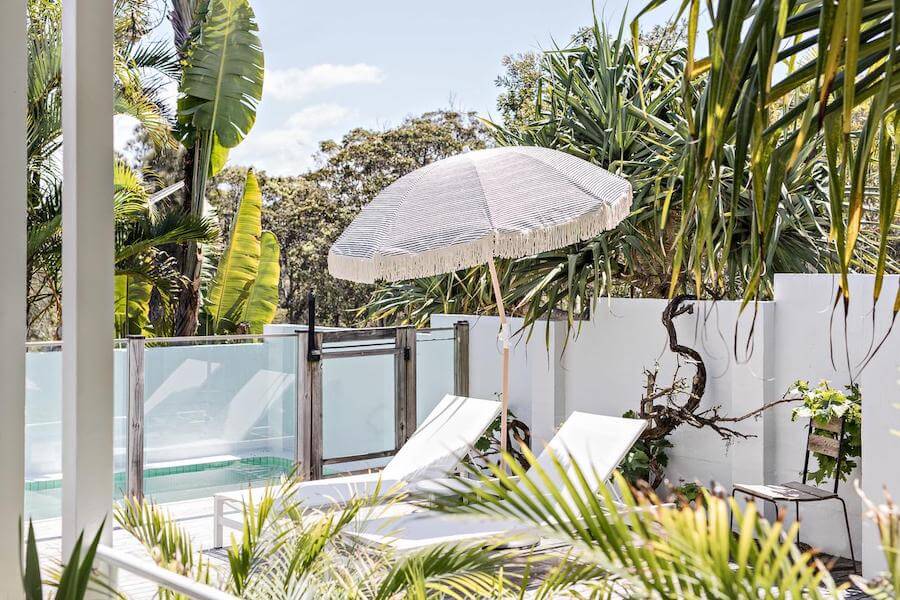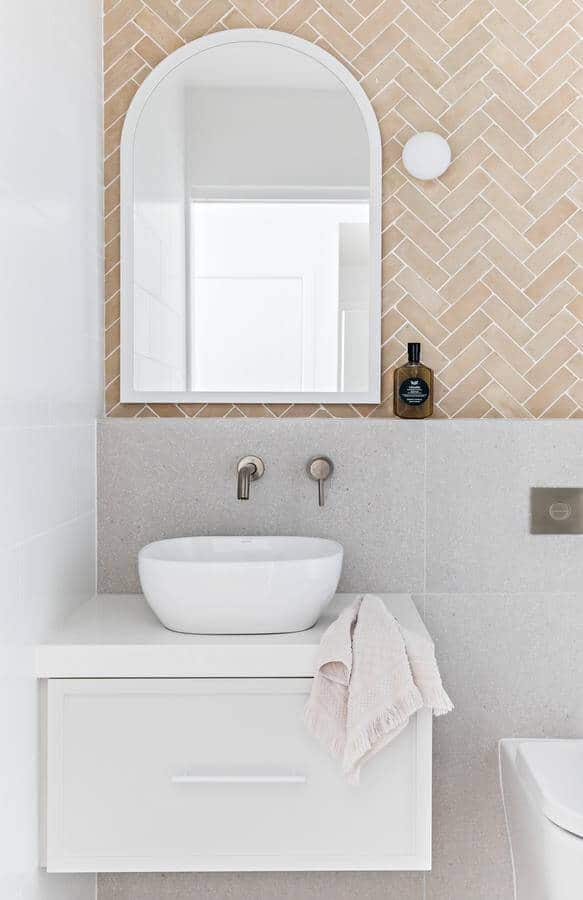 Owned by a local family that has lived in Byron since the 80s, this stunning minimalist property speaks for itself.
The Cape Beach House is situated smack in the middle between the main town area and Watego's Beach, which allows for easy access on foot to all the best parts of Byron.
Enjoy walking to the Cape Byron Lighthouse, Tallow Beach, Main Beach, Clarke's Beach and the Cape Byron Walking Track from this stylish B&B.
Rates start at around $250 per night. Book the Cape Beach House in Byron Bay
Lucia – By Kinsfolk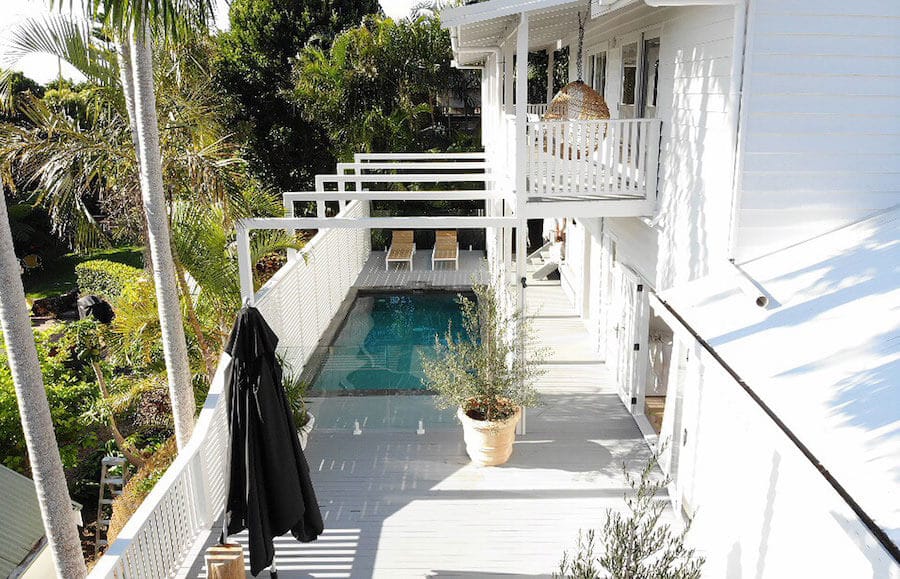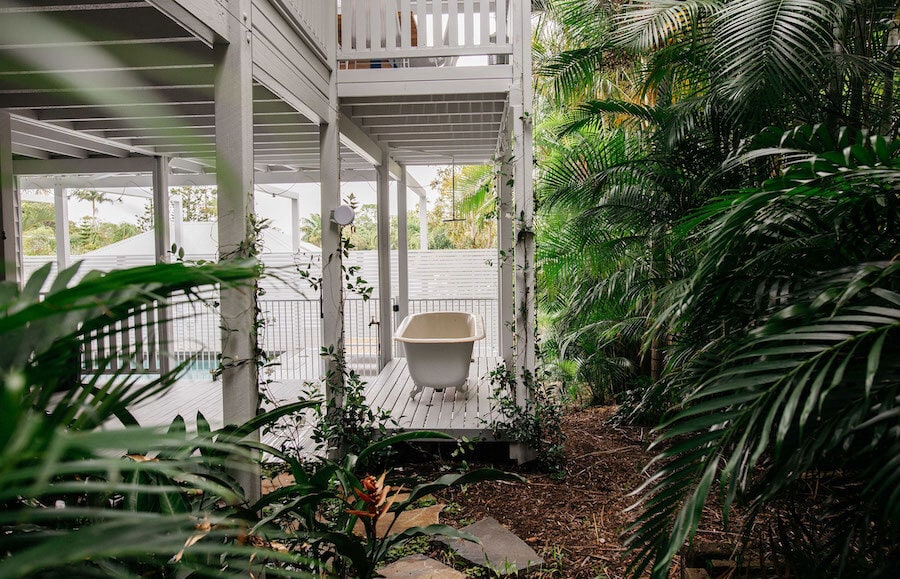 An expansive house with plenty of room for large groups or families, Lucia by Kinsfolk is a surfer's paradise with a laidback luxurious twist.
Just 10 minutes walking distance to Tallow and Clarke's Beach, the stunning home is located in a tranquil neighborhood setting, but close enough to all of the best parts of town. Please note there is a 3 night minimum to stay here.
Rates start at around $530 per night. Book Lucia by Kinsfolk in Byron Bay
Magnolia House
The Magnolia House is quintessential Byron style, with white washed walls, light wooden furniture and a mix of bohemian accents and lush greenery to give the space a tropical touch.
This home rental sleeps 8, so it's ideal for large families or groups of friends, and it's been featured regularly in some of the top interior magazines across Europe. If you're looking for effortless luxury and an intimate space in Byron, this is it.
Book Magnolia House on Airbnb for $790 per night. (Get $40 off your first Airbnb rental with this link)
The White House on Watego's
For those looking to situate themselves on Watego's Beach, the White House is pure luxury. With turquoise ocean views right out your window, guests to the White House maybe never make it far off the beach.
The property is fully equipped with everything you could need for an effortless stay and has a private patio balcony to take in the views — don't miss this one if you're traveling with a larger group.
Book The White House in Byron Bay, prices available upon request.
The Watermark at Watego's
Another stunning property on the Watego's Beach side of Byron, The Watermark is full of drool-worthy earth tones, minimalist furniture and coastal accents, with ocean views even more beautiful than its interior decor.
The Watermark is just 3 minutes walk from Watego's Beach and close to the Cape Byron Lighthouse and Rae's when you want to scoot out of the house for a cocktail.
Rates start at about $400 per night. Book The Watermark in Byron Bay
The Villas of Byron
For the ultimate in moody luxury, the Villas of Byron will give you all the amenities of a 5-star stay without the loads of other guests.
Between its pamper menu (full-body massage, anyone?), on-site chef, and bicycle rentals, these stunning villa-style accommodations will ensure the ultimate vacation to Byron Bay.
Rates start at about $450 per night. Book the Villas of Byron.
Not loving any of these places to stay in Byron Bay? Search for more options below!
PIN THIS POST FOR LATER