Prague might just be the most beautiful European city I've visited to date. Yep, I stand behind that statement. And it's funny because Prague was a last minute add-on to my recent two and a half week European adventures.
My trip was starting in Germany for Oktoberfest and ending with a project in Slovenia and I had 4 days to fill in between with little plans laid out. Prague seemed to be easy enough to access from Munich, plus it came highly recommended by so many of you on Instagram, so I decided to go for it. I went in with little expectations and came out with a new love for this gorgeous city.
For a photographer, Prague is a dream to capture. The architecture throughout the city is both varied and stunning, with most structures in the Gothic, Baroque and Renaissance styles (to name just a few) still remaining in tact. The city was lucky enough to be spared destruction during World War II and much urbanization since, which makes it the best preserved Medieval city in Europe — a major factor in its designation as a UNESCO World Heritage Site.
One thing that especially struck me during my visit to Prague was how beautiful this city is particularly from above. While the cobblestone alleys of Old Town are charming and the colorful buildings in the historic center are easy on the eyes, it's the red rooftops and viewpoints overlooking the Vltava River that characterize Czech Republic's most famous city.
I was on a mission during the course of my short visit to find all the best views in Prague, and I think it's safe to say my efforts were a success. Whether you're a photographer like me looking to capture the beauty of Prague, or a curious tourist wanting the best photos to take home to show friends, this post should point you in the right direction and give you some great tips for capturing the best viewpoints in Prague.
Quick Tips for Photographing Prague
All the shots you see here were taken with my Sony A7RIII mirrorless camera and the 24-70mm F/4 lens.
If you have access to a 200mm zoom lens or greater, Prague is a great place to play around with it if you want to capture more detailed and close-up architecture shots from a distance.
If you want to capture the scale of Prague's architecture from closer up, make sure to pack a wide-angle lens like a 16mm to be able to fit everything into a single frame.
Keep in mind that Prague is a very busy city for tourism. If you want any chance of getting street shots without crowds in them, visit in off season and wake up for sunrise.
Where to Find the Best Views of Prague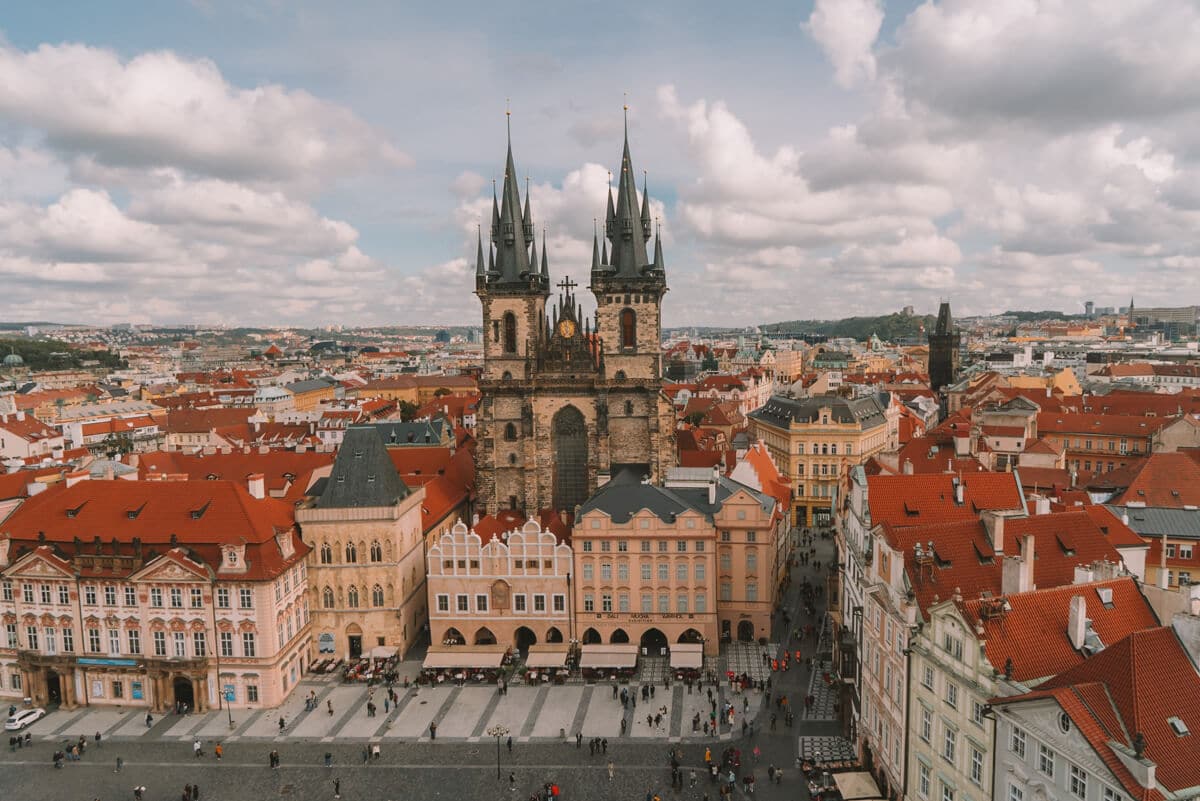 Astronomical Clock Tower
Heading up to the viewpoint at the top of the Astronomical Clock Tower located in the Old Town square was one of the first things I did on day 1 in Prague and it made me instantly fall in love with the skyline of this city.
The entrance fee is 250Kč (approximately $11 USD) and 100% worth it to be able to witness panoramic views of not only the historic square below, but also Prague Castle across the river and many other beautiful architectural structures dotting the landscape.
Due to the elevator access inside the clock tower, this is probably one of the more wheelchair accessible viewpoints in the city and can be enjoyed by everyone.
Great South Tower of St. Vitus Cathedral
Skip your workout for the day if you plan to head up to the top of the Great South Tower of St. Vitus Cathedral, because the only way up is via 287 steps in a narrow enclosed spiral staircase.
Despite feeling a bit of vertigo on the journey to the top, the views were unbelievable and offer a different perspective from the other side of the river from the Astronomical Clock Tower. Bonus: You'll also get a peek down at St. Vitus Cathedral from above. The entrance fee to go in is 150Kč (approximately $6.50 USD).
Pro tip: This isn't a great option for anyone who is highly claustrophobic, but if you're up for it, bring a water bottle and some comfortable shoes.
Chotkovy Gardens
This lesser-known spot sits within the Chotkovy Gardens, just behind Prague Castle and was virtually empty when I visited despite most other parts of the city being swarmed with tourists.
As you exit the back of the castle grounds west of St. Vitus Cathedral, you'll come to an entrance for the gardens whose path continues East and eventually connects to Mala Strana. Along the way, you'll spot locals jogging and walking their dogs and be greeted to views of the Vltava River and four of Prague's 17 total bridges.
Vltava River Views of the Charles Bridge
The Charles Bridge is undoubtedly one of the most popular spots to visit in Prague, but the sheer number of tourists can make it difficult to enjoy fully — let alone capture a photo.
For a better view of the bridge, head to the Mala Strana side of the Vltava River and walk towards the Franz Kafka Museum which sits in close vicinity to this tiny sandy area where the famous Prague swans hang out.
You'll see people feeding the swans bread and taking plenty of photos, but despite the crowds it's easy to capture the bridge in the background without people in your shots since you're at the bank of the river. The tricky part is getting the swans to pose!
Petrin Tower
Another hike well worth the views, Petrin Tower sits on Petrin Hill and was built to resemble a mini version of the Eiffel Tower in Paris. From the top of the 63.5m tower (which already sits atop a 318m hill), visitors get one of best views of Prague.
Much like the bell tower in St. Vitus Cathedral, it's quite a few stairs to get up to the top of Petrin Tower, however this is a better option for those who are claustrophobic as the majority of the way up is open-air. The entrance fee is 150Kč ($6.50 USD).
After your climb up Petrin Tower, walk through the gardens down to the nearby Strahov Monastery to treat yourself to a beer in their centuries-old brewery.
Strahov Garden Viewpoint
Just below the Strahov Monastery is a beautiful viewpoint overlooking the city and gardens below. This spot is more of a hidden gem that I happened to stumble upon while wandering around after a beer at the Strahov Monastery brewery one afternoon.
I was pleasantly surprised to find hilltop views with some nice opportunities to capture a bit of foreground foliage in the shot for a different effect with depth of field. This day was pretty overcast so the shots are a bit more moody than I'd like, but the beautiful views were still worth a visit to this spot.
There are benches along the walking path here to allow visitors to sit and take in the scenery, or you can grab a seat at the Restaurant Bellavista next door when hunger strikes.
Terasa U Prince
This rooftop bar is a popular spot in the Old Town Square for views overlooking the most historic part of Prague. While I didn't actually get a chance to make it here for food and drinks, you can see its location from this shot I took atop the Astronomical Clock Tower just across the square.
If you want the famous clock tower in your photos or just an epic location for a romantic dinner with a side of panoramic views, this is the place for you. Terasa U Prince is located at the top of Hotel U Prince and serves food and beverages year-round. I'd recommend calling ahead for a reservation and requesting a table with a view for the most memorable experience — sunset is ideal!
Charles Bridge
The Charles Bridge is a stunner to photograph and a major symbol of the city of Prague, but there are also beautiful shots to be taken from the bridge itself. This is just one perspective above, but from the Charles Bridge you can also capture shots of the Legion Bridge along the Vltava River and of the Mala Strana on the west side of the city.
Čertovka Canal
Did you know there is a canal in Prague that resembles Venice, Italy? I sure didn't. One of the more surprising views in Prague that I discovered by accident is located on the Mala Strana side of the Charles Bridge along the Čertovka Canal. I happened to catch a very lucky moment with these boaters coming through, but it's still a very charming place to capture, canal boat or not.
Have you been to Prague before? Where are your favorite views of this stunning city in Czech Republic? Let me know in the comments below!
Want to plan a trip to find the best views of Prague? These are all the websites and services I love for booking everything from flights, tours, accommodation and more:
Loved This Post? Pin It For Later
Read More: