Ever dreamed of visiting Mongolia? The thought might seem daunting or a bit out of your comfort zone, which is why I've enlisted Mongolia expert Breanna Wilson to share her top tips and Mongolia itinerary–3 in fact–to jumpstart your planning process. Keep reading for a deep dive into everything you need to know about exploring this vast country.
---
It was by accident that I visited Mongolia a few years ago. I knew nothing about the place (except for some hazy memory from high school history of a Mongol ruler named Genghis who did that one thing, that one time, 800 years ago).
But I had just quit my full-time job, had a hefty tax refund in my bank account, and had just been introduced to some guy on Instagram. "That guy" quite literally changed my life. (And not in some mushy rom-com kinda way. We're better than that, girls. He's now one of my dearest friends in life as well as a badass business and adventure partner. We all need an Erik Cooper in our lives.)
Today, Mongolia is my part-time home (I split my time between Ulaanbaatar and Tbilisi, Georgia) and is a place that I'll forever have a fascination with and passion for. It's not an easy place to live (by any means), but that's what I love about it.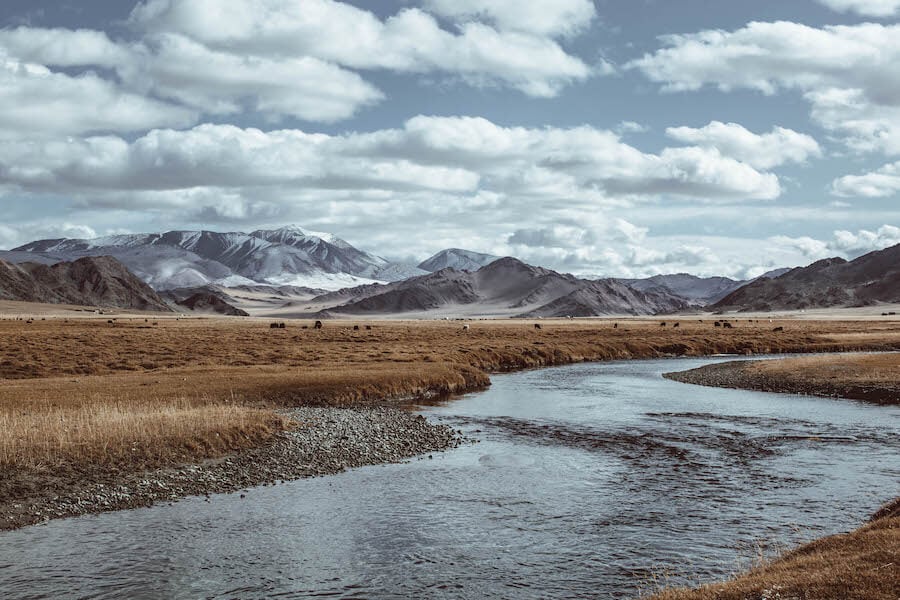 Everything about Mongolia pushes you. Pushes you to your limits. Pushes what you thought you knew about yourself. Pushes you to open your eyes and your mind. Mother Mongolia, as I like to call her, doesn't mess around; just when you think you have everything under control, she throws something unexpected your way.
It's a place where you truly have to let go–let go of control, schedules, and yourself. The only way to truly experience Mongolia and everything she has to offer is to let go. Once you do, she'll show you everything you've ever wanted to know about yourself, and so much more.
After two years in the country, I still discover new things every day. From befriending reindeer riders, Kazakh eagle hunters, and Gobi Desert camel herders to uncovering unexpected street art and fashion scenes, underground jazz clubs, and experimental cuisines, I never grow tired of what this country has to offer.
Which is exactly what led me to launch Meanwhile in Mongolia–to share my experiences of scuba diving in the world's most landlocked country to hiking volcanic craters, and everything in-between.
That's why I love Mongolia and why I think it should be on everyone's bucket list. But don't just take it from me, it's a place that you need to experience for yourself. And when you do, well, here's everything you need to know about visiting Mongolia for the first time.
See you there.
x Breanna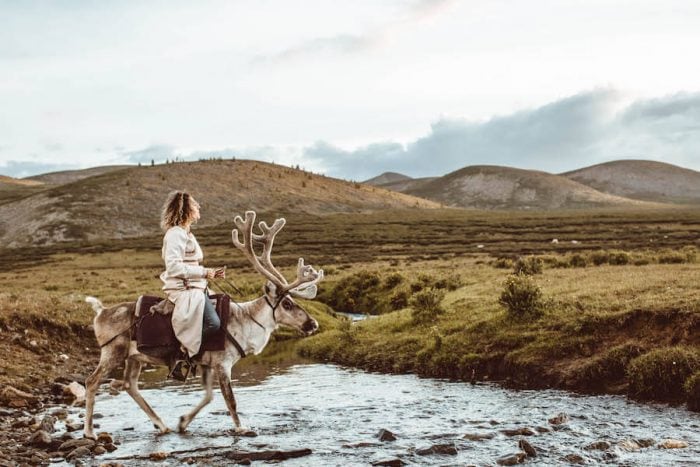 Why Mongolia Should Be at the Top of Your Bucket List
From riding reindeer to hunting with eagles, swimming in color-changing lakes or cruising on camels across the Gobi Desert, visiting Mongolia puts your wanderlust into overdrive.
Some of my favorite adventures include:
Winter Dog Sledding in Gorkhi Terelj National Park
Motorcycling Across Mongolia in Vintage Russian Urals
Learning to Hunt with Eagles from the Kazakh Eagle Hunters in the West
Riding Reindeer Across the Taiga in the Northern Provinces
Is Mongolia Safe for Female Travelers?
Is Mongolia safe? It's the number one question people have about traveling to Mongolia, especially solo female travelers like myself (it was my biggest fear about moving here as well).
Mongolia is like any other country–there are parts that are extremely safe, and parts where you'll need to be cautious. There's no point in sugarcoating this: foreigners absolutely stand out here. Because of this, I do not recommend females travel around the country by themselves. I say this for a few reasons.
First, you're remote. Like, remote, remote. There's no one around for miles and miles. So, if you're driving solo in a rental car and get a flat tire (or worse), you're all alone. No AAA. No 911. It's up to you to figure out this problem, and I can almost guarantee it won't be a little one. Mongolia is a rough and rugged place.
Second, alcoholism is very common among locals. I'm not saying this to make you think all Mongolians are alcoholics, but only to provide 100% clarity on what you're getting into.
So, if you're staying in a ger (also known as a yurt) with a family, be aware of both your and the family's alcohol consumption. We all know that alcohol can increase aggression, and miscommunication without a clear understanding of cultural nuances or the language leads to increased frustrations. Create a safe experience for yourself by avoiding these situations altogether.
Overall, Mongolia is a place where guns are rare (unless you're in the countryside protecting a herd), and although pick pockets and petty theft are common, that's the worst of it. Wars and political unrest are practically unheard of, and natural disasters are nearly impossible.
---
Read More Travel Guides:
---
When to Go to Mongolia
Summer is the absolute best time to visit Mongolia (unless you really enjoy -40 C/F weather).
In May you still face the risk of getting stuck in a snowstorm, but by June temperatures are warm. Rain is common, but it won't ruin your trip.
July is when Naadam, the biggest festival of the year, takes place. The entire country shuts down for about two weeks usually starting around the second weekend of the month. Horse races, wrestling matches, and archery all take place across the country during this time. It's an incredible way to experience Mongolian culture.
August is hot and a great time to escape north to higher elevations or to Lake Khovsgol, the second largest freshwater lake in Mongolia (after Lake Baikal).
September and October are just as wonderful but be prepared for cold nights. Ger camps start to close down for the season during this time, and some nomads begin moving towards their fall and winter camps.
Summer summary: Nights are chilly. The weather is dry, and usually in the 80s F. Overall, it's a place where layers are your friend and you can adventure freely without delays.
How to Get There
Getting to Mongolia from the US is, well, a journey. It's going to take at least 24 hours, and you'll have to go through Istanbul (my preference), Hong Kong, Beijing, Seoul, or Moscow. (Note: these are all pre-Coronavirus flight patterns and not all of these routes may have reopened, so research accordingly.)
The country's main international airport is located in Ulaanbaatar, Mongolia's capital. Though there's a smaller international airport in Bayan Olgii, it's mostly for "local" international flights out of Kazakhstan and Russia.
The main airlines that fly to Ulaanbaatar include Turkish Airlines, Korean Air, Cathay Pacific, Aeroflot, and Air China. Turkish Airlines is my airline of choice as flying through the new Istanbul airport offers plenty of food options and quiet corners for sleeping.
Aeroflot flights typically leave from New York City through Moscow, but I know more people than I'd like to tell you about who've lost their baggage on this route. If you're heading out of the city shortly after landing, I'd recommend avoiding Aeroflot since it's a bit of a process to recover lost luggage once in Ulaanbaatar.
From the west coast, flying through Seoul, Beijing, or Hong Kong are fairly good options. Layovers in Beijing or Hong Kong can be 12 hours, but if you're on a budget, it usually offers a good fare.
Where to Eat, Sleep, and Play in Ulaanbaatar
If you ask me, Ulaanbaatar is one of the most misunderstood cities in the world. It's not exactly pretty at first glance. There's an insane amount of traffic. Things don't open early–or even on time. It's a place–like the rest of Mongolia–where you have to go with the flow.
Service is slow (or nonexistent). Food quality is hit or miss. And complicated orders are a recipe for disaster (sorry vegans and eaters with dietary restrictions, this is not going to be an easy place for you).
But, when it comes to things to do in Ulaanbaatar, the possibilities are endless. It's the hidden gems that really make this place stand out. No matter where you stay, most activities are either walking distance or a short taxi ride away. Plus, you'll have to fly in and out of Ulaanbaatar regardless, so adding it to your Mongolia itinerary is non-negotiable.
Where to Stay:
Search for more Ulaanbaatar hotels on Booking.com:
Where to Eat:
La Rosa Tapas & Tequila Bar
Rosewood Ulaanbaatar Kitchen + Enoteca
Sakura
Green Zone
Terrazza
ROC Caffeine Bars (Coffee)
Where to Play:
Fat Cat Jazz Club
MB Beer Plus
Republik Pub
Sky Walker
Nazca
Quick Tips for Planning Your Mongolia Itinerary
Here are a few quick tips for planning your trip that will make your Mongolia itinerary run more smoothly:
Plan *almost* everything in advance
Mongolia is not a place to "wing it". You won't find hotels everywhere. Or water, for that matter. Wi-Fi won't necessarily work once you leave the city. And don't expect people to speak English.
Stock up on some solid gear
While I hate pushing gear on travelers, I'd recommend stocking up on some solid staples before leaving. You DO NOT need the best of the best to travel/hike/adventure/overland here, but it can get cold at night so a down puffer jacket is an absolute must.
A portable water purifier just might save your life. And never underestimate the power of quick-dry socks, a waterproof rain jacket and pants, and a knife.
Buy travel insurance
Just do it. Trust me. It personally saved me $3,000 when I broke my collarbone in Mongolia last summer.
[Note: For travel insurance, Live Like it's the Weekend recommends World Nomads or SafetyWing for the best budget options with the most coverage. If you want to read more about my experience with travel insurance, click here).
Three Bucket List Mongolia Itineraries for First Timers
Mongolia isn't an easy place to plan for or explore on your own. Here are three ways to explore Mongolia without feeling overwhelmed, because these badasses have done the work for you.
How to Explore Mongolia by Motorcycle: Moto Trip Mongolia
Who this trip is perfect for: New and experienced motorcyclists looking to adventure in style.
I may be biased since I designed this trip with some friends, and I personally lead this adventure … but it's good.
Along with the nomadic herders and translators we bring along who will open your eyes to Mongolian life and culture in one of the most unique ways possible, this experience will make you rethink everything you thought you knew about life, travel, and most importantly–yourself.
What to expect on a Moto Trip Mongolia itinerary:
A vintage Ural motorcycle with sidecar (so, 2 riders per motorcycle– perfect for bringing a friend).
A motorcycle driving experience that includes off-roading across the Mongolian steppe.
All drivers must have a motorcycle license and proof of travel insurance. Riders in the sidecar do not need a motorcycle license but must have travel insurance. The tour is set up so that drivers and riders will switch throughout the trip, but if someone doesn't want to drive (or doesn't have a motorcycle license), that's okay too–they can be the passenger the entire duration of the trip!
While it is required that you have a motorcycle license for this trip, this is a great trip for new and beginner motorcyclists! These Urals are easy to manage since you're on three wheels, and there isn't much chance of a traffic accident out on the steppe–it'll be just us out there!
And I can't forget to mention, this is a great trip for females since it's led by me!
All meals, accommodations, transportation, motorcycles, and fuel are included.
The trip also includes a follow car for carrying luggage, a translator, and motorcycle mechanic who will repair and tune up the bikes all along the way.
Self-Drive Mongolia and Take a Photography Masterclass Along the Way: Follow the Tracks
Who this trip is perfect for: Self-sufficient explorers looking for great photos for the 'gram.
I really, really like the Follow the Tracks model. It's a self-driving tour plus a photography masterclass designed by Max Muench, a guy you've almost certainly seen (more like, stalked) on Instagram.
You can choose from a few different routes (I recommend the Gobi Desert one), all of which start and end in Ulaanbaatar. You'll have your own rental car, car camp essentials, and an iPad loaded with everything you need to make the most of this go-at-your-own-pace adventure.
I recommend grabbing enough friends to do this trip with at least two cars so you can tow each other in case of any hairy situations. Plus, more people equal more fun.
What to expect from the Follow the Tracks experience:
A rental car from Sixt Rent a Car will be waiting for you in Ulaanbaatar at the start of your trip.
Each car has 4-wheel drive and is equipped with a rooftop tent for sleeping.
The car will have a GPS system loaded onto an iPad for your use during your self-driving adventure. This iPad will also act as your photography masterclass workbook, pointing out the best spots to capture photos along the route, and the best camera settings to do so.
Additionally, the car will have camping and kitchen equipment, but you are responsible for purchasing your own food–and fuel–for the duration of your trip. (I suggest stocking up on food in Ulaanbaatar before hitting the road. Once you reach the tiny soums (tiny villages) in the countryside, you never quite know what you're going to find.)
Ride Reindeer and Learn the Ancient Tradition of Hunting with Eagles: Erik Cooper Adventures
Who this trip is perfect for: Equestrians looking to really embed themselves with Mongolia's unique–and very remote–tribes.
Erik is the gateway to the Tsaatan Tribe and Kazakh eagle hunters (he's also the reason I fell head over heels in love with Mongolia). He's spent the last eight summers in Mongolia and his connections are truly the reason why his tours are the most immersive, unique, and bang-for-your-buck.
You are thrown into the lifestyle, into the steppe, and into everything Mongolia has (for better or worse) to offer, with a touch of boujee along the way. There isn't anyone that I trust more in Mongolia–or with my life. You can tell him I said that.
What to expect on an Erik Cooper Adventures Mongolia itinerary:
All meals, accommodations, and transportation included. A translator will also accompany you during the duration of the trip.
You MUST be comfortable on a horse. Because there are no roads where you're going, you'll be riding semi-wild horses for two days just to get to the Tsaatan Tribe's home on the taiga, for example. If you are inexperienced on a horse, or afraid of riding, this trip is not for you. Erik will vet you before the trip, so don't expect to fake your way into this experience, it's simply too dangerous to do that.
Each of Erik's trips is different. You never know if you'll get to ride reindeer across a glacier, watch locals compete in a reindeer race, or watch on as Eagle Hunters battle in ancient Kazakh games. No matter which trip of Erik's you join, each one is specially curated and pulls out all of the stops.
Hope to see you all in Mongolia. You know where to find me when you do.
---
Planning a trip right now? Don't miss my go-to websites for booking everything from flights and tours, to accommodation and more:
---