Carmel-by-the-Sea is without a doubt one of the most charming and idyllic towns on the California coast. Between endless scenic views, fairytale-like cottages, and a slew of standout restaurants, Carmel tends to win people over pretty quickly. If you're visiting for the first time, let this list of the best restaurants in Carmel be your guide to dining like a queen during your time in one of California's most adorable towns.
When you think of Carmel, your mind may immediately go to exploring the coast, playing golf at Pebble Beach, or wine tasting, but it's also a popular place among foodies. In fact, Carmel-by-the-Sea has more restaurants per capita than any other small city in the country, making it a culinary connoisseur's dream.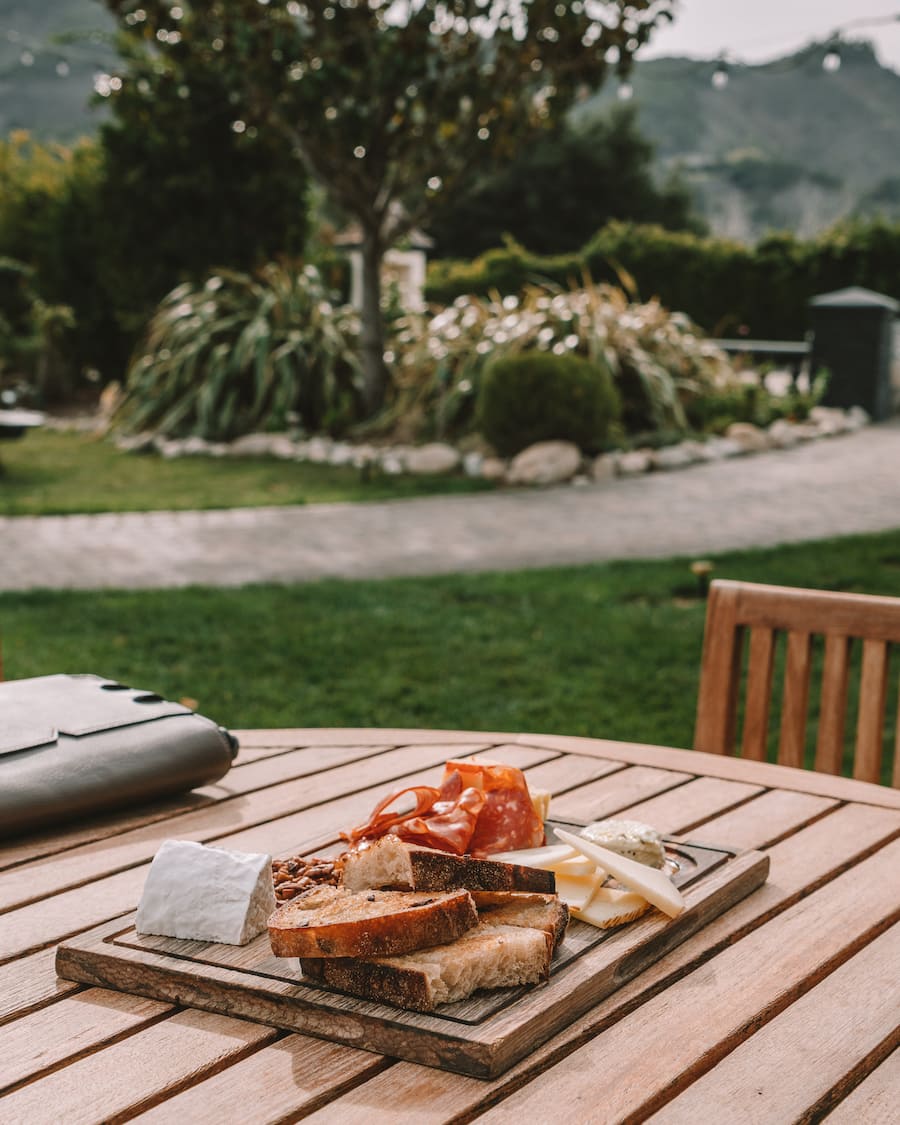 Since there are more than 60 different eateries, bakeries, bars, and fine dining establishments here to choose from, I've put together this guide to help you hit the tastiest spots. From upscale French cuisine to sushi by the sea, these are some of the best restaurants in Carmel in no particular order that will only elevate your experience during your visit!
15 Best Restaurants in Carmel (From Casual to Fine Dining)
1. La Bicyclette
No list of best restaurants in Carmel would be complete without La Bicyclette. It's hands-down one of the most popular restaurants in the area. Everything from the exquisite menu to the atmosphere transports you to the European countryside, making this a culinary experience that no foodies will want to miss. Though La Bicyclette is a very popular spot for dinner, you can also enjoy breakfast on the weekends and lunch daily.
At breakfast they only accept walk-ins, however, you will definitely want to make a reservation for dinner (and probably lunch). This place gets pretty packed no matter what day it is, so it's always best to play it safe and plan ahead.
When I say that I loved everything I had here, I mean it; the salads are unique and fresh, and the wood-fired mushroom caps melt in your mouth. That being said, you can't go wrong with any of the wood-fired pizzas.
2. Anton & Michel
From the signature courtyard fountain to the floor-to-ceiling windows, Anton & Michel is a cozy restaurant that has great ambiance for both indoor and outdoor dining. There are several different areas to sit in the restaurant, though my personal favorite is in a booth next to a fireplace.
Though they have a full bar, Anton & Michel is best known for their amazing wine list (you'll notice the bottles of wine that line the walls when you walk in). The menu features a wide array of options but the focus is definitely on American cuisine, and it's pretty meat-heavy. If you like steak, duck, and seafood, this is a great place to stop for dinner in Carmel to satisfy those hearty cravings.
3. Stationæry
Stationæry is one of the most popular breakfast spots in Carmel, and to be honest, you're definitely going to have to wait in line no matter when you come. The atmosphere is both modern and cozy, creating an intimate setting for breakfast, lunch, or a glass of wine in the afternoon.
Most of the ingredients are purchased from farms in Monterey and Santa Cruz county, and the menu changes based on what is in season and available. Some brunch favorites include the steak and eggs, potato pancake, and chilaquiles. I also love their seasonal lattes here, so make sure to inquire about what's currently being served!
4. Aubergine
Located in the L'Auberge Carmel, Aubergine is an elegant and sophisticated hotel restaurant that is backed by Chef Justin Cogley and renowned pastry chef, Yulanda Santos. This is an award-winning restaurant, and it's definitely on the more expensive side, making it a great spot for a special occasion.
The use of locally grown and sourced ingredients enhances the quality of each dish and the desserts are out of this world. Everything from the taste to the texture of each course is made to create a unique experience that utilizes all of the senses.
Keep in mind that the tasting menu changes every day, and the restaurant's 2,500-bottle wine cellar is stocked with some of the best wines available. I highly recommend opting for the course-by-course wine pairings for an unforgettable culinary experience.
5. Mission Ranch Restaurant
Mission Ranch Restaurant is a rustic, ranch-style restaurant at the Mission Ranch Hotel (it is also owned by actor Clint Eastwood). Though the food is super tasty, this is considered to be one of the best restaurants in Carmel thanks to the massive patio that offers idyllic views of the rolling, green pastures.
It was originally a farmhouse that Eastwood restored and turned into a restaurant, but it still maintains its country charm and style.
The menu features a lot of American comfort food like slow-roasted prime rib and pork tenderloin, though they also have lots of salads and seafood dishes for those who want something lighter. Even just stopping by for drinks and appetizers is well worth it for the epic views—including visits by roaming sheep in the pastures!
6. Seventh & Delores
Looking for a sleek and classy steakhouse? Seventh & Delores is a modern oasis that is bright, airy, and inviting. The marble bar in the main room is impossible to ignore, and the massive windows let in a ton of light and brighten up the space. Though many people like sitting in the main room so that they can catch a glimpse of the glass-enclosed kitchen, the outdoor patio is also wonderful (weather permitting).
Though Carmel-by-the-Sea is known for being a wine-lovers oasis, Seventh & Delores has some of the best cocktails in town and it's the perfect place to take a break from the vino.
Take note that Seventh & Delores is only open for dinner, and I would highly recommend making a reservation in advance since it's one of the more popular steakhouses in the area. When it comes to food, you can't go wrong with any cut of steak, however, make sure you don't miss out on the huge variety of sides (the creamy grits are literally to-die-for).
7. Casanova
Casanova is a family-owned restaurant in Carmel that works with organic farms and local fisheries. There is a freshness to all of the dishes at Casanova thanks to the use of quality ingredients, and there are plenty of healthy options to choose from.
Casanova features a lot of Italian fare, though they have other European dishes like escargot and potato croquettes. Keep in mind that Casanova doesn't serve liquor, but they have some incredible wines by the bottle and the glass. Having been serving patrons in Carmel for more than 20 years, you can rest easy knowing that any meal at Casanova will not only be consistent, but delicious too.
---
Read More California Posts
---
8. II Tegamino
Tiny but mighty, II Tegamino is an institution in the Carmel foodie scene and is definitely one of the best restaurants in Carmel. Tucked inside the quaint Court of the Golden Bough, the restaurant packs a charming punch but is seriously so small. That being said, reservations are absolutely recommended.
This beloved Italian hotspot is perfect for pasta lovers, with plenty of mouth watering menu items like rigatoni alla carbonara and gnocchi di agerola. Whether you're looking to be transported to the kitchens of Italy or just want a super romantic spot for the evening, Il Tegamino is perfect.
9. Toro
Toro is one of my absolute favorite spots in Carmel since I can never seem to eat enough Japanese food. Despite the fact that sushi probably isn't the first thing you think of when dining in Carmel, everything at Toro is so fresh, and it is without a doubt one of the best meals I've had in the area. The head sushi chef at Toro has more than 25 years of experience, and it definitely shows.
All of the fish is delivered daily, ensuring that you're getting the freshest possible cuts. Something else that really makes Toro stand out from other sushi spots is the fact that all of the sauces are made in-house, and nothing comes pre-made in a package.
If you find yourself needing a break from all of the bread, cheese, and European-inspired fare of Carmel, I highly recommend stopping by Toro
10. Carmel Belle
Carmel Belle serves up classic California cuisine in a farmhouse setting, and it's a wonderful place to grab a light lunch before shopping or exploring for the day. This is definitely a more casual, order-at-the-counter type spot located inside a mini shopping area with other boutiques, but their designated sitting area is super cozy and one of those places you want to grab a book and hang at for awhile.
Most of the produce used is completely organic and locally sourced, and all of the meat is humanely raised and hormone-free. If you're doing your best to stay healthy while still indulging in great food, Carmel Belle has you covered.
11. Cantinetta Luca
Enjoy a romantic dinner featuring authentic Italian cuisine and renowned wine at Cantinetta Luca. Most of the ingredients come straight from Italy, and the house-made delicacies allow this local-loved spot to stand out from the competition. Whether you're in the mood for pasta or wood-fired pizza, you can't go wrong with any order.
Even all of the sauces at Cantinetta Luca are made in-house, and there is a sense of quality across every single dish. Plus, the imported Caputo 00 flour is a serious game-changer and makes you feel like you're actually in Italy rather than along the California coast.
12. Cultura Comida y Bebida
Between the cool and artsy atmosphere and the Oaxacan-inspired menu, Cultura Comida y Bebida is hands down one of the best restaurants in Carmel you can't miss. Every time I've stopped by here, it's always packed, which speaks volumes. They have both indoor and outdoor seating depending on the vibe you are going for, but you can't go wrong with either.
You can't go wrong with ordering the Tres Tacos sampler, but the seasonal cocktails are personally my favorite. If you are a fan of Mezcal, you will love Cultura Comida y Bebida's impressive selection. In fact, this restaurant has one of the largest curated collections of traditional Mezcal in all of California (not something you'd expect to find in Carmel)!
13. Folktale Winery
Looking to sip sustainably? Folktale Winery prioritizes the health and well-being of the planet while making refreshing and eco-friendly wines on their stunning vineyard. Though the food and drinks are awesome, the main reason to come here in my opinion is for the atmosphere.
The architecture of the restaurant holds true to its moniker with a fairytale-like facade, and the spacious lawn area is idyllic for sipping wine in the sun. Even their wine labels evoke that mystical, romantic vibe of the European countryside. Also if you come here, don't miss their gift shop on site which is drop-dead gorgeous. FYI, Folktale is located in the valley, so you'll have to drive to get here.
The Wine Garden Restaurant is a reservation-only experience that allows you to enjoy a curated menu (it's a bit on the smaller side) with a wine pairing crafted from all locally sourced ingredients. There is nothing quite as peaceful as sitting outside with a wine flight as you take in the serene surroundings here—I promise, you will fall in love.
PS—Folktale also does a great Sunday brunch that features wine-centered cocktails and breakfast favorites.
14. Rise + Roam
Carmel has several amazing bakeries, but one of my personal favorites is Rise + Roam. Whether you're picking up a loaf of sourdough and some coffee-to-go or you want to stay for some fresh soups or salads, Rise + Roam is a must-visit while in Carmel for something on the more casual side. All of the bread is made in-house every day, and it seriously smells like heaven right when you walk through the glass door.
Affordability is a big priority at Rise + Roam, so you won't see any crazy prices on the menu. The entire concept was inspired by street vendors, so if you're looking for something quick and easy that doesn't break the bank, Rise + Roam should be at the top of your list.
On our last day in Carmel, we were looking for something to grab on our way out of town and I picked up a delicious bacon and egg breakfast muffin here that had a literal egg inside (it was amazing). I will definitely be coming back here!
15. TreeHouse Cafe
Between the enchanting ambiance and the diverse menu, TreeHouse Cafe is a cozy and one-of-a-kind eatery in Carmel. Even though we didn't get a chance to make it here, so many local people and hotel staff we ran into recommended this place. The outdoor patio and veranda are the perfect places to post up with a glass of wine as you enjoy the coastal breeze. Plus, this patio is dog-friendly, ensuring you can bring your furry family members along for the ride.
The menu has predominantly Mediterranean and Thai influences, and you'll find fan favorites like hummus, sliced gyros, and yellow Thai curry here. This is a more casual spot that is great for both lunch and dinner.
Did this post inspire you to plan a foodie excursion to Carmel? Let me know in the comments below!
---
Planning a trip right now? Don't miss my go-to websites for booking everything from flights and tours, to accommodation and more:
---