With so many iconic things to do in California, it can be easy to overlook some of the more unique, off-the-beaten path things to do in the Golden State. Sure, it's amazing to hike to the Hollywood sign, go wine tasting in Napa, or take an iconic shot of the Golden Gate Bridge, but there are seriously so many other unique places to visit in California.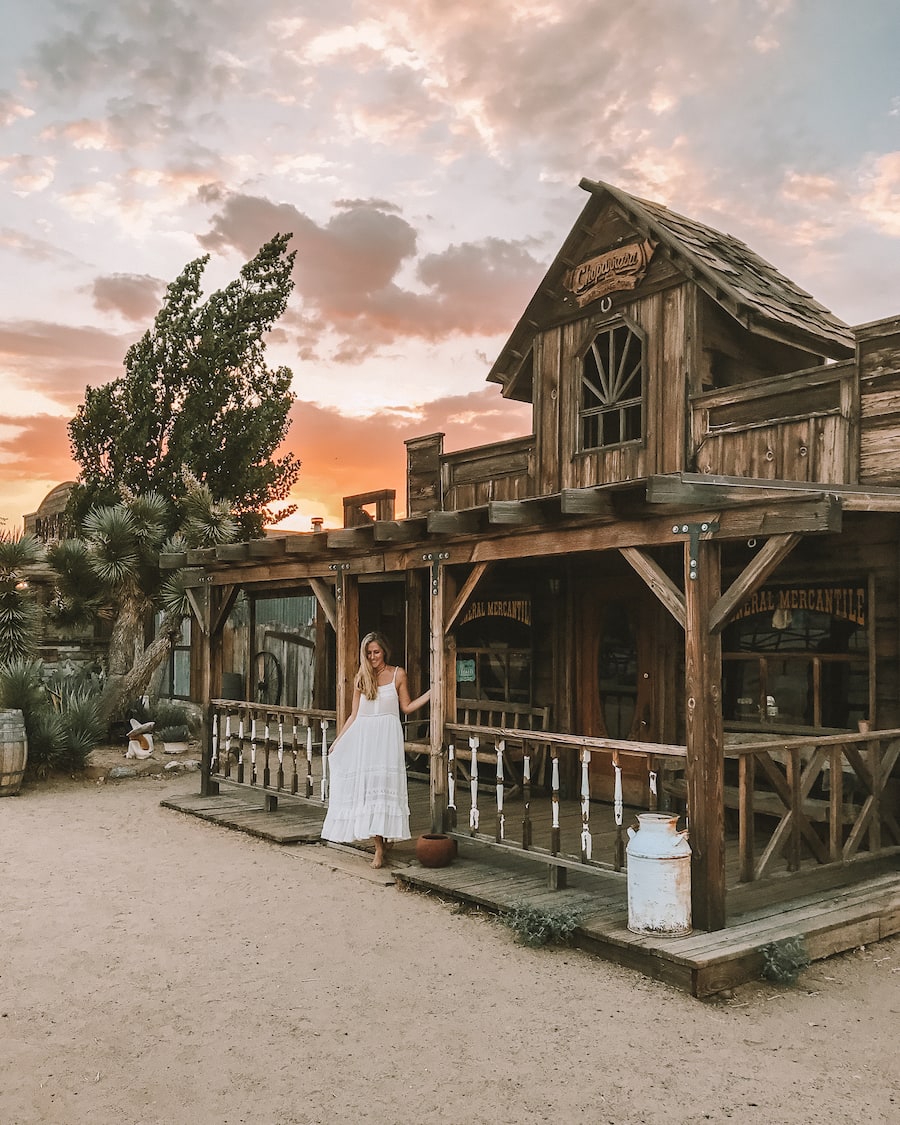 As someone who has lived here for almost a decade, I've really gotten to know California quite well—and one thing I've learned is that there are so many cool spots and hidden gems here that don't get nearly enough buzz!
I have spent a good amount of time in California exploring off-the-beaten-path destinations and experiences… AKA—secret, local spots that most people out of state don't know about. In this post, I wanted to share some of those, but also highlight some more popular spots that still have that something special that makes them unlike anything else you might find in California.
From one-of-a-kind historic landmarks to the most beautiful hidden beaches, I've put together this list of my favorite unique places to visit in California so that you can experience this stunning state at its fullest and veer a bit off the well-worn tourist trail.
Wild and Unique Places to Visit in California You Can't Miss
Salvation Mountain
Located in the low desert of Southern California, Salvation Mountain is an eccentric and monumental site with a wild story. It all began with Leonard Knight, a man who moved to town and attempted to spread his message of love through hot air balloons. However, once that failed, he set his sights on the mountain. What was once a pile of dirt and broken cement became Leonard's passion project, and transformed into a colorful desert monument dedicated to spreading love.
The unique masterpiece is covered in over half a million gallons of paint, and trust me—it is unlike anything else you will find in California (or the country for that matter). Old car parts, bricks, tires and windows are a few of the things you might see built into this unconventional visionary art park, making it top the list of weird things to do in California.
Pioneertown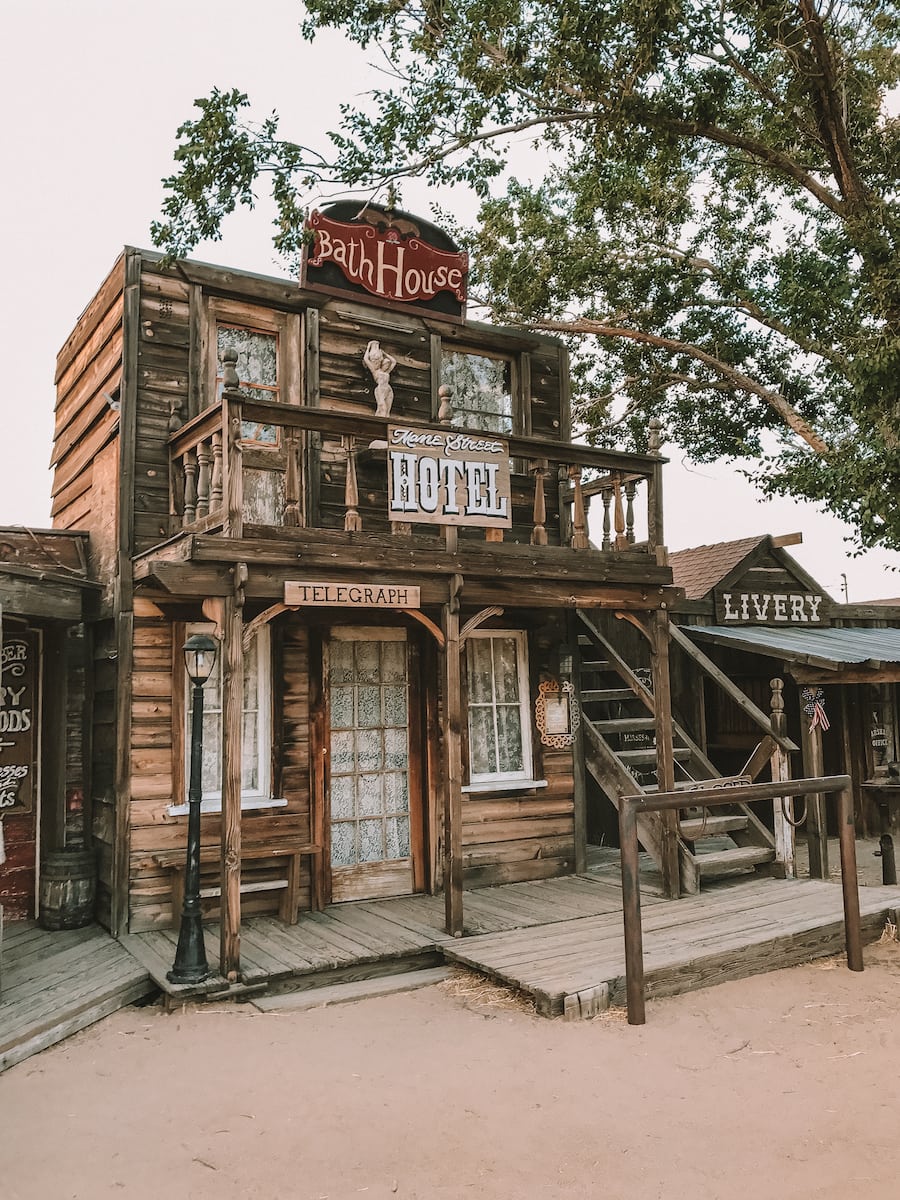 What's cooler than an Old West movie set built in the 1940s with a fully functioning saloon and all? Pioneertown is just outside of Joshua Tree National Park, yet I've found that a lot of visitors to the park don't even know it's there.
This quirky yet charming town is without a doubt one of the most unique places to visit in California, and is an awesome spot for fun photos as well. As an added bonus, right next to Pioneertown is Pappy's and Harriet's, which is one of my favorite BBQ joints in California and is great for grabbing a bite and listening to some live music.
Don't miss this funky Old West town next time you find yourself in the desert!
---
Read More California Posts
---
Glass Beach in Fort Bragg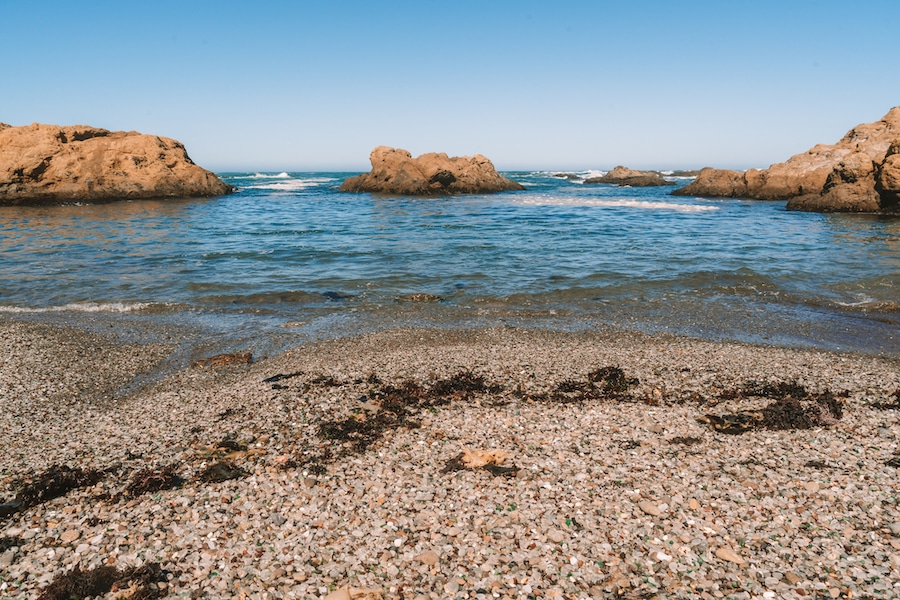 What was originally created by some pretty questionable decision making back in the early 1900's, has turned into something quite remarkable. After an earthquake shook San Francisco in 1906, the town bulldozed the immense amount of trash left behind into the ocean…for decades.
Although the expectation was for the ocean to wash it away, the garbage instead remained on the coast, resulting in miles of beach covered in colorful sea glass.
There is no real consensus as to why the glass keeps washing up in this area, but it really is something unique to see if you find yourself traveling up the coast of Northern California. The amount of sea glass can vary, but you are sure to find at least a few good treasures when walking down this beautiful stretch of sand—plus the stunning rocky coastline that surrounds this area is reason enough to visit!
Wine Tasting in the Old West town of Los Alamos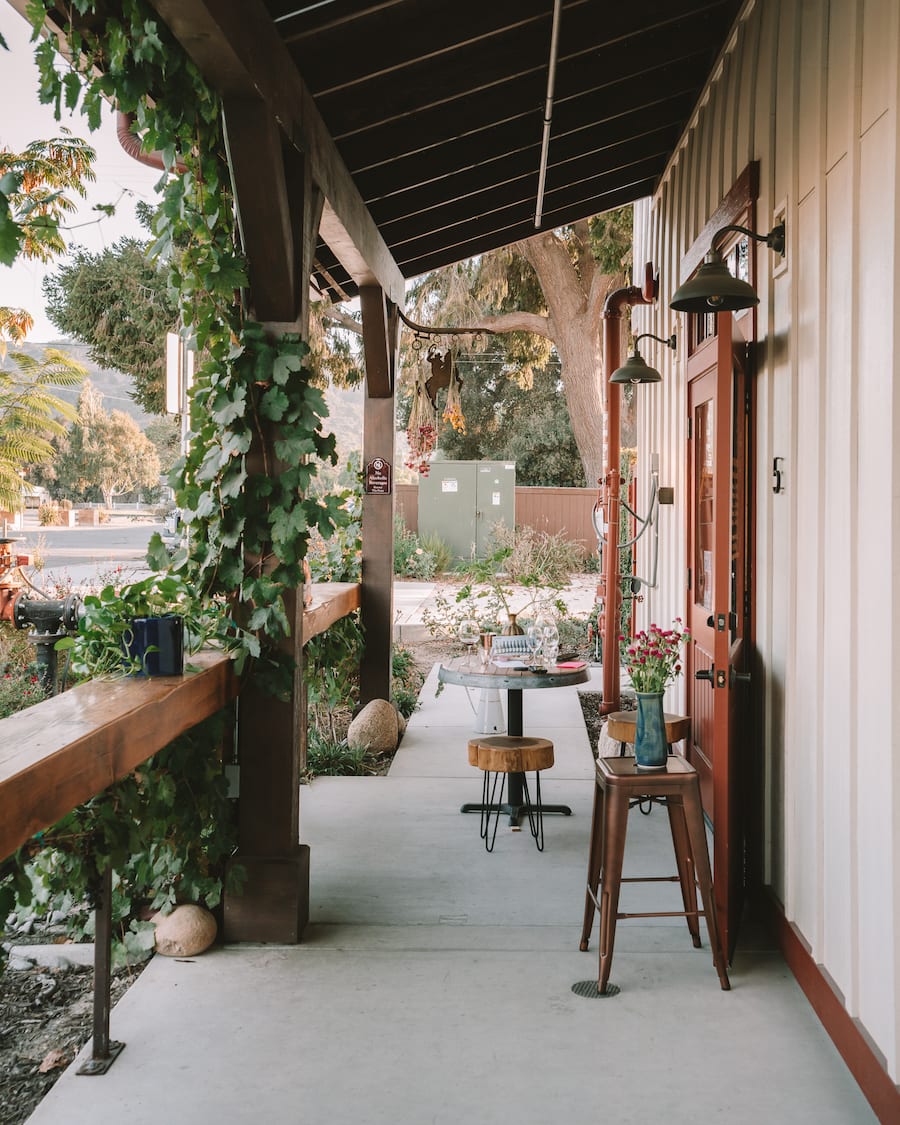 Los Alamos is hands down one of my favorite places to go wine tasting in California. The vibe in this tiny yet charming town is effortless and laid-back, which isn't always the case when wine tasting around California. Plus, its Old West history gives it a unique rustic flair that's definitely one-of-a-kind.
In Los Alamos, you don't have to compete for a spot or pay top-dollar for a tasting, but you'll still have a truly delicious array of California wines at your disposal. Not to mention, the hyper-local experience here is unparalleled and insanely welcoming.
Alcatraz, San Francisco
This one may be touristy and iconic, but it's without a doubt one of the most unique things you can do in California. If you're a history buff (or a True Crime fanatic), visiting Alcatraz should definitely be on your list.
Alcatraz Island is home to the most famous high security prison in the country. During its peak, the prison held some of America's most notorious gangsters, including Al Capone and George "Machine Gun" Kelly.
Due to the increasing cost of running the facility and the inconveniences caused by the remote location, Alcatraz eventually closed in 1963 and was declared a National Historic Landmark in 1986. It has been drawing visitors from around the world ever since. If you're looking to do something extra creepy, book the night tour (definitely NOT my thing, but I know some people are into that).
Geneseo Inn, Paso Robles
For one of the most unique stays in California, check out the Geneseo Inn at Cass Winery in Pasa Robles. It's a luxury inn made entirely of colorful shipping containers overlooking the vineyard—how's that for innovative hotel design?
The Inn is a wine retreat at its finest with lavish amenities, a complimentary chef's breakfast, and 145 acres of vineyards for your viewing pleasure. They also provide unique experiences as an option for guests (think a vineyard tour on horseback).
Trona Pinnacles
A rare formation in the California Desert Conservation Area, the Trona Pinnacles are known as one of the most unique geological wonders of the California Desert. Made of calcium carbonate—or tufa—the pinnacles consist of 500 spires of rock that were formed underwater 10,000-100,000 years ago.
The spires take all different shapes and sizes, leaving a distinct formation that is noticeable for miles. A dirt road leads straight to the pinnacles where you are able to explore them close up and personal and take photos. You can also camp if you'd like, just be sure to leave little to no trace. Fun fact—if you're into sci-fi, you might recognize the pinnacles from famous shows and movies like Battlestar Galactica and Planet of the Apes.
Dragon Sculpture in Anza Borrego State Park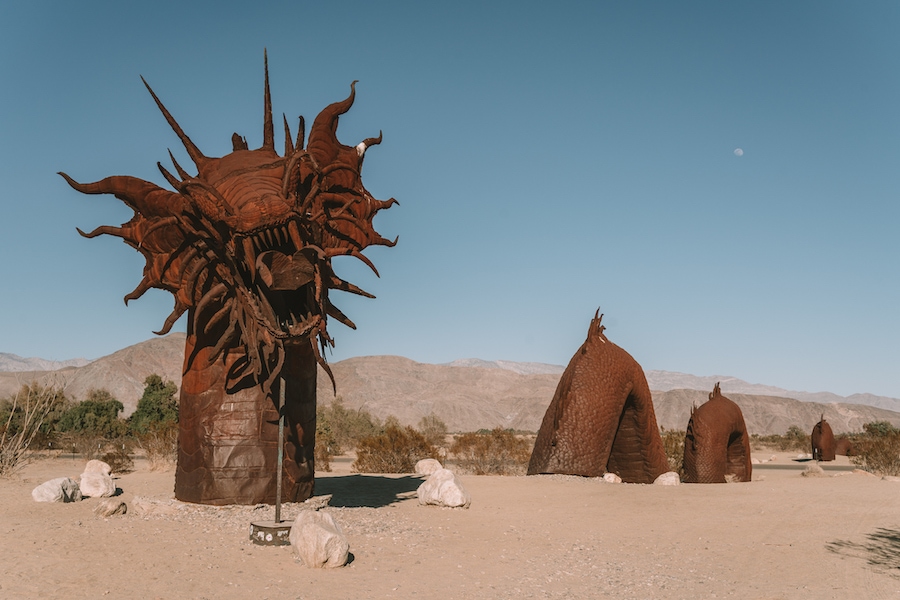 In true California style, Anza Borrego State Park features some unique art installations smack dab in the middle of the desert. This one-of-a-kind art park dons 130 full-sized metal sculptures inspired by a variety of insects, animals, and fantastical beasts.
However, the shining star of the show is for sure the dragon serpent sculpture that runs 350 feet long and over 15 feet tall. Artist Ricardo Breceda was commissioned for the work by the property owner in 2008 and has added to the collection over time.
Badwater Basin, Death Valley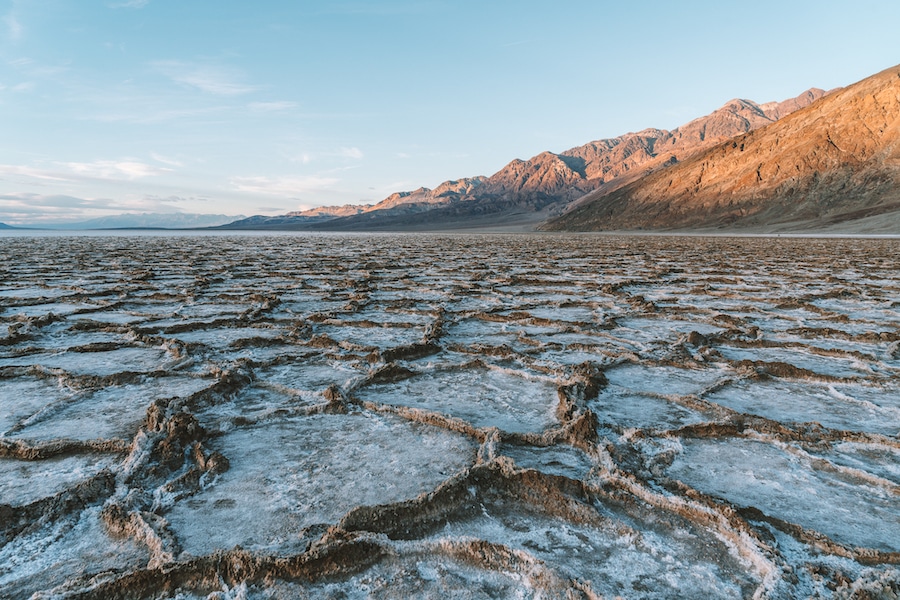 Badwater Basin is the lowest point in North America, standing at a mere 282 feet, and collects a large amount of salts and minerals from Death Valley's drainage system. With such an arid climate, literally everything evaporates, leaving only the salts behind. This results in a beautiful, crackled landscape unique to anywhere else in the country.
While this spot in the national park is definitely becoming more and more well-known, it has to make the list because it's really one-of-a-kind and one of the most unique places to visit in California hands down.
Due to the fragile nature, no cars are allowed on the actual flats but you are welcome to walk across them. Be warned, the basin does reach record temperatures in the summer, so plan to visit Death Valley in winter if possible.
Sunset Cliffs, San Diego
Sunset Cliffs is a 68-acre natural park located on San Diego's Point Lomo peninsula. The unique coastal environment is made up of dramatic cliffs, sea caves, tide pools and panoramic ocean views. Walk along the 1.5 mile coastal trail for a closer look at the native plants and wildlife or stop off at different highlights like Sunset Cliffs Arch or this dramatic sea cave that looks more like something you'd find in Portugal (ps—make sure to only attempt to visit at low tide). Be sure to stick around for sunset (this is arguably the best sunset view in San Diego).
The Victoria Beach Pirate Tower in Laguna Beach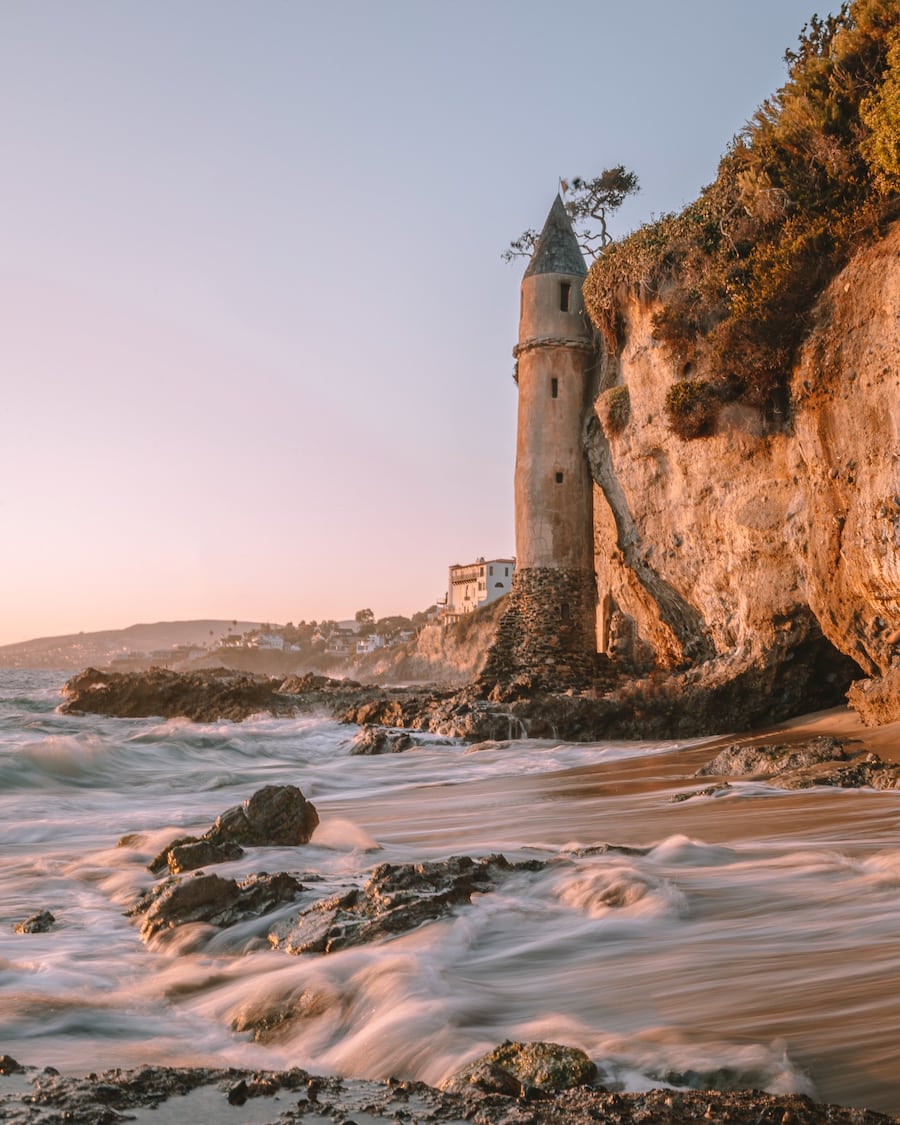 The Victoria Beach Pirate Tower was originally built in 1926, and it still stands tall overlooking the ocean. Although it is no longer in use (and not accessible to the public), you can check it out from the base at low tide.
The tower bears shocking resemblance to a pillar from the famous Alcazar de Segovia in Spain (which inspired Disney's Cinderella castle) and is unlike any architecture you normally see here in the U.S. Victoria Beach is a hidden gem on it's own, but throw in this wild tower that looks like something out of a fairy tale and you've got one of the most unique gems to visit in Southern California.
Lassen Volcanic National Park
Looking to visit Yosemite, but not excited about the crowds? Check out Yosemite's much smaller, lesser known sister, Lassen Volcanic National Park.
Though it features many similar sights and natural wonders, Lassen Volcanic National Park sees a lot less visitors and has remained a well-kept secret that even California natives never talk about. The park boasts equally stunning vistas, steaming fumaroles, striking volcanoes and other geological formations you would come to expect from a volcanic park—just with a lot less tourists.
Hidden pools in Laguna Beach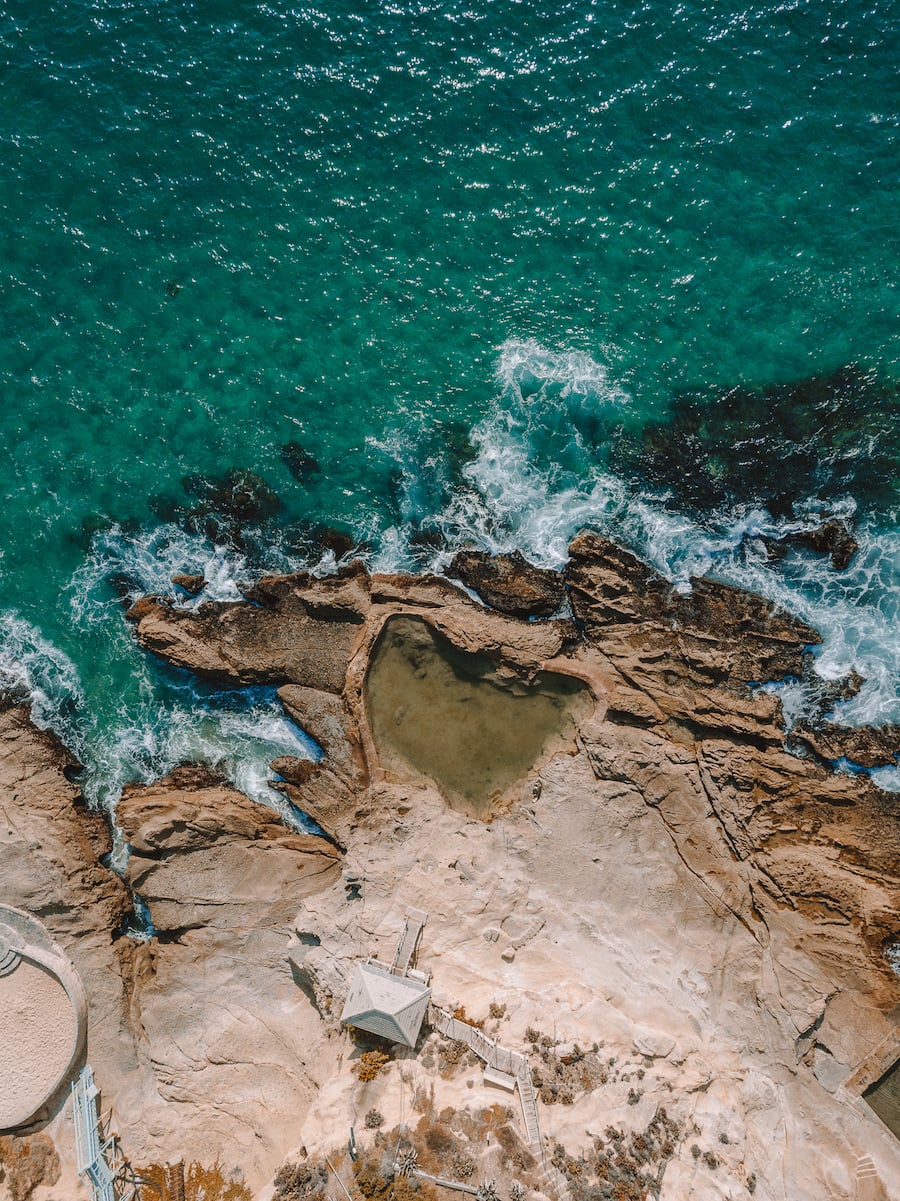 Out of all the unique places to visit in California, this one might be the trickiest to find. One of Laguna's best-kept secrets, these hidden pools require a little work to get to, but are totally worth the adventure. Tucked away on a secret cove just south of Thousand Steps Beach in Laguna, two man-made infinity-style swimming pools were built into the cliffside and sit overlooking the ocean.
The pools work with the ocean's natural rhythm, as high tide is just enough for new water to splash in and circulate the pools to keep them from getting stagnant. The only way in and out of the cove is through a sea cave during low tide, so be safe and be sure to plan accordingly!
Mosaic Tile House, Venice Beach
Located in Venice Beach, Mosaic Tile House is a quirky home turned art project 20 years in the making. What started as a simple renovation to retile a bathroom floor shifted into a true labor of love. Cheri Pann and Gonzalo Duran, the artists and owners of the house, fell in love with the result and continued to work through other rooms of the house.
Today, the entire first floor (including all walls and ceilings), as well as the front yard, are covered in eccentric tile, broken ceramics, and vibrant mosaic glass. For a $20 fee, visitors can go and get an up-close peek at the artistry behind this home.
Wild Willy's Hot Spring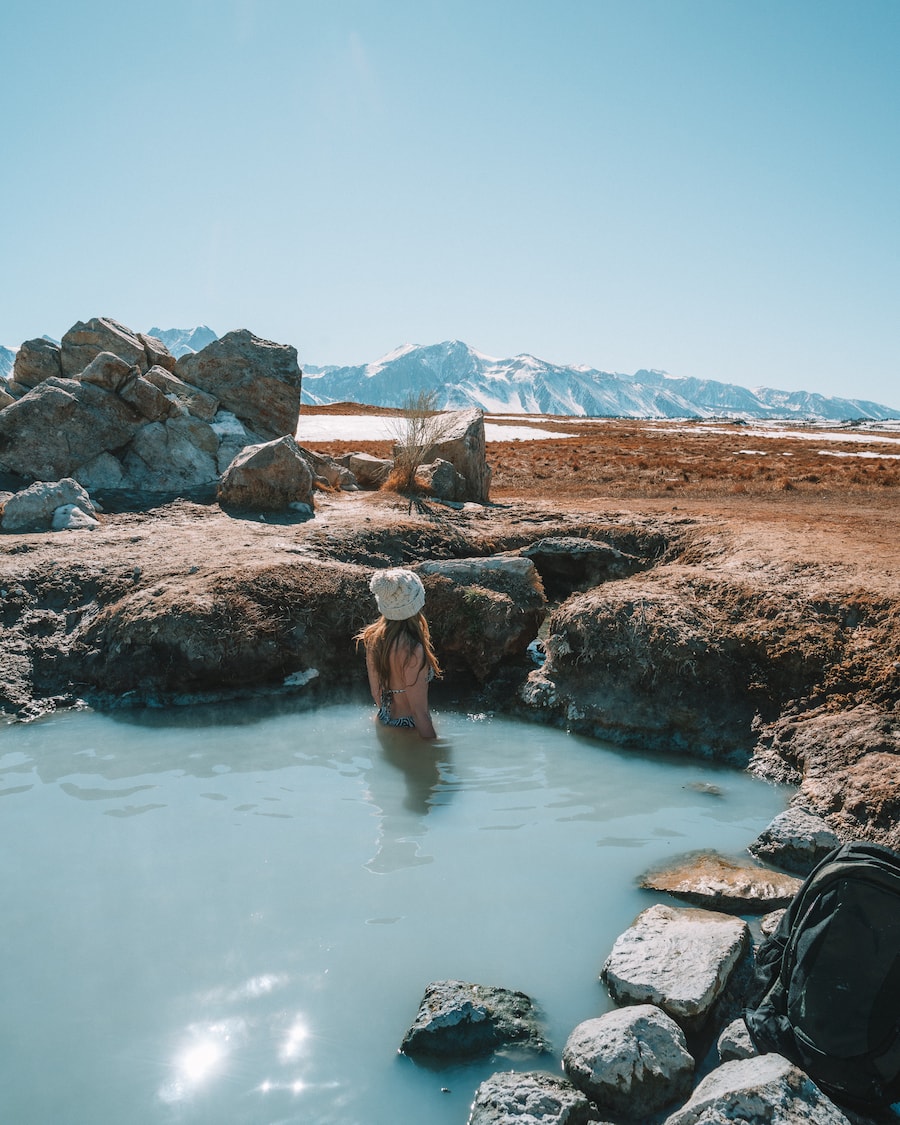 Just south of Mammoth Lakes in the heart of Long Valley lies a cluster of hot springs that are perfect for a relaxing stop-off or afternoon hang. Since it is the only natural hot spring in the area, Wild Willy's really stands out (all of the other springs are man-made). Plus, it's shaped like a heart! The springs are easy to get to and are only about a 20 minute walk from the car park.
The real bonus of visiting these hot springs though are the 360 degree views of the Sierra Nevadas in the distance, which are pretty magical in winter.
McWay Falls Big Sur
Taking a Big Sur road trip is one of the most fun things to do in California, and along the way you'll find the magical McWay Falls.
It's an 80-foot waterfall that cascades over a pristine beach cove right off Highway 1 in Julia Pfeiffer State Park. The view is like something out of a postcard (seriously, you've probably seen this exact spot on several Big Sur postcards).
Although there are several stunning waterfalls in California, McWay Falls is unique as it towers right off of a coastal cliff straight into the ocean. And while it is pretty well known, there's definitely no other waterfall in California quite like it.
No trespassing is allowed on the cove down below in order to keep the integrity and natural beauty of the area, but even so, the view from above is more than enough to enjoy.
Cerro Gordo Ghost Town
What was once a booming silver mining town with a violent and storied past is now a collection of abandoned mines and refurbished buildings reminiscent of the time. The owners have left the structures intact and the town is open to tour.
You can see remnants of the "a murder a week" town and the dangerous energy of the wild west left behind in bullet holes throughout the saloons—it's pretty wild. History buffs will love this spot, as the town has a wealth of history and is known to have played a significant role in the growth and prosperity of Los Angeles as we know it.
Integratron Sound Bath Dome
A mere twenty miles north of Joshua Tree is the Integratron, a unique structure originally built on the idea that it was capable of rejuvenation, anti-gravity, and time travel. In 1959 George Van Tessel chose a very specific spot in Landers, California that he found to be a powerful intersection of geomagnetic forces perfect for this new machine. Although he was never able to achieve time travel, the structure proved to be significant and was deemed a National Historic Site.
In 2000, the all-wood dome was purchased by three sisters who specialize in sound bath healing, as the building has amazing acoustic properties. It now attracts hundreds of people a week to experience the ultimate in sound healing and is hands down one of the most unique places to visit in California.
Tunnel Log, Sequoia National Park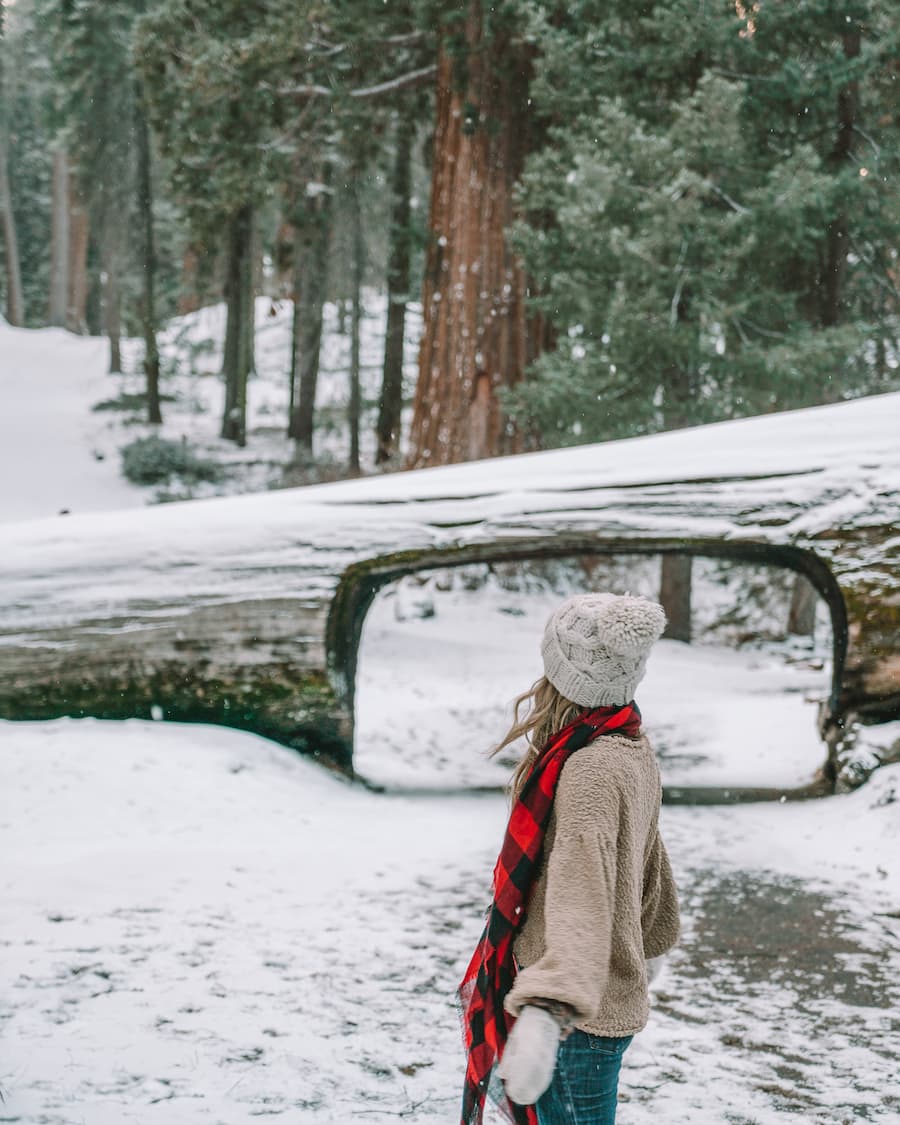 When a large Sequoia tree fell across Crescent Meadow Road in Sequoia National Park in 1937, instead of attempting to cut up and remove the giant, a local surveyor and his team decided to cut a tunnel through it. The result is pretty remarkable—a tunnel 17 feet wide and 8 feet tall right through an iconic Sequoia estimated to be over 2,000 years old.
These days, the tunnel is still open to private cars most of the time, meaning you can head up Crescent Meadow Road in the Giant Forest and drive through the tree yourself!
Want to find some unique accommodations in California? Check out these fun options!
Fern Canyon, Northern California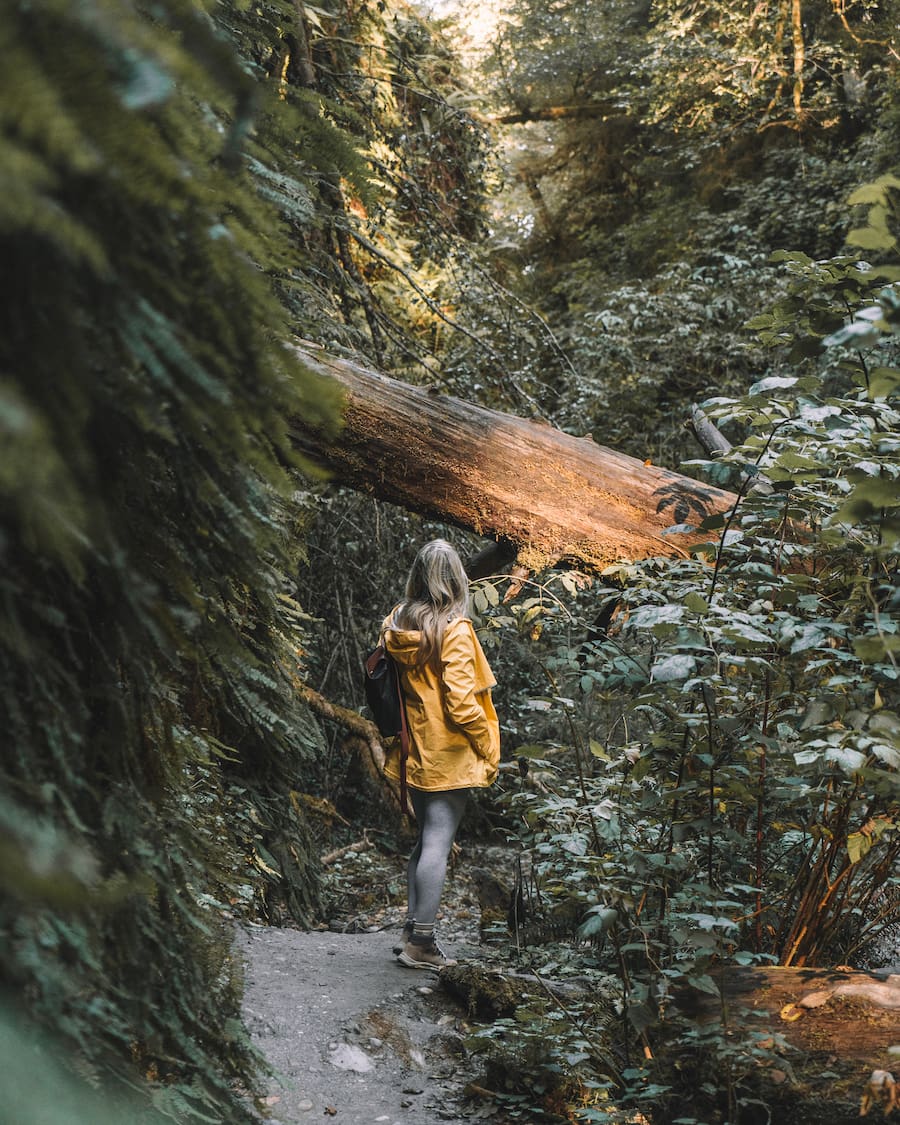 One of the most unique places to visit in Northern California has to be Fern Canyon. The experience is more of a walk than a hike, but is truly magical if you get the chance to visit. Imagine a 50 ft canyon covered in lush green ferns from floor to ceiling and in all directions, with small waterfalls trickling throughout. Yes, it's as therapeutic as it sounds.
Fern Canyon is just a short walk from the parking lot, but you truly feel like you've stepped into a far-away fantasy world walking through this place. Many different species of ferns cling to the walls of the canyon, some ancient and dating back as far as 325 million years! Pretty cool, right?
Keep in mind, most of the canyon floor is creek bed, so you will want to bring waterproof shoes or ones that you don't mind getting wet!
Kirby Cove Swing by Golden Gate Bridge
Kirby Cove offers one of the best views of the Golden Gate Bridge, and it is definitely worth the short hike! Since most people don't venture past the popular overlook, you can usually find yourself with tons of space to enjoy the view by the bay and really take it in. You might have seen a photo or two of the notorious Kirby Cove swing, which is rumored to get taken down from time to time. Either way, this spot is a San Francisco must.
Blue Sky Center's Covered Wagon Glamping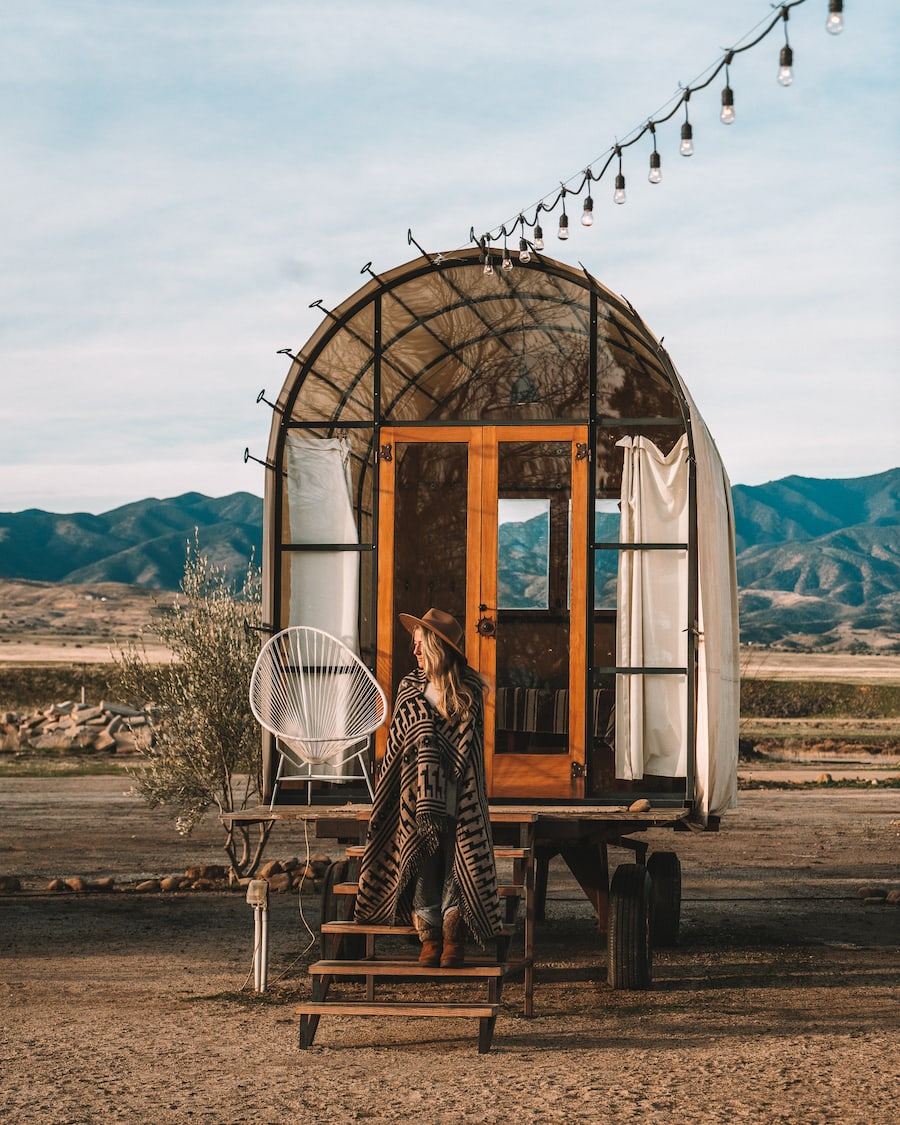 In the desert of the Cuyama Valley lies a dreamy glamping spot made up of just five super stylish, reimagined covered wagons. Old West meets California chic at this overnight dreamland.
The structures are minimal in design and complemented with colorful textiles and accents for a stylish yet natural feel that embodies the Blue Sky Center's values and community. At night, the sky is wide open for an unforgettable evening under the stars.
Cypress Tree Tunnel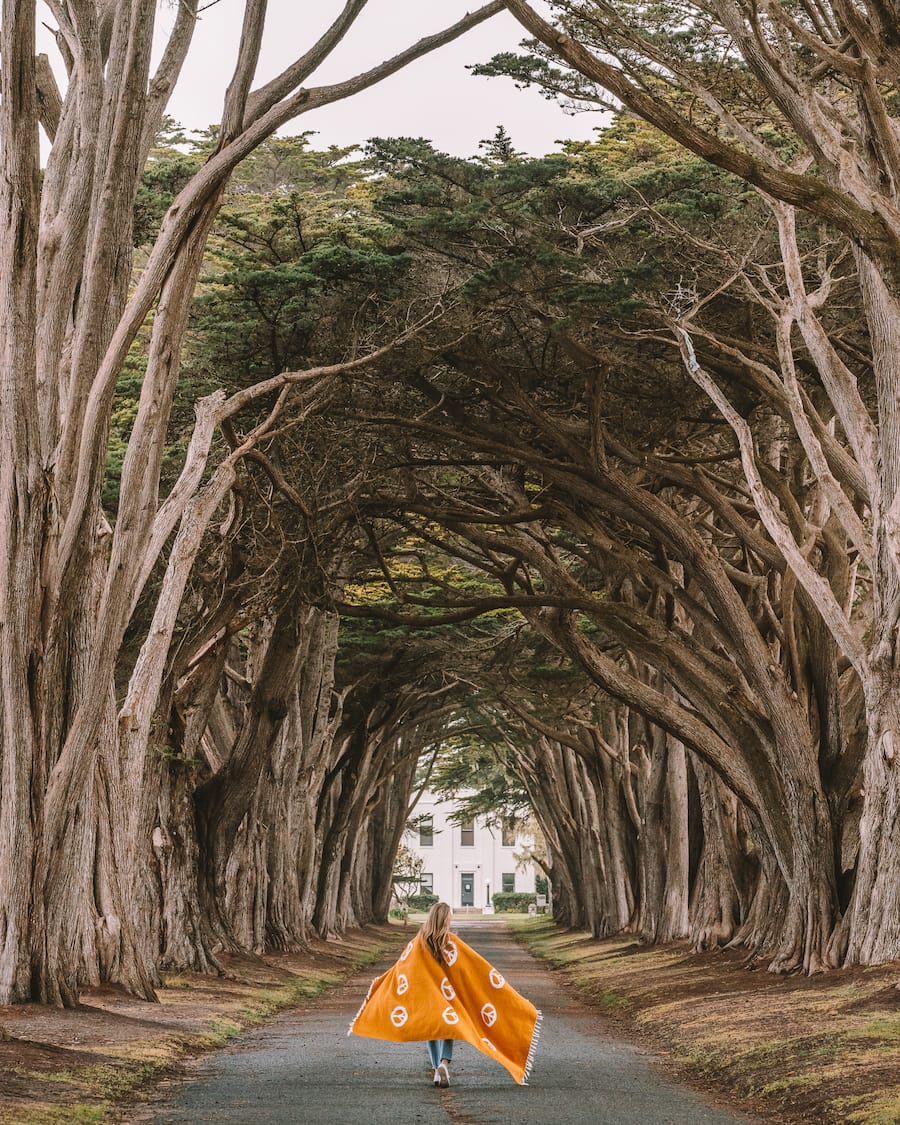 The magical tunnel of Monterey cypress trees is located in Point Reyes. This lengthy driveway of cypress trees makes for some stunning photos, especially at golden hour. If you travel all the way down to the end of the tunnel, you'll run into the Point Reyes National Seashore North District Operations Center and a radio station (the building is pretty old and historic), however, most people visit to simply walk through the breathtaking tunnel of trees.
The entire route is a little less than a mile long, making it a pretty easy walk that takes around 15 to 20 minutes to complete. Best of all, the Cypress Tree Tunnel tends to be pretty quiet, so you might even get certain parts of it totally to yourself.
Esalen Institute Nude Baths in Big Sur
The Esalen Institute is an innovative space for education, research, and exploration on the coast of Big Sur. It encourages thought on human potential and our ties to the environment, making it a relevant and impactful place of learning. The institute is set among a group of mineral hot springs overlooking the ocean, and the baths are open daily to anyone who is currently enrolled in a class, retreat or special event through the foundation.
Nighttime on the other hand is a different story. From 1:00-3:00 AM, the sulfur-scented baths are available to the public, and clothing is optional. Maybe it's the flattering moonlight or the strong sense of community, but in-the-nude seems to be the way to go. Naked communal soaking definitely makes this one of the most unique places to visit in California—and one of the boldest.
Sensorio Paso Robles
58,800 fiber optic lit stemmed spheres make up the Field of Light at Sensorio Pasa Robles. The colors shift and sway through the bulbs as if they are flowers swaying in the wind. This incredible art installation is the largest ever by internationally recognized artist Bruce Munro extending over 15 acres. To top it off, the exhibit is entirely solar-powered. Be sure to check the dates on this one as it is only open seasonally, typically from August to January.
Did this post inspire you to explore more off the beaten path spots in California? Let me know in the comments below!
---
Planning a trip right now? Don't miss my go-to websites for booking everything from flights and tours, to accommodation and more:
---