While there are a lot of great National Parks I would recommend visiting in the summer, Death Valley isn't one of them. Located in the Mojave Desert near the Nevada border, Death Valley was aptly named as such by pioneers in the 1800s who got lost attempting to pass through its harsh climate.
Not only is it the hottest and driest location in the United States, it also holds the record for the highest temperature ever recorded on Earth—130 degrees Fahrenheit!
Due to the intense heat, most outdoor activities aren't just uncomfortable…they can be downright dangerous in such high temps. Early spring and late fall can be more pleasant times to visit, but if you ask me, visiting Death Valley in winter is the way to do it.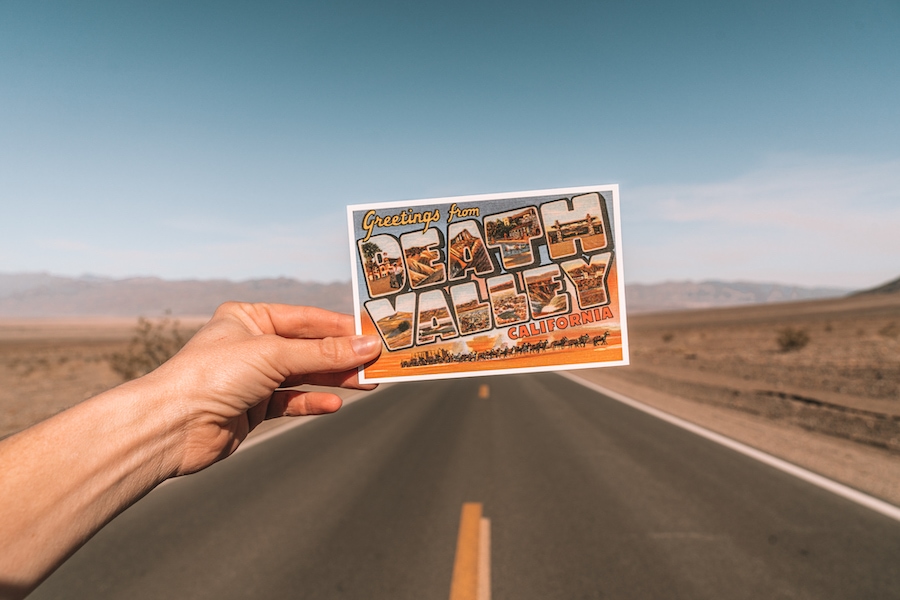 I first visited in February of 2019 and while it definitely got chilly as the light disappeared, the daytime temperatures were perfect for days out exploring under the beating sun. Daytime temperatures tend to be in the 60s and 70s (which is perfect park weather if you ask me), and while nights get quite cold, it usually doesn't drop below freezing.
Death Valley in winter is also a surprisingly less crowded time to visit since spring draws out the most crowds hoping to peep the wildflowers in the park. If you visit December through February, you'll experience a more secluded adventure, often feeling like you have endless panoramic views all to yourself.
Death Valley is truly an incredibly unique landscape with some of the most spectacular desert scenery anywhere in the United States, however as you've realized by now, planning a trip here requires you to be mindful about what time of year to visit—especially if you want to make the most of it and enjoy everything this national park has to offer.
In this guide, I'm giving you all the info you need to plan a successful trip to Death Valley in winter, from what to pack and where to stay, to all the tips and tricks I picked up on my own adventures.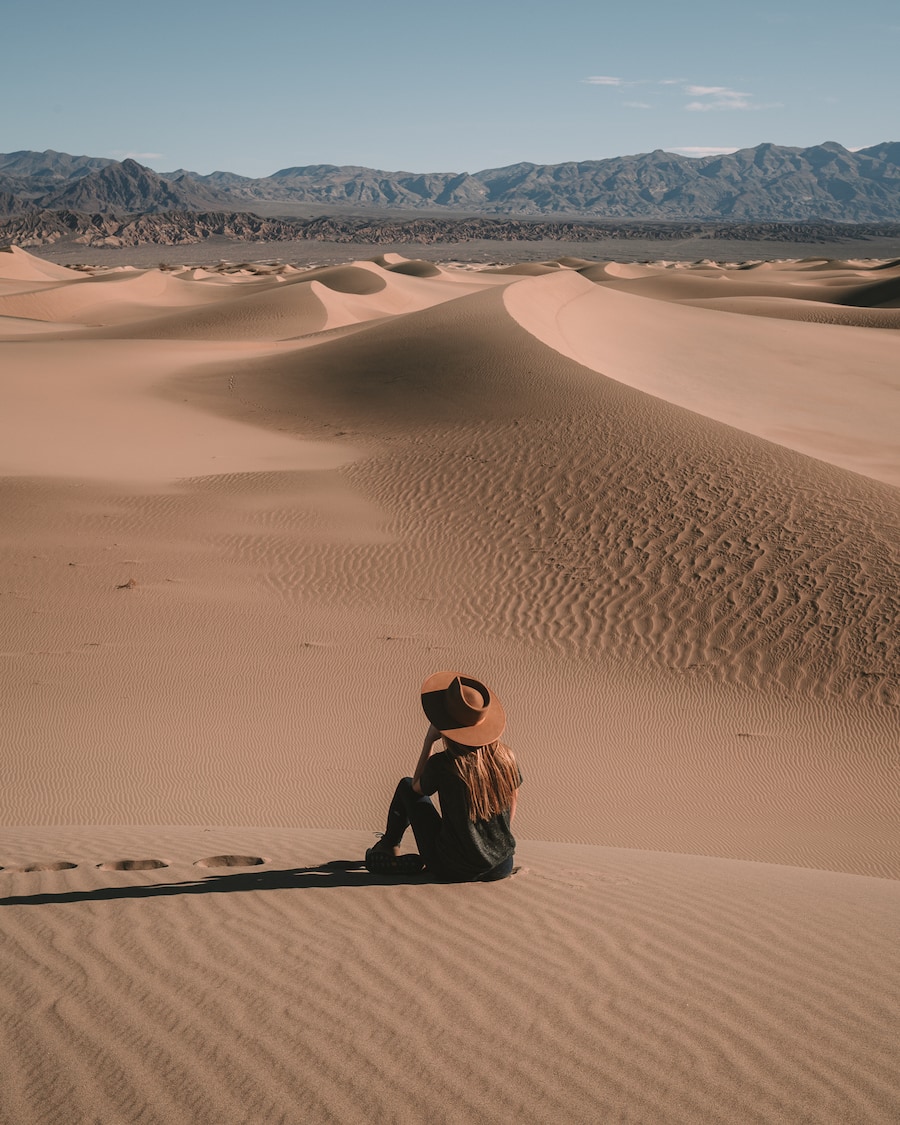 Why Should You Visit Death Valley in Winter in the First Place?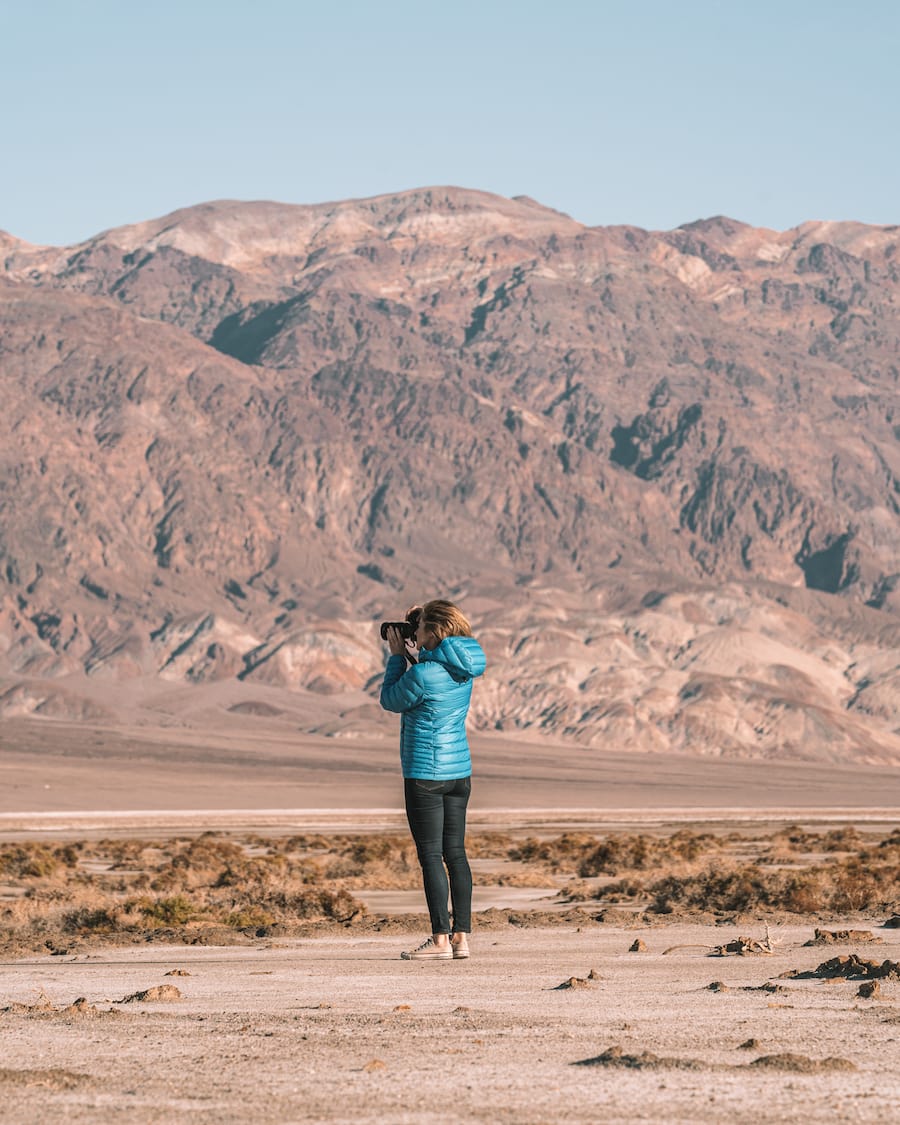 Quick Tips for Traveling to Death Valley in Winter
Pro tip: Visiting multiple national parks on a longer road trip? Make sure to pick up an annual America the Beautiful pass to save money on park entrance fees throughout the country!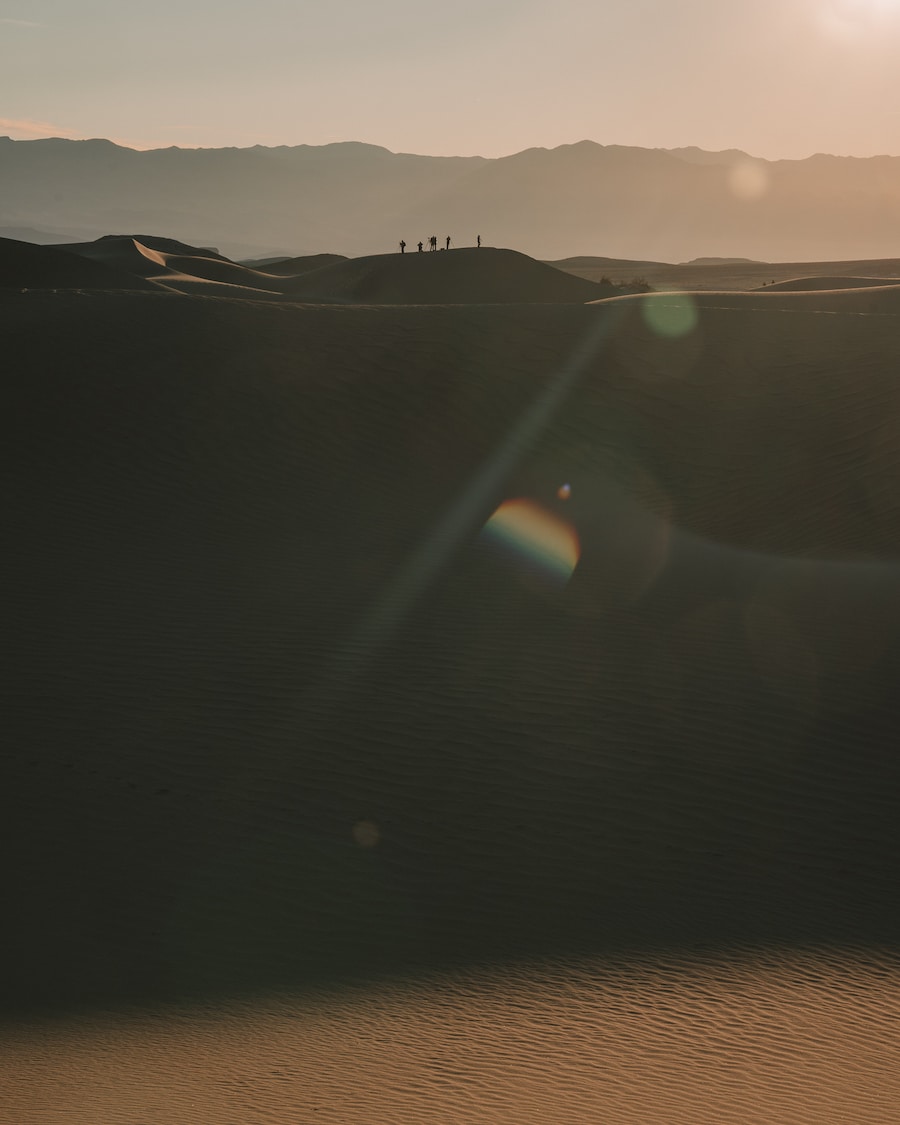 What Kind of Temperatures to Expect During Winter in Death Valley
While snow in Death Valley is unlikely (but still possible at higher elevations), temps can drop into the 30s and 40s in the winter months, so you'll want to be prepared for mild winter weather. Average daytime temps are typically in the 60s and 70s, so layers are KEY. It's not uncommon to start the day all bundled up, but be hiking in a t-shirt by mid-day.
Here's a chart with an annual temperature breakdown for reference:
| | | |
| --- | --- | --- |
| Month | Maximum Temp. | Minimum Temp. |
| January | 67°F (19°C) | 40°F (4°C) |
| February | 73°F (23°C) | 46°F (8°C) |
| March | 82°F (27°C) | 55°F (13°C) |
| April | 90°F (32°C) | 62°F (17°C) |
| May | 100°F (38°C) | 73°F (23°C) |
| June | 110°F (43°C) | 81°F (27°C) |
| July | 116°F (47°C) | 88°F (31°C) |
| August | 115°F (46°C) | 86°F (30°C) |
| September | 106°F (41°C) | 76°F (24°C) |
| October | 93°F (34°C) | 61°F (16°C) |
| November | 77°F (25°C) | 48°F (9°C) |
| December | 65°F (18°C) | 38°F (3°C) |
Weather data via the National Weather Service
While we're talking about the weather, it's probably worth noting that it can also get super windy in Death Valley. It won't necessarily have a negative impact on your trip (unless you're camping), but don't be surprised if you experience some mighty gusts.
What to Pack for a Winter Trip to Death Valley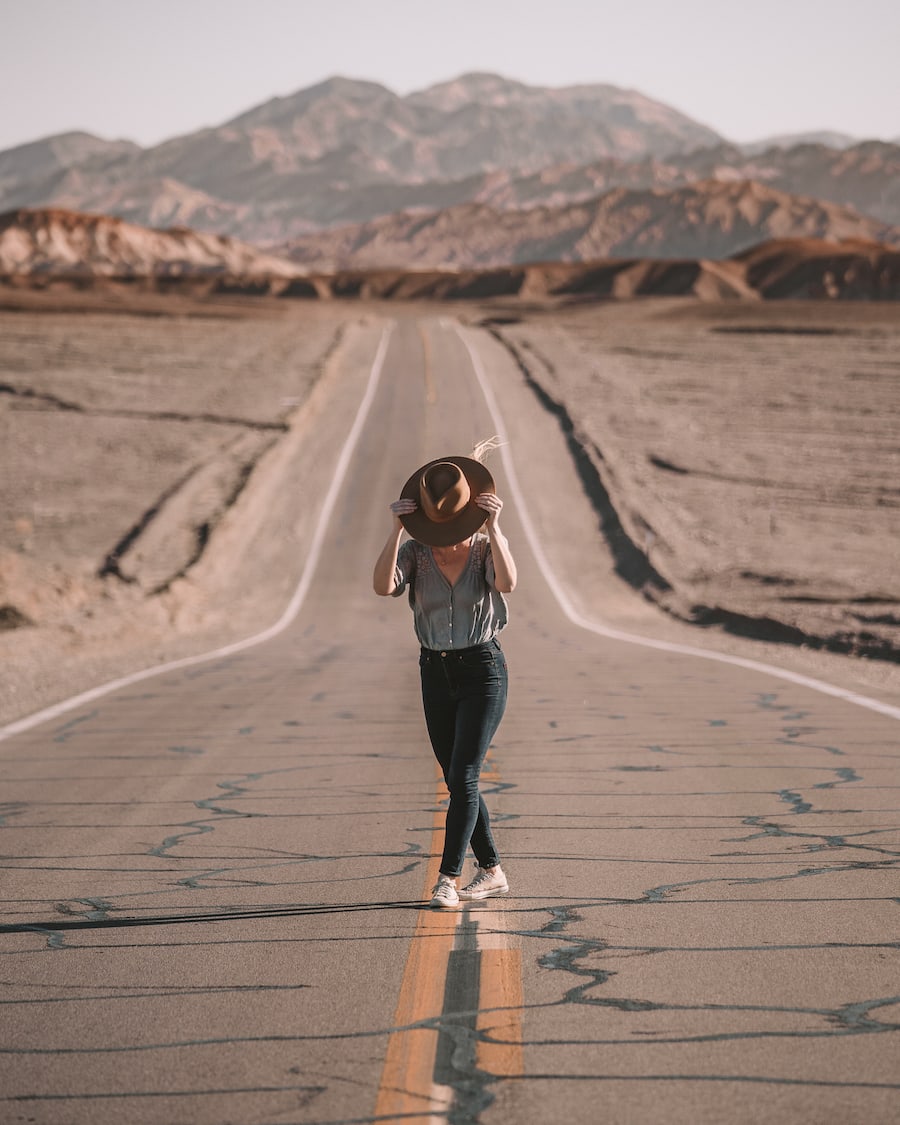 As I've mentioned, the temperature can vary quite a bit throughout the day in Death Valley in winter, so packing warm clothes and a variety of layers is probably my number one piece of advice.
Not only will you need to pack layers in your overnight bags, but you'll want to have a smaller day bag on hand in the car with layers at the ready so you can remove and add throughout the day as needed.
Here's my full list of winter packing essentials:
---
Read More National Park Posts
---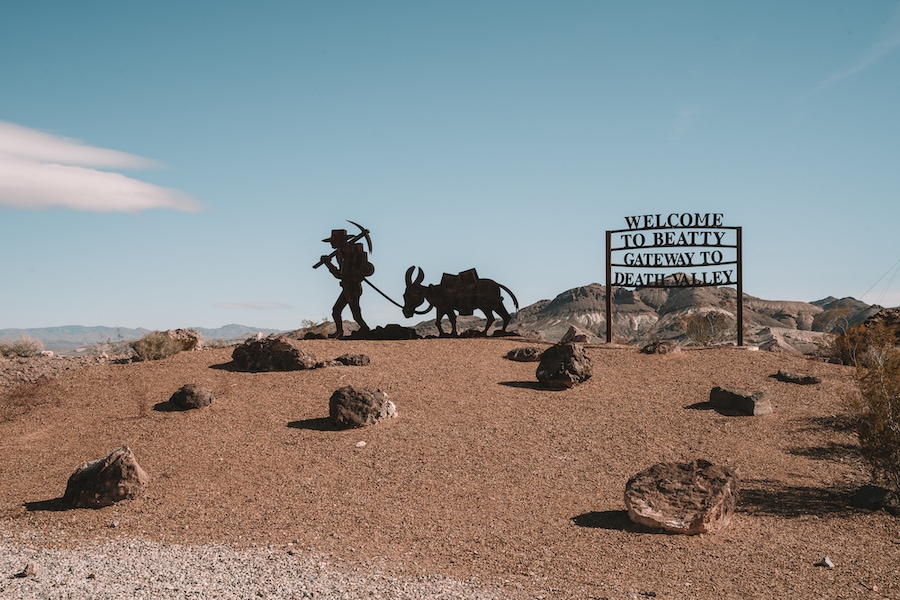 Where to Stay in Death Valley in Winter
I'll be honest…unlike other Southern California parks like Joshua Tree, there aren't a ton of fabulous lodging options in the Death Valley area (in my opinion).
You could book an Airbnb or hotel in a town outside of the park (Beatty or Pahrump in Nevada are each about 40 minutes away), but I recommend staying in the park itself to cut down on driving time. Death Valley is huge and you'll inevitably be spending a lot of time in the car driving around regardless, so I would avoid doubling that time in the car if you don't have to.
Here are my top picks for places to stay in the Death Valley area:
The Oasis at Death Valley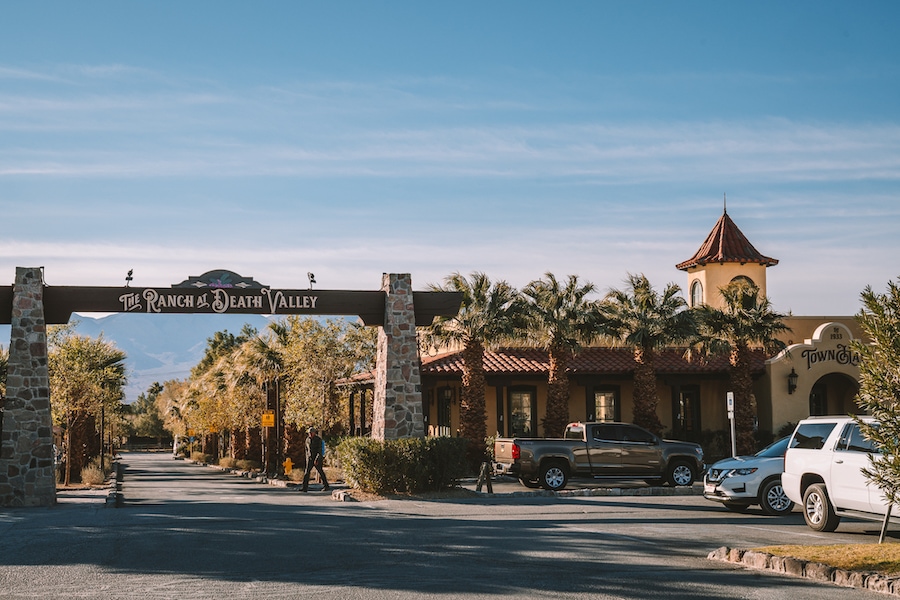 With an old Hollywood type vibe, The Oasis at Death Valley has beautiful grounds, a dreamy pool with panoramic desert views, and some pretty decent restaurants and bars on site.
It's made up of a few different properties which include: The Inn at Death Valley, The Ranch at Death Valley, the Inn Casitas, and Fiddler's Campground, so there are a number of options and price ranges to choose from. If you're looking for comfort and convenience, this place is in the heart of the park and is definitely worth splurging on if you can swing it.
Stovepipe Wells Village
Stovepipe Wells Village is another lodging option inside Death Valley National Park with an Old West feel. It's not nearly as fancy as the the hotels above, but is more affordable and still provides easier access to locations within the park like Mesquite Flat Sand Dunes.
Camping
Camping is an affordable way to stay in the park (a lot of the campsites are actually free), and even though it can get pretty cold, Death Valley in winter is one of the most popular times for camping.
There are a bunch of campsites in the park and most are open year-round (weather permitting) and don't require reservations. The Furnace Creek Campsite is one of the more popular campsites because it has facilities (drinking water, picnic tables, flush toilets, and etc.) and they take reservations, which is worth doing in winter because it can get booked up.
Also, remember that camping in Death Valley in winter can be cold and windy, so make sure you've got the appropriate clothing and camping gear.
Death Valley Inn and RV Park
For a more budget-friendly option, the Death Valley Inn and RV Park in Beatty, NV is a solid option with simple rooms and nice amenities like a pool and BBQ area. It's a good choice if you're traveling by RV too! Note that this is outside of the park, so you'd still have to drive in.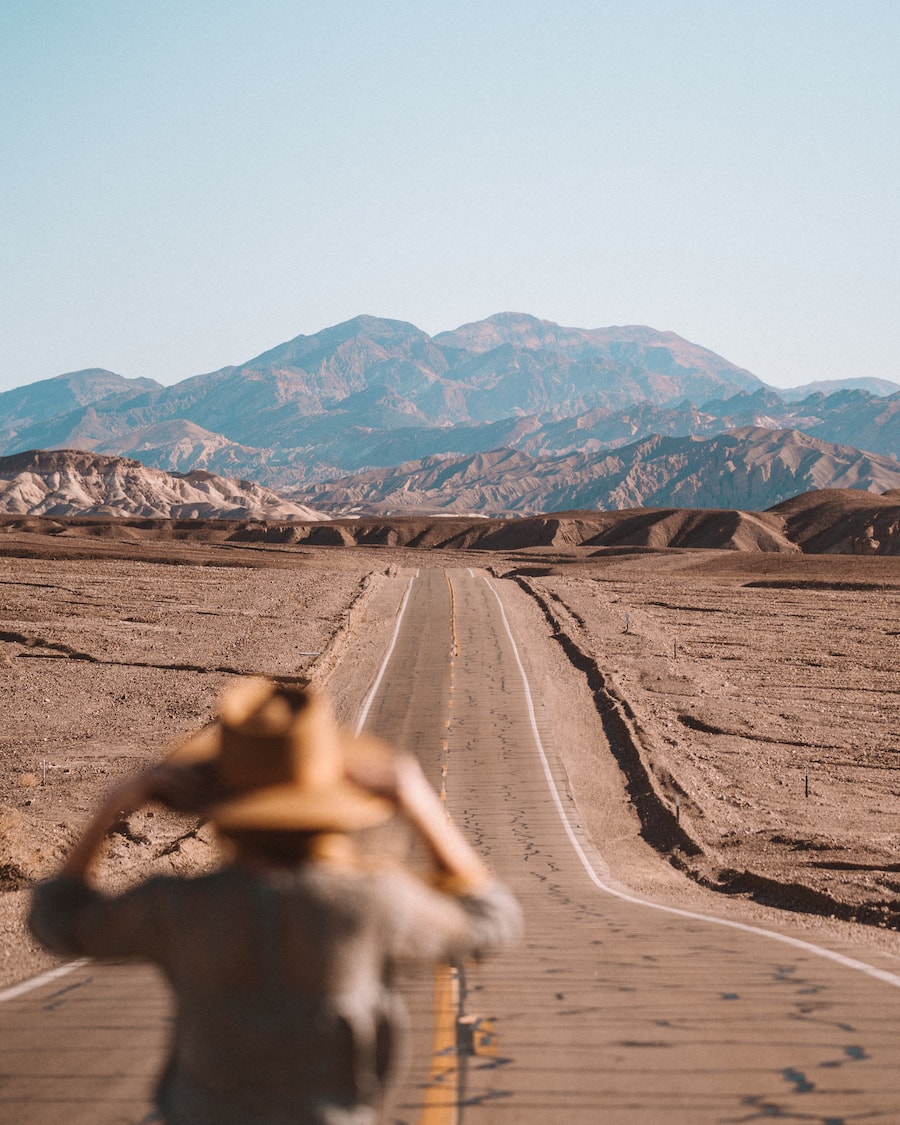 The Best Things to Do in Death Valley in Winter
Visiting Death Valley is all about exploring the variety of dramatic landscapes and panoramic views that are so unique to this part of California. Plan for lots of time driving from site to site and make sure to give yourself enough time to see all the top places on your bucket list.
I have another post that gives a more detailed breakdown for what to do in Death Valley that you can read here, but these are some of the biggest highlights:
Visit the Mesquite Flat Sand Dunes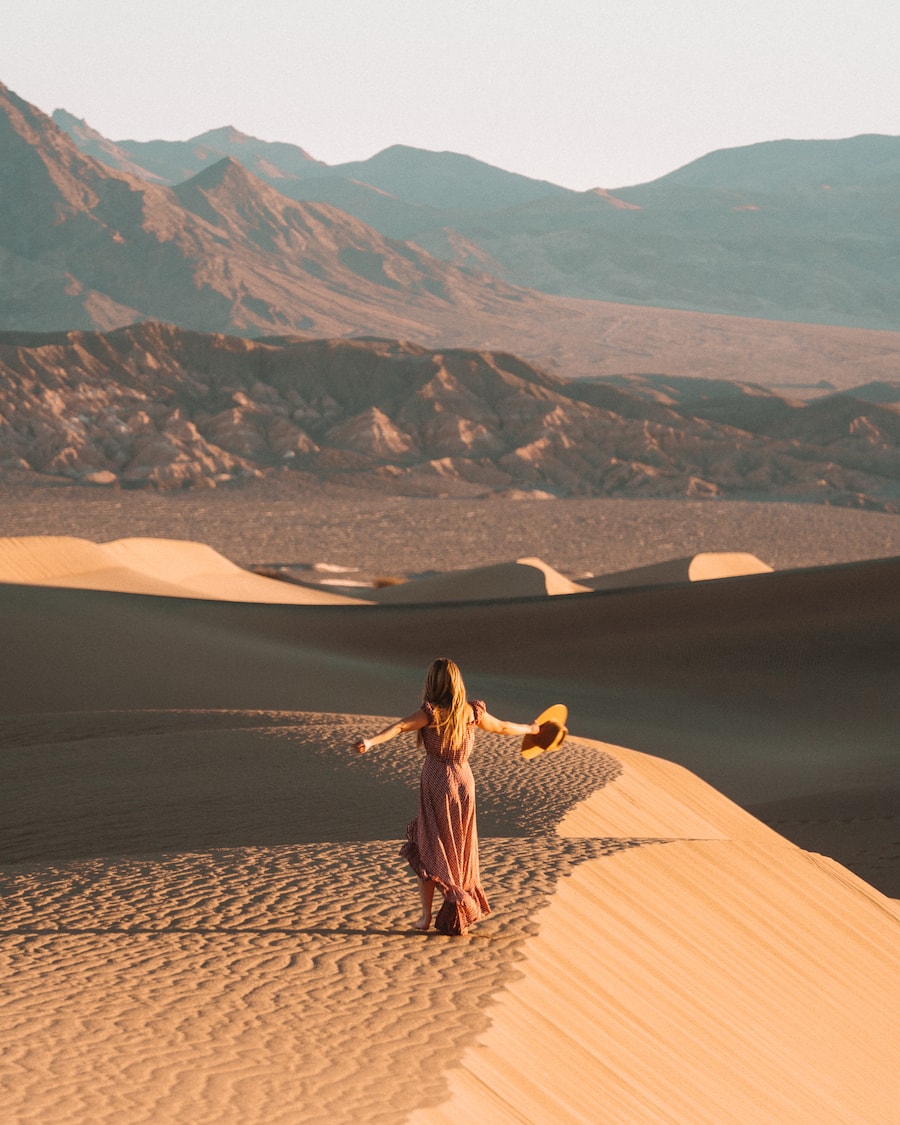 An absolute must during your visit to Death Valley, these 100+ ft. sand dunes will make you feel like you're halfway across the world. They're shockingly right off the main road so they're easy to access. What's fun is that there aren't any marked trails, so you can pretty much just wander in whichever direction you'd like and quite literally 'choose your own adventure.'
Explore Badwater Basin
Bring your camera because this is one of the most iconic photo spots in Death Valley. The salt flats here cover almost 200 square miles and the landscape feels otherworldly. It's also the lowest point in North America at 282 feet below sea level.
Catch Sunset at Zabriskie Point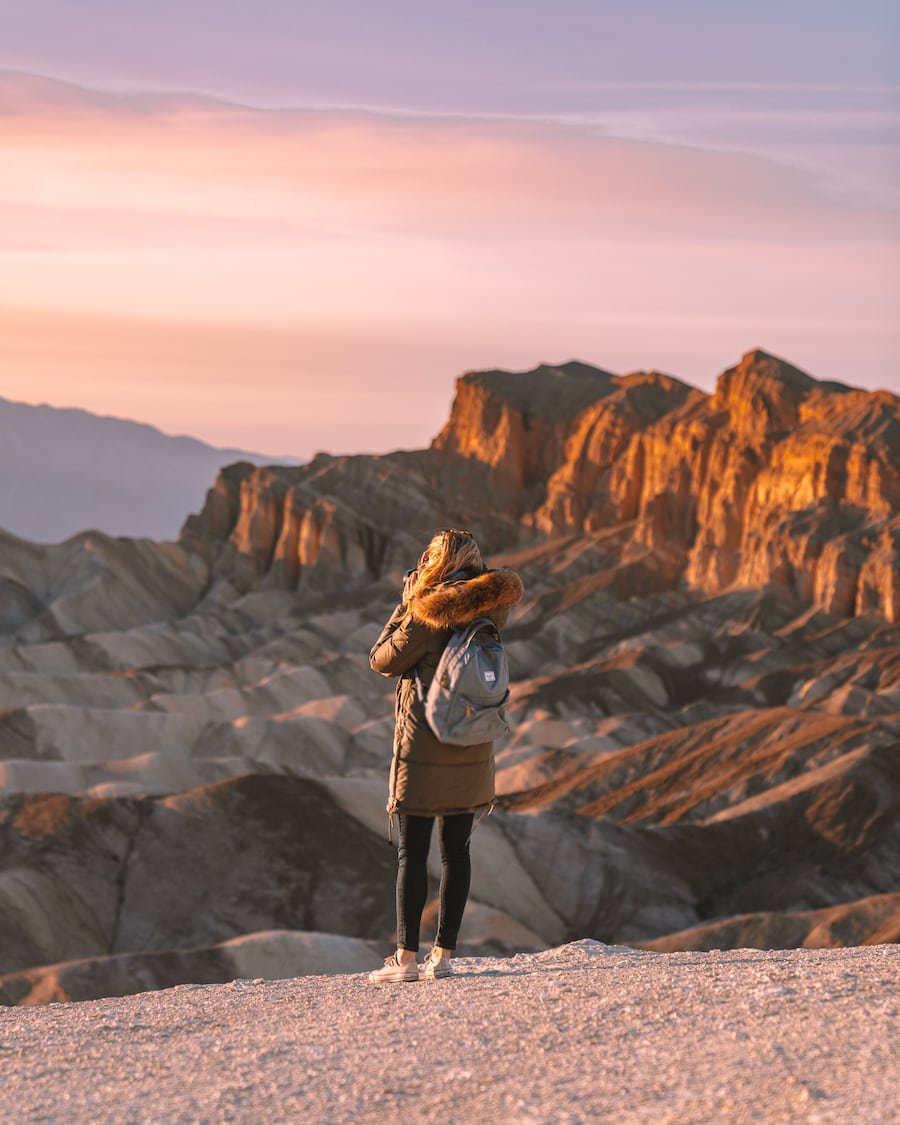 An easy drive-up overlook, you'll be rewarded with stunning views that are truly breathtaking at sunset. Pack a picnic, arrive a little before golden hour, and enjoy the show.
Go Hiking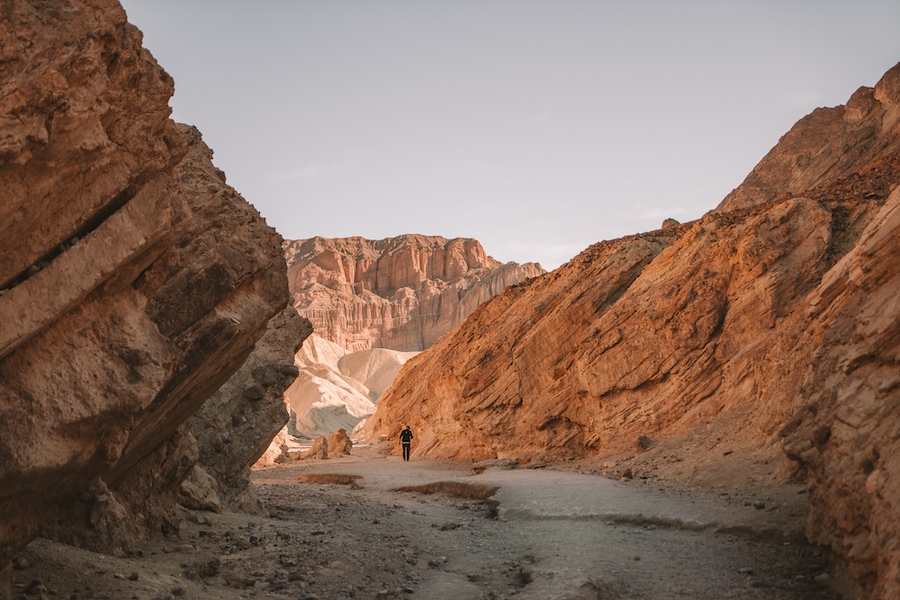 Most hikes are pretty much off-limits in the summer heat, but visiting Death Valley in winter means perfect hiking weather! In addition to hiking around the Mesquite Flat Sand Dunes and Badwater Basin, I've done the 3-mile Golden Canyon Trail, which I definitely recommend.
Some other popular hikes in Death Valley National Park are the short Natural Bridge Canyon trail, Ubehebe Crater Loop, and Mosaic Canyon Trail.
Stargaze
As a certified International Dark Sky Park, Death Valley has some of the darkest night skies in the US—and wintertime in the park offers some of the most incredible stargazing. If you're not sure of where to post up, Harmony Borax Works, Mesquite Flat Sand Dunes, and Badwater Basin are all excellent spots. Just remember to give your eyes about 30 minutes to adjust and bring binoculars if you have some!
Artist's Palette
Artist's Palette is a series of rock formations boasting colorful sediment in shades of pink, orange, and turquoise. It's seriously one of the most unique landscapes to be explored in Death Valley! In order to access Artist's Palette, exit off of Badwater Road and drive the one-way Artist's Drive loop. It takes about 20 minutes without any stops, but you'll definitely want to get out and explore. If you can, arrive before sunrise so you can watch the colors change as the sun slowly rises across the rocks.
Did this post inspire your to visit Death Valley in winter? Let me know in the comments below!
---
Planning a trip right now? Don't miss my go-to websites for booking everything from flights and tours, to accommodation and more:
---
Pin This Post