Death Valley is a place that everyone should see at least once in their lifetime. Sitting right on the border of California and Nevada, the park features some of the most varied and unique landscapes in the United States, and the craziest thing is that many of these wildly different features can be explored within a single day.
Visiting Death Valley was a top highlight of my year (especially during a time when U.S. travel has been our best if not only option in exploring). I personally think it's one of the most underrated national parks out there and was shocked to find when we went that it wasn't overrun by tourists.
Between majestic sand dunes that will transport you to the Sahara, seemingly endless stretches of salt flats, and insane rock formations that come alive with the changing light, this place is truly a dream for nature lovers, photographers, and anyone who feels like escaping to another planet for a weekend.
It's also a land of extremes. The environment can be harsh, with record-breaking high temperatures, dry desert landscape and some of the lowest altitudes in America.
Just under 4 hours drive from Los Angeles and two hours from Las Vegas, exploring Death Valley National Park is one of the quickest escapes when you need to feel like getting away from it all.
We started our trip from LA, driving north past the Angeles National Forest and Red Rock Canyon State Park to make our way to the lowest point in North America.
If you only have a long weekend to visit Death Valley, use this guide to hit up all the best spots and make sure to read to the end if you're planning on extending your adventure as I've included some recommendations for the best things to do in Death Valley during a longer stay!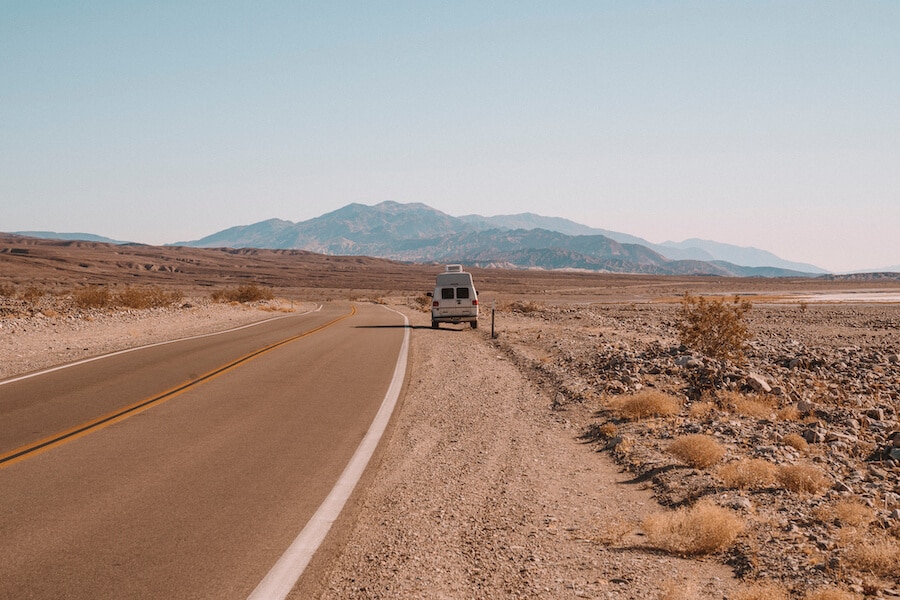 First Time Visiting Death Valley? Make Sure To Read These Quick Tips Before You Embark
Death Valley is quite expansive. In fact, it's the largest national park outside of Alaska, yet most of the top iconic things to do in Death Valley can be seen in a day or two. Just make sure you have an idea of your wishlist of top spots mapped out so you don't get surprised by driving distance as some sites are a bit more remote.
Many of the top sites are pretty easy to drive right up to, making it easy to access without too much hiking/walking involved.
There is limited cell service in Death Valley. If you need to stay connected, your best bet is grabbing WIFI at your accommodation or heading to Stovepipe Wells or Furnace Creek
Death Valley is HOT. Like we're talking well into the 100s in the summer months. Make sure you are very prepared with plenty of water and sun protection.
There are certain spots in Death Valley that require a 4×4 vehicle like The Racetrack, so plan your vehicle accordingly depending on where you plan to explore.
If you're sensitive to altitude, you might want to pack medication or make sure to drink extra water. The altitude extremes in the park will definitely make your head feel a little funny.
Good food options in Death Valley are pretty slim. I'd recommend picking up groceries outside of the area so you have things on hand like sandwiches and snacks for mid-day adventures.
Going on a longer National Parks trip? Make sure to pick up an America the Beautiful pass which will save you money on visiting multiple parks throughout the year.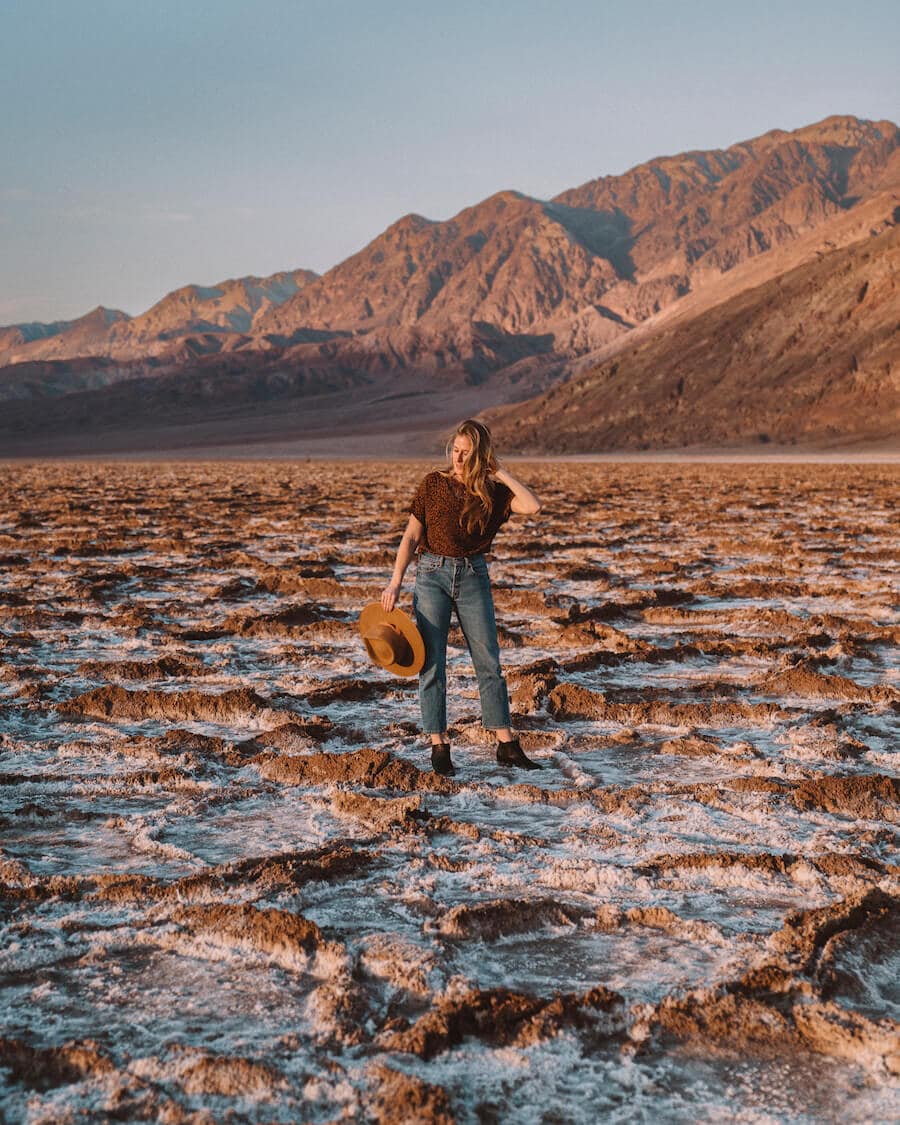 What to Pack For a Trip to Death Valley
Death Valley is an extreme landscape. In the summer it can get up to 130 degrees mid-day, while temperatures can drop to the 30s on winter nights. The park is also vast, with not a ton of shade to protect you. With that said, it's super important that you pack accordingly.
Hydration and protection from the sun are a must. If you pack water in plastic containers, it's going to get warm FAST, trust me. Pack an insulated water bottle so your agua stays cold for longer during the day and you can remain refreshed. You'll thank me later!
Here's a quick list of items to consider packing during your trip in addition to your normal packing staples:
Protective sun gear like hats, sunglasses, sunscreen and light long sleeve layers
Hiking backpack or camera backpack
Camera
Hiking shoes
Bandana to keep damp around your neck during hotter times of year
Insulated water bottle to keep water cold
Food and snacks as food options aren't great (especially healthy ones)
If you are camping, definitely bring warmer layers for the evening
How Much Time Do You Need in Death Valley?
Technically, you could see many of the top sites in Death Valley in a single day, but I wouldn't recommend rushing it.
It's worth noting that many of Death Valley's unique spots are best visited at sunrise or sunset rather than mid-day. If you're a photography nerd like me, then you're going to want to stay a couple extra days so you can visit all the best spots at the right times.
However, if you're just trying to tick the sites of your list and don't need a ton of time at each, a weekend will be plenty of time for you trip.
You'll also want to factor in where you're staying. If choosing accommodation in Beatty, it will take you an hour to get in and out of the park each way, so you need to factor in that time.
A weekend is definitely doable, but a long weekend is preferable. Personally my friend and I spent 5 days in Death Valley but were spending a lot of time shooting photos, so we could have been much more efficient with our time.
---
Read More U.S.-Based Escape Posts
---
When is the Best Time to Visit Death Valley?
Besides its otherworldly beauty, Death Valley's main claim to fame is that it holds the record for the hottest temperature on Earth at 134 degrees Fahrenheit. Insane, right?
Even during non record breaking years, it can easily heat up to 120°F, which means it's absolutely brutal to visit during summer and the surrounding months. Planning your trip in late Fall to early Spring will be the most pleasant time to visit.
Here are some quick tips to keep in mind as you decide when to plan your trip to Death Valley:
Visit late October to April
Death Valley is an International Dark Sky Park which means that there is very little light pollution making it an epic place to catch the night sky. If stargazing is your thing, try to visit during a new moon.
Keep in mind that it can get quite cold in Death Valley during winter nights. Take this into consideration if you plan on camping as you'll want to pack extra warm layers.
If wildflower hunting is your jam, it's worth keeping tabs on the wildflower bloom in Death Valley as you plan your trip. Every year is different of course, but the park has been known to produce an incredible display of wildflowers in the past. Late February to mid July is the best time to visit to potentially witness these gorgeous blooms.
The Best Things to Do in Death Valley
Mesquite Flat Sand Dunes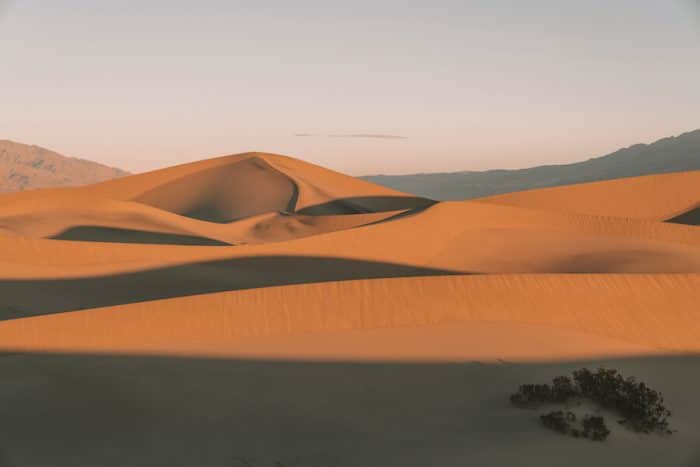 The Mesquite Flat Sand Dunes are a must during your visit to Death Valley. Rising 100 feet high, the majestic dunes will trick your brain into thinking you've landed somewhere exotic like Morocco or Dubai.
We opted for a sunrise session, trekking out in the dark to be able to witness the first light coming up in the valley from atop the dunes. It was a truly special moment and I highly recommend it if you can force yourself to roll out of bed that early.
If early morning wake-up calls aren't your thing, try going at golden hour as it can be quite hot trekking out onto the dunes in the mid-day sun and your photos will produce much harsher shadows.
Keep in mind that there is no marked trail on the dunes, which means that you have to carve your own path. Personally, I think that's what makes it especially exciting! You're potentially going a route that no one has taken precisely before.
To get to the dunes is super easy as they're located right off the side of the road, even though you'd never believe it by looking at pictures. You can park your vehicle in the lot and then begin the trek out. Give yourself at least 15-30 minutes to walk out to a good spot as walking along the sand can be slow going. I don't recommend wearing sandals!
Zabriskie Point
If you're looking for the best things to do in Death Valley, then you can't miss Zabriskie Point, especially at sunset. Located in the Amargosa Mountain Range, Zabriskie Point is an easy drive-up overlook with a short uphill walk that rewards you with stunning views out onto the finely sculpted rock created from millions of years of erosion.
Arrive a bit before golden hour begins and make sure you stay past sunset to watch as Blue Hour changes the colors in the sky and the rock formations before you.
Dante's View
This scenic overlook is close to Badwater Basin and is considered one of the best panoramic views of Death Valley. At the viewpoint, you'll rise 5,000 feet high above sea level, getting a birdseye view of the vastness of the valley below. For context, Badwater Basin is the lowest point in Death Valley at 282 feet below sea level.
This is an easy viewpoint to get to, featuring just a short walk from the parking area.
Artist's Drive & Artist's Palette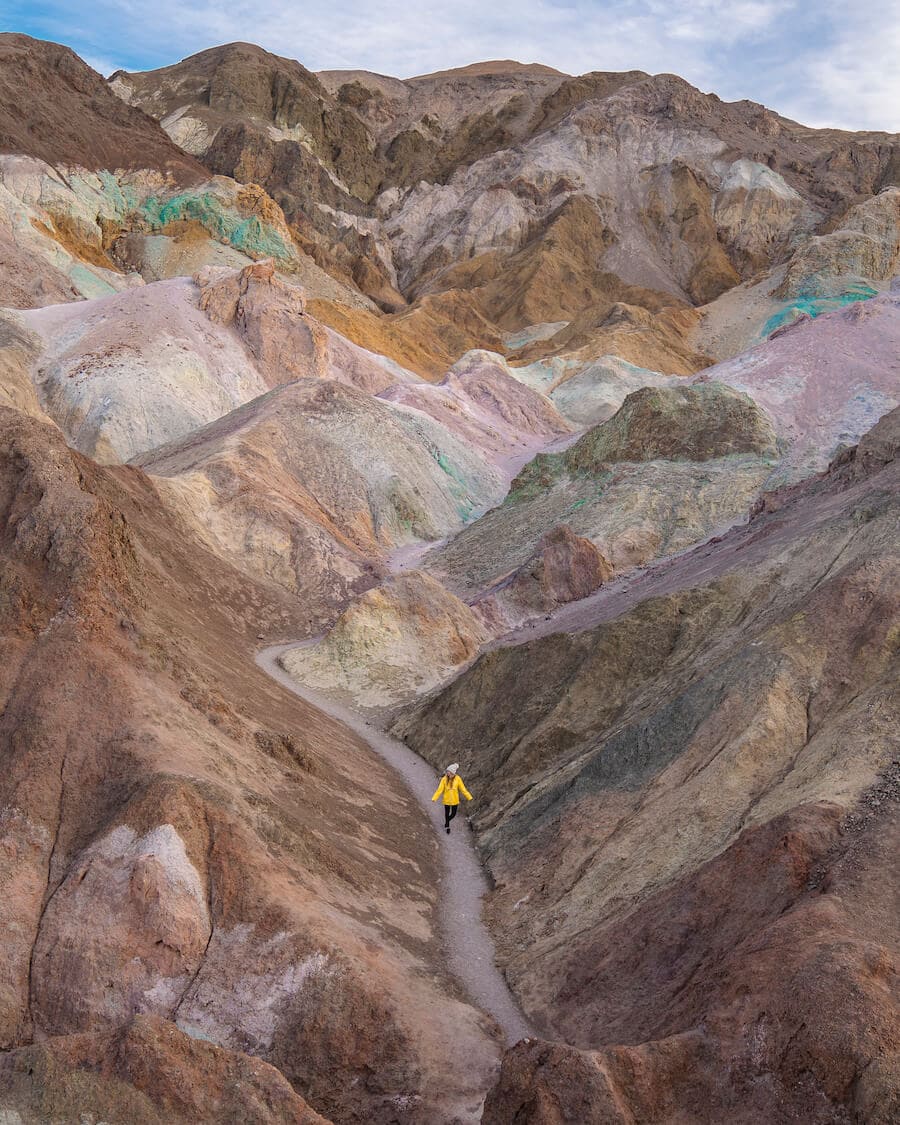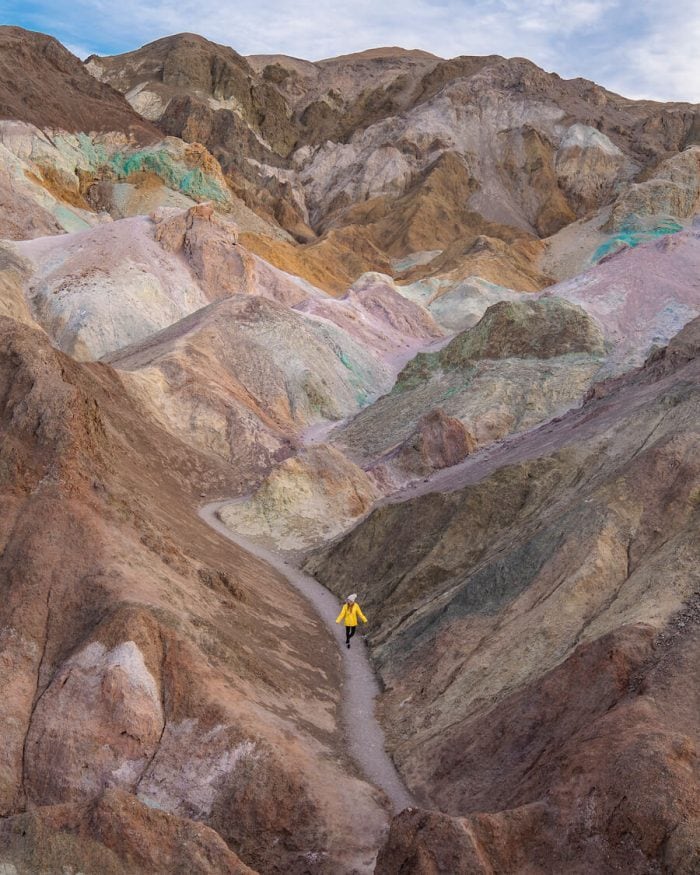 Adding to the list of unique landscapes in Death Valley is Artist's Palette, which is a series of rock formations boasting colorful sediment in shades of pink, orange and turquoise produced by the oxidation of metals and elements in the ground.
To get to Artist's Palette, visitors must exit off of Badwater Road and drive the one-way Artist's Drive loop which takes about 25 minutes to complete without stops.
Once you get to Artist's Palette, you can park and admire the scenery from the overlook, or you can follow the trails down into the rock formations themselves.
Personally, one of the most underrated things about Artist's Palette in my opinion is actually the view looking back onto the mountains from along the trails within Artist's Palette (pictured above). At sunrise the sky was especially stunning and you can appreciate the true vastness of Death Valley from this vantage point.
We arrived before sunrise to be able to catch the colors of the rocks as the sun came up. This is definitely a spot that you'll want to avoid on a cloudy day as the sun really helps magnify the colors of the rocks.
Badwater Basin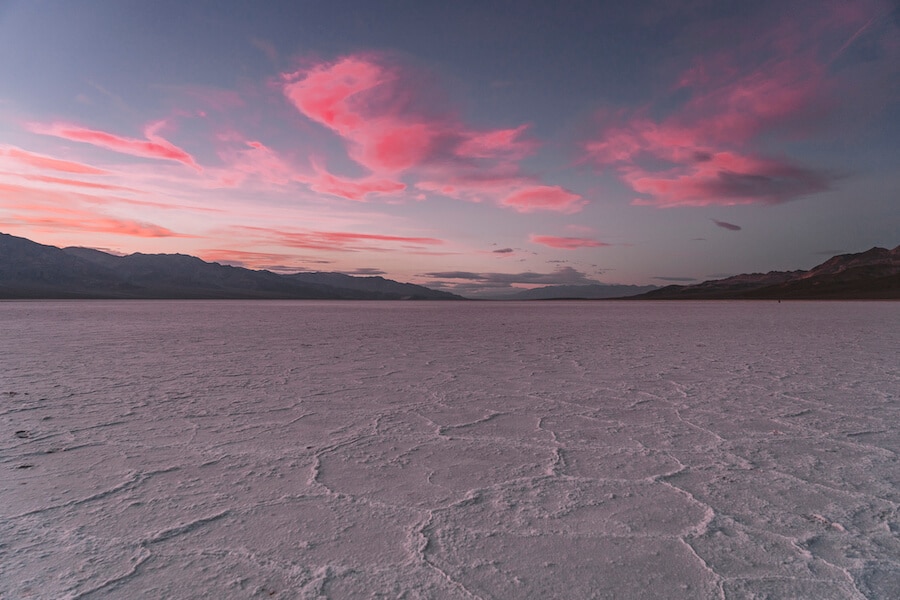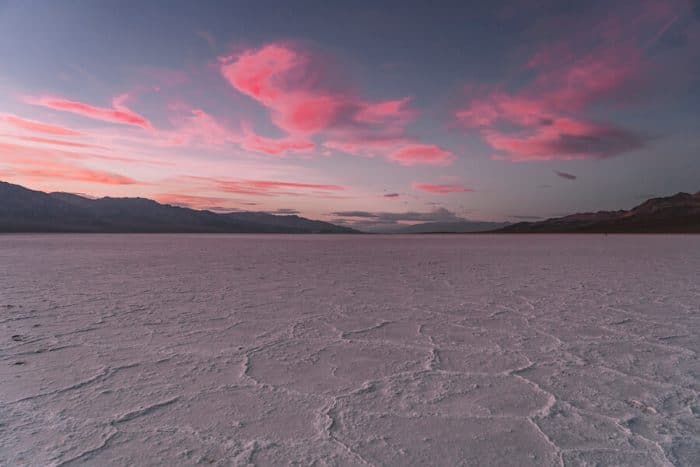 One of the most iconic spots in Death Valley is definitely Badwater Basin. These salt flats make for an epic backdrop for photos, especially at sunrise or sunset and might even trick you at first into believing you've stumbled upon snow in the desert.
If you're lucky enough to visit Death Valley right after some heavy rain, you may even be able to catch the salt flats glassed over with water, creating the most insane reflections of the valley.
Badwater Basin also happens to be the lowest point in America at 282 feet below sea level!
Devil's Golf Course
No, you're not meant to play golf here. In fact, this unique formation gained its moniker from an old guidebook from the 1930s that stated "only the devil could play golf" on its surface.
Once you see Devil's Golf Course for yourself, you'll understand why. It's a field of the bumpiest salt beds you've ever witnessed, created over thousands of years from water that has risen up from the surface and evaporated in the extreme heat to create unique mounds and spikes.
They're so jagged in fact that it would be a feat just to walk on them, let alone hit a golf ball!
To get to Devil's Golf Course, you'll take a 1/2 mile dirt road directly off the main Badwater Road that's pretty easy for any car to drive and access.
Hike Golden Canyon Trail
If you're looking for a moderate hiking trail, Golden Canyon is a great option which is accessed right off the main Badwater Road.
A 3 mile out and back trail, the beginning of the hike brings you through a pretty level path between — yep, you guessed it — golden canyons that were carved millions of years ago.
You can keep the trail pretty easy by just traversing the first mile, or you can choose to ascend further into the Zabriskie Point badlands.
Rhyolite Ghost Town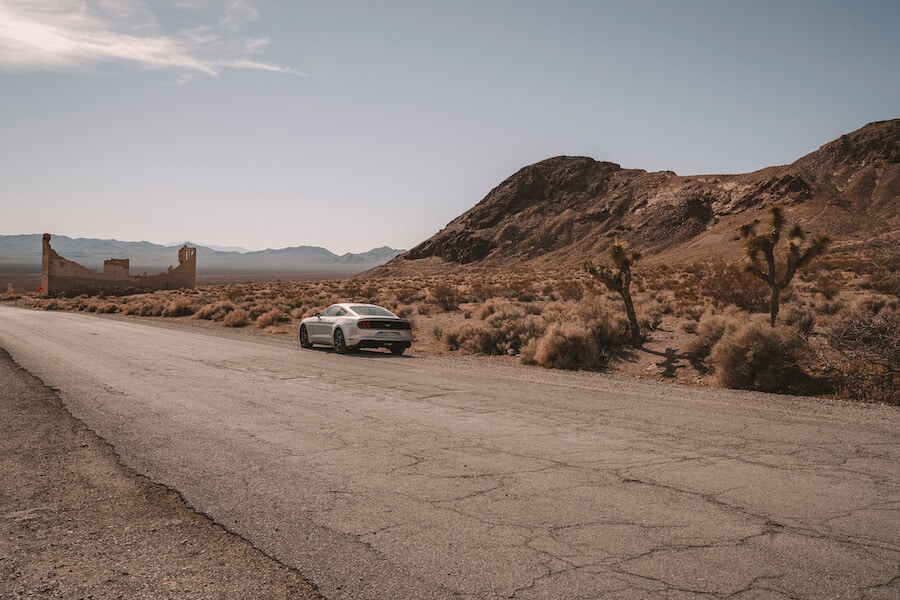 Not far from the closest town to Death Valley, Beatty, Nevada, is Rhyolite ghost town. There isn't much here other than a few crumbling structures and some quirky art installations, but it's worth it for a quick visit in and out to get a better grasp on the area's history.
Back in the early 1900s during the Gold Rush era, many people were drawn out to this area with hopes of striking gold. Rhyolite was originally formed in 1904 but by 1916 it was already almost completely deserted as the high-grade ore diminished rapidly.
Death Valley Things to Do If Your Stay is Longer Than a Weekend
Staying in the area for more than a long weekend? Here are some more awesome things to do in Death Valley and in the surrounding areas.
Ubehebe Crater (about an hour northwest of most of the other main sites in Death Valley)
Alabama Hills (1.5 hours west from Death Valley located in the town of Lone Pine)
Cerro Gordo Ghost Town (located on the way to Lone Pine from Death Valley, this ghost town was recently purchased in 2018 and is currently being developed into a more attractive tourist destination)
Racetrack Playa (located in a very remote location of the park down a dirt road that is notorious for flat tires — visit at your own risk!)
Wildrose Charcoal Kilns (about an hour south from the Mesquite Flat Dunes)
---
Planning a trip right now? Don't miss my go-to websites for booking everything from flights and tours, to accommodation and more:
---