Let me start this post by saying I am usually TERRIBLE at packing carry-on only, let alone trying to pack carry-on only in winter! As a travel blogger, I like to look cute when I travel and have options at my fingertips and that doesn't always go hand in hand with traveling light.
But something magical happened on my winter trip to Norway last December—I set out to pack carry-on only for this trip and to the shock of, well, mostly myself, I succeeded. Even crazier…it was way easier than I thought it would be.
Based on some reader requests I received, this post is going to break down how to pack carry-on only in winter so that you can travel lighter on your next cold weather vacation.
Don't have time to read the full post?

Here are the top 3 items you NEED in order to pack carry-on only in winter like a pro!

🔽 🔽 🔽
1) A Packable Down Jacket – You need one that packs down super small AND also keeps you warm. This is my tried and true choice that I've been using for years. I promise it's worth every penny! If that one doesn't fit the budget, try this Amazon copycat!

2) Packing Cubes – You can't attempt to pack carry-on only in winter without these incredible space savers. Trust me, they will make your life so much easier.

2) A Fanny Pack – My pro hack: wear under your heaviest layers onto the plane and you just bought yourself extra baggage without anyone noticing. This travel fanny has 40,000 awesome reviews!
So why would I even attempt to pack carry-on only in winter in the first place? Let me back up a bit.
When I initially agreed to join my friend Betty on an epic Norway itinerary that would take us all over the Arctic Circle, I didn't quite realize how many flights would be involved in the planning process.
All in all, to hop around to two different destinations (Lofoten and Tromsø), there were three different airlines and at least six different legs of flights involved, mostly domestic.
The flights were already adding up in price and I didn't want to risk going broke in baggage fees (or losing track of my precious warm layers in transit) so I made it a goal to go carry-on only.
To make matters worse, I knew I'd be doing a short stopover in Munich, Germany on the way home, so not only did I want to be prepared for all the outdoor adventures we'd be doing in Norway, I wanted to look cute in Munich's more urban landscape as well.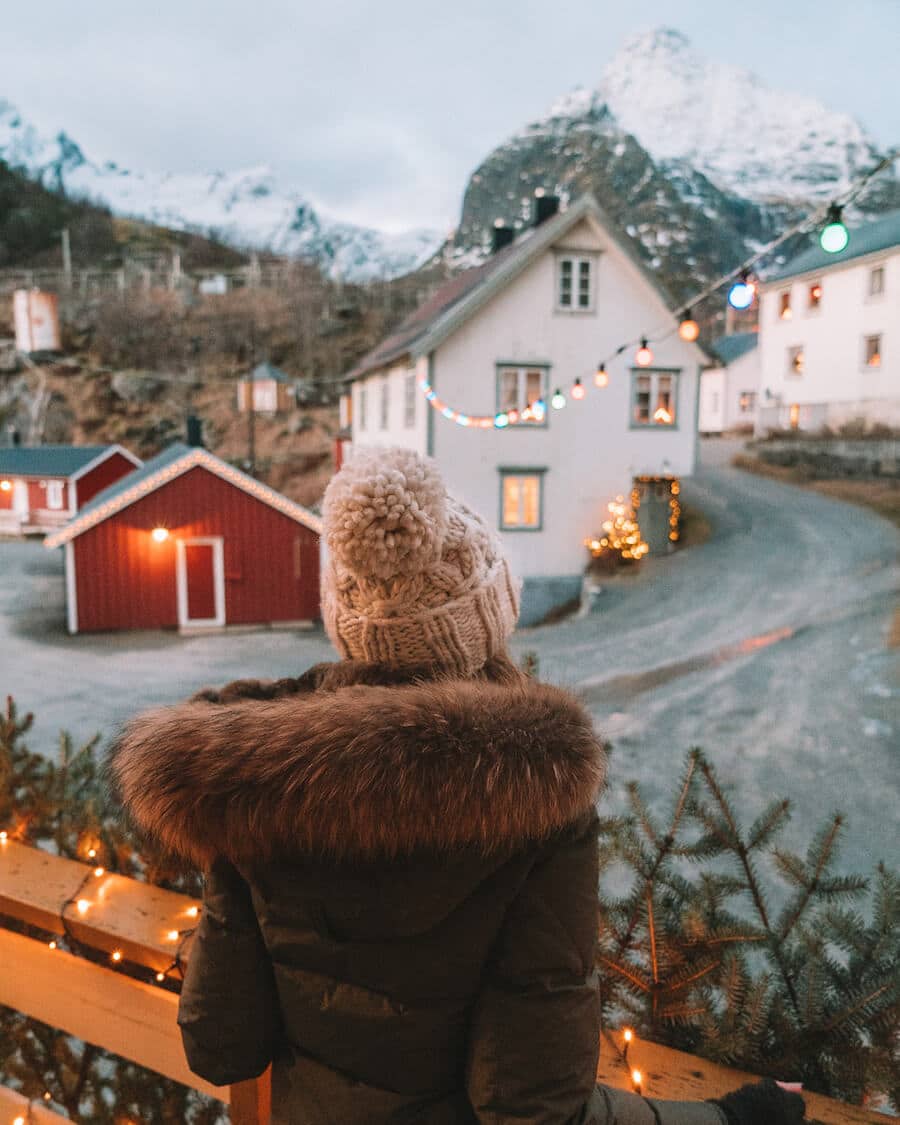 How to Pack Carry-On Only in Winter
The Packing Strategy
I'm not going to lie—attempting to pack carry-on only in winter definitely takes a little planning ahead of time. The first step is to take stock of your destination and the activities you'll be doing there.
Is it a city or more nature-focused locale? Will you be spending most of your time outdoors or hopping between buildings in an urban setting?
If you're visiting a city, of course you still want to stay warm, but you can get away with fewer functional layers as there's always a coffee shop around the corner to warm up in.
However, the challenge that city travel poses is that you're likely going to care more about your outfits and how you look as opposed to a trip that's based around outdoor adventure.
Take the first step by jotting down the types of activities you'll be partaking in and what you might need clothing-wise for each, so you can pack more efficiently.
I've included my exact packing list below for my Norway trip, but if your winter travels are taking you to a more urban destination, you can adjust with fewer under layers and swap with a couple more stylish accessories.
This is me, wearing a suitcase's worth of clothes on my body so that I could travel carry-on only last December

My Exact Winter Travel Packing List for Norway
Bags/Luggage:
Carry-On Luggage (make sure to check your airline's specific size requirements)
Lo & Sons Hanover Backpack as my personal item (wouldn't go larger than this)
Fanny Pack (my pro tip for carry-on only travel in winter to squeeze in a few extra items, and this one has 40,000 good reviews on Amazon!)
Luggage Clothing Contents:
Underwear (bring enough for the length of your trip or plan to do laundry)
1 daily essential bra
1 sports bra (for comfort)
1 pair waterproof winter boots (ideal with tread – my favorite brands are Sorel, Bearpaw and Sperry)
1 pair of stylish leather boots (my favorites are by Red Wing Heritage)
1 pair of jeans (best if they're not your tightest pair so you can fit long underwear underneath)
1 set of long underwear/thermal shirt (for really cold weather)
2 tank tops
2 t-shirts
3-4 long sleeve shirts
3 sweaters (what I brought: 1 grandpa cardigan, 1 turtleneck, 1 more stylish sweater)
1 heavy duty winter parka (for outdoor travel) or a more stylish wool coat for city travel
1 easily packable down jacket
1 waterproof rain jacket or shell that packs down easily
1 pair fleece lined leggings
2 pairs of hefty wool socks – these ones are great for wearing with shorter boots
1-2 pairs of thinner wool socks to go with leather boots
One-piece bathing suit
1 pair of fingerless gloves (easier for using my phone/camera)
1 pair of mittens for really cold days (these are my favorite mittens I've ever owned)
1-3 hats depending on your preference (I brought a gray, white and orange hat to mix up my look)
1 small bag/purse for daily use when not in transit (I'm obsessed with this Longchamp backpack that packs down to nothing)
Sunglasses
1 pair of pajamas
Additional Luggage Items:
1 travel sized laundry soap for those planning on doing wash (I love Dr. Bronner's laundry soap)
1 hair brush
1 hair styling tool (ONLY if you still have room, because your hair is going to be under hats most of the time anyway)
Makeup bag + toiletry essentials (sunscreen, face wash, tampons or menstrual cup, etc)
Small medical kit (personalize to your needs, but might include Bandaids, Advil, prescription meds, etc)
2 shower caps to throw over dirty boots
Personal Item/Backpack Contents:
Passport
Laptop
Wallet
Reusable water bottle (this is the best water bottle for travel in my opinion)
Chapstick (can't travel without)
Eye mask
Ear plugs
Camera gear – click here to see my full gear list
14 Essential Tips for Packing Light in Winter
1. Wear as Many Layers as Possible in Transit
When I was packing for Norway, I quickly realized that my main parka would take up an entire suitcase. Add in my boots, gloves and scarf and make it two. To majorly minimize your luggage, the best thing you can do is wear as much as possible on the flight.
Flight attendants will hassle you on your baggage limits, but they'll never question what you're wearing on your body. On the flight to Norway, I wore a tank top, long sleeve shirt, sweater, parka, hat, scarf and my most clunky pair of boots so that none of this had to fit in my luggage.
I even stuffed my mittens in pockets.
Even better—all of these items doubled as extra pillows and blankets on the chilly flight. Scroll back up in the post to see me looking like a completely ridiculous human but happy because I've saved a boatload in baggage fees!
2. My Ultimate Pro Hack: Wear a Fanny Pack
To take things a step further, I actually bought a fanny pack for the trip that I could hide under my coat in transit so that I had even more room to carry things like my wallet, passport and phone and leave as much room in my backpack as possible.
I travel with a lot of tech gear, so maybe the extra room isn't necessary for you, but if you're all packed up and still feeling like you could use a little extra space, a fanny pack is a great way to get away with an extra bag without being charged for it.
Check out this sleek crossbody fanny bag that comes with tons of organizational compartments and 31 different color options!
3. Layer Layer Layer
If I've learned anything about traveling to winter destinations it's that you have to be ready for anything.
Weather is so unpredictable these days, especially with climate change and I've definitely been in places where I was absolutely freezing one day and stripping out of my layers the next in a hot flash. Come prepared so you don't get stuck freezing or overheating.
To layer properly, start with a tank or tee (tanks are more comfortable in my opinion), with a long sleeve shirt over it. Top that with a sweater.
As much as these layers can be merino wool or moisture-wicking, the better. Avoid cotton at all costs, especially when it comes to socks and main core layers.
4. Use Packing Cubes
This one is non-negotiable. In order to fit as much as possible into your luggage, you'll need packing cubes to condense everything.
Packing cubes were one of the first pieces of travel gear I invested in before my round-the-world trip in 2016 and they've changed the way I pack forever.
I love these ones by Eagle Creek and they've held up really well over the years.
5. Roll Clothes
Once you've got your packing cubes, you'll want to roll all of the clothes that need to fit in them. This not only helps conserve space in the most efficient way, but it also causes less wrinkles so that your items are fresher upon arrival.
6. Pack Bulky Items In a Compression Bag
Another non-negotiable is a compression bag, especially if you have any bulkier oversized sweaters or chunky scarves you want to pack.
Compression bags are different from packing cubes because they have small valves at the bottom of them that remove all of the excess air without letting any back in.
The first time I tried mine out I was shocked by how much it compressed my bulkiest items down to a relatively flat volume.
If you haven't tried these out for winter packing—or packing any time of year for that matter—get on it. These guys are a game changer. Shop my favorites from Eagle Creek.
7. Minimize Makeup, Jewelry and Toiletries
When I go on normal trips, it's way too easy for me to just throw in my whole makeup bag without taking stock in its contents every time.
For a carry-on only trip in winter, however, you've got to be a bit more selective. The first thing that goes for me typically are hair tools because it's likely my head will be under a hat the entire trip anyway.
You'll also want to go through your entire makeup bag, removing anything that isn't part of your everyday essential routine.
If there are items like mascara that you can find in travel sizes or bulkier creams and lotions, transfer a smaller amount to a travel container so you have just enough for the trip.
8. Stick to Neutrals With a Few Stand-Out Items
I'm guessing you don't want to show up in your destination looking like you raided the lost and found, so you'll want to have some sort of plan as far as matching your outfits.
The easiest way to do this is to stick to neutral colors and earthier tones when it comes to your outer layers. I tend to like gray and olive tones and lots of black under layers.
Once you have the basic color palette of your main pieces down, then feel free to pick a couple items like a stand-out scarf or hat that will give your look a bit more flair.
9. Make Use of All Space + Luggage Straps
This means stuffing socks into shoes and not wasting important luggage real estate where the divets from the handles run along the bottom. If one side of your luggage isn't completely flat, I'd recommend filling those spaces with jeans or a couple shirts so the space doesn't go wasted.
If you have luggage with straps that buckle and compress or a zippered section, that will also aid in condensing your items more efficiently.
10. Pick Accommodation with Access to Laundry
If your trip is longer than 10 days, then this tip is pretty important as you don't want to pack two weeks worth of clean clothes and underwear in a carry-on.
You can always pack a small bottle of Dr. Bronner's laundry soap (my favorite) and do a hand washing in the sink, but in winter you might have a harder time air drying your items. Opt for a place with laundry if you can.
11. Pick Your Jackets Wisely
The ultimate item that is going to keep you warm on your winter trip is your jacket, so you need to choose it wisely.
For my Norway trip, I actually packed two jackets—one bulky parka that was more stylish that I wore on the plane, as well as another smaller Patagonia jacket (pictured above) for outdoor activities that compresses and packs easily.
If the Patagonia one is over your budget, I would recommend this copycat packable jacket on Amazon.
Since the long parka is really heavy duty, having the second jacket allowed me flexibility if certain days were a bit warmer or if I needed to move more freely.
If you can use one jacket for everything, of course that's better, but if you need a second option for different activities, Patagonia makes great jackets that are incredibly warm and easy to pack in a carry-on.
For city travel, you'll probably want to bring a jacket that's a bit more stylish but still warm, and that should be the one you wear on the plane.
Backcountry always has a great selection of jackets that are both cute and functional and will be guaranteed to keep you warm.
12. Throw in a Foldable Duffle
If you know you're going to want to do some shopping in your destination but don't have room in your carry-on luggage to bring anything home, you can always pack a foldable duffle for the trip over.
In this case if you already have a personal item, you'll have to check your carry-on and pay the baggage fees on the return trip, but at least it will only be for the way home instead of both directions.
One thing I hate about traveling carry-on only is that it leaves little room to get lazy with packing when you're moving from one location to the next in your destination by ground.
A foldable duffle is a nice thing to have to throw stuff in when you need to pack up every few days (if you're on a road trip or multi-destination itinerary) but don't need to stress about doing it for a flight.
13. Invest in Quality Staples
To be honest, I spent quite a bit of money before my Norway trip in winter because I knew that staple items like warm jackets, hats and gloves would be things that I would use for years to come.
Everything doesn't have to be super expensive, but your comfort and safety in cold climates is worth investing in.
I personally think this brand has some of the best heavy duty jackets out there, and I know the one I bought for Norway will literally last my entire life.
Save the cheap clothing for your next trip to Bali!
This rule also goes for your luggage. If you're going to be stuffing a carry-on to the brim, you can't afford to have the zippers burst at the seams. If you want to bring stylish luggage, also make sure that the brand you choose can withstand stuffing it a bit more than normal.
14. Bring a Few Extra Shower Caps for Bottoms of Shoes
Winter weather can wreak havoc on the bottoms of your shoes and you don't want to be carrying all that mud, slush and dirt around in your luggage.
Using shower caps is a genius hack for throwing over the bottoms of your shoes to prevent them from soiling other items in your luggage.
---
Want Inspiration For Your Trip? Here Are Some Favorite Winter Destinations
---
Well, that's a wrap on my winter guide for traveling carry-on only! Have any other tips I missed? Leave them in the comments below 🙂
---
Planning a trip right now? Don't miss my go-to websites for booking everything from flights and tours, to accommodation and more:
---