If you're planning a road trip along the northern Oregon Coast and are wondering how to narrow down your itinerary with all that there is to see, you've come to the right place!
Driving this Pacific Northwest coastline has always been on my bucket list ever since I moved to California. Something about the moody, foggy images of the rocky coastline that are all over Instagram reminded me of my childhood growing up in Maine and I was determined to explore it for myself.
I finally got to take a girls trip to the area last year, starting in Portland and continue down the northern section of this beautiful coastline. Since the entire coast only takes 7.5-hours to drive, our initial plan was to try to squeeze the whole coast into one trip. But after researching all the stops I wanted to make along the way, I quickly realized that there was way too much to fit into just one week. Instead, we decided to hone in on the northern Oregon Coast and save the southern spots for another epic road trip. And spoiler—I already can't wait to go back!
There is seriously SO much to see here and it's all stunning—but my biggest piece of advice is to take your time and not try to cram too much in. Ideally, you'll want a week or so to road trip through the area so that you have plenty of time to take in all the beauty it has to offer. However, there are ways to make it work if you're only in town for a few days.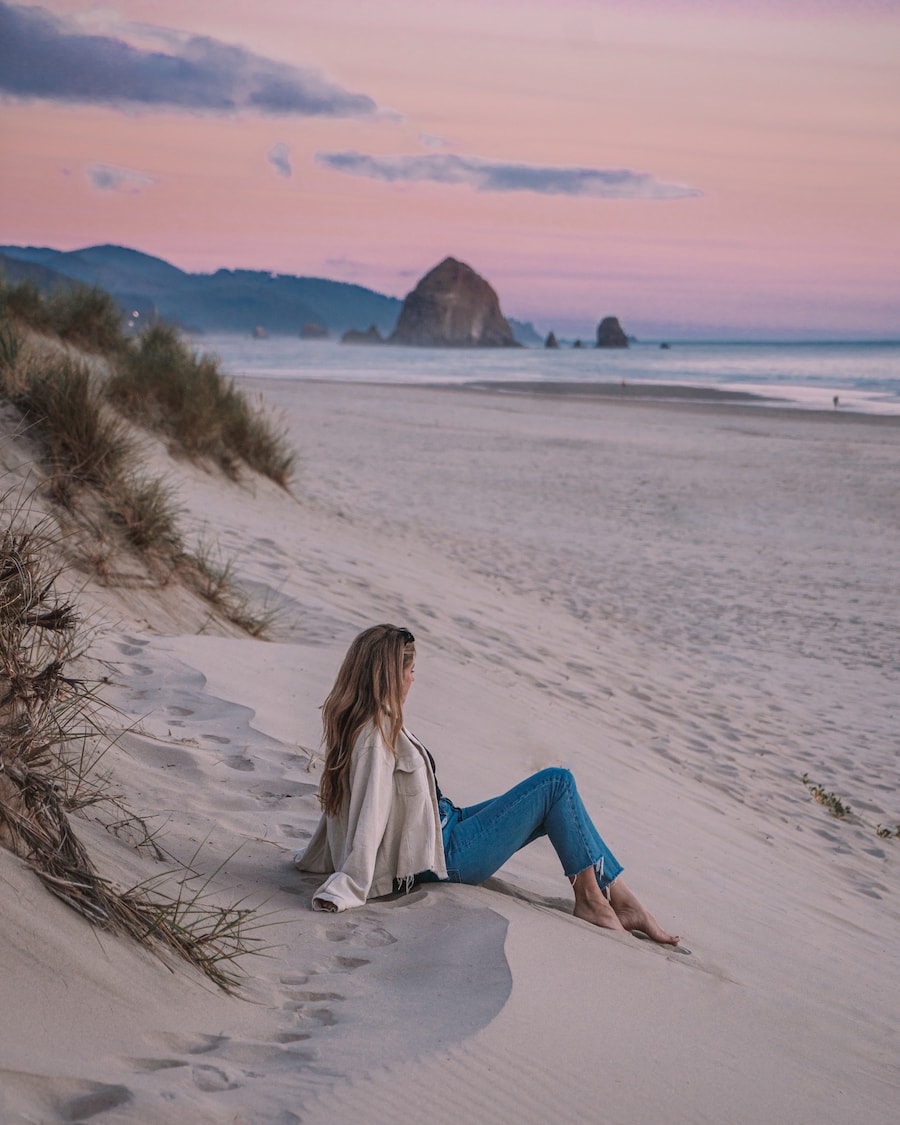 This has to be one of the most picturesque road trips in the entire United States. At about 363 miles long, Highway 101 winds along the entirety of the Oregon Coast, offering spectacular views of the rugged Pacific coastline. In between epic vistas and beautiful beaches, you'll find quaint seaside towns that have old-school seafood restaurants and motels that feel like they've been untouched for decades. I really love that about the Oregon Coast; it has a very local feel without many big built-up cities or huge chain hotels.
No matter how long you plan on visiting, this guide will serve as a great resource while planning your trip to the northern Oregon Coast so don't miss the best spots along the way!
---
Discover More Coastal Getaways
---
The Most Scenic Spots on the Northern Oregon Coast
1. Ecola State Park Overlook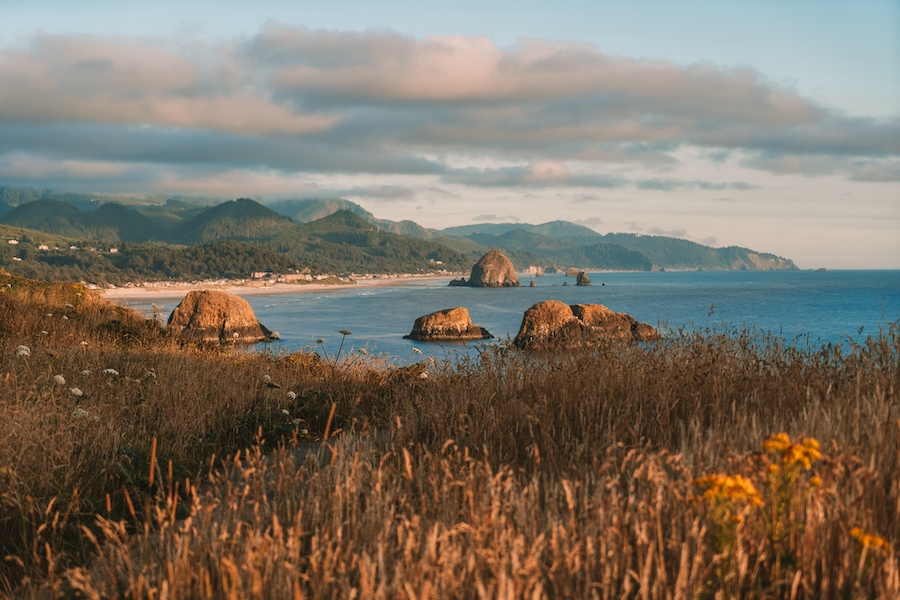 Just a few miles north of Cannon Beach (arguably one of the most popular spots on the northern Oregon coast), Ecola State Park offers one of the state's most famous views. We decided to stay here from the afternoon into golden hour to watch the light change over the coast and it was pretty freaking magical. If there's only one viewpoint you make it out to on your trip, make it this one.
The lookout point is super easy to access right off the parking lot once you enter the park (about a 3 minute walk), but I'd recommend spending more time in the area so you can take advantage of the hiking trails. Also, be sure to visit Indian Beach, which is a super picturesque and popular surf spot.
How to Get There: If you're driving along Highway 101, you'll enter the park from the north end of Cannon beach. Head down Ecola Park Road for a little over a mile to the fee station (a $5 day-use permit is required if you don't have an Oregon State Parks permit or Oregon Pacific Coast Passport). Then, take a left for the Ecola Point parking lot or a right to head a few miles down the road to Indian Beach.
2. Cannon Beach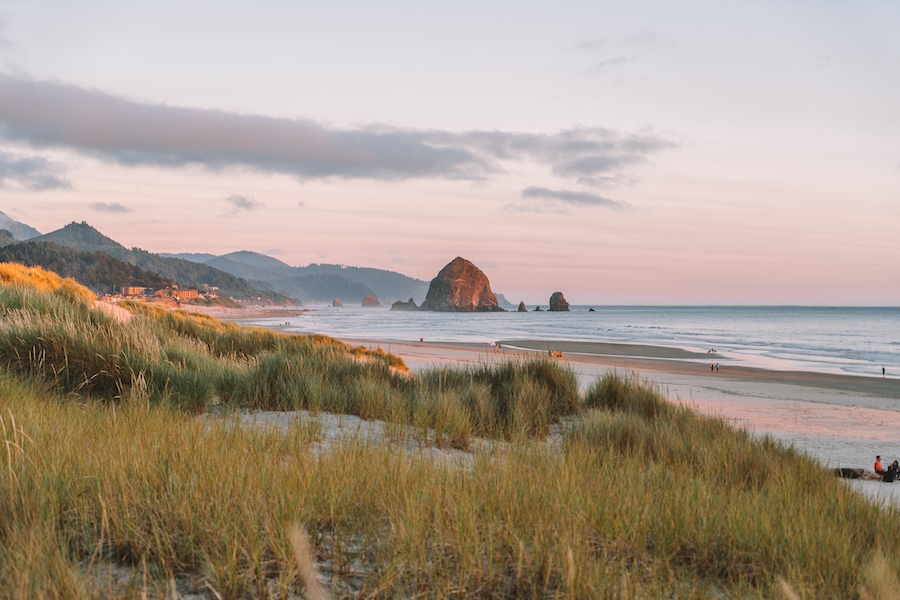 No northern Oregon Coast road trip is complete without a trip to Cannon Beach. Named one of the world's 100 most beautiful places by National Geographic, Cannon Beach truly is one of the most unique beaches I've ever visited.
Chances are you'll recognize Haystack Rock once you get there, since it's one of the most iconic (and photographed) spots along the whole Oregon coast. The entire area is beautiful for photography at sunrise or sunset, and you can have a lot of fun shooting photos on the beach or up by the sand dunes. If you're there during the day, you'll also see a lot of people laying out and flying kites.
How to Get There: Only about 90 minutes from Portland and just a few minutes off the coastal highway, Cannon Beach is an easy stop. Note: there isn't any parking along the beach, so you'll have to find a spot at the free lot in town and walk (but don't worry, it isn't very far). The town is super cute too and definitely worth exploring, or at least stopping for a bite to eat.
3. Hug Point
Cutest name ever, right? Hug Point is just five miles south of Cannon Beach and is a popular spot because of its unique mix of sea caves, tide pools and a small cliff waterfall that drops onto the beach.
Regrettably, we didn't make it here on our trip, but I've got it bookmarked for next time. The Hug Point State Recreation Site has easy access to the beach, forested picnic areas, and a seasonal waterfall that you can walk to—just be mindful of the tide so you don't get stranded when it comes in (apparently that happens to tourists a lot).
How to Get There: Hug Point is located between Cannon Beach and Manzanita. Though it probably won't be as busy as Cannon Beach, the parking lot is tiny, so you may have to wait for a spot or park along the highway and walk down.
4. Short Sand Beach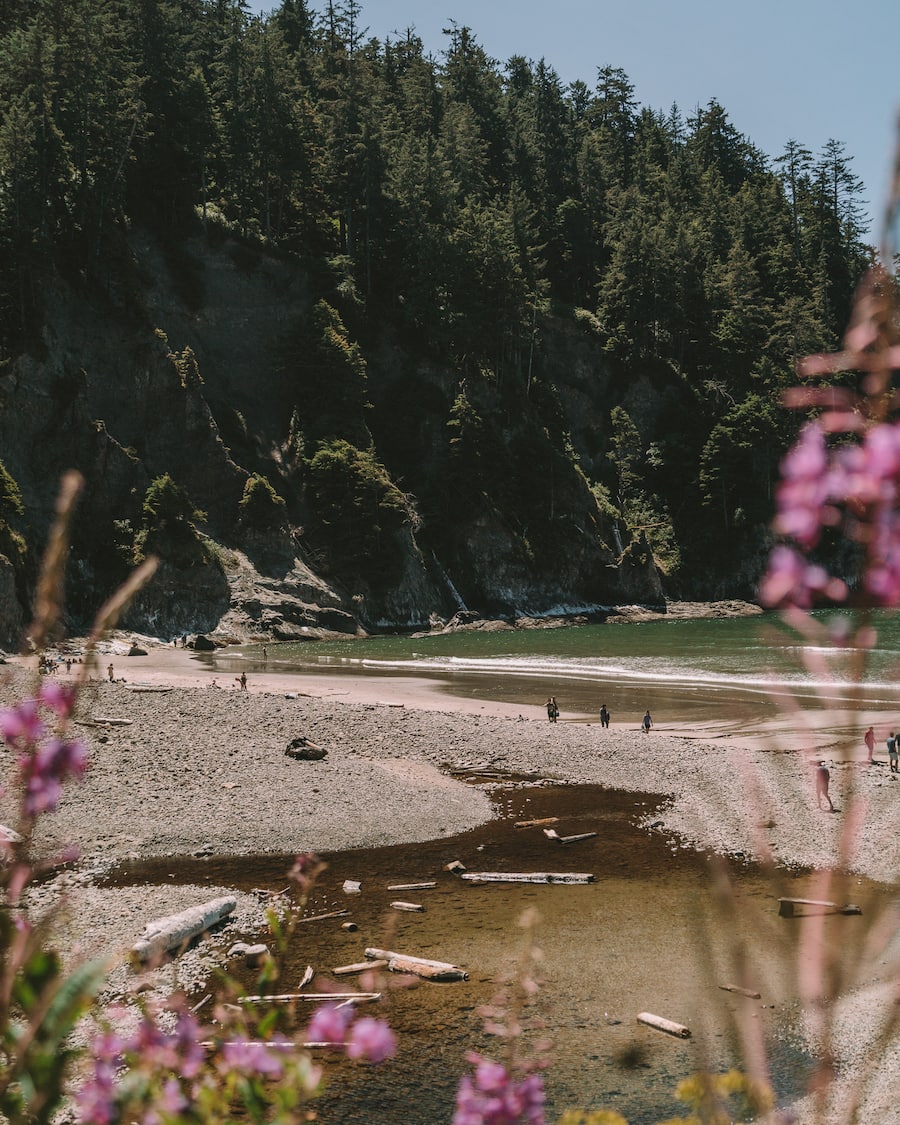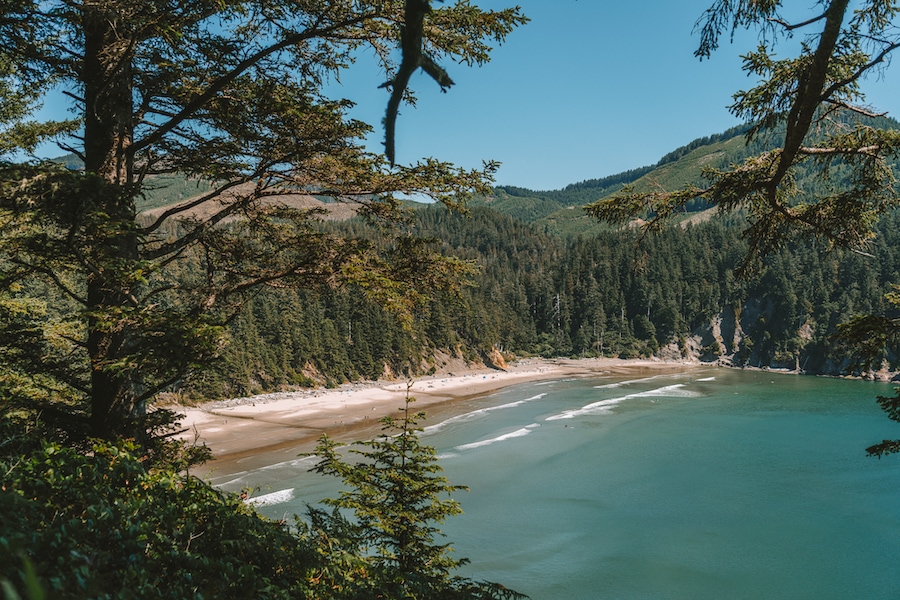 One of the best beaches in Oregon, Short Sand beach is located in Oswald West State Park which has four miles of coastline that include a secluded, sandy beach and miles of trails that lead to the ocean. A half-mile walk through the woods will bring you directly to the sand, or you can take a longer trail to get up to the Cape Falcon lookout for gorgeous views looking back at the beach below. This park is a popular spot for beach goers, hikers, and especially surfers.
How to Get There: Spanning from Arch Cape to Manzanita, there are four parking lots along Highway 101 that you can park in to access the park. If you're looking to get to Short Sand beach specifically, use Oswald West State Park's main parking lot and take the short hike from the lot down to the beach.
5. View From Neahkahnie Mountain Loop Hike
The Neahkahnie Mountain Loop Hike is also located in Oswald West State Park, and it gives you some pretty stunning views of Manzanita Beach and the Pacific Ocean. The trail is 8 miles long and has a 2,300 foot elevation, so make sure you've got the time (and energy) if you want to embark on this one. I will say that the views make it all worthwhile if you're up for a good workout.
How to Get There: You'll start your hike at the Short Sand trailhead located in Oswald West State Park and end it at Neahkahnie Mountain Viewpoint. Be sure to check the park website before you go since storms can sometimes cause damage to the trail.
6. Manzanita Beach
Manzanita is a little oceanside village right next to Neahkahnie Mountain. I absolutely LOVED it here! The main beach is huge with gorgeous white sand, turquoise water, dunes, and a large cliff on the north side of the beach. It might just be one of the best beaches on the northern Oregon Coast.
It's a popular spot for general beach-going, surfing (we caught a really windy day here and there were tons of kite surfers), and fishing. However, my favorite part was the overall vibe—this area feels less touristy and much more local, but there's still some cute shops and restaurants to explore in the area.
How to Get There: Manzanita Beach is an easy stop off of Highway 101 and just 20 minutes south of Cannon Beach.
7. Cape Meares State Scenic Viewpoint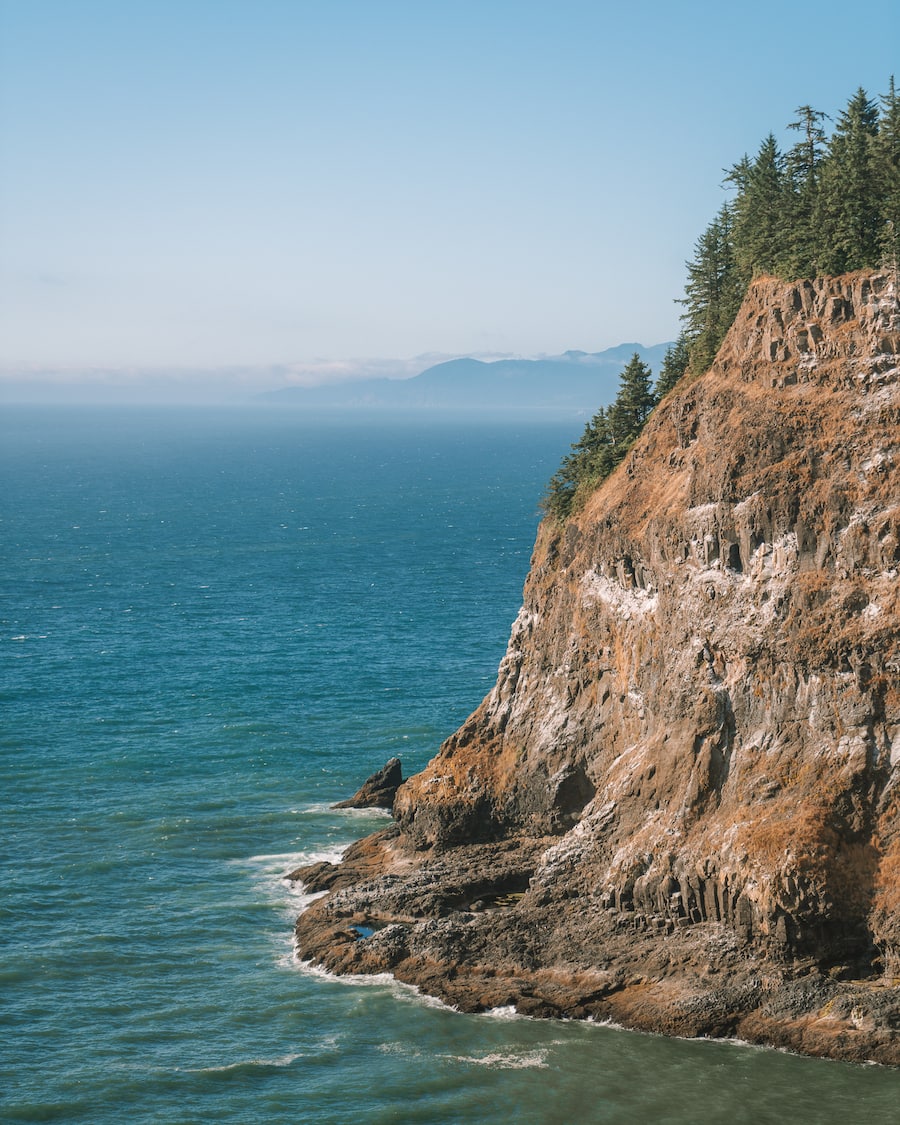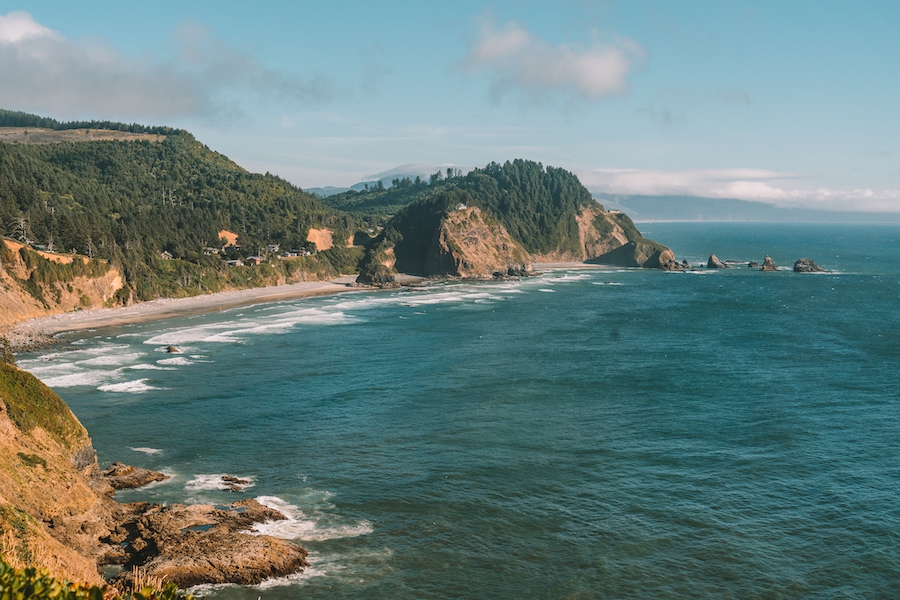 We were absolutely wowed by Cape Meares and this spot has very iconic Oregon Coast vibes. Stunning views of the Pacific, a lighthouse, old-growth coastal forest, and a wildlife refuge—what else do you need? There are scenic viewpoints super close to the parking lot, or you can hike one of the many trails.
One of them even leads to Cape Meares National Wildlife Refuge, which is home to thousands of nesting seabirds. There's a good chance you might spot some gray or humpback whales too! All-in-all, Cape Meares is a must-see on any northern Oregon Coast trip.
How to Get There: Cape Meares is about an hour south of Manzanita Beach on the south end of Tillamook Bay. Once you arrive, park in the lot for the lighthouse and walk down the path on the left for gorgeous views overlooking the rocky coastline. You can continue on the path to see the lighthouse, but the views to the south were honestly my favorite part.
Visit the state park website here for more info.
8. Symons State Scenic Viewpoint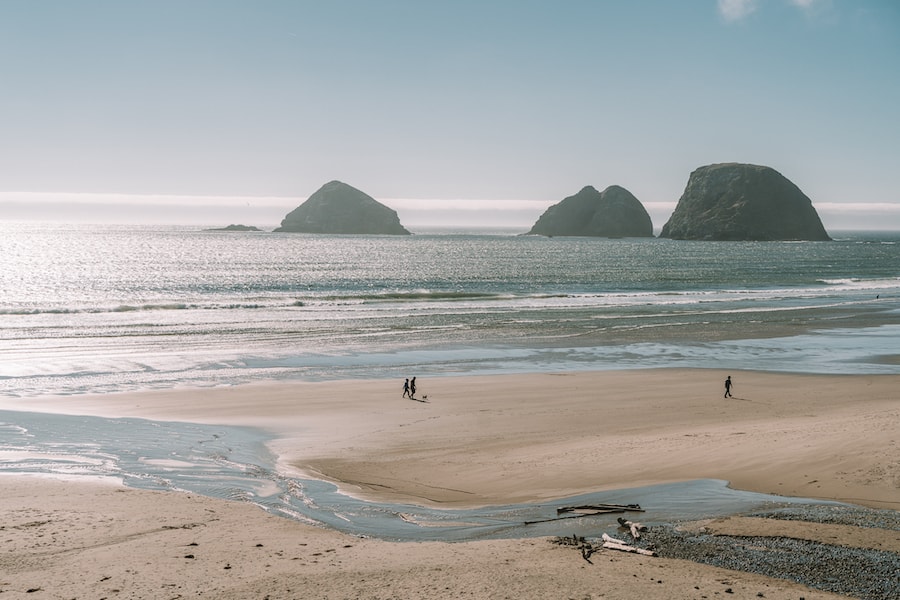 As you drive down the northern Oregon Coast, you will encounter several "pull over now" moments, and Symons State Scenic Viewpoint is definitely one of them. However, this one feels a bit more off-the-beaten path and people seem to overlook it and instead head straight to Cape Meares instead.
It's absolutely worth the stop though, offering stunning cliff views that look down onto the beach and three large rock formations right off the coastline. There is also beach access if you want to sunbathe, swim, surf, or take a long walk along the water.
How to Get There: Symons State Scenic Viewpoint is about 15 minutes off of Highway 101, just south of the town of Oceanside. It may add a little extra time to your Oregon road trip, but the views are worth it if you've got the time.
9. Netarts Bay Lookout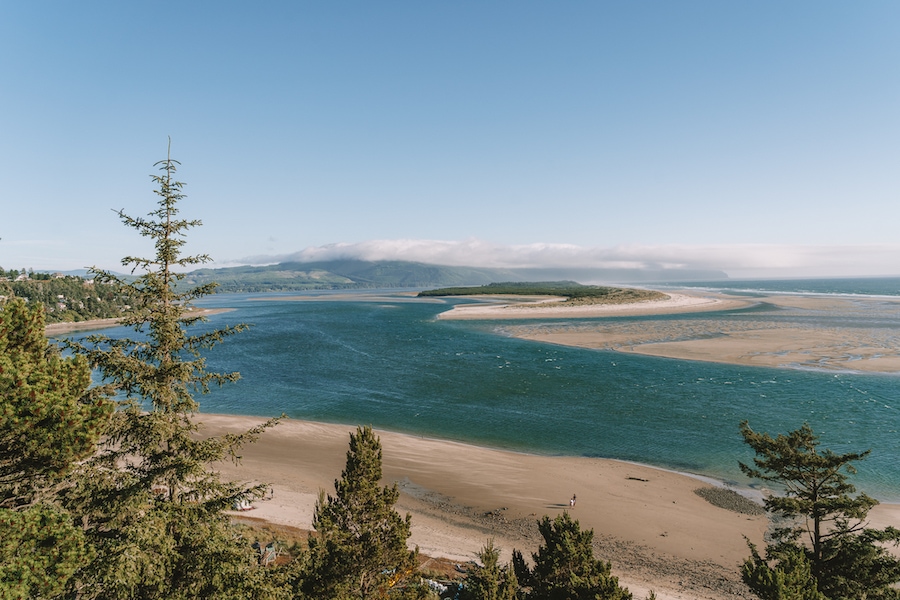 Though you can explore the beach in Netarts Bay, the best view is from the lookout along the Netarts Oceanside Highway as you drive up towards the Symons State Scenic Viewpoint. From there, you get an overhead shot where you can take drone-esque pictures, no expensive equipment necessary! It almost looks tropical from above.
How to Get There: Netarts Bay Lookout is just a few minutes south of Symons State Scenic Viewpoint and can be a quick stop if you just want to snap a few photos.
10. Cape Kiwanda State Natural Area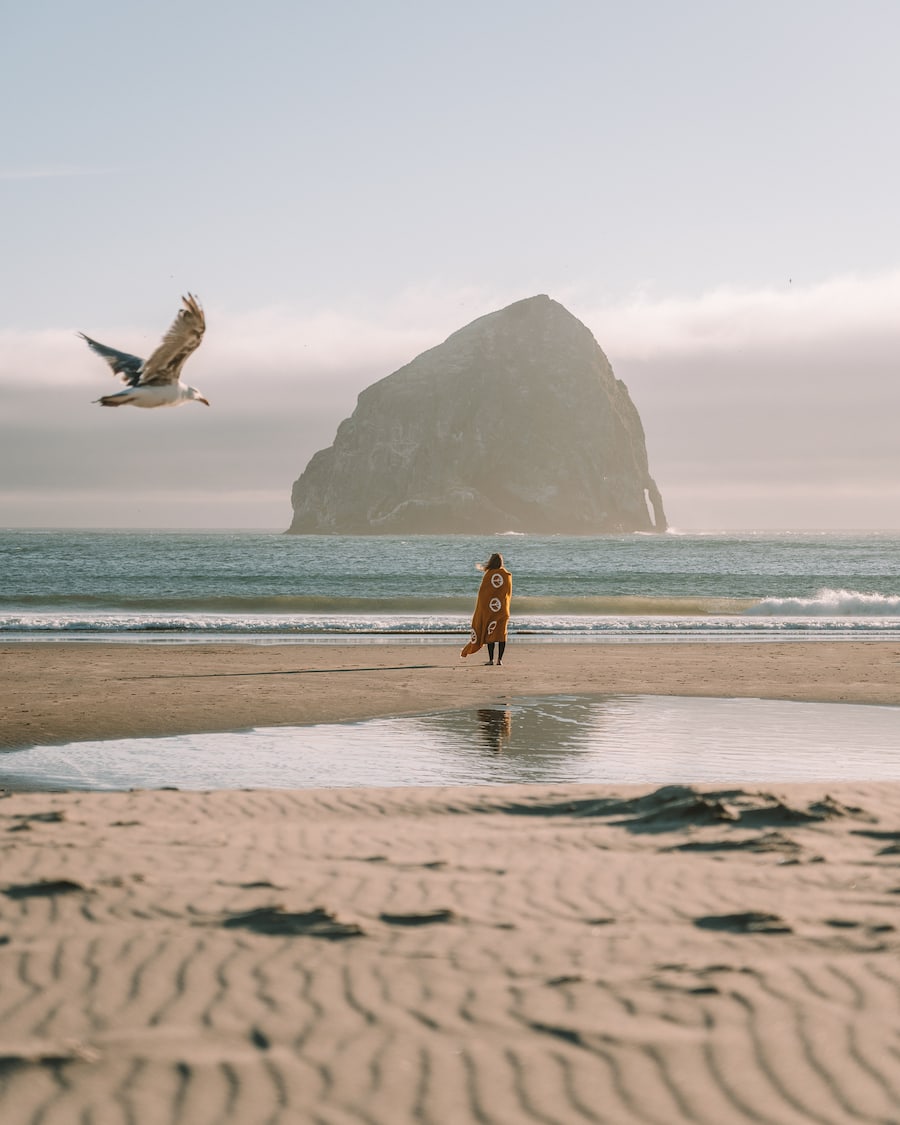 The whole coastline in the Pacific City area is beautiful, and Cape Kiwanda is no exception. Similar to Haystack Rock at Cannon Beach, a standout feature at Cape Kiwanda is also a giant sea stack jutting out of the ocean just offshore, which makes for great photos.
However, what makes this spot special is the massive dune that you can climb (it's a workout—trust me) for epic views looking down onto the beach. Burn out those glutes as you climb the hill before sitting down and watching the waves crash along the shore. If you're up for some off-roading and want to visit a quieter section of coastline, you can also travel slightly north to McPhillips Beach where you can drive right onto the sand.
How to Get There: Cape Kiwanda is located in Pacific City. You'll need to pay $10 to park in the Cape Kiwanda parking lot and from there it's a short walk to the beach.
Need to find accommodations for your stay on the Oregon Coast? Check out these local options!
11. Neskowin Beach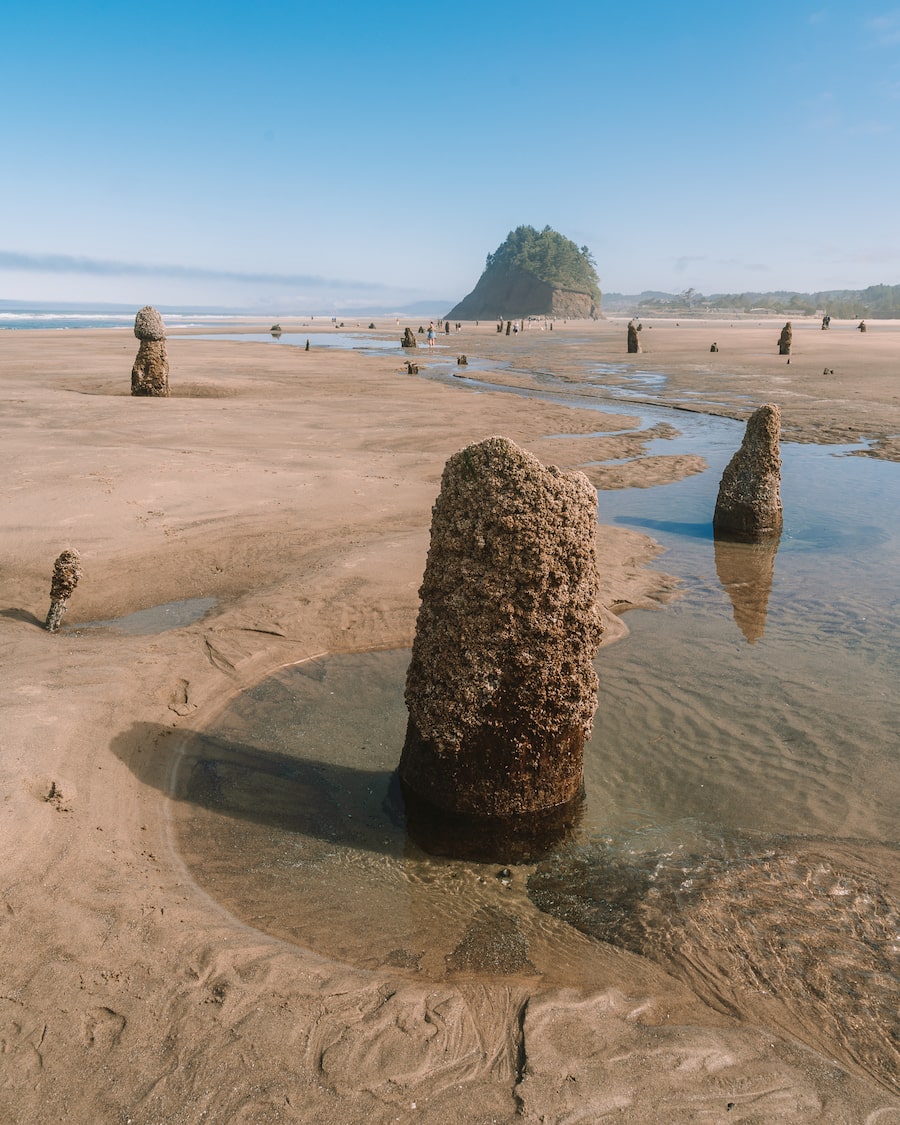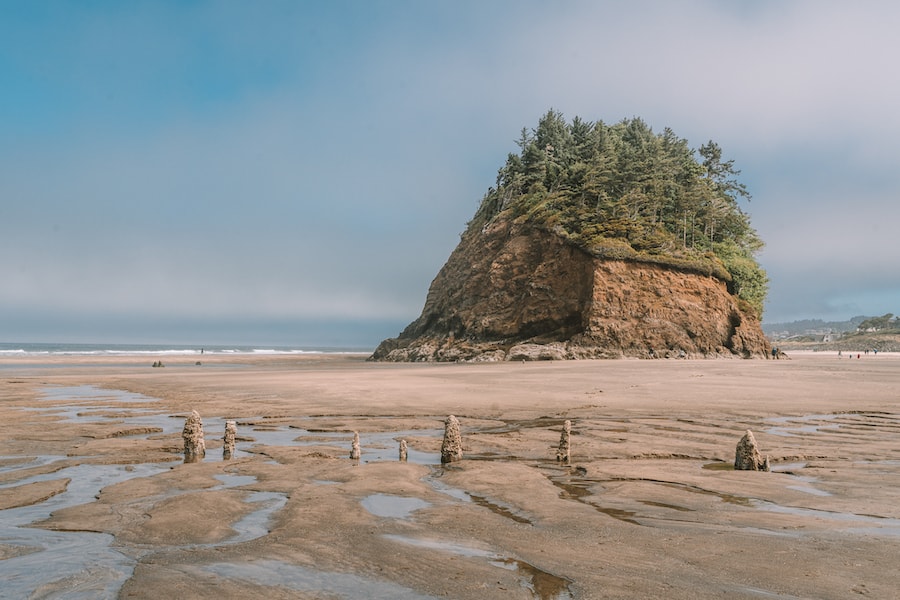 One of the most unique beaches I've ever visited is Neskowin Beach, located just north of Cascade Head. Visitors flock here during low tide to catch a view of the "Ghost Forest," a beautiful and slightly eerie series of ancient and decaying Sitka Spruce stumps that are scattered throughout the sand. Take a sandy stroll to Proposal Rock to get one of the best views of the Ghost Forest and the surrounding coast.
Good to note: When we visited here we had to wade through a bit of water to be able to cross from one side of the beach to the ghost forest side. Make sure to wear shorts or pants you can roll up if you don't want to get your clothes wet.
How to Get There: Neskowin Beach is right near the Oregon Coast Highway, and it is easily accessed by the free public parking lot which has a short trail that leads down to the water.
12. Boiler Bay State Scenic Viewpoint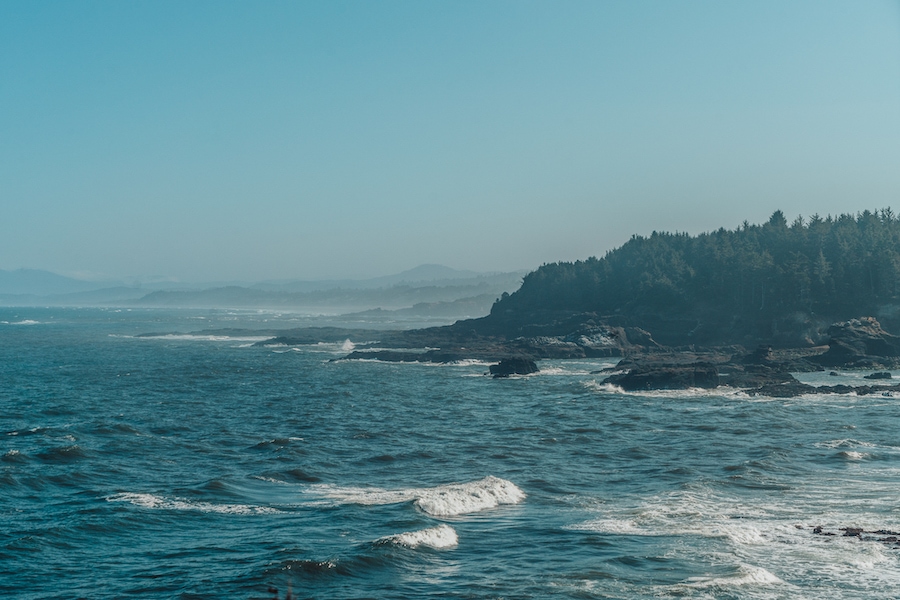 As you're driving around Depoe Bay, the Boiler Bay State Scenic Viewpoint is a great spot to pull off. A rugged bay with wild surf, you can spot grey whales here year-round and several different kinds of seabirds—or you can just sit out on the rocks and enjoy the view.
How to Get There: Boiler Bay State Scenic Viewpoint is right off the highway, south of Lincoln City and just north of Depoe Bay, making it a very easy stop with ample parking.
13. Depoe Bay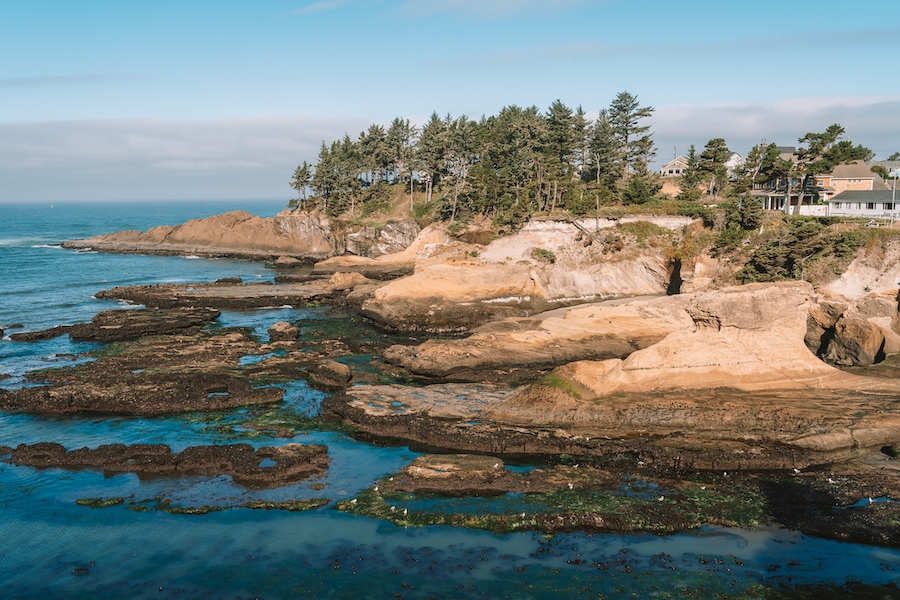 Depoe Bay is the whale watching capital of the Oregon coast. This place reminded me a lot of growing up on the coast of Maine with its gorgeous blue water and rocky coastline. There's a Whale Watch Center, shore observation decks, and boats that will take you up close and personal if you're interested in seeing the whales (March through December is the best time for this).
Otherwise, Depoe Bay is a cute little town with plenty of beautiful ocean views to admire. Fun fact: Depoe Bay is apparently home to the world's smallest navigable harbor.
How to Get There: Located right on Route 101 alongside the ocean, Depoe Bay is an easy stop on your Oregon coast road trip.
14. Yaquina Head
Yaquina Head features a lighthouse and many vantage points to take in the beautiful scenery of the northern Oregon coast. It extends one mile into the Pacific, north of the town of Newport. The fog was super intense the day we tried to go, so we didn't get to see the lighthouse in all of its glory, but I still consider it a must if you're traveling through the Newport area.
How to Get There: As you travel south on Highway 101 from Depoe Bay, take a right onto Lighthouse Drive and then turn left to enter Yaquina Head. It's worth noting that this was one of the only parts of our Oregon coast road trip that requested payment for entry ($7) which we didn't think was worth it since the fog was basically impenetrable. If you don't want to pay the fee, you can also get views of the Yaquina Head Lighthouse from Agate Beach which is a little further south.
15. Cape Perpetua Scenic Area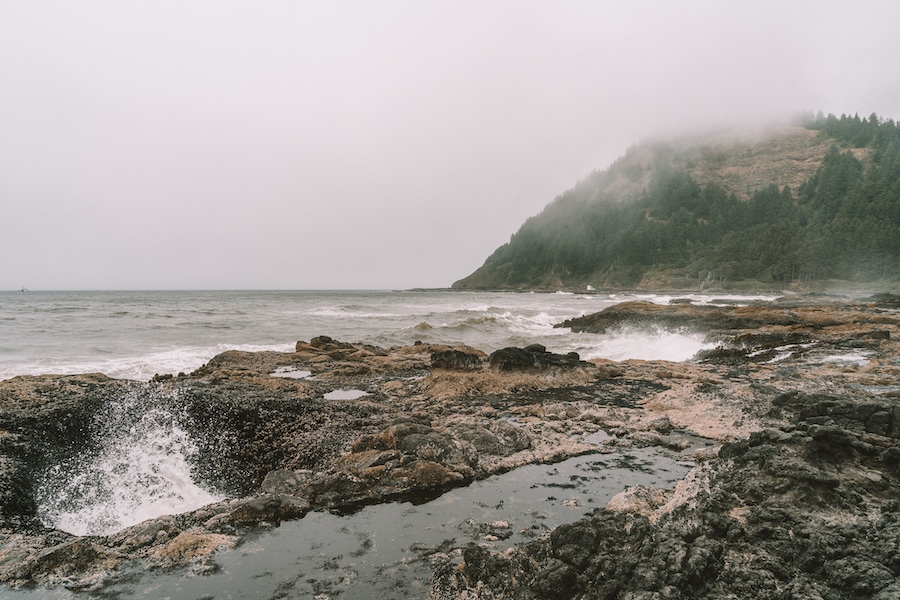 Part of the Siuslaw National Forest, Cape Perpetua Scenic Area is located near the central Oregon coast and has tons of cool features to check out like Spouting Horn, Devil's Churn, and Thor's Well (pictured). There are great hikes on well-marked trails, tide pools, and of course, stunning ocean views as far as the eye can see.
How to Get There: The most gorgeous section to drive through Cape Perpetua is two miles south of Yachats. It is absolutely gorgeous! I recommend parking at the Thor's Well trailhead (right off the 101) and walking the path along the coast for the best views.
Did this post inspire you to explore the scenic Oregon Coast? Let me know in the comments below!
---
Planning a trip right now? Don't miss my go-to websites for booking everything from flights and tours, to accommodation and more:
---