If you're on the lookout for where to stay in Ojai, California, then it's likely you already known how magical of a place Ojai is.
Nestled in a valley in the Topatopa Mountains just 90 miles northwest of LA, Ojai has been growing in popularity over recent years, drawing people from near and far looking to relax, shop, eat well, and even get in touch with their more spiritual sides.
I finally made my first trip out to Ojai a year ago and have since been back several times as it makes for a great day trip or long weekend!
Unwinding is the perfect activity—if you can call it that—to do in Ojai.
Here, you get to enjoy the simple things. Instead of filling your schedule with intense activities, you'll instead find yourself leisurely strolling around town, taking in the local art, browsing the local bookstore, or just sleeping in.
Which is why deciding where to stay in Ojai is so important because where you rest your head is all part of the experience.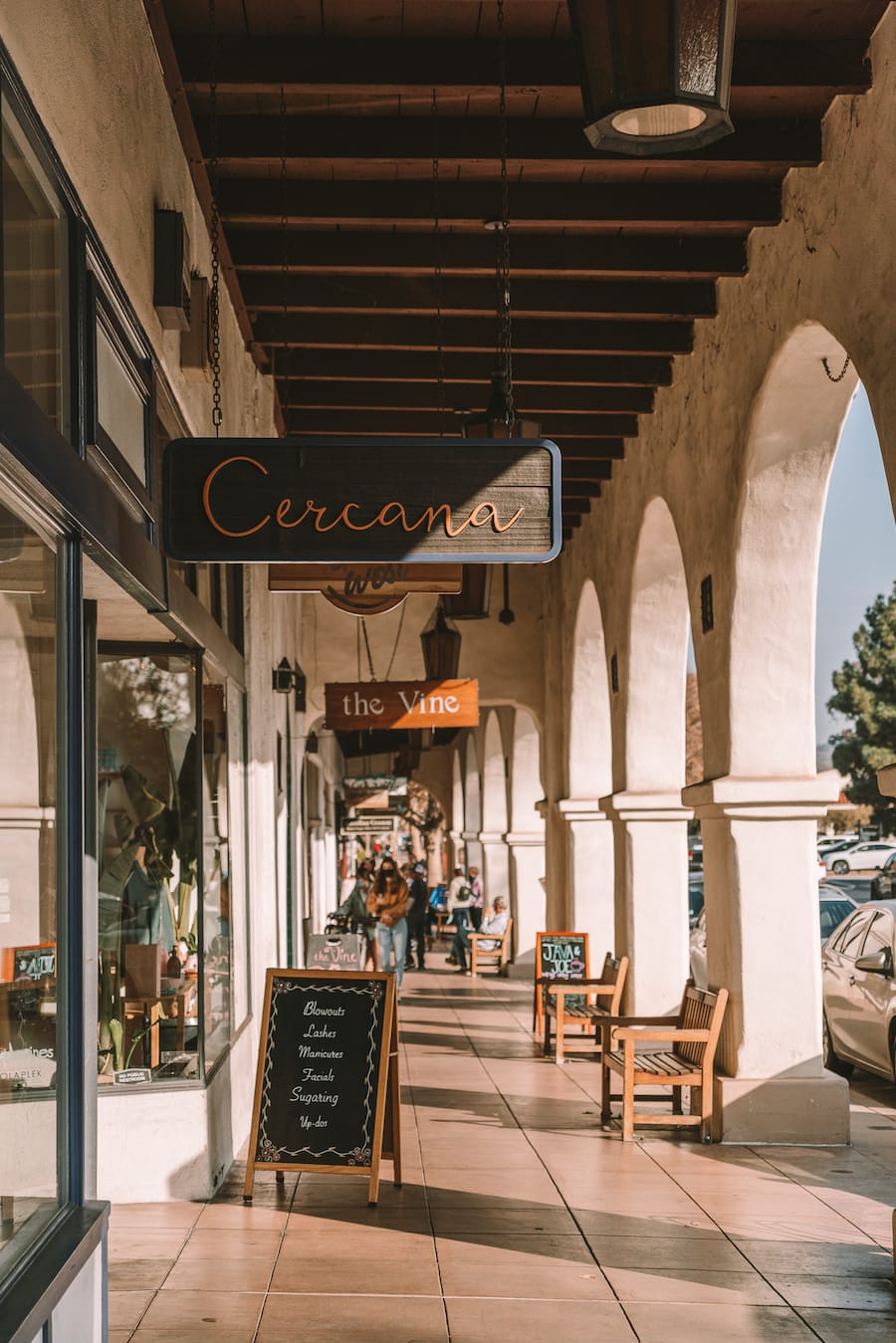 It's important to note that Ojai is not a late-night town. Rather, it is the perfect place to get some rest and enjoy daytime activities, like local farmer's markets, shopping, and hiking.
But this slow pace and the early nights make your accommodation even more essential as you will likely spend a decent amount of time there.
Luckily you have some pretty awesome options. This post will walk you through all the best places to stay in Ojai so you will feel confident in choosing what is right for your style and budget!
Tips Before Deciding Where to Stay in Ojai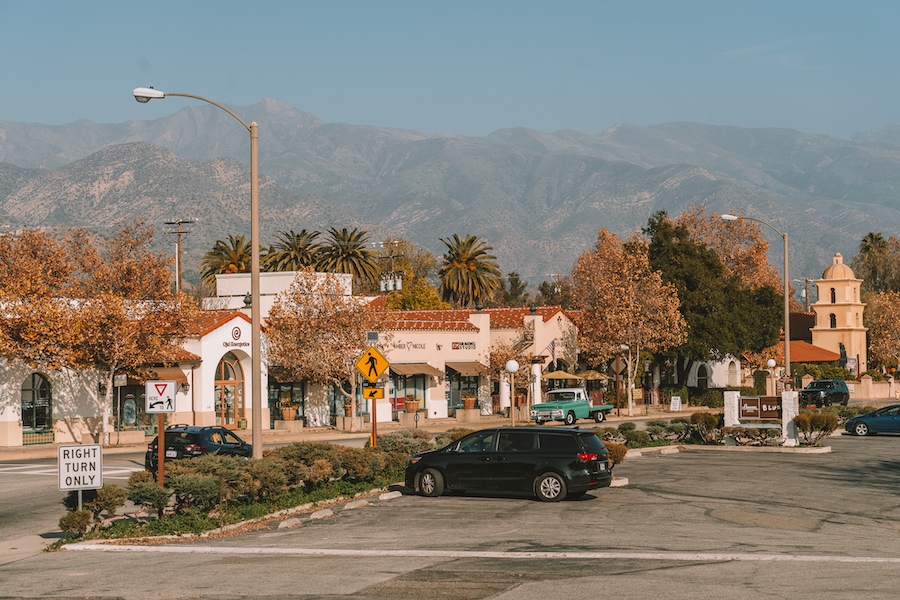 Being a small, local town, Ojai is not filled with endless hotel options. Although you have some great places to choose from, hotels and vacation rentals are pretty limited, so you will want to book early.
For the best rates, book hotels in mid-week or low season. We did notice that some businesses in town were closed on Mondays and Tuesdays, so Wednesday to Friday is a preferable mid-week option.
When it comes to the best time of year to visit, Ojai is quite hot in the summer since it's landlocked, so consider going September-October or April-May when the weather is still lovely but mild.
Want a little something extra special? April-May is the harvest season for the famous Ojai Pixie tangerines and the whole town celebrates with special events, food, and cocktails.
You will find a lot of fun things to do in Ojai, but as a small town, 2-3 nights is the perfect amount of time to visit. This will give you plenty of time to explore all Ojai has to offer.
Prefer walking everywhere? Most businesses and restaurants are centered around East Ojai Avenue and a lot of the things to do are within walking distance, so if you prefer to walk everywhere, be sure to factor that in when choosing where to stay in Ojai.
A couple of accommodations require a car or bike to get into town.
The Best Luxury Hotel in Ojai
Ojai Valley Inn and Spa
If your heart is set on a luxurious stay, then the Ojai Valley Inn is for you. The queen of Ojai luxury hotels, this resort is a destination within itself and hands-down the best hotel in Ojai.
Beyond the top-notch service, you could check-in and never leave the property; there is so much to do.
Go out for a round of early morning golf, take a dip in the pool of your choosing (yes, there are multiple), attend a yoga class, book a massage at the spa, and eat a first-class meal without ever stepping foot off the 220-acre property.
Here, beautiful Spanish-inspired architecture meets California oasis vibes, and the property is lush with green landscapes as far as the eye can see and accentuated with gorgeous oak trees.
Just a walk around the property will put you in the ultimate relaxation mood, I promise.
Why Stay at the Ojai Valley Inn and Spa?
This is the perfect place to stay if you're celebrating an occasion like a birthday, babymoon or anniversary, or if you're truly coming to Ojai to get away and don't care about packing your schedule.
I personally wouldn't want to stay here again if I wasn't planning on clocking some serious time by the pool or taking the time to enjoy the amenities at the resort.
You have everything at your fingertips here, from multiple pools to choose from as well and no less than nine dining options!
From a casual grab-and-go meal at Libbey's artisan market and poolside dining to exclusive, to one-of-a-kind epicurean experiences at the Farmhouse, you can find whatever strikes your fancy.
The icing on the cake?
The luxury, award-winning spa, Spa Ojai. At Spa Ojai, you can settle in for all-day pampering, participate in one of the many mind and body offerings (like yoga or wellness discussions), or grab a green juice at the spa cafe and sip it by the spa pool.
This makes the Ojai Valley Inn a great option for a romantic getaway or girl's trip. I booked an aromatherapy massage during my stay, which I can't recommend enough.
Amenity Highlights: Award-winning spa and gym/exercise classes, multiple pools, golf course, nine dining/drinking options on-site, complimentary Linus bikes.
Distance to the center of town: 1.3 miles, about 5 minutes by car.
---
Read More California Posts
---
The Best Design Hotel in Ojai
Capri Hotel Ojai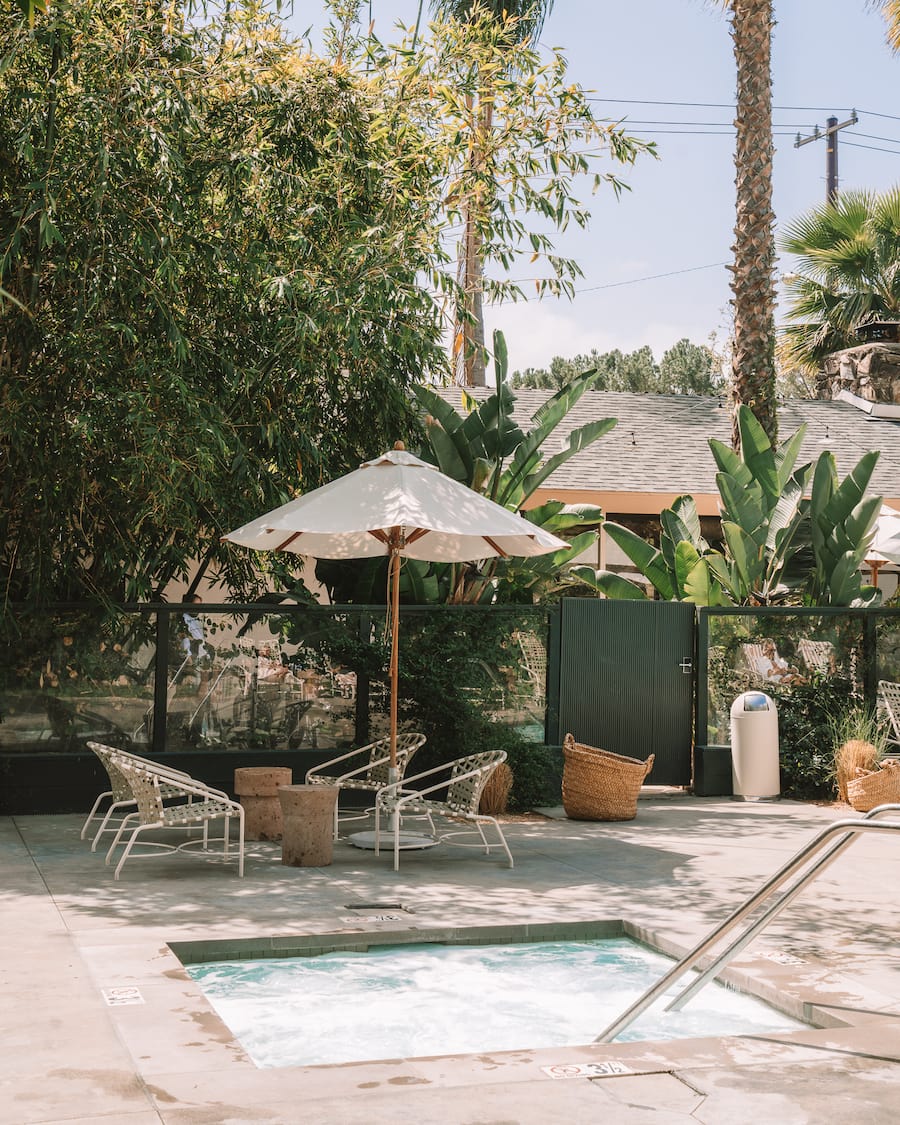 Built in 1963, the Capri Hotel is a 30-room mid-century modern hotel that recently underwent some major remodeling. The Shelter Social Club, known for its electric and design-centric hotels and restaurants, took over design in late 2019 and turned the hotel into the dazzling yet simple beauty it is today.
The new vibe is very retro-California. The lobby is absolutely stunning, featuring a rock fireplace and furniture that will give you all the 60's vibes, while the use of muted colors and distinct shapes throughout the guest rooms add a contemporary vintage appeal.
You will find extra special touches throughout such as original pastel oil abstracts from artist Mattea Perrotta adorning each room. Rooms are either king or queen deluxe rooms, some with patio or balcony options as well.
The great design doesn't stop inside. Outside you will find a minimal, inviting pool with chic loungers and umbrellas as well as the original hotel signage in true vintage Hollywood style, perfect for those iconic Cali-vibe Instagram shots.
Why Stay at the Capri Hotel?
The Capri is a great choice for all low-maintenance design lovers out there who aren't fussed about having all the top-notch amenities and still want a good deal.
This hotel doesn't feature luxury amenities like 24-hour room service, valet, or an on-site spa, but they make up for it with an aesthetically pleasing atmosphere.
Plus, the hotel is located within walking distance of all the action in downtown Ojai while maintaining awesome views of the Topatopa Mountains.
Amenity highlights: Swimming pool, rooms with patios/balconies, impeccable design.
Distance to the center of town: 0.6 miles, about a 12-minute walk.
The Best Glamping in Ojai
Caravan Outpost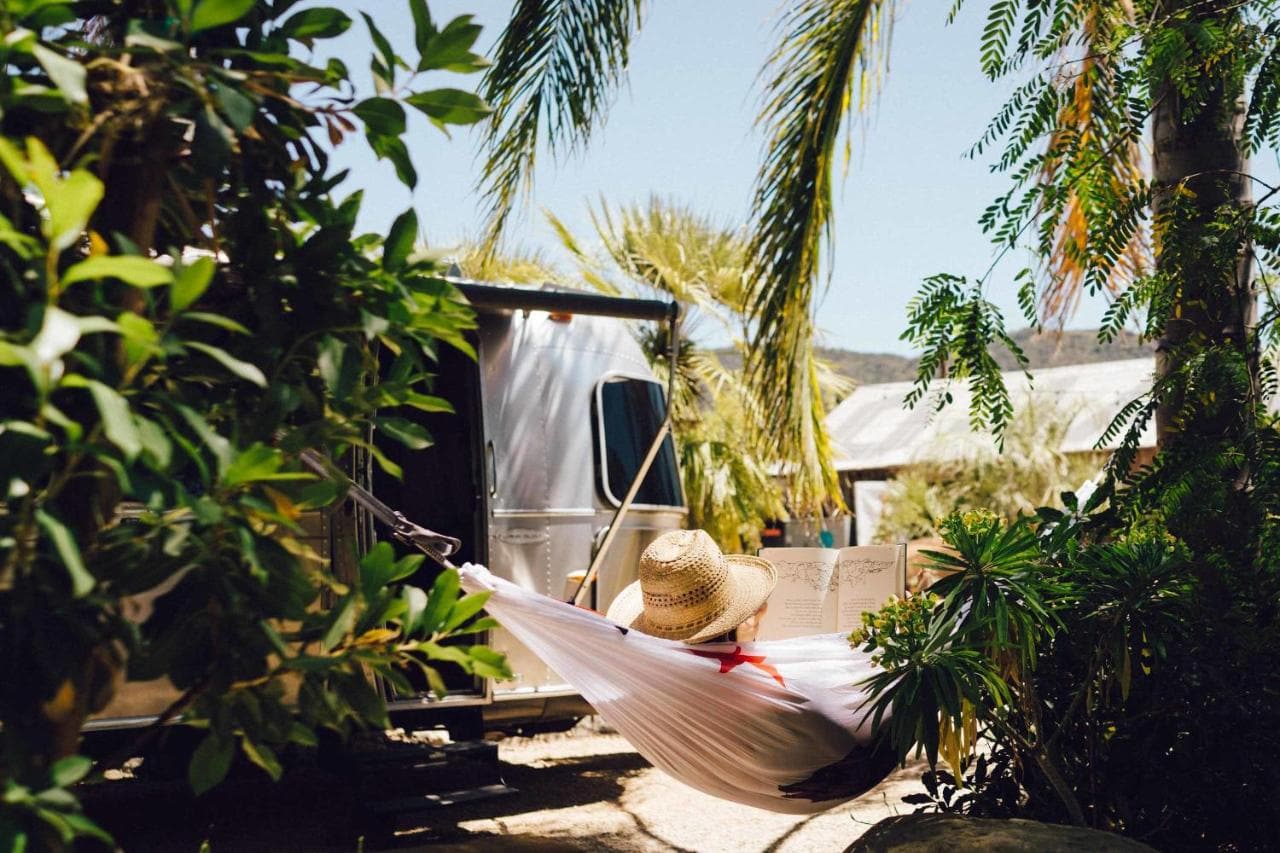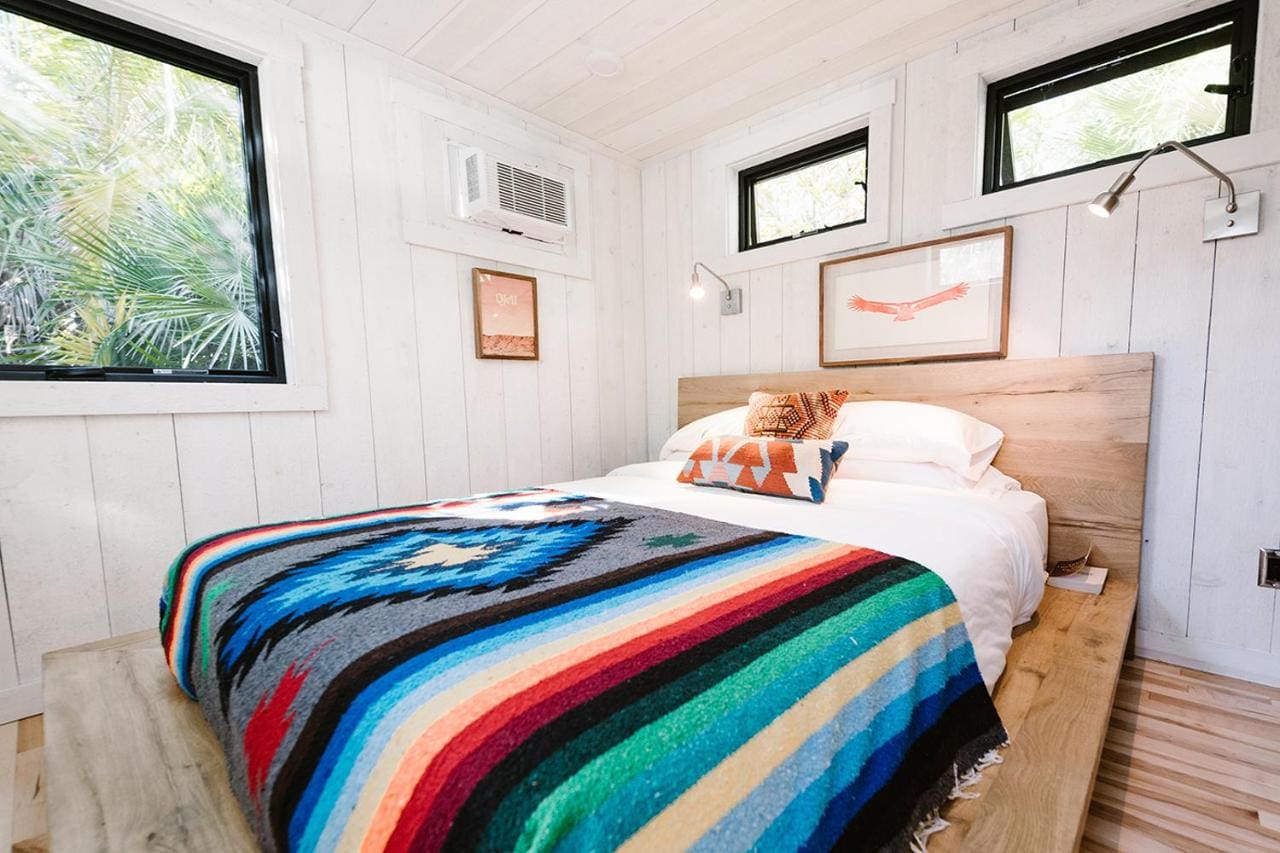 When researching where to stay in Ojai, you'll find some pretty unique spots but one of the most unique of all has to be the Caravan Outpost.
The perfect combination of adventure and style, the Outpost features ten renovated Airstreams and one tiny house for you to choose from. Each Airstream has a theme of its own and is impeccably designed. 
Inside the deluxe caravans, you will find one queen bed, one full-size pullout, a kitchen, and a bathroom, sleeping 1-4 people. There is also a family caravan and a tiny house that can sleep up to five.
The bathrooms are quite small but there are full-size bathrooms located on-site. Outside your personal Airstream has a private seating area surrounded by lush palms. You can hang here in your private nook or head to the well-designed common space for some mingling and a fire pit.
Why Stay at the Caravan Outpost?
The Caravan Outpost really gets the whole experiential travel trend that has taken over in recent years. Not only are you getting that (fancy) glamping-meets-van-life feel, but they provide all sorts of uniques experiences.
From monthly live music events and large format dinners to on-site yoga and nightly s'mores around the fire pit, the Outpost is all about showing you the best time possible.
I wouldn't say this is a budget place to stay in Ojai as prices are still upwards of $200 per night for a Deluxe Caravan, but if you really want to stay somewhere memorable, than this place is it.
Amenity highlights: Complimentary bikes, concierge, fire pit and picnic area.
Distance to the center of town: 0.6 miles, about a 12-minute walk
The Best Boutique Hotel in Ojai
Ojai Rancho Inn
Summer camp meets boho chic at the Ojai Rancho Inn. When it comes to Ojai boutique hotels, this one is a gem. Located right at the entrance to Ojai is where you'll find this upscale cabin-style hotel with a swimming pool and on-site bar, just 15-minute from town on foot.
Rooms range from a standard king to options with a kitchenette or indoor jacuzzi, all the way to the Garden Cottage deluxe stay with an additional living space.
Inside, wood-paneled walls match with hand-carved wooden bed frames to give you all the rustic summer cabin vibes. Throw in some local California artwork inspired by Ojai and its spiritual community and you have the perfect cool combo.
Once you've spent the day lounging by the pool or have just arrived home from town, be sure to step into Chief's Peak, the on-site bar offering natural wines, beer, and cocktails paired with groovy tunes on vinyl.
The vibe here is also wood-paneled, intimate and one-of-a-kind, drawing in visitors and locals alike.
Why Stay at the Ojai Rancho Inn?
If you want to stay at a place that is "so Ojai," then this is your spot. With only 17 rooms, Ojai Rancho Inn provides for a more intimate stay that will fit right in with the rest of the town's eclectic persona.
Plus, the communal spaces make it a great spot to mingle with other guests and make new friends during your Ojai escape.
Amenity highlights: One-of-a-kind cabin-chic design, on-site bar and patio, swimming pool, complimentary bikes, a spa wit a sauna.
Distance to the center of town: 0.6 miles, about a 15-minute walk
Where to Stay in Ojai with a Large Group
Casa Goro Topa VRBO
Casa Goro Topa is a huge rental that is perfect for those traveling to Ojai with a larger group. This stunning 8-bedroom hacienda-style villa can accommodate up to 12 guests at a time, and it is situated on five private acres of pristine land.
It also offers an optimal sense of indoor/outdoor living, giving you a true California experience. Plus, it's seriously so cute!
The massive pool looks over the rolling green hills, and you can enjoy the views from pretty much every part of the house. There are epic floor-to-ceiling windows and the outdoor seating area is perfect for gathering over a glass of wine in the evenings.
Why Stay at Casa Goro Topa?
Whether you're visiting with a bachelorette party or you're planning a large family vacay, Casa Goro Topa allows you to live like a local while still soaking in a sense of luxury.
In fact, between the tennis court, outdoor kitchen, pizza oven, and in-ground trampoline, you could easily have the best time in Ojai without even leaving the property!
Amenity highlights: Beautiful private pool and hot tub, full-size tennis court, optimal privacy, yoga deck.
Distance to the center of town: 10-minute drive.
Where to Stay in Ojai on a Budget
Blue Iguana Inn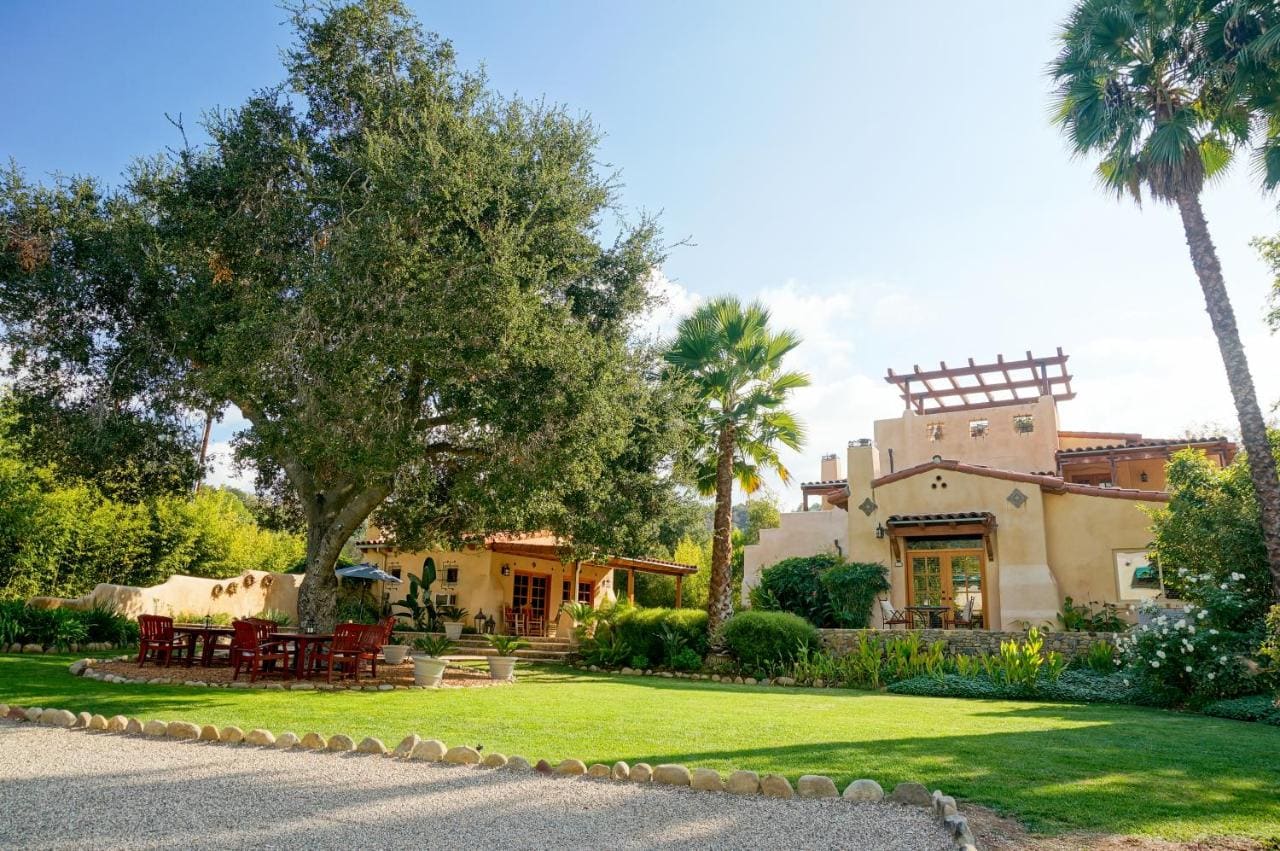 Nestled among lush, green gardens, the hacienda-style Blue Iguana Inn offers a range of rooms to choose from, making it a great choice for budget-friendly travelers. The Inn is small but loaded with charm.
Each room feels like its own little bungalow, featuring local artwork, rustic Mexican furniture, and lots of love. 
Affordable options start with the standard double and standard king rooms equipped with comfy beds, a private bath and shower, a coffee bar, and a mini-fridge.
From there you will find suites and bungalows all featuring a full kitchen and extra living and/ or sitting space. Even these rooms are still relatively affordable considering how much you get. This makes it one of the best hotels in Ojai for families on a budget. Plus, they allow pets!
Outside you will find a pool and hot tub, surrounded by greenery as well as outdoor games like bocce ball and croquet. The hotel also provides complimentary bikes to ride into town or down the adjacent Ojai Valley Trail. The trail is a well-known paved path running nine miles all the way to Ventura.
Why Stay at the Blue Iguana Inn?
If you're looking to get the best value out of your money, then head straight to the Blue Iguana Inn.
It might not have some of the luxurious or design-centric elements that some other accommodations have in Ojai, but it's a great hotel in Ojai, California for anyone who plans on exploring a lot outside of your hotel. If you're bringing your furry friend along for the adventure as well, this spot is perfect.
Amenity highlights: Swimming pool and hot tub, outdoor games, complimentary bikes, and easy access to Ojai Valley Trail.
Distance to the center of town: 2.7 miles, about 6 minutes by car
Explore more places to stay in Ojai
Did this post inspire you to plan a trip to Ojai? Let me know in the comments below!
---
Planning a trip right now? Don't miss my go-to websites for booking everything from flights and tours, to accommodation and more:
---