It's no secret that The Golden State is one of the best destinations in the world to experience wine country, and in early November my dreams came true when Visit California asked me to work with them to promote safe travel through three of the top wine regions in California.
As I'm based in Los Angeles, we focused on three incredible wine destinations that are easily accessed from both Southern California and the Central Coast: Temecula Valley, Santa Ynez Valley and Santa Maria Valley.
Whether you're looking for a quick weekend escape or a longer wine country road trip (we did all three California wine regions in 6 days!), you'll have plenty of ideas from this post to get your trip planning started.
In this detailed breakdown of our complete California wine country itinerary, you'll find where to stay in each wine region, my favorite wineries we visited, where to eat and other activities to enjoy when you need to pump the breaks on the vino — because let's be honest, there's only so much wine one can consume in a single day.
As times are a bit different this year, it's important to note that this entire itinerary was created with safety in mind. Every business listed is operating under current safety guidelines from the state and almost everything we enjoyed was outdoors or had outdoor options.
It IS still possible to explore our beautiful state safely and have a great time doing so, and I hope this post inspires you to pack up the car for a weekend and go make the most of it!
Read more about how to travel California safely and responsibly.
[This post was created in partnership with Visit California, but as always opinions are my own and I would never promote anything I don't freaking love!]
A Road Trip Itinerary Through Three of the Best Wine Regions in California
Temecula Valley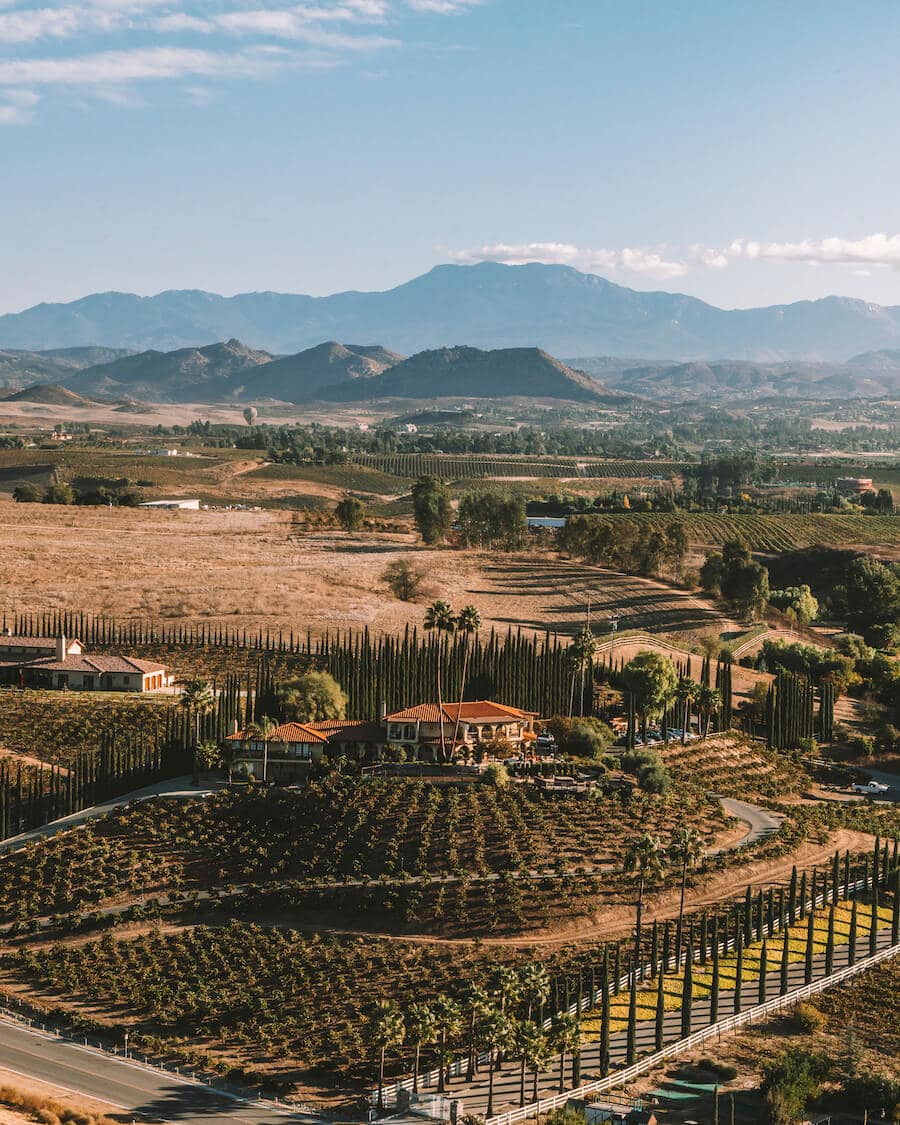 What to Know Before Visiting Temecula Valley
Temecula Valley is the official wine country of Southern California and is easily accessed from both Los Angeles (about 1.5 hours drive) and San Diego (just under an hour).
There are almost 50 wineries in this particular wine region and what makes Temecula especially great for visiting over and over again is its laid-back vibe and wide array of wines on offer. There are over 50 different varietals of wine grown in Temecula Valley!
The microclimate is not only great for grape growing but also hot air ballooning. You'll undoubtedly witness Temecula's sunny mornings dotted with balloons in the sky. What I found especially surprising is how low they can get — so low you can sometimes overhear conversations from down below.
While Temecula Valley may not yet have the cache that regions like Sonoma and Napa have earned globally, I was really impressed with many of the wines we tried on our visit and loved meeting some of the winemakers who are truly invested in making Temecula Valley a world-class wine destination. If you know where to go, there's amazing wine to be had here!
Furthermore, Temecula Valley is just fun. It doesn't take itself too seriously and it's the ideal destination to explore with friends, relaxing with a glass in hand while enjoying sunny California weather and live music. If you're based in Southern California, this is one of the best wine regions to visit in a weekend!
Where to Stay in Temecula
Carter Estate Winery
During our trip to Temecula, we stayed at Carter Estate Winery & Resort which is the ultimate experience if you want to stay right on a vineyard.
The rooms are spacious with direct access out onto the property's 112 acres of grape vines. Early risers will be rewarded with visits from hot air balloons each morning after sunrise. Trust me, the early wakeup call is worth it!
The hotel features 60 guest bungalows all with their own separate entrances and patio views. Plus, guests have easy access to the Carter Estate Winery tasting room, where you can try some of the best sparkling wines in Temecula Valley.
Where to Go Wine Tasting in Temecula Valley
Callaway Winery
Spend enough time in Temecula and you'll hear it from multiple sources: "You have to go to Callaway Winery for sunset." We heeded their advice and stopped by Callaway on our second night just in time to catch the golden hour light dipping down behind the valley. Turns out that all the rumors were true – it was beautiful!
Wiens Family Cellars
I'm personally a big red wine lover, and if you fall into that demographic as well, you won't want to miss out on Wiens Family Cellars. Known for their "Big Reds," their wines were my favorite during our time in Temecula Valley.
If you're willing to spend a bit more, I highly recommend doing their private patio seated tasting of their Reserve wines served alongside meat and cheese pairings.
Carter Estate Winery
Sparkling wine lovers won't want to miss a trip to Carter Estate Winery's beautiful tasting room. While you can taste both still and sparkling wines during your visit, the winery only produces sparkling wines at their production facilities using Chardonnay, Pinot Noir, Pinot Blanc and Pinot Gris grapes.
Make sure to ask for seating on their gorgeous back patio that will instantly transport you to a little slice of Italian countryside.
Lorimar Winery
Lorimar Winery is known for its lively event calendar, which makes it a great pit stop if you're looking to mix up your wine tasting with some local live music. Check out their events calendar here.
Akash Winery
Another favorite during our time in Temecula, Akash Winery felt like stepping into the new wave of the Temecula wine scene. While many of the local wineries have a classic Tuscan-style vibe, Akash is more contemporary with modern architecture, hip hop soundtracks, yoga and wine packages, and an on-site Airstream where guests can stay on the vineyard.
The winemaker here is young and motivated to bring some new flavor to Temecula Valley and we drank up every drop.
Where to Eat in Temecula Valley
1909 Temecula
This great little lunch spot sits in the heart of Old Town Temecula and totally surprised us with their global inspired menu. We especially loved the veggie wontons and crab and shrimp empanadas — a must!
Small Barn
One of the latest additions to the Temecula food scene is Small Barn, from Top Chef alum Angelo Sosa. This was hands down one of our top food experiences from the trip. Everything from the appetizers and cocktails down to their seasonal Spiced Pumpkin Flan with grated aged cheddar cheese on top were complete knock outs.
Cork | Fire Kitchen
Located at the Temecula Creek Inn, Cork | Fire Kitchen is a great option for dining any time of day overlooking a gorgeous patio and golf course. It's especially popular for weekend brunch when guests can take in the sunny views while sipping on bottomless mimosas from 7 am – 3 pm.
Vineyard Rose at South Coast Winery
If wine tasting all day has you craving some food that will soak up all the vino, Vineyard Rose is your spot. The portions at this fine dining restaurant aren't for the faint of heart, so make sure to bring an appetite!
The Press Espresso
We discovered this cute little coffee shop while wandering the streets of Old Town Temecula and loved that they focus on ethically sourced coffee. Plus, they make all their syrups from scratch in house! Perfect for a quick pick-me-up in between wine tastings.
Great Harvest Bread Co.
A great grab-and-go spot when you're headed out to the next stop on your wine tasting adventure. As the name implies, Great Harvest Bread Co. is known for their 100% whole grain bread made from scratch.
The Best Things to Do in Temecula
Go Hot Air Ballooning
Due to Temecula's ideal climate, hot air balloons are an iconic player in the wine region's landscape and a must to experience during your stay.
To be honest, I was a little nervous at first as I'd never been in a hot air balloon before, but after we lifted off the ground I quickly realized that these rides are much more peaceful than they are scary.
Not only do you get panoramic views of Temecula Valley, but you get a unique peek at the local real estate from above 😉 Getting a literal bird's eye view of the region's swankiest estates was the perk I didn't expect from this tour!
We chose to go on the tour with Magical Adventure Balloons who have been piloting hot air balloons for several decades. I felt totally safe and taken care of during this trip and would definitely book with them again.
Grapeseed Spa at South Coast Winery
If self care is on the agenda during your time in Temecula, pop over to South Coast Winery's GrapeSeed Spa for a range of treatments that come with a complimentary glass of wine. Make sure to pop over to the Serenity Path afterwards, a pretty little walkway that lives up to its moniker.
Experience an Olive Oil Tasting
We did olive oil tastings with both Temecula Olive Oil Company and The Olive Plantation during our visit to Temecula.
Temecula Olive Oil Company has a convenient tasting room located in Old Town Temecula with a variety of olive oils to choose from and an ideal perch for people watching.
The Olive Plantation is a more intimate experience located at the family's private home in the valley that literally looks out of an Italian movie set. While the tasting experience is less extensive, the award-winning olive oil is worth the visit.
Explore Old Town Temecula
For a look into California history, all it takes is a stroll down the main drag in Old Town Temecula. Many of the original buildings from the 1880s still stand, oozing with rustic charm from California's golden era of the Southern California Railroad when it first brought in travelers to Temecula Valley.
But the Old Town also mixes in the new and modern well with its Western style vibe. Along the main drag, you'll find craft breweries and farm-to-table dining paired alongside antique shops, rustic storefronts and artisan boutiques.
Stock Up On Spices at Old Town Spice & Tea Merchants
If you're looking for a great gift or functional souvenir to bring home from Temecula, you can't miss the Old Town Spice & Tea Merchants. Foodies and at-home chefs will love exploring their endless array of spices. I brought home quite the assortment myself including white truffle salt and a BBQ-style coffee rub I can't wait to taste test.
Visit a Therapy Zoo & Chocolatier
For visitors looking for more family-friendly activities in Temecula, a visit to the Sugarplum Zoo & Chocolates sanctuary is a nice change of pace from winery hopping.
This therapy zoo has rescued a wide array of animals and now hosts special needs groups. The on-site chocolate boutique (which services the Montage Hotel's turn-down service – yes please!) is a great way to pick up a sweet treat and support the sanctuary simultaneously.
---
Read More California Posts:
---
Santa Ynez Valley
What to Know Before Visiting Santa Ynez Valley
The Santa Ynez Valley is one of the Central Coast's most noteworthy wine regions with over 120 wineries to explore.
It's especially ideal for Pinot Noir lovers like myself, but the valley is also popular for producing Chardonnay, Riesling, Zinfandel, Cabernet Sauvignon and Syrah.
Just 2 hours north of Los Angeles, Santa Ynez Valley is a great option for a weekend getaway or as part of a longer wine country road trip through California.
While Santa Ynez Valley is hands down one of the best wine regions in California to visit, it was thrown more heavily into the spotlight back in 2004 when the movie Sideways debuted. This is a must-watch before making your trip out to the wine region. You'll notice that it was mostly filmed at locales in Santa Ynez and Solvang, some of which are included in this itinerary!
Part of what makes Santa Ynez Valley worth visiting over and over is that it's made up of six smaller towns (Los Alamos, Solvang, Santa Ynez, Los Olivos, Buellton and Ballard), all which have their own unique charm. You can focus on one area per visit or touch on a little bit of everything — but the wide array of experiences here and wineries simply can't be enjoyed all in one visit.
Where to Stay in Santa Ynez Valley
There are many cute areas to stay in on a trip to Santa Ynez Valley in Santa Barbara County, but we chose to explore Solvang and Los Alamos, two distinctly different towns each with their own vibrant charm.
Where to Stay in Los Alamos: The Alamo Motel
In Los Alamos, we checked into the Alamo Motel which is one of the most convenient places to stay in town. It's situated directly on the main drag within 5 minutes walking distance from all of my favorite spots including Bodega, Bob's Well Bread, A Tribute to Grace and Bell's.
The vibe here fits in well with Los Alamos' Western style. Inspired by New Mexico and Georgia O'Keeffe's home and studio in Abiquiu, the owner renovated the motel with updated, modern amenities and unique pieces from various artisans and woodworkers.
Where to Stay in Solvang: The Landsby
Walking through Solvang's downtown, you'll feel instantly transported into Nordic culture, surrounded by Danish village-style architecture, food and culture.
When The Landsby took over a family-owned inn in 2015, however, it brought a more contemporary design flair to the scene. Think more upscale ambiance with a minimal Scandinavian design aesthetic.
The boutique hotel features 51 rooms and a giant courtyard for dining and catching up over coffee. Plus, it's within walking distance to everything in the heart of downtown Solvang and a short drive away from many of the area's top wineries.
Where to Go Wine Tasting in Santa Ynez Valley
Buttonwood Farm Winery & Vineyard
Buttonwood Winery is all about the ambiance in my opinion. When you circle around to their back patio you're greeted with lush gardens, picnic style tables and ample space to stroll and linger awhile.
On a beautiful fall day when the air is crisp, this was the perfect place to cap off your day with a delicious flight of sustainably made wines.
A Tribute To Grace Winery
Another personal favorite from the entire trip, we absolutely fell in love with the wines and story behind A Tribute to Grace. The New Zealand-born winemaker, Angela Osborne, sourced her first Grenache fruits in 2007 and has been making Grenache in California ever since.
Not only were we smitten with each and every Grenache we tried (highly recommend if you're a Pinot Noir lover like me), it was quite apparent how much heart and soul the winemaker has poured into choosing where to grow her grapes with care throughout Santa Barbara County.
Bodega Los Alamos
An oasis unlike anything else, Bodega is a place to sit back, relax, and drink some wine with friends and family. It's like a little mini playground with communal tables, a firepit, hammock, greenhouse and gift boutique on-site — they even have an Airbnb you can stay at in the thick of it all.
While Bodega isn't a winery itself, they do source many unique wines for their menu. I tried an orange wine while I was here!
Fess Parker
Fess Parker Winery is a sustainable family owned and operated winery located in Los Olivos known for their Pinot Noir and Chardonnay — two of my favorite varietals.
We started off the morning with a horseback ride through their sprawling property (more details below!) and then kicked off the day of wine tasting with flights on their beautiful outdoor patio. If you're into Chardonnay, don't miss the Chardonnay Sanford, which was my personal favorite.
Lumen Wines
The founder of Lumen Wines, Lane Tanner, was the first independent female winemaker in Santa Barbara County, and she's been forging her own path in the wine industry ever since.
Her and her business partner focus on making wines from only the best cool-climate vineyards within Santa Barbara County that are lower in alcohol and sulfites. You can taste test these wines exclusively at their lounge at Pico Restaurant in Los Alamos.
Where to Eat in Santa Ynez Valley
Bob's Well Bread Bakery
Every time Los Alamos comes up in conversation, the next likely sentence to be uttered is: "You have to go to Bob's Bread." There's usually a line out the door and for good reason. Started by Sony executive turned baker, Bob Oswaks in 2014, Bob's has become a staple of the Los Alamos food scene.
The Baker's Table
Located in downtown Santa Ynez, The Baker's Table is the perfect place to fuel up on delicious baked goods and coffee before a day out wine tasting or shopping locally. I love that the owner is committed to choosing fair-trade, organic and local ingredients for her dishes where possible.
Pico Restaurant
Home to Lumen Wines and an insanely delicious menu (I will forever be dreaming about their truffle fries), Pico Restaurant is an absolute must while visiting Santa Ynez Valley wine country.
In case you need more convincing, the drool-worthy American-style menu was given the stamp of approval by Wine Enthusiast naming it the winner of the 'Top 100 Wine Restaurants' award for two years in a row.
Plenty on Bell
Co-owned by Jesper Johansson, the first chef to arrive in Los Alamos before its thriving food scene existed over 20 years ago, Plenty On Bell is ideal for a hearty breakfast. I thoroughly enjoyed the chorizo and eggs with a side of a buttermilk biscuit along with the friendly, laid-back vibe here.
S.Y. Kitchen
If fresh and modern gourmet Italian food like truffle pizza and burrata salad is your kind of vibe, then you can't miss S.Y. Kitchen in Santa Ynez. I especially enjoyed the signature cocktails here which were a nice respite from the many many many glasses of wine we drank throughout this trip.
Bell's
As our last and final meal in Los Alamos, we squeezed in an early reservation into Bell's (you can grab a res by sending them a DM on Instagram). Led by Daisy and Greg Ryan who were recently named Food & Wine's Best New Chefs 2020, this French Bistro style restaurant features flavor-packed small plates and we savored every last bite.
The Best Things to Do in Santa Ynez Valley
Go Horseback Riding Through a Vineyard
Some of the best California wine country scenery is to be found in the Santa Ynez Valley in my opinion. The various shapes and sizes in Oaks, the rolling hills and golden tones. It all just feels so relaxing and romantic. Throw in a ride through the vineyards on horseback and you've got the makings for a movie scene.
There are several vineyards that offer horseback riding in the area, but we did a lovely ride with the team at Fess Parker Winery and I can't recommend it enough.
Visit Downtown Solvang
Given the moniker Little Denmark, Solvang is the closest thing to Europe you can find in California with its Danish village style architecture and shops hawking Scandinavian treats and souvenirs. Especially as many of us won't be traveling overseas this holiday season, this is a must for a few hours of exploring to transport you to another place far, far away.
Shop in Downtown Santa Ynez
The little downtown area of Santa Ynez has some fun shops and boutiques to pop into, but none as cool and worthy of wanting everything (you know the feeling) as the Santa Ynez General Store. For any Schitt's Creek fans, it's like stepping into the real life Rose Apothecary and I'm obsessed.
Go Antiquing in Los Alamos
True to its old Western town vibes, Los Alamos has a plethora of vintage and antiquing opportunities to explore. I particularly loved Sisters which felt unique and more curated than the others, with plenty of treasures to sift through.
Santa Maria Valley
What to Know Before Visiting Santa Maria Valley
Just north of Santa Ynez Valley is the lesser known but totally worthy Santa Maria Valley, which is home to 34 tasting rooms and 15 beaches all within a half hour's drive.
This sub-region of Santa Barbara wine country is known for having some of the Central Coast's finest wines and it's the ideal place to visit if you want a mix of food and wine culture with outdoor experiences at your fingertips. Pismo Beach is just a 25 minute drive from the heart of Santa Maria!
Wine growing in the Santa Maria Valley dates back to the 1830s, but it was granted official AVA status in 1981. Now, the area has over 30 wineries and is home to part of the Foxen Canyon Wine Trail which stretches for 30 miles from Los Olivos to Santa Maria, dotted with tasting rooms from some of the state's top winemakers.
So what makes Santa Maria Valley one of the best wine regions in California? Because of the cool climate from the nearby Pacific Ocean, Santa Maria Valley is ideal for growing Pinot Noir, Chardonnay and Syrah, but the area has plenty of varietals on offer to appease every type of wine lover. We tried a Sylvaner wine here for the first time at Rancho Sisquoc Winery – one of only two wineries in the state pouring this varietal.
Take note that everything is a bit spread out in Santa Maria Valley, so you're going to want to rent a car or set up private transportation before your stay to make sure you can get around easily.
This is a year-round California wine destination that has unique perks in every season and is the perfect wine region in California to pair with a visit to Santa Ynez Valley as they are in such close proximity.
Where to Stay in Santa Maria Valley
Wine Stone Inn
Located just off Highway 1 in downtown Orcutt, The Wine Stone Inn is the best place to stay for visitors looking to explore the best of the Santa Maria Valley. Just 25 minutes drive to the beach and in close proximity to the area's best wineries, Wine Stone Inn offers stylish and comfortable digs to experience it all.
We loved that it's walking distance to the Naughty Oak Brewery (literally across the street) and other local gems in town.
Where to Go Wine Tasting in Santa Maria Valley
Presqu'ile Winery
One winery I already can't wait to go back to is Presqu'ile. Not only do they make excellent cool-climate Pinot Noir and Chardonnay (two of my faves) along with Sauvignon Blanc, their architectural property is absolutely stunning.
Situated up on a hill, their wine tasting terrace overlooks their garden and vineyards and on a clear day you can see the ocean.
Arrive with an empty stomach because you won't want to miss their garden-to-table picnic spread featuring a homemade tomato jam and local cheese dish that were life-changing. Trust me on this one.
Foxen Winery
Pinot Noir lovers rejoice -– Foxen Winery is known for this varietal and even features a unique Pinot-only tasting flight. Set along the Foxen Canyon Wine Trail, this barn-style tasting room sits in a gorgeous secluded setting that feels miles away from anything else.
Rancho Sisquoc Winery
Situated on a 37,000 acre working cattle ranch, Rancho Sisquoc is a charming, rustic winery where you can enjoy some of the best wines in the Santa Maria Valley. They're especially known for reds, but are also one of only two wineries pouring Sylvaner in the state.
Rancho Sisquoc is also part of the Foxen Canyon Wine Trail, a 30 mile road that stretches from Los Olivos to Santa Maria featuring a diverse group of wineries and tasting menus.
Where to Eat in Santa Maria Valley
Cups and Crumbs
For a cozy breakfast and coffee with a local vibe, head to Cups and Crumbs in downtown Orcutt.
Presqu'ile Winery
Presqu'ile is worth mentioning again here because the food was just that good. They source produce and herbs straight from their garden so expect everything to be super fresh and packed with flavor.
The Hitching Post
This is an institution of Santa Barbara County wine country that was made famous by the movie Sideways. If you're a red-meat lover, you can't miss a trip to the Hitching Post during your stay.
The Best Things to Do in Santa Maria Valley
Walk the Trail at Oso Flaco Lake
After a long itinerary of eating and drinking wine to our heart's content, we desperately needed to get out in nature and move our bodies. When in the Santa Maria Valley, the Oso Flaco Lake trail is a great way to do this.
This 1.7 mile out and back trail sits within the Guadalupe-Nipomo Dunes National Wildlife Refuge, which stretches 18 miles long up the coast.
The trail first begins on a forest covered dirt path, then brings you out to a boardwalk where you can observe various birds at Oso Flaco Lake, then winds through a portion of the Rancho Guadalupe Dunes Preserve before reaching the ocean.
Taste Unique Beers at Naughty Oak Brewing
When you need a change of pace from all the vino, head to Naughty Oak Brewing in downtown Orcutt and ask about their around the world flight to try a little bit of everything on offer.
Go Kombucha Tasting
Just around the corner from Naughty Oak Brewing is Piper's Kombucha Brew, which offers kombucha tasting on tap set to a backdrop of records on vinyl.
Try the Area's Famous Tri-Tip
If Santa Maria is known for one thing other than wine, it's BBQ – and tri-tip is the cut of choice. According to locals, Pappy's Restaurant is the place to go for some of the best tri-tip in the valley.
Would you do this road trip through the best wine regions in California? Let me know the spots you're most excited about in the comments below!
---
Planning a trip right now? Don't miss my go-to websites for booking everything from flights and tours, to accommodation and more:
---