In search of the most epic Lake Tahoe views?
As a photographer, it's always my mission to find the best views wherever I travel to and Lake Tahoe makes that job easy because there are literally epic views everywhere.
Whether you're a fellow photographer in search of the best photo opps or just someone who wants to take in the most gorgeous views the lake has to offer, I've compiled a list of what I believe are the best of the best views in Lake Tahoe with helpful tips along the way.
Every spot around the lake offers a unique vantage point, so at each of these locations, you aren't going to feel like you're just seeing the same thing over and over again, I promise!
If you scroll to the bottom of the post, I've included a helpful map too, so you can plan out the perfect sightseeing route for your Tahoe trip as you drive around the lake.
Where to Find the Best Views in Lake Tahoe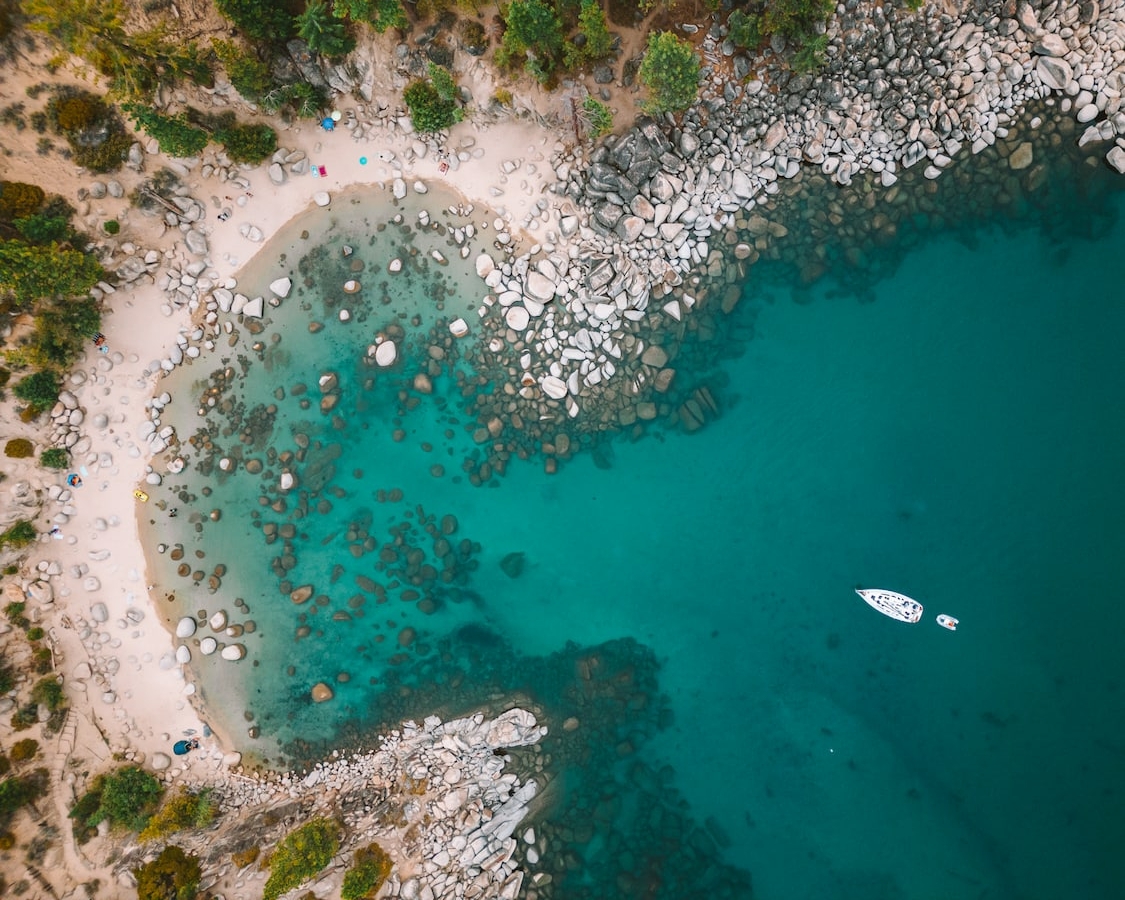 There's gorgeous scenery everywhere around Lake Tahoe, and if you've got the time, I definitely suggest driving around the entire lake (it only takes about 3 hours without stopping) to explore at your own pace and take in all the different scenery.
No matter which area of the lake you visit though, breathtaking views abound, and this post will help you find the most beautiful ones so you don't miss any of the best views in Lake Tahoe.
From Lake Tahoe vista points that are easy drive-up spots, to viewpoints that require a bit more effort to reach, we're covering them all below! 
PS — I've been to Lake Tahoe in winter AND in summer, and many of these spots are great no matter what time of year you visit. However if traveling in winter make sure to check weather conditions as heavy snow will prevent you from reaching several of these spots.
Cave Rock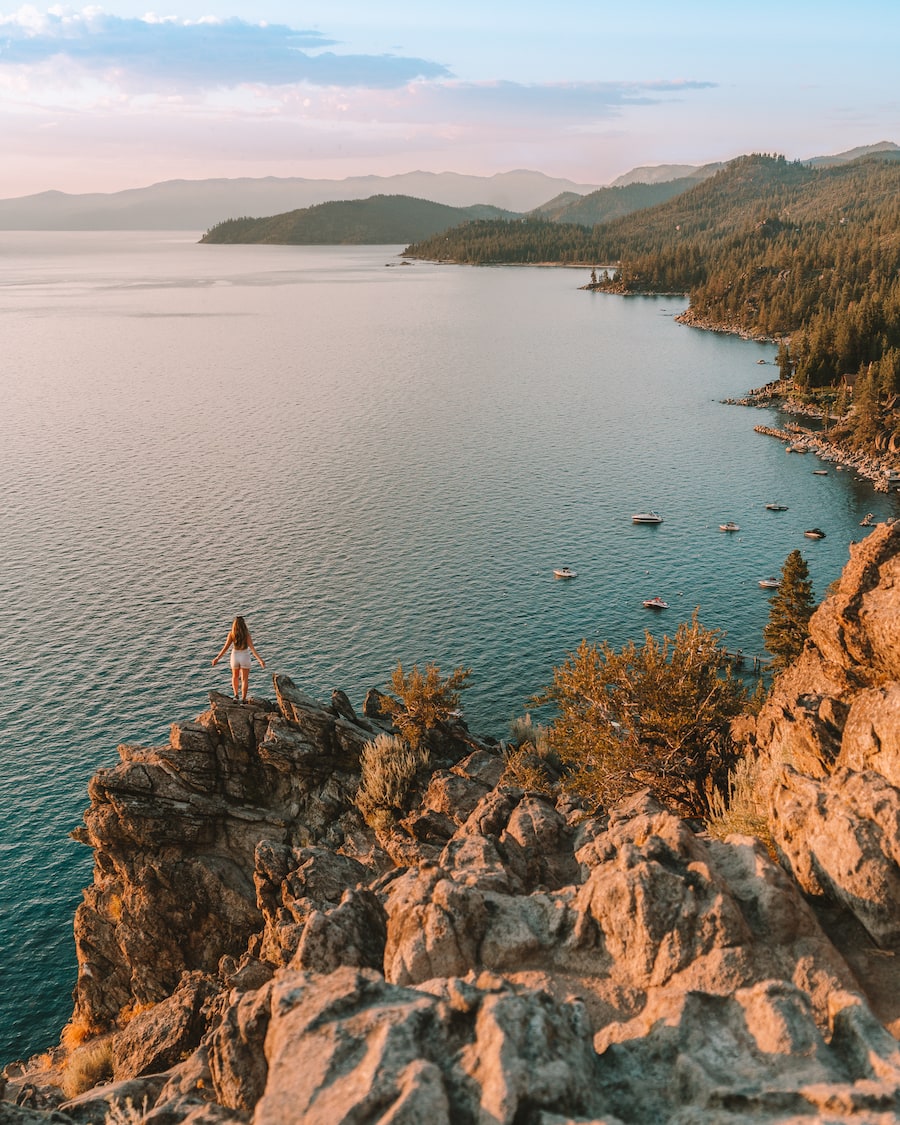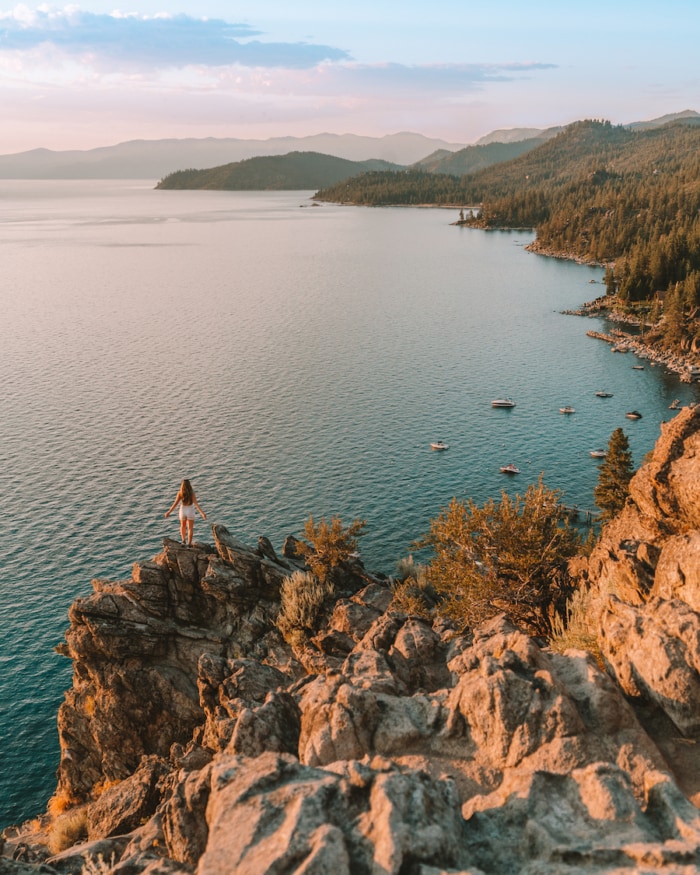 If it's sunset views you're after, Cave Rock is one of the best—and most popular—spots to catch the sunset in Lake Tahoe. It's a short hike (about 0.8 miles out and back) to get to the top and isn't too challenging except for a little scramble up rocks at the end. 
It's totally worth it for the 180-degree views of the lake that you'll get once you reach the top.
There is very limited parking here, so I recommend arriving in plenty of time before sunset so you can snag a spot at the trailhead. Even better, try visiting on a weekday if you can.
Monkey Rock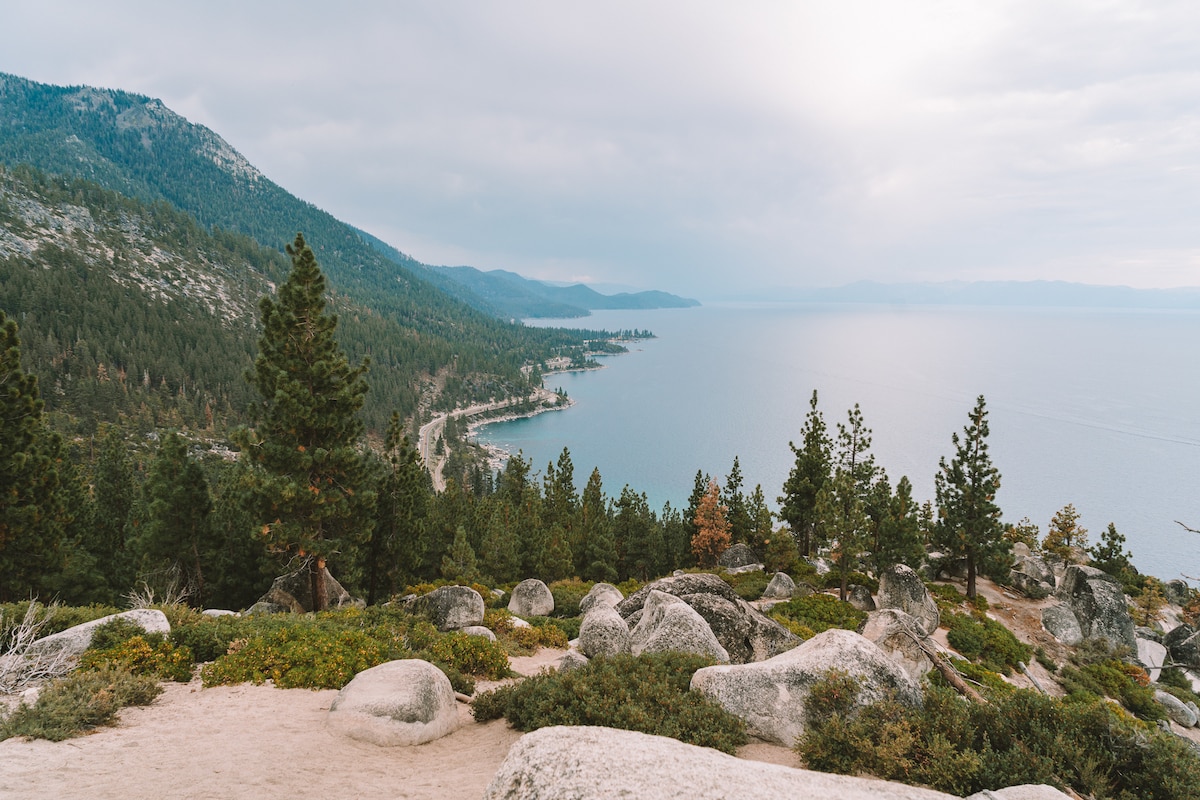 This is a fairly easy 2.5 mile out-and-back hike in Lake Tahoe-Nevada State Park on the east side of the lake. 
You'll hike through the forest and a little field of boulders to get to Monkey Rock—a rock formation at the top that, you guessed it, looks like a monkey. Even more exciting though are the uninterrupted panoramic views here that are beautiful at sunrise or sunset.
To get to this amazing spot, just take a walk along the trail behind Tunnel Creek Cafe, right off Highway 50, which later transitions into a slightly steeper dirt trail towards the end.
Once you reach the top of the ridge, you'll notice the stone monkey in the distance, which you can walk right up to.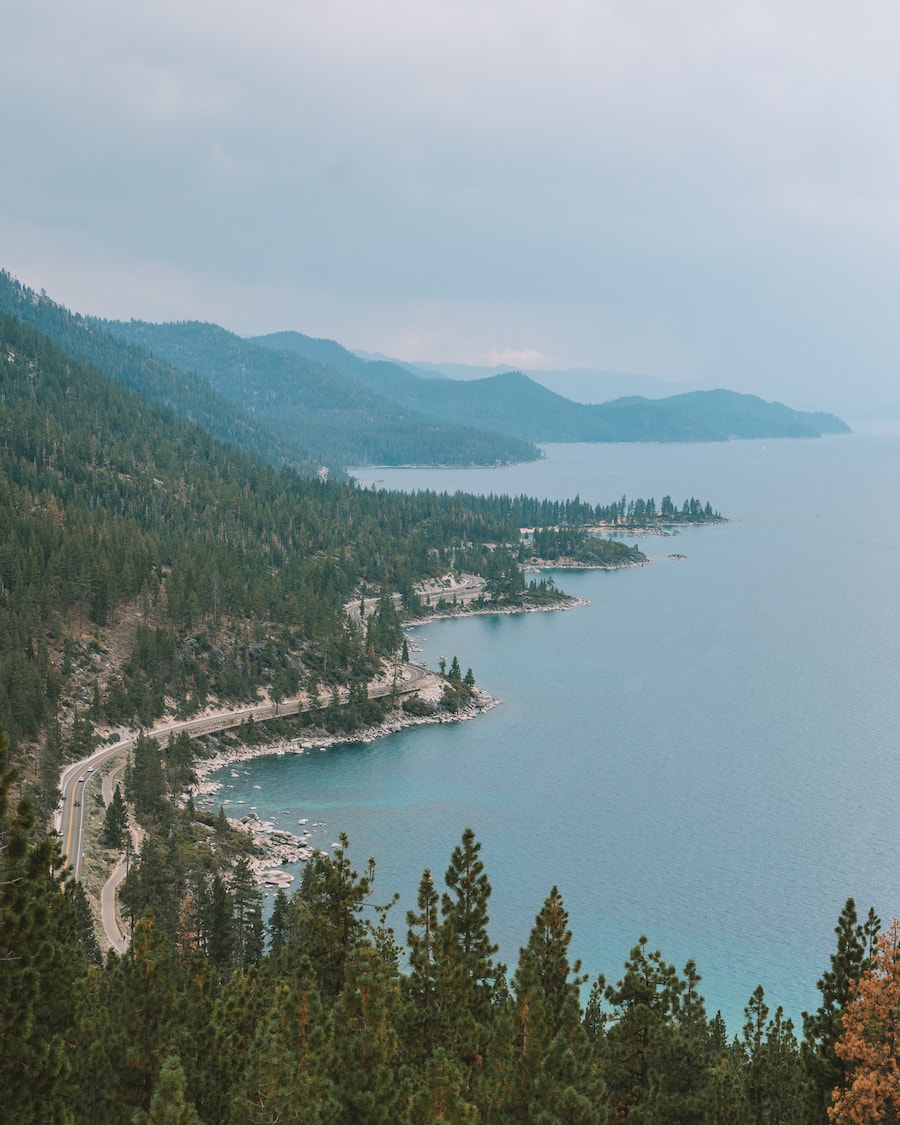 This is one of the best views of north Lake Tahoe area and of course has a fun and unique photo op that you won't find anywhere else on the lake.
Just a heads up: Parking in the restaurant lot is a big no-no and might result in getting your car towed. There's paid parking to the left of the restaurant lot for hikers or a little bit of free street parking (if you're lucky enough to snag a spot).
Emerald Bay
A short drive from South Lake Tahoe, Emerald Bay is a super popular area in Lake Tahoe (be forewarned, it can get crazy busy here on summer weekends). 
There's a reason people flock here though—it has some of the best views in Lake Tahoe both from the lake level and from the road above. Plus, it's a unique part of Tahoe as it's the only enclosed bay in the lake, with the charming Fannette Island marking its center. It's seriously a sight to behold! 
While there are hikes you can take to various viewpoints, honestly, you'll get some pretty amazing views from the Emerald Bay State Park parking lot too and from just pulling off the side of the road here.
Sunrise and sunset here are beautiful, but if you want the most vibrant turquoise colors of the bay, you'll want to come during the day.
As you drive towards Emerald Bay you'll notice pull offs by the side of the road—definitely stop at these (especially Inspiration Point) for bird's eye views.
My personal favorite view is just slightly past Inspiration Point as you drive towards the Emerald Bay State Park, but there isn't an "official" pull-off here. You'll see that many people will just park on the side of the road on the highway, but I wouldn't recommend it as it causes a lot of traffic congestion and also puts you at risk for getting towed.
For any nervous drivers out there, just a note that some of the roads around this section of the lake can be a little nerve wracking (there's one part with straight drop-offs on either side and no guard rails—eek!), so be extra cautious and maybe avoid driving after dark.
You can park for free at the Eagle Falls Picnic Area (although parking here is really limited) but Emerald Bay State Park has a much bigger lot if you don't mind shelling out $10 (which will also cover your entrance to D.L. Bliss State Park).
Bonsai Rock
Thanks to the unique rock formation in the harbor here with a few little trees sprouting from it, Bonsai Rock is probably one of the most photographed spots in Lake Tahoe. 
It's popular during the day for paddle boarders and kayakers coming over from Sand Harbor, but there isn't much beach to lay out on here.
My friend and I came here twice—once during the day on clear kayaks, and again for sunset—and both were beautiful but very different experiences. I was shocked that it was completely empty at sunset! 
Parking is a little tricky at Bonsai Rock because it isn't an official Lake Tahoe attraction and thus there isn't a parking lot. There are some pull-out areas where you can park along the highway if they're not already full.
There also isn't an official Bonsai Rock trailhead—you'll just find multiple small walkways that people have created over time.
Follow your Google Maps towards Bonsai Rock and then take one one of the small footpaths that lead to the beach and you'll get there. Be careful with your footing and wear good shoes as the trail isn't well groomed.
Sand Harbor
As far as the best views in Lake Tahoe on the east side of the lake go, Sand Harbor is a must-stop. The combination of pine trees, crystal-clear water, and giant boulders all along the lakeshore provide a ripe setting for really beautiful photos, no hiking necessary.
Plus, Sand Harbor provides a great beach area with kayak and paddle board rentals and nicer facilities than at some of the other beaches. For anyone visiting Tahoe with kids or for those with disabilities, this is a great place to take in the lake views with minimal effort.  
As visiting here is one of the best things to do in Lake Tahoe in summer, the parking lot here reflects that. This is a very popular park in the summer months so you'll want to get here super early (like, before 8 a.m. if not earlier) to snag a parking spot.    
It costs $10 to get into Sand Harbor State Park for Nevada vehicles and $15 if you have out-of-state plates.
Get a View From the Lake (via Boat)
If you want all the best views in Lake Tahoe without having to hike around or fight for a parking spot, taking a boat tour of the lake is a great option.
You can relax on the water while a captain/tour guide brings you to all the lake's most beautiful spots and you'll get views of the lake and surrounding mountains that you just can't get from the shore.
Here are a few of the top-rated boat tour options and various excursions you can book to get out on the water.
Sail Tahoe Blue offers a fantastic 2-hour sailing adventure aboard their 18-passenger sailboat called "Blue." The best part? Your ticket price includes beer, wine, and non-alcoholic beverages, so you can sit back, relax, and enjoy the ride without worrying about refreshments.
If you're visiting Lake Tahoe with friends, this private yacht is perfect to book with a group of up to 6 people. Departing from South Lake Tahoe, you'll cruise on this private vessel to Emerald Bay, where you'll also get a peek at the tea house on Fannette Island, before moving on to spots in DL Bliss State Park and Rubicon Peak.
For a stylish and romantic private charter around Lake Tahoe, this highly-rated tour is perfect and includes wine, cheese and crackers for a one-of-a-kind experience. Better yet, the itinerary is customizable depending on what you want to see and do.
Rubicon Trail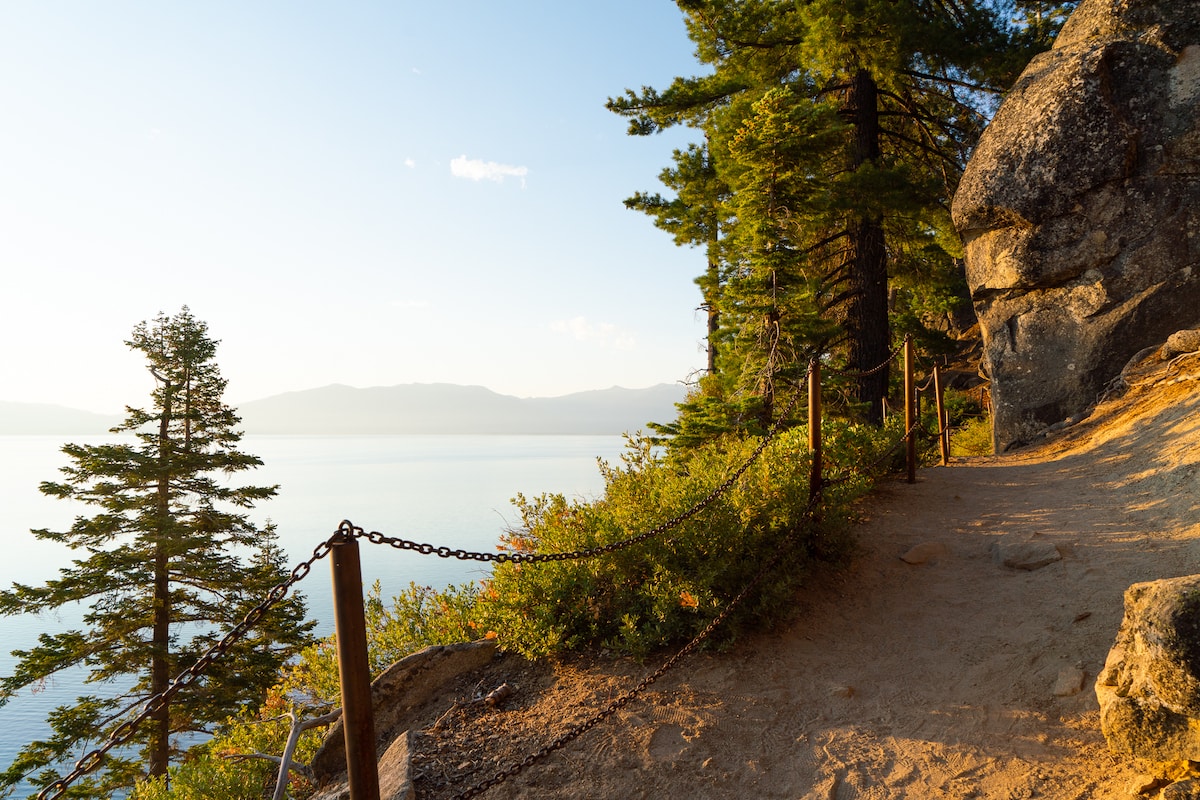 If you're looking for a long hike that will reward you with great views all along the way, Rubicon Trail is it. The full hike is 16-miles roundtrip, which I know is a lot, but the great part is, you don't have to hike the whole trail and can easily pick up different sections of it. 
I recommend picking up the trail at D.L. Bliss State Park or Emerald Bay State Park and hiking the 4.5 miles in between the two points.
You'll get consistent beautiful views of the coast, and if you're up for it, you could even hike a few miles further to Vikingsholm Castle, a 38-room historic Scandinavian mansion from the 1920s.
D.L. Bliss and Emerald Bay State Parks both charge $10 to enter and have parking lots…which yes, like most places at Lake Tahoe, fill up early. However the entrance fee grants you access to both, so they're great to do in the same day.
Book a Helicopter Tour
If you're really on a mission to see Lake Tahoe from every vantage point, you can't miss the views from above.
A scenic helicopter ride of Lake Tahoe is totally worth the splurge (although it shockingly isn't as expensive as you might think!) and you'll get to experience the lake in an entirely different way.
I love suggesting this experience in winter when many of the best viewpoints in Tahoe are inaccessible to hikers. But no matter what time of year, a helicopter ride over Lake Tahoe is going to be something you remember forever.
Lester Beach
One of Lake Tahoe's best beaches (and most underrated) in my opinion is Lester Beach, located in D.L. Bliss State Park on the west side of Lake Tahoe. It has expansive views of the lake and private coves, and I love the big boulders here for photography. 
It's especially stunning to visit first thing in the morning when the water is calm and glassy and there are no other visitors.
Because Lester Beach is within D.L. Bliss State Park, you can combine this one with a hike on the Rubicon Trail as you can pick up the trail right from the Lester Beach parking lot. Keep in mind, you have to pay the park's $10 entry fee to get in.
The Gondola at Heavenly Mountain Resort
There's nothing quite like skiing down a mountain with the beautiful blue water of Lake Tahoe stretched out in front of you, but did you know that you can get to the top of Heavenly Mountain Resort in the summer too?
This is one of Tahoe's most popular ski resorts and it is home to one of the most epic views of the lake from above. 
The Heavenly Gondola departs from Heavenly Village all summer long and will give you some of the best views in Lake Tahoe—no hiking required! Just sit back, relax, and enjoy the ride as you ascend 2.4 miles up the mountain, all the way up Tamarack Lodge, with an elevation of 8,500 ft. above sea level.
Visit Ski Heavenly's website for more information on gondola times and pricing.
Tahoe East Shore Trail
Dubbed "America's Most Beautiful Bikeway," the Tahoe East Shore Trail is a 3-mile, paved trail in North Lake Tahoe on the Nevada side of the lake.
It offers incredible views of the east shore of Lake Tahoe as you stroll the newly renovated trail all the way to Sand Harbor, one of Tahoe's most popular recreation areas.
If you haven't been able to snag parking at Sand Harbor, this is a great option to walk or bike yourself in (a $2 walk-in fee is required to enter).
Rent a bike or just take a leisurely stroll along the lake while taking in the spectacular scenery along the trail. This area is also 100% kid and dog-friendly.
There are three parking lots in Incline Village near Ponderosa Ranch Road where you can park for a small fee to get started along the trail.
Lake Tahoe Scenic Overlook
For those who don't want to work for the views (hey, no judgment here), Lake Tahoe Scenic Overlook is an easy and free drive-up viewpoint right off the Mt. Rose highway in North Lake Tahoe. 
Drive a few miles inland from Incline Village for panoramic views of the lake and to stop for a quick photo.
I wouldn't bother coming up here if it's an overcast day, so make sure the weather is clear and you'll get great views.
Mount Tallac
Located on the southwest shore of the lake, Mount Tallac is one of the tallest mountains in the area, which means you'll get some of the best views in Lake Tahoe here—but you'll have to work for them! 
The full hike is 10 miles to the peak and back, but there are two shorter trails you can take too if you don't have time for a full-day hike (it takes about 6 hours roundtrip). 
You get unparalleled views of Lake Tahoe and the surrounding Sierras from the summit though, so it's worth doing the full hike for sure.
Only 3.5 miles from South Lake Tahoe, the Mount Tallac trailhead has a parking lot (that, you guessed it, fills up early) and it's located right across from the Baldwin Beach entrance.
Secret Cove, Creek Beach, and Whale Beach
Ok, so I know this is technically three places, but they're all right next to each other (with fairly similar views) so you can hit them all in a row if you want to knock a few places off your Tahoe bucket list.
This stretch of Lake Tahoe's east shore is my personal favorite because it has massive, stunning boulders that dot the coastline and gorgeous turquoise waters. For photography lovers, you need to visit one of these epic beaches during your Tahoe trip!
Secret Cove is widely considered one of the prettiest beaches in Lake Tahoe and you have to hike a little to get to it, but trust me, it's worth it for the views. I should note too that it's technically a nude beach—but don't worry, there's no pressure to go sans-swimsuit if that's not your thing.
With that said, be respectful if you're planning on taking any pictures. 
Creek Beach is a popular and family-friendly, long strip of beach with a section off to the right where you can swim between the boulders. Have I mentioned how beautiful the boulders are in this section of the lake?
This is a popular beach for groups and families, but you can find more quiet sections of the beach in summer if you walk to the ends.
Whale Beach is the least popular of the three but a hidden gem in my opinion. It's no less beautiful than the other more-crowded beaches in the area and it gets its name from the boulders in the water that look like cartoon whales. This is a fun one you can't miss!
Flume Trail
For the mountain bikers out there, you won't want to miss Flume Trail in North Lake Tahoe. It's a 14-mile ride that will give you a good workout and some unreal views of the lake around every corner. 
Flume Trail is in Lake Tahoe Nevada State Park (which charges a $10 fee to get in with Nevada plates or $15 without) and you'll want to park at the Spooner Lake day use area. There is a shuttle service too that will take you from one end of the trail to the other.
Kings Beach State Recreation Area
If you're basing yourself in North Lake Tahoe and prefer to take in your views of Lake Tahoe while lazing around on the beach, Kings Beach is your spot.
It's a big, family-friendly, sandy beach that's popular but doesn't get as crazy-crowded as some of the other Tahoe beaches. There's a good-size parking lot and it costs $10 to park for the day or $3 per hour.
Eagle Rock Trail
Easy, free parking and a short hike that leads to panoramic views of the lake? Sounds too good to be true, but the Eagle Rock Trail delivers just that. 
You only have to hike less than a mile (there and back!) to get some of the best views in Lake Tahoe on the west shore of the lake.
At the top of the trail, you'll reach a unique viewpoint that hangs over the road with lake viewsin the distance, providing a fun photographic vantage point.
Map of the Best Views in Lake Tahoe
Reference this map during your next trip, so you don't miss any of the best views in Lake Tahoe!
Pin it for Later