If you've never been to Arizona, just go ahead and add it to the top of your travel list! Full of insane landscapes, unlimited outdoor activities, and surreal desert views, there is so much to explore in Arizona. That being said, there is no better way to experience this unique state than an Arizona road trip!
Arizona is huge—the 6th largest state in the country to be exact—and it's home to 22 national parks and monuments, two of the largest man-made lakes in the country, as well as one Natural Wonder of the World (AKA, The Grand Canyon). The state is also known for its abundant hiking and biking trails, pleasant climate, and unique flora and fauna.
I have been lucky enough to have visited Arizona multiple times and gone on amazing road trips throughout the state, and while I have checked a ton off of my bucket list, there is still so much left to see!
If you're headed on your own adventure through Arizona, this post will help you discover some of the most epic places throughout the state and narrow down what you want to focus on during your trip. I've outlined my favorite places to visit on an Arizona road trip in this post, plus some of the places that are still on my own bucket list!
The Best Things to See on an Arizona Road Trip
The Grand Canyon
Arizona's most notable landmark hands down, the Grand Canyon is even better in person and I highly recommend you include it in your Arizona road trip itinerary. I visited on a road trip back in 2017 and spent a couple of days camping and exploring the park and it blew me away. At 1,902 square miles, the Grand Canyon is HUGE with plenty of options for areas to hike, camp, and take in scenic viewpoints.
The South Rim is the most popular area for visitors as it is dotted with lots of viewing platforms all offering unique perspectives. In order to enter the park, you will need to pay the $35 fee (per vehicle) which is valid for 7 days, or if you are planning to visit multiple National Parks within the year, consider purchasing this annual pass allowing entrance to all National Parks for one year.
Saguaro National Park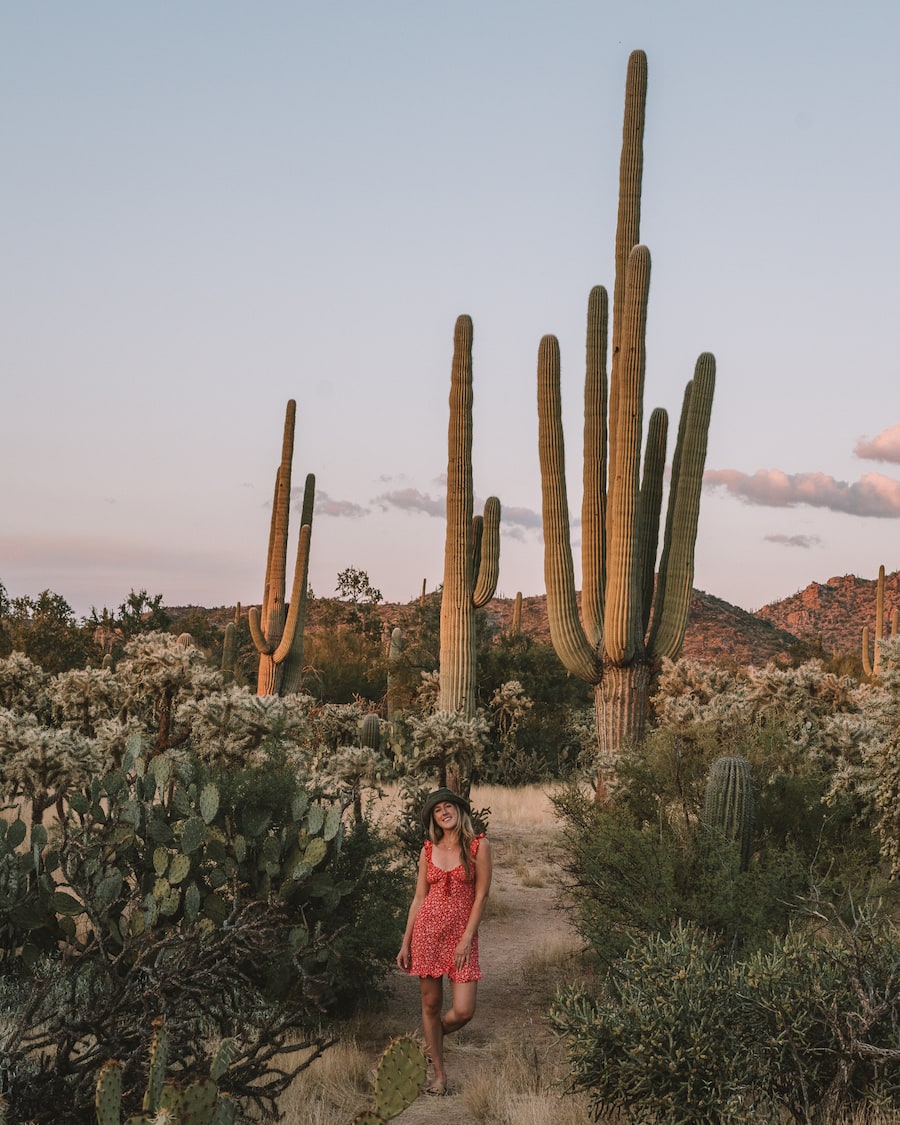 Saguaro National Park is situated in Arizona's Sonoran desert which is known to be the most biologically diverse desert in North America. The park is home to a dense population of Saguaro cacti—the iconic cactus you see in the American southwest—as well as 2,000 other plant species.
The park is divided by the city of Tucson itself with the Rincon Mountain District to the east which is larger, more mountainous, and offers more hiking trails. Just hop on the Bajada Loop Drive for access to some of the best hikes in the park. To the west lies the Tucson Mountain District which is lower in elevation with a denser population of Saguaros. Driving Gates Pass at sunset on the western side is an absolute must!
Antelope Canyon
Just east of Page in Northern Arizona, Antelope Canyon is a popular slot canyon (made even more famous by our old pal Instagram) made up of iconic banded sandstone washed into stunning shapes by water over the years, including frequent flash floods.
The canyon consists of two slot canyons: the Upper and the Lower. The Upper is the most popular for tourists and the most photographed slot canyon in the world. The Upper Canyon, or "The Crack" is easily accessible and easy to explore making it great for all skills levels.
Antelope Canyon is located on sacred land belonging to the Navajo Nation and is therefore only accessible by guided tour. I highly recommend calling ahead of time and asking about the best time of day to visit as depending on the time of year, some tours don't offer as much light.
Sedona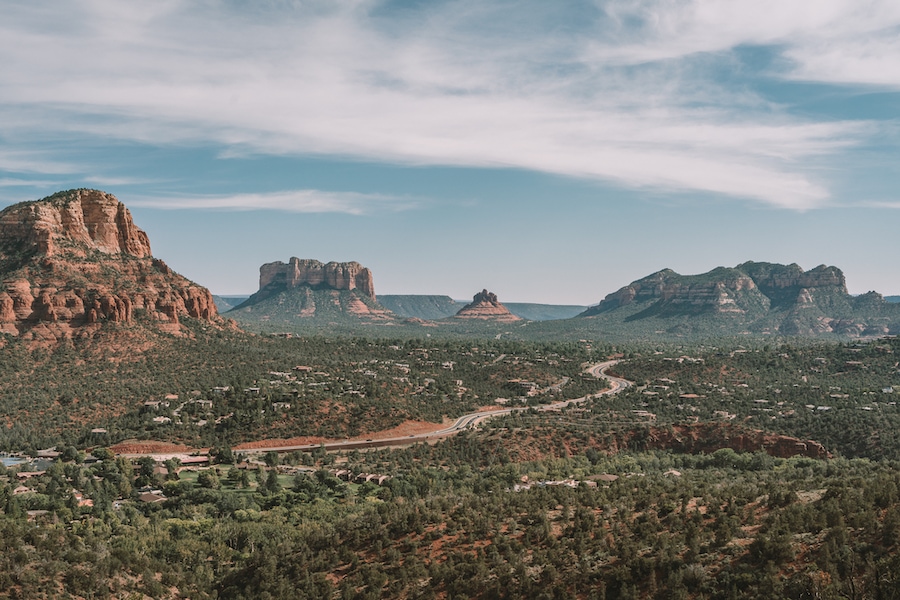 Sedona is another Arizona gem that has gained popularity in recent years due to its restorative energy, tranquil vibes, and breathtaking red rock buttes. Sedona is seriously unlike anywhere else on earth. It is a true hikers paradise with majestic views as far as the eye can see.
Some must-see hikes include Devil's Bridge (pictured in the main image in this post) and Cathedral Rock (one of my personal favorites). After spending some time outdoors, head to Tlaquepaque Arts and Crafts Village to explore some local art galleries. If you're staying the night, look into a guided stargazing tour! Sedona is famous for its wide-open desert skies.
---
Read More Road Trip Posts
---
Bisbee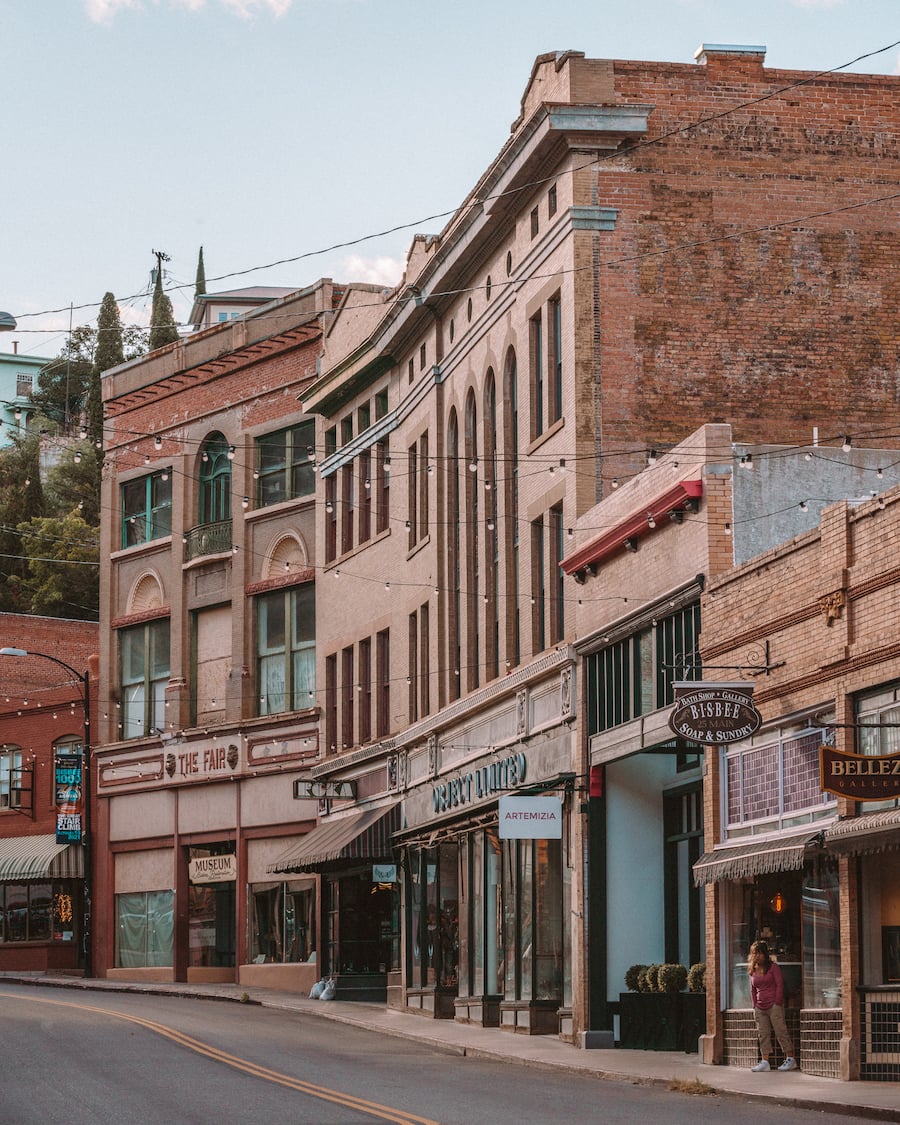 If you're into the supernatural, Bisbee is one of the best places to see in Arizona. It's an old, historic mining town turned thriving artist community that is known to be very haunted (according to the locals).
The quirky streets have stayed true to their Old West heritage with a unique, rustic flair; it's hands down one of the most unique small towns in America I've ever visited. Only an hour and a half from Tucson, it makes for a great day trip exploring the antique shops, Western vibes, and all-American diner fare. Don't miss a pop over to the town of Lowell nearby for vintage vibes out of an old movie set and a stroll down the Broadway Stairs off Brewery Gulch that serves as a sort of outdoor gallery.
Horseshoe Bend
Just a few miles from the entrance to Grand Canyon National Park, Horseshoe Bend's epic vistas hide behind a small sandy hill and unassuming parking lot. But head down Highway 89 from Page, Arizona toward mile marker 545 and follow the casual signs for "Horseshoe Bend" park, and you'll be able to take a leisurely 0.6-mile stroll to one of the most stunning viewpoints in Arizona.
Horseshoe Bend is that famous bend of the Colorado River (you know the one) and one of the best things to do in Arizona for those looking for an incredible landscape that is easy to access.
Tombstone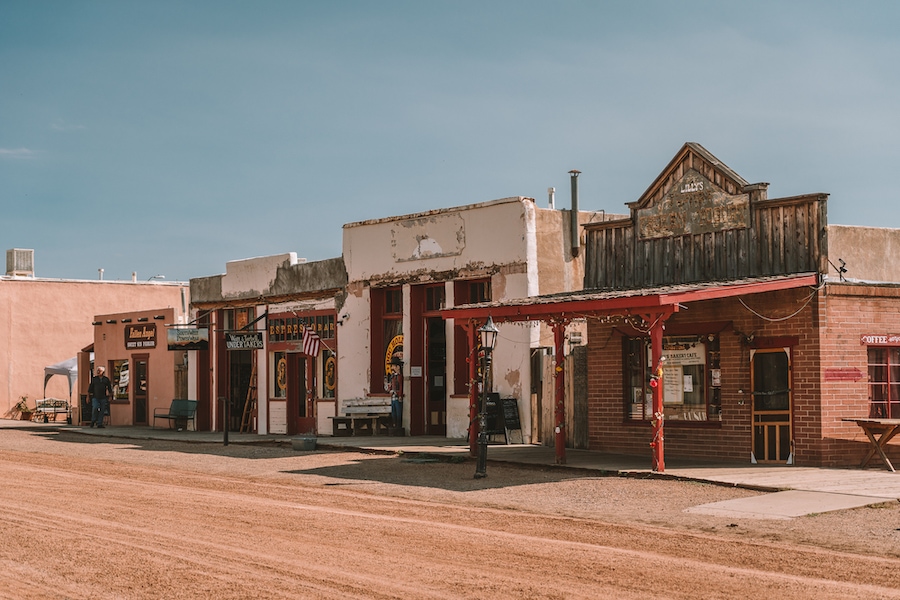 Not far from Bisbee you'll find Tombstone, which is another old mining town that has been restored and now looks like every old western movie you've ever seen. The town has a storied past and has certainly seen hard times. However, it lives up to its nickname, "The Town Too Tough to Die," and has remade itself into a tourist hotspot that is rich in old west history and cultural storytelling.
Stroll down Allen Street, the main drag, that has been preserved to reflect life in the 1880s—or if you're into history, check out the shooting reenactments at O.K. Corral. 
Havasu Falls
Havasu Falls is located at the bottom of a narrow gorge just outside Grand Canyon National Park on the Havasupai Indian Reservation. These bucket-list worthy falls are a surreal icy blue color and feed into equally stunning turquoise pools.
The limited number of permits offered to visit the area mixed with the strenuous hike leaves Havasu Falls feeling like a magical, secluded experience set away from the crowds. Though this spot is the definition of a dream, it is difficult to get to and requires some serious planning—and a bit of luck to score a permit! 
First, you need to have a permit from the Havasupai Tribe to access the area (keep in mind, these are limited and in high demand, so plan ahead). You will want to be prepared when the permits go live—typically in February—as they sell out within minutes for the whole season. Once you have your permit, you will need to book your overnight stay either at the campground or resort as it is required for entry.
Arcosanti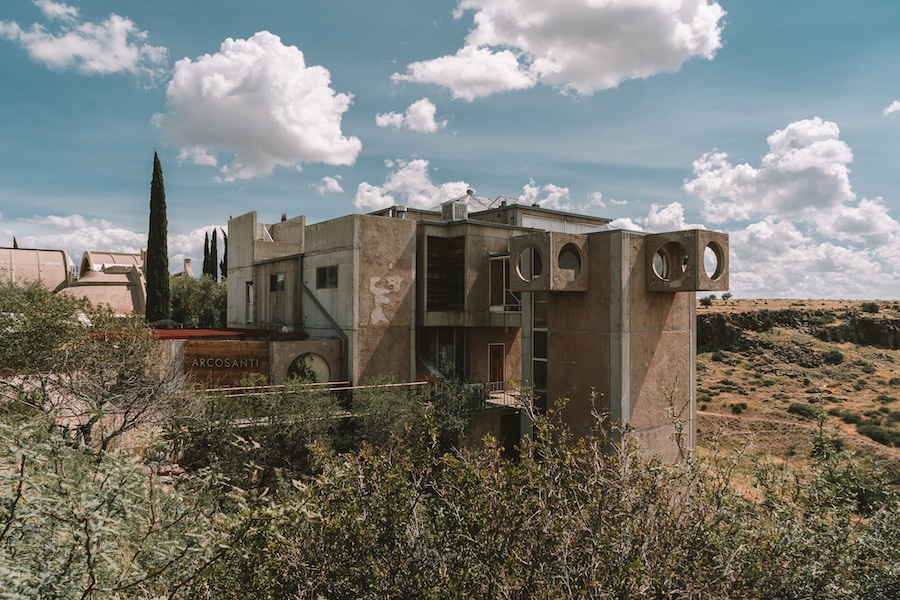 More of a hidden gem in Arizona, Arcosanti is an experimental town in Arizona's high desert just north of Phoenix. It is a prototype arcology—otherwise known as a place integrating architectural design with ecology in an effort to live with little to no environmental footprint.
This is one of the best things to do in Arizona for anyone who loves unique, quirky places that are off the beaten path and has an interest in alternative ways of living. We scheduled a tour here ahead of time on our way from Scottsdale to Sedona, and found the whole story of how this community came to be quite fascinating. Personally, I think they could do a bit better job with their tours, but the architecture is really interesting and it's definitely one of those unique places you won't quite find anywhere else.
Vermillion Cliffs National Monument
Vermillion Cliffs National Monument is a remote 294,000 acre monument located near the Arizona/ Utah border. It has tons of amazing sights including the Paria Plateau, Vermilion Cliffs, Coyote Buttes, and Paria Canyon. The terrain includes high towers and deep canyons, but the unique aesthetic of the cliffs comes from the iron-oxide-rich pigments inside the rock, creating colors unlike anywhere else.
The Vermillion Cliffs National Monument tends to be less visited than other famous sights in the area (though it is equally as breathtaking) which may partially be due to the rough ride required to access it. There are no paved roads within the park and the path is pretty rocky.
Your best options for accessing it are to rent an off-road vehicle or join a guided tour. That being said, it tends to feel more remote and less "touristy," making it a super cool stop along your Arizona road trip.
The Wave
The most famous (and most difficult to access) attraction of Vermillion Cliffs has to be the Wave. The Wave is the iconic, wavy sandstone rock that you have likely seen on your stock computer background (it seriously looks straight out of a Dr. Seuss book). People travel far and wide to see The Wave! However, it is only accessible by a VERY rare and coveted permit. The Bureau of Land Management used to only allow 20 passes per day, but recently (in February of 2021) they upped it to 64 passes per day.
Yep, that's right, only 23,725 people can visit the Wave in a single year, and it's all decided by a lottery. There is an advance online lottery, in addition to a walk-in lottery where 16 lucky people can be awarded passes the day of. I attempted this back in 2017 and got unlucky, so if you can apply ahead of time, I highly recommend it!
For detailed info on obtaining a permit for the Wave, check out this post.
Scottsdale / Phoenix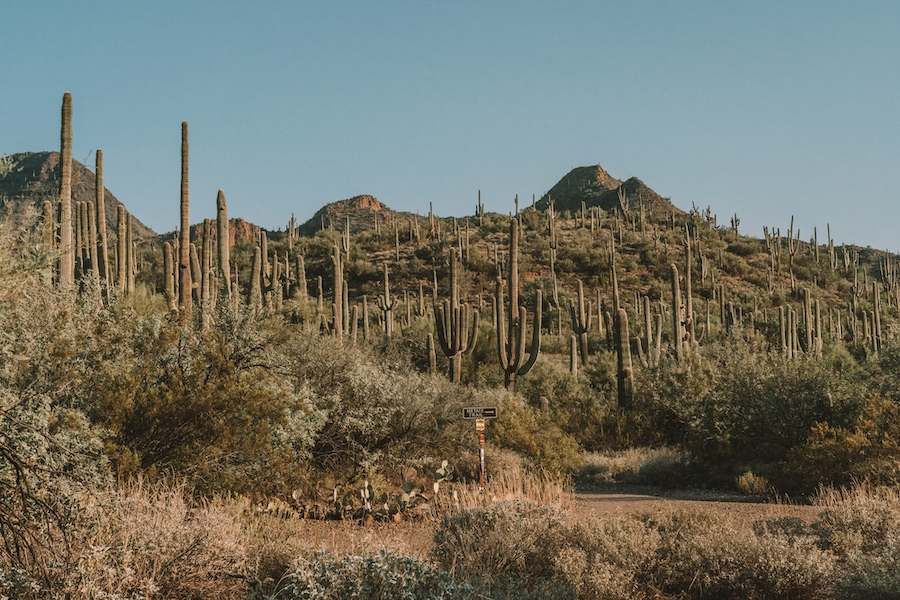 If you're looking to mix up your outdoor adventures with a little city escape, be sure to stop by the Phoenix/Scottsdale area. Phoenix is a lively city with an awesome food and cocktail scene as well as cool museums and cultural institutions that still retain those unique Arizona desert vibes.
Visit beautiful Old Town Scottsdale for a unique collection of shops, restaurants, bars, and hotels. Scottsdale is also known for its wellness resorts and spas, making it the perfect place to press pause on your Arizona road trip and stay put for a few days. Check out my detailed review on Scottsdale's Civana Wellness Resort.
Before you leave, make sure to tick a hike up Camelback Mountain off your checklist for stunning panoramic views of the city.
Lake Powell
Formed by the completion of Glen Canyon Dam in 1963, Lake Powell is a man-made reservoir on the Colorado River that sees over 2 million visitors per year. The water is beautiful and surrounded by sandstone cliffs making it a unique water environment for swimming, boating and exploring.
With over 2,000 miles of shoreline, Lake Powell is massive and always feels surprisingly uncrowded so be sure to rent a boat and head out for some waterskiing—or if you're feeling fancy, rent a houseboat and spend a night or two on the water.
Petrified Forest National park
About 50 miles from the New Mexico border in northeastern Arizona, the Petrified Forest National Park takes up 230 square miles and is home to the world's largest and most colorful concentrations of petrified wood.
The park is a place for discovery with fossil displays dating back 225 million years and scenic vistas featuring unique, moon-like landscapes. It's one of those places you can visit along an Arizona road trip that will make you feel like you've landed on a completely different planet.
Monument Valley
You have certainly seen this iconic spot dotting your IG feed—and for good reason. Monument Valley is a stunning red-sand desert with unique sandstone monoliths towering 400 to 1,000 feet high, falling nothing short of grand. Originally made famous by the iconic Forrest Gump running scene, the valley now sees over 350,000 visitors a year.
For photographers looking for a unique shot at Monument Valley, plan your visit in late March or mid September (research for specific dates during your visit) when the Monument Valley Mitten Shadow occurs only twice a year. This cool phenomena lines up the two iconic West Mitten Butte and East Mitten Buttes perfectly at sunset to create a unique overlapping shadow.
If you're looking for that iconic shot down the long, straight highway 163, you will need to cross the border into Utah.
Glen Canyon National Recreation Area
Home to notable places to see in Arizona like Horseshoe Bend and Lake Powell, Glen Canyon National Recreation Area has even more to offer. The recreation area itself is over 1.25 million acres between Arizona and Utah and boasts lots of unique outdoor activities.
Some top attractions to check out include Glen Canyon Dam, Reflection Canyon and Rainbow Bridge National Monument. Some of these spots are located just over the Utah border making them great places to stop if you happen to be on a road trip to Arizona from Utah.
The Painted Desert
Over 93,000 acres of painted sandstone hills and rocky badlands make up the Painted Desert in Northern Arizona. Rainbow hues from deep purple and soft gray to bright red, orange and pink are what you can expect when adventuring through this wildly colorful landscape.
A small part of the desert is actually located inside the Petrified Forest National Park making it easy to visit both on the same day! Be sure to stick around for sunset as the colors take on a stunning, fiery personality. 
Did this post inspire you to take an Arizona road trip? Let me know in the comments below!
---
Planning a trip right now? Don't miss my go-to websites for booking everything from flights and tours, to accommodation and more:
---