Right on the border of Nevada and California lies Death Valley, a magical and majorly underrated desert oasis and adventure destination. Death Valley National Park boasts some of the most unique and varied landscapes throughout the entire United States, making it one of my top travel highlights in all of California.
I took a trip to Death Valley with a friend during the winter to avoid the scorching temperatures that roll in during the summer months. While I didn't exactly know what to expect, any expectations that I did have were completely blown away!
From the Sahara-esque sand dunes to the long stretches of snow-white salt flats, Death Valley is an absolute must-see for everyone, whether you live in California or across the country.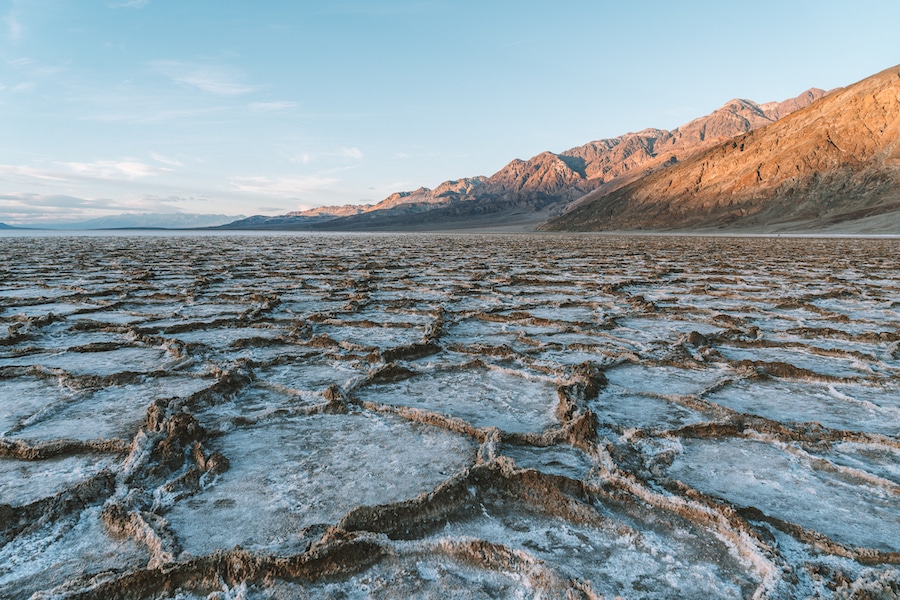 While getting to the national park from Los Angeles was pretty painless (it's only about four hours from the city), deciding on where to stay in Death Valley was a whole other ballgame. With so many different pros and cons to every accommodation option, deciding on where we'd sleep at night was one of the toughest decisions.
That being said, this comprehensive accommodation guide is here to save you the same frustrations and help you decide where to stay in Death Valley.
Let's get to it!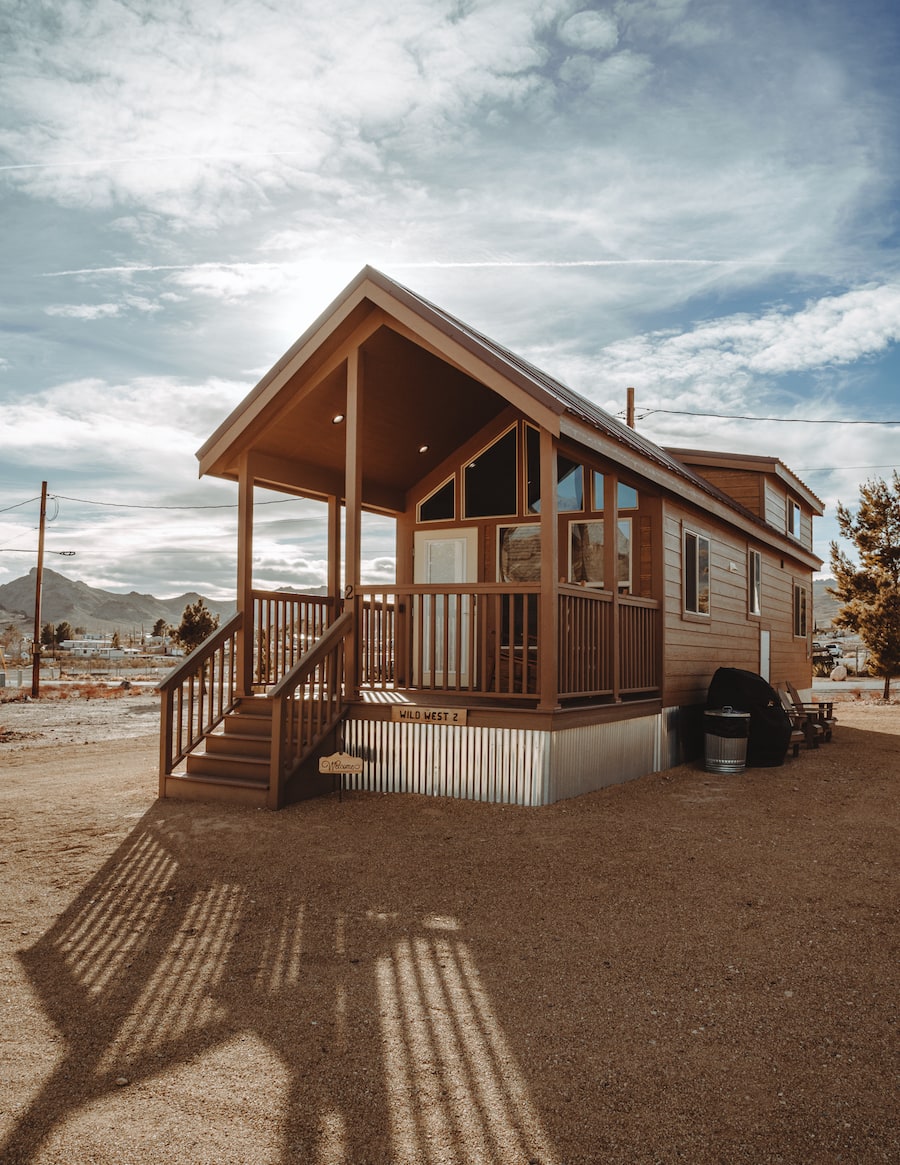 What to Know Before Deciding Where to Stay in Death Valley
Since it is an incredibly vast and diverse desert, having the proper accommodations during your stay in Death Valley is pretty important. While some manage to make any environment or landscape work to their advantage, I am the type of person who needs to feel comfy and confident in my "home base" to get the most out of my experience.
When choosing where to stay in Death Valley, one of the biggest dilemmas that can come up is deciding between staying in the actual park or lodging in one of the nearby towns like Beatty or Pahrump.
Though there are definite advantages to staying inside the park (like spending less time driving in and out), your accommodation options are pretty limited. For the most part, it's 1) camp or 2) spend a pretty penny on a hotel room.
Another factor to keep in mind is the direction from which you are arriving.
If you are driving in from the Los Angeles area or Northern California, the town that will be most convenient for your stay will be different than if you are coming in from Las Vegas or Arizona.
Also, as mentioned before, the summer temps get extremely HOT, so knowing what to expect weather-wise is very necessary (especially if you are camping)!
During my trip, I enjoyed the less-scorching temperatures of the winter during the day, but at night time it was shockingly cold and I was grateful to have a real bed and heated cabin to sleep in.
That being said, the cold can usually be managed with properly rated sleeping bags and thermal clothing. On the other hand, if you are visiting during the summer months…I highly recommend opting for a hotel with AC and a pool (or rescheduling your trip for the winter).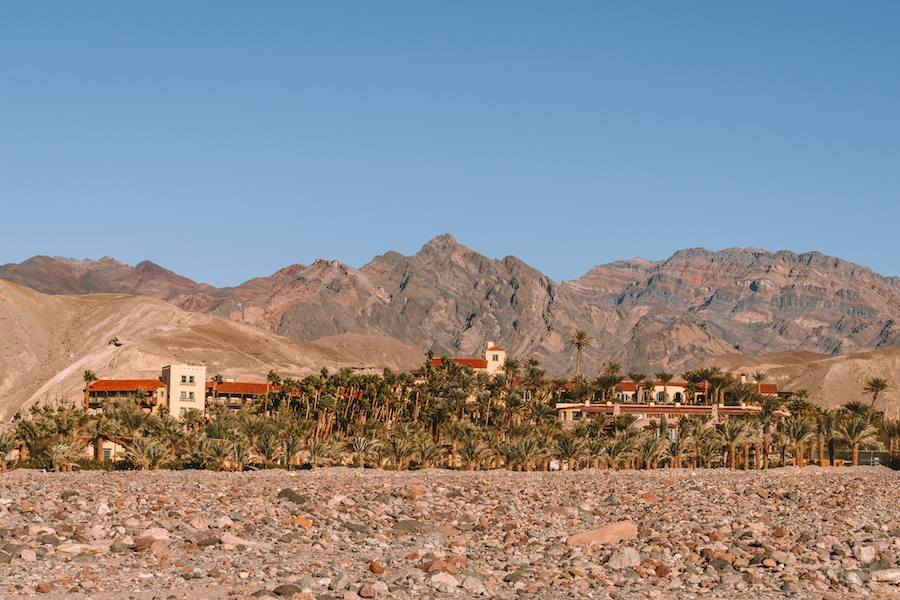 Quick Answers to Your Death Valley Accommodation Questions
Q: Can you stay overnight in Death Valley?
A: Yes! There are several different options for overnight accommodations within the park itself. From hotels to camping to RV hookups, there's something for everyone seeking an overnight experience in Death Valley.
Q: Should I stay inside or outside the park?
A: I personally think that staying within the park is your most convenient option. It allows you to maximize your time and gives you the most flexibility when compared to some other hotels near Death Valley. However, there are some great Airbnbs and hotels outside of the park as well. It just depends on what you're wanting to prioritize during your trip.
Q: Where is the most affordable place to stay in Death Valley?
A: If you're willing to skimp on comfort, there are several campgrounds in Death Valley that are free including Emigrant, Wildrose, Thorndike and Mahogany Flat. If you want something more central with better services, camping and RV hookups at Fiddler's Campground can be reserved for as little as $29 – $34 per night.
However, if roughing it is not your thing, Stovepipe Wells Village or The Ranch at Death Valley are pretty affordable accommodations in the park. Depending on the time of the year, you can get a nice room for around $169 per night at the Ranch or $250 at Stovepipe Wells. That being said, hotels within the park tend to be more expensive than some of the more affordable (and cool) Airbnbs found outside of the park.
Q: Where should I stay if I'm arriving from Las Vegas?
A: Pahrump is the closest town outside of Death Valley on the way in from Las Vegas.
Q: Where should I stay if I'm visiting Death Valley from Los Angeles?
A: The fastest route from Los Angeles to Death Valley takes you closest to Stovepipe Wells, Furnace Creek and Beatty, Nevada.
Q: Where did you stay in Death Valley?
A: I personally stayed in this Airbnb in Beatty called the Wild West cabin. It was perfect and cozy for 2-4 guests but required a bit of a drive in and out of the park each day.
---
Read More California Posts
---
Where to Stay Inside Death Valley National Park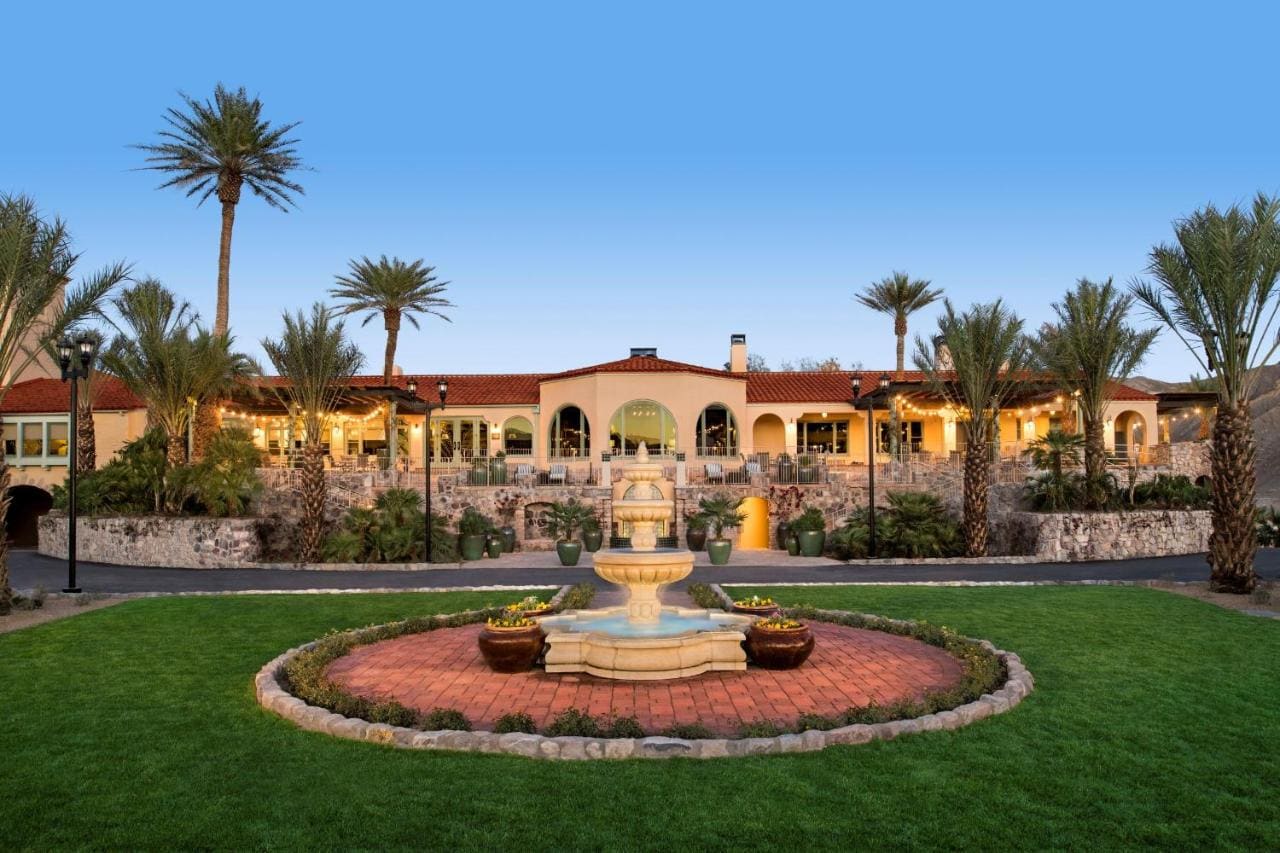 The Pros and Cons of Staying Inside Death Valley National Park
The biggest benefit to staying within Death Valley National Park is having the ability to maximize your time exploring. There truly is so much to see, and being able to have the freedom to explore on your own time and not be bound by a driving schedule is definitely a plus.
If you stay inside Death Valley borders, you'll have the convenience of being able to change clothes or grab something you may have forgotten, or just have the freedom to take a nap or grab food during the hottest times of day in the park.
These are all useful pros to take into account when narrowing down where to stay in Death Valley. However, nothing is ever perfect…Staying in the park is pricier. While some hotels offer very affordable rooms, your chances of finding something that is comfortable without breaking the bank is much more difficult.
The Best Hotels Inside Death Valley National Park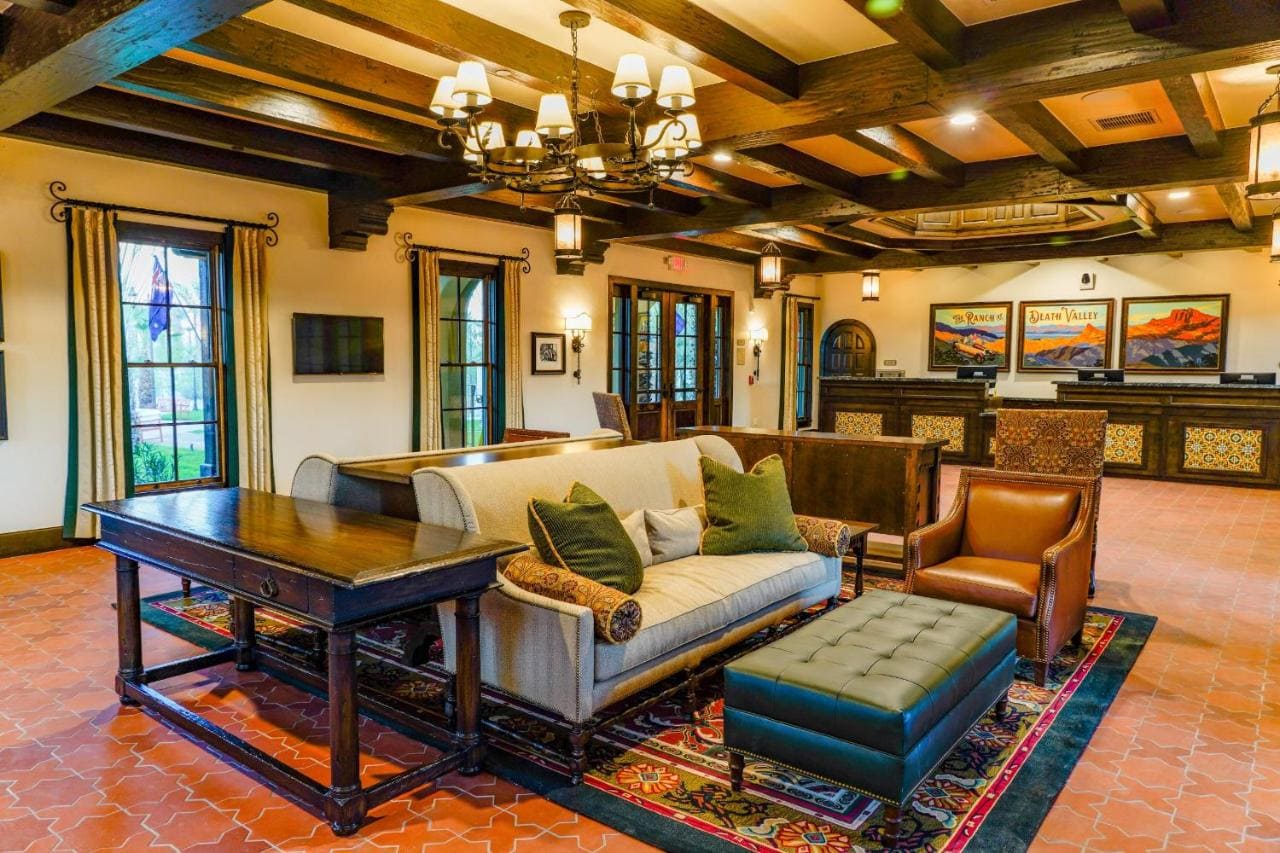 The Ranch at Death Valley – The Ranch at Death Valley is the part of the Oasis at Death Valley that offers cheaper accommodations right in the heart of the park. If a comfortable yet affordable stay (compared to other options) is what you're seeking when deciding where to stay in Death Valley, The Ranch will give you the best of both worlds. Plus, it is right next to some cute restaurants, a coffee bar, and a general store.
The Inn at Death Valley – For those looking for a more luxurious hotel in Death Valley, The Inn at Death Valley is both exclusive and historic. The Inn is the more expensive section of The Oasis at Death Valley resort, and while it is definitely a splurge, it is a stunning setup for those able to afford it. The Inn is a bit more secluded and private than The Ranch, offering a more peaceful retreat in the desert.
From both of these hotels, you're within 20 minutes drive to some of the most popular sites like Zabriskie Point, Badwater Basin and Artist's Palette.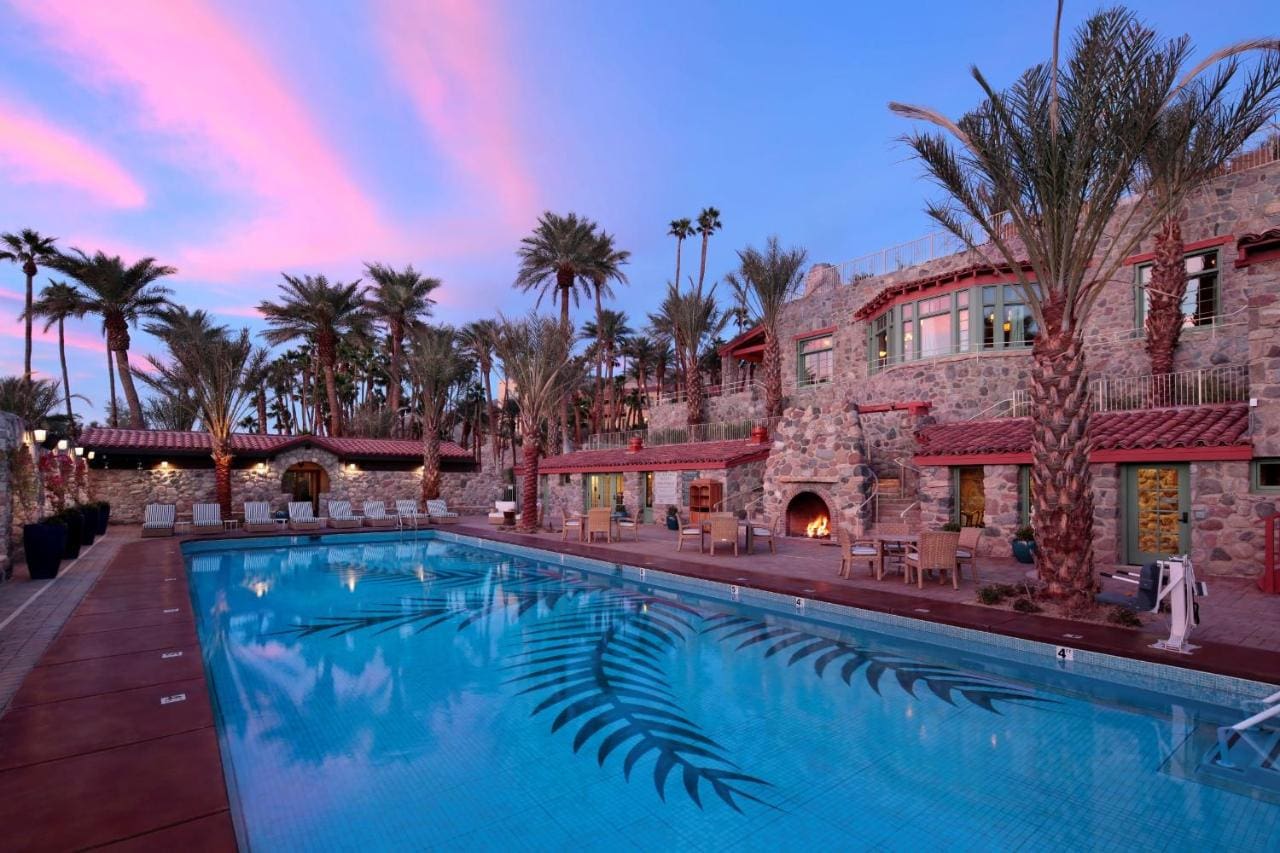 Other Hotel Options Inside Death Valley
Stovepipe Wells Village Hotel – The Stovepipe Wells Village Hotel is a 3-star that's been offering accommodations right in the center of Death Valley National Park since 1926. It has an Old Western theme and rustic aesthetic that provides basic accommodation for the area and is a 5 minute drive from Mesquite Flat Sand Dunes.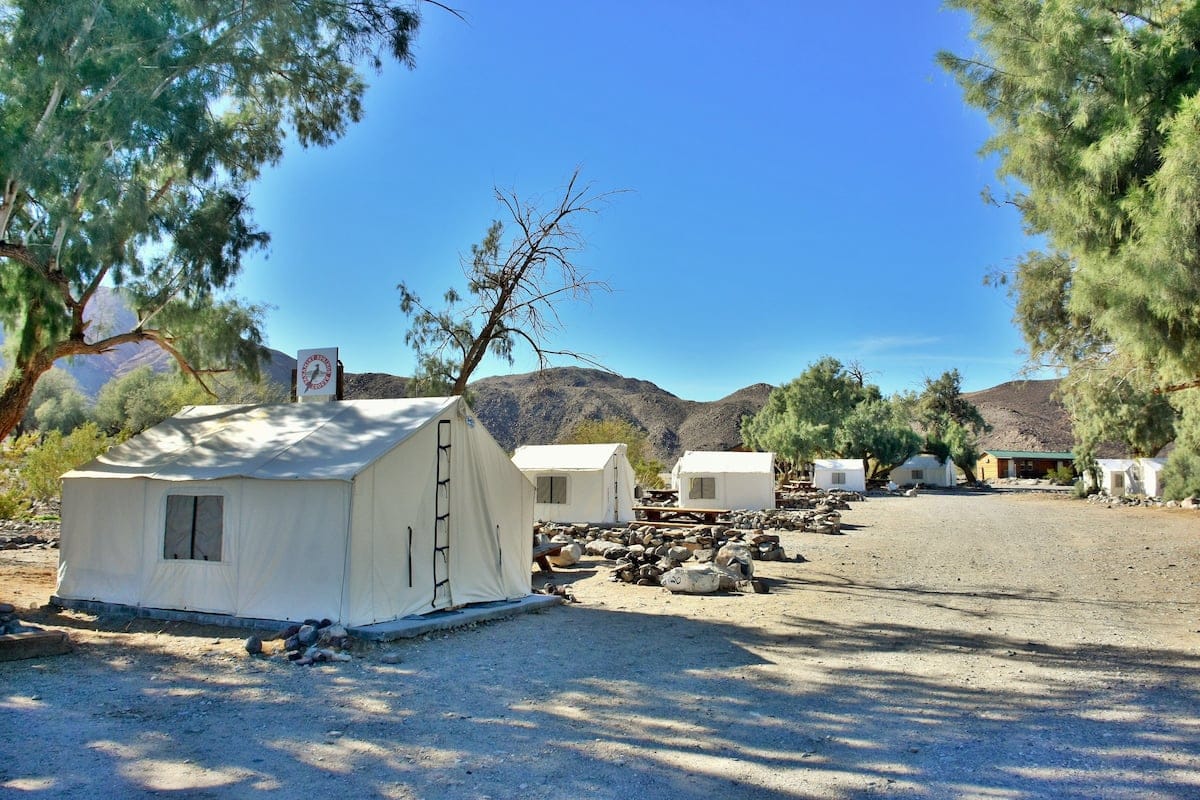 Panamint Springs Resort – Located in Panamint Valley on the tip of Death Valley National Park, the Panamint Springs Resort is a western-style resort with a unique atmosphere that provides the option for lodging, camping or RV services. From here, it takes about 30 minutes to drive to Mesquite Flat Sand Dunes.
Amargosa Hotel – The Amargosa is a small, quirky hotel that has only 16 rooms and sits in a very private and secluded part of Death Valley Junction. It's about 35 minutes drive from the Furnace Creek center of Death Valley.
Camping Inside Death Valley National Park
If you find yourself drawn to the idea of camping out in the vast landscapes of Death Valley, you're in luck! With nine different campgrounds to choose from, there are plenty of options.
From the more comfortable and popular Furnace Creek Campgrounds to the more secluded Wildrose Campgrounds in Panamint Mountains, each spot has something unique to offer, and a handful of them are even free!
Where to Stay Outside Death Valley National Park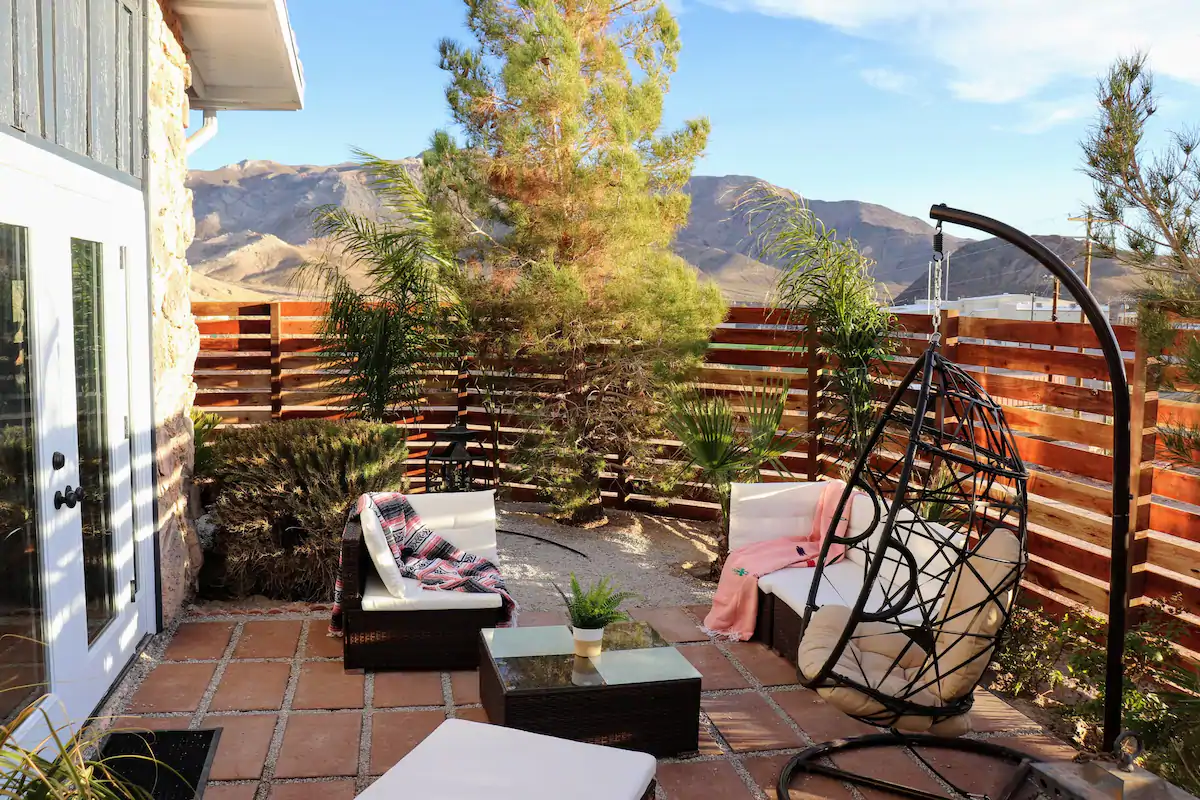 The Pros and Cons to Staying Outside the Park
Similarly to staying inside Death Valley National Park, there are a few pros and cons to finding accomodations outside of the park. The biggest con to staying outside of the national park is definitely the added driving time. While it isn't the worst issue, you will have to plan your days around traveling back and forth from your lodging to the park.
However, there are some pretty great Airbnbs and hotels near Death Valley that are more affordable than what you'll find inside the park!
When deciding where to stay in Death Valley, weighing these pros and cons will help you figure out what you specifically need/want for this trip. As stated before, I opted for staying outside of Death Valley National Park, and though the driving did cut into our exploration a bit, the Airbnb that we chose was the perfect option for us.
Where to stay in Beatty, NV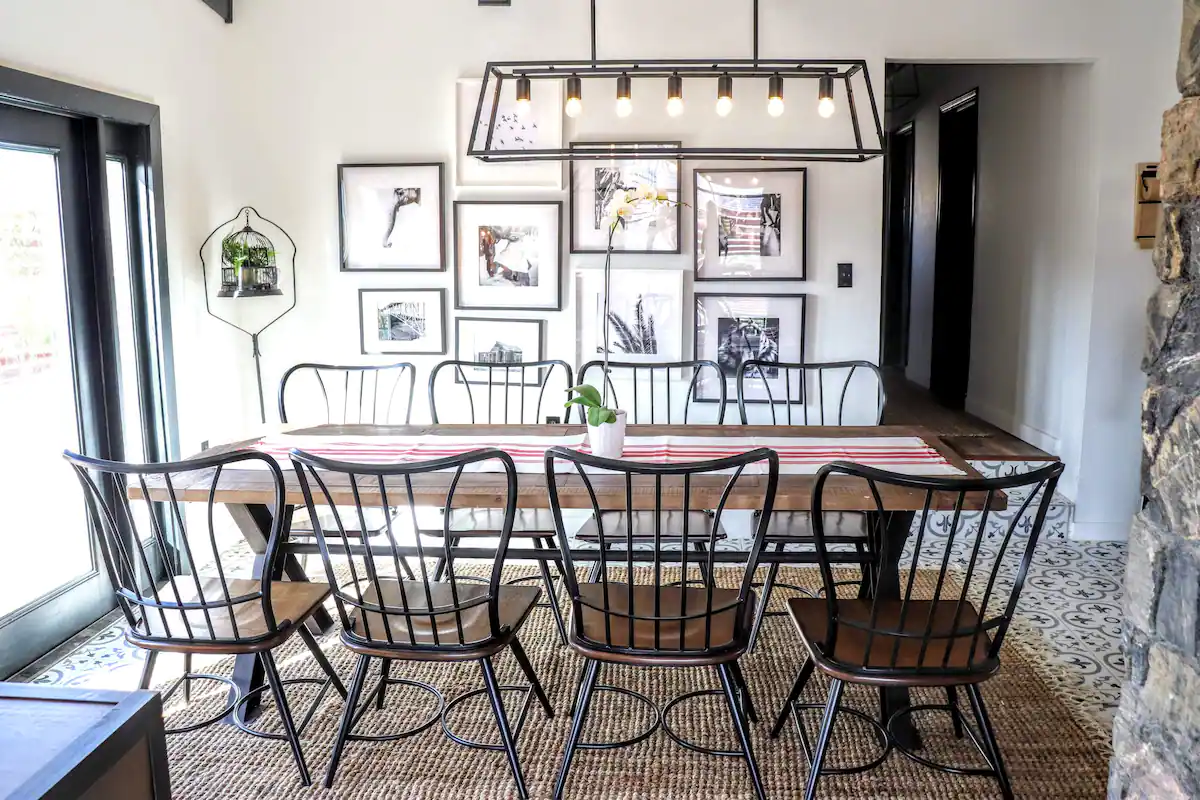 Beatty is an incredibly small town of 804 people located about 30 miles outside of Death Valley National Park. If you're traveling from Las Vegas, Beatty is only 120 miles away, making it a viable option for those looking to stay outside of the park (although, it might be a bit more out of the way for Vegas residents when compared to Pahrump).
For those coming in from Northern Nevada or California wanting to stay outside of park borders, Beatty is a good option.
Though the town of Beatty doesn't have a ton to offer, it does have some pretty adorable Airbnbs that provide their own unique experience (and for a pretty fair price)!
Wild West Airbnb – The Wild West Airbnb is where I stayed during my trip. We chose this option because we wanted to spend our days at the park exploring all the magnificent landscapes and taking photos from sunrise till sunset, meaning we weren't planning on spending much time at our accommodations anyway. I was also traveling with one of my guy friends, so having a two-bedroom was a priority for us. If you don't mind staying a bit outside of the park, then I would highly recommend this clean and cozy Airbnb.
Designed to Death Airbnb – The Designed to Death Airbnb is a modern and stylish Airbnb that's perfect for larger groups visiting Death Valley! It can fit up to seven people, and on some days, it is listed for as low as $218 per night. It's really a stunning spot that will be a hit for design-lovers.
Death Valley Inn and RV Park – Whether you're looking for a decent place to sleep at night or you're in need of a solid spot to park your RV, the Death Valley Inn Motel and RV Park is a quaint and convenient accommodation in Beatty.
Atomic Inn – With a retro style that somehow fits perfectly in the Wild West pioneering town of Beatty, Nevada, the Atomic Inn has been offering lodging to guests in Death Valley since 1979. It is also the cheapest hotel in all of Beatty, with rooms ready to book as low as $60 per night. That being said, manage your expectations here—it's extremely basic.
Exchange Club Motel – Created in 1906, the Exchange Club Motel is an actual Beatty/Death Valley landmark. It's also a super affordable and easy place to find lodging outside of the park, but again—nothing super fancy here.
Where to stay in Pahrump, NV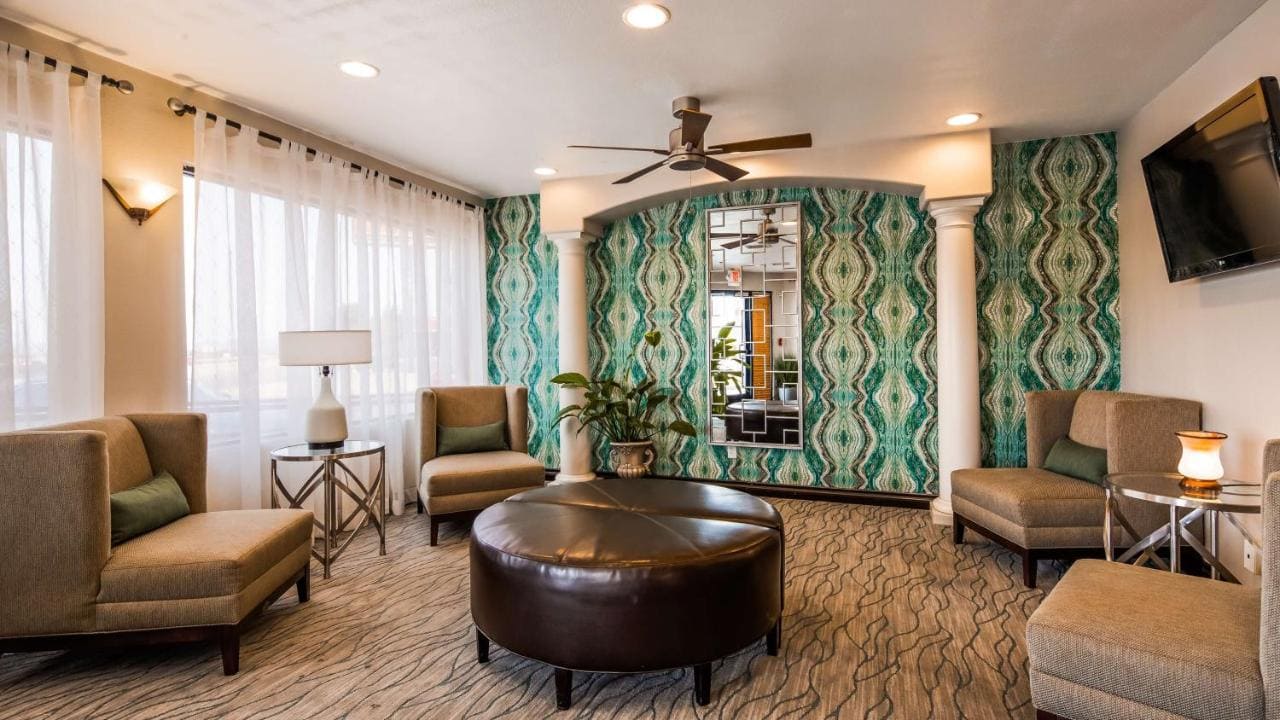 If you're looking for more affordable accommodations but like the reliability of a chain hotel, Pahrump, Nevada might be perfect for you. It's a bit further outside of the park than Beatty, but the hotel options are super basic, dependable, and cheap.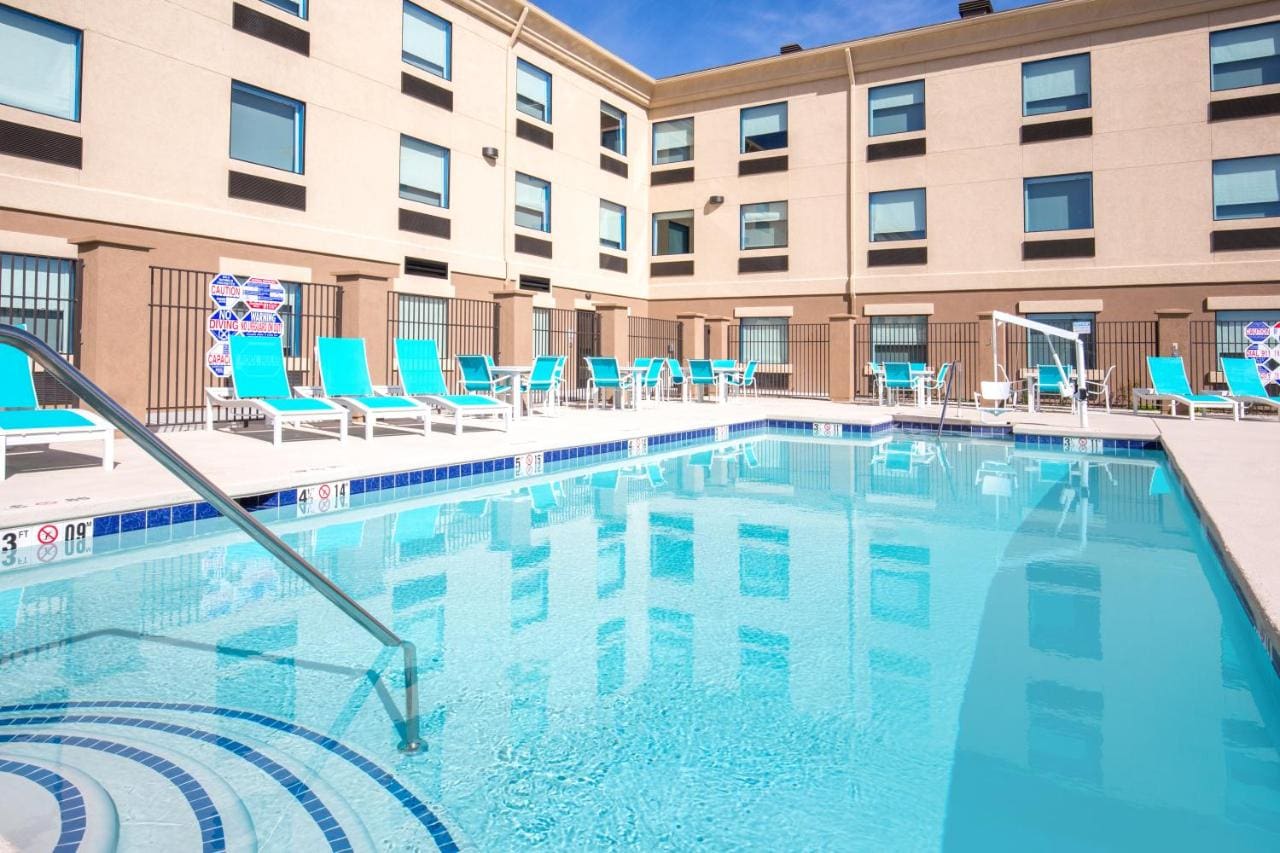 Holiday Inn Express – With simple yet clean rooms, Pahrump's Holiday Inn Express is a great spot to get a good night's sleep and eat a large breakfast before heading out on your adventure in the park all day. The rooms aren't much to write home about, but for a Holiday Inn, but they get the job done.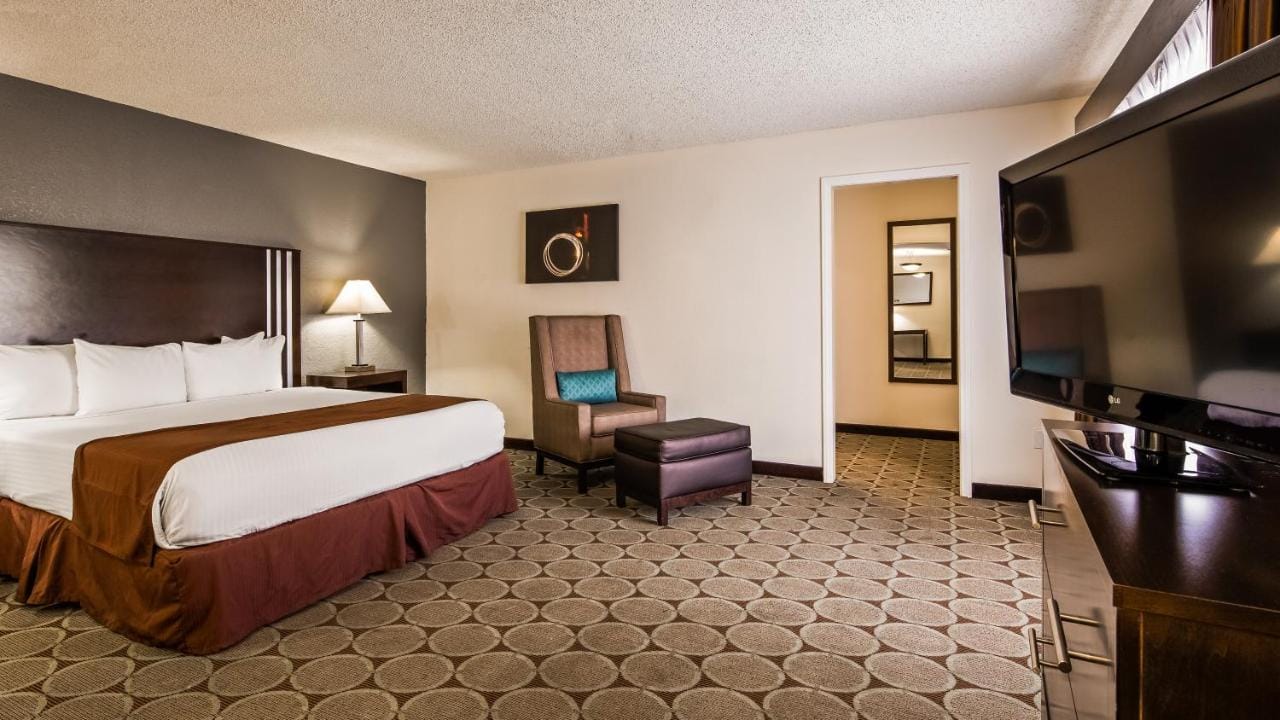 Best Western Pahrump Oasis – Just like the neighboring Holiday Inn Express, the Best Western Pahrump Oasis also offers a full breakfast for guests so that you can get your fill before strolling along the stunning salt flats and sand dunes. They even have a decent pool to help you cool off from the desert heat (if you're visiting during the warmer months)!
No matter where you decide to stay in Death Valley, as long as you explore your options and know what you are seeking, you are sure to have a magical time in this desert oasis!
---
Planning a trip right now? Don't miss my go-to websites for booking everything from flights and tours, to accommodation and more:
---