One of my favorite past times when it comes to travel is seeking out unique accommodation and California is luckily chock full of 'em. Instead of using all my time at home in LA to stare at my laptop and catch up on work, I've been trying to make a concerted effort to get out and explore more of what my beautiful state has to offer, and spoiler — it's a lot. Of course there are the obvious escapes to popular hotspots like Yosemite, Joshua Tree, Carmel and Big Sur. But then there are the hidden gems that I almost don't want to share for fear that they'll become not-so-secret in the near future.
One such recent adventure took me out to the Cuyama Valley for a mix of classic California glamping and a funky stay at the Cuyama Buckhorn, a historic roadside motel that's recently been renovated into a high-end retro destination for both city dwellers looking for a quiet escape and travelers passing through.
The Cuyama Valley is one of those places that many California residents don't even know by name, yet it sits right in the middle of so many California gems. Ojai and Santa Barbara are a little over one hour to the south and San Luis Obispo and Pismo Beach are the same distance to the Northwest. To get to the high desert town of New Cuyama, you'll venture through the stunning Los Padres National Forest and in springtime it's one of the best areas in the state to witness the superbloom — I'm already hankering to go back during this time of year!
In this post, I wanted to share why this part of California shouldn't be overlooked as well as everything you need to know about staying at the reimagined Cuyama Buckhorn.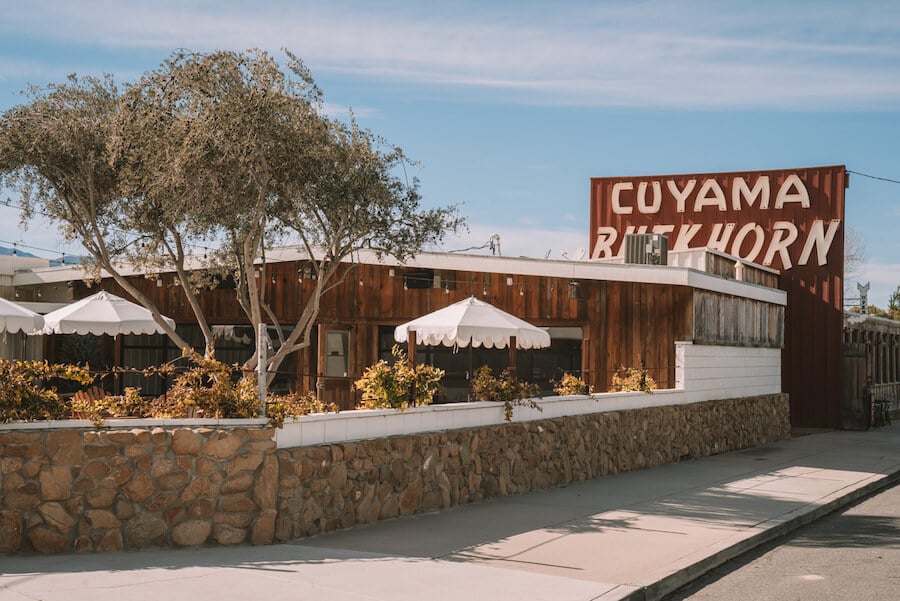 A Little Bit 'O Buckhorn Background
Located right off Highway 66, the Cuyama Buckhorn has been a local icon since the 1950s. You can tell that nearby ranchers and farming families have been frequenting the Buckhorn for generations. In fact, on our second night in Cuyama, we sat at the bar next to two lovely gentlemen, one of whom pointed to a framed photo on the wall of a cowboy and told us that it was his dad. It didn't take long for us to get the sense that things like this happen at the Buckhorn all the time.
That's all part of the charm of a stay at this funky roadside motel. While it has been and will continue to be a local favorite (there isn't much else in town as far as great food and cocktails go), the new ownership and current facelift that the property is undergoing is bound to draw curious travelers from bigger cities like LA and San Diego.
Staying at the Buckhorn though, I didn't get the sense that the new ownership is trying to change things too much. The goal is really just to enhance the hotel's already inherent charm, not to leave behind the people that have been loving it for so many years.
Once the property's renovations are finalized in late 2020, I imagine this hidden gem will start to get more attention for its intimate event spaces and vintage California vibe. The property will have 21 intimate guest rooms in total, a brand new pool, and a fresh lobby from which to welcome guests. At the moment, the boutique hotel is only taking weekend visitors, so make sure to plan your stay over a Friday/Saturday so you don't miss out on checking out the Buckhorn's cozy accommodations.
Why Stay at the Cuyama Buckhorn?
If you're looking for a peaceful retreat without the pressure of checking things off a to-do list, then this spot might just be your perfect getaway. A stay at the Cuyama Buckhorn is less about a place to rest your head after a long day hopping from one itinerary item to the next, but rather it's a place to disconnect, regroup, get quiet and just enjoy. Sure there is plenty of surrounding nature to explore, but what I found most appealing was just appreciating the time away from city life and BEING without a sense of urgency to go DO.
Plus, if you're into the whole retro California thing, you're bound to fall in love.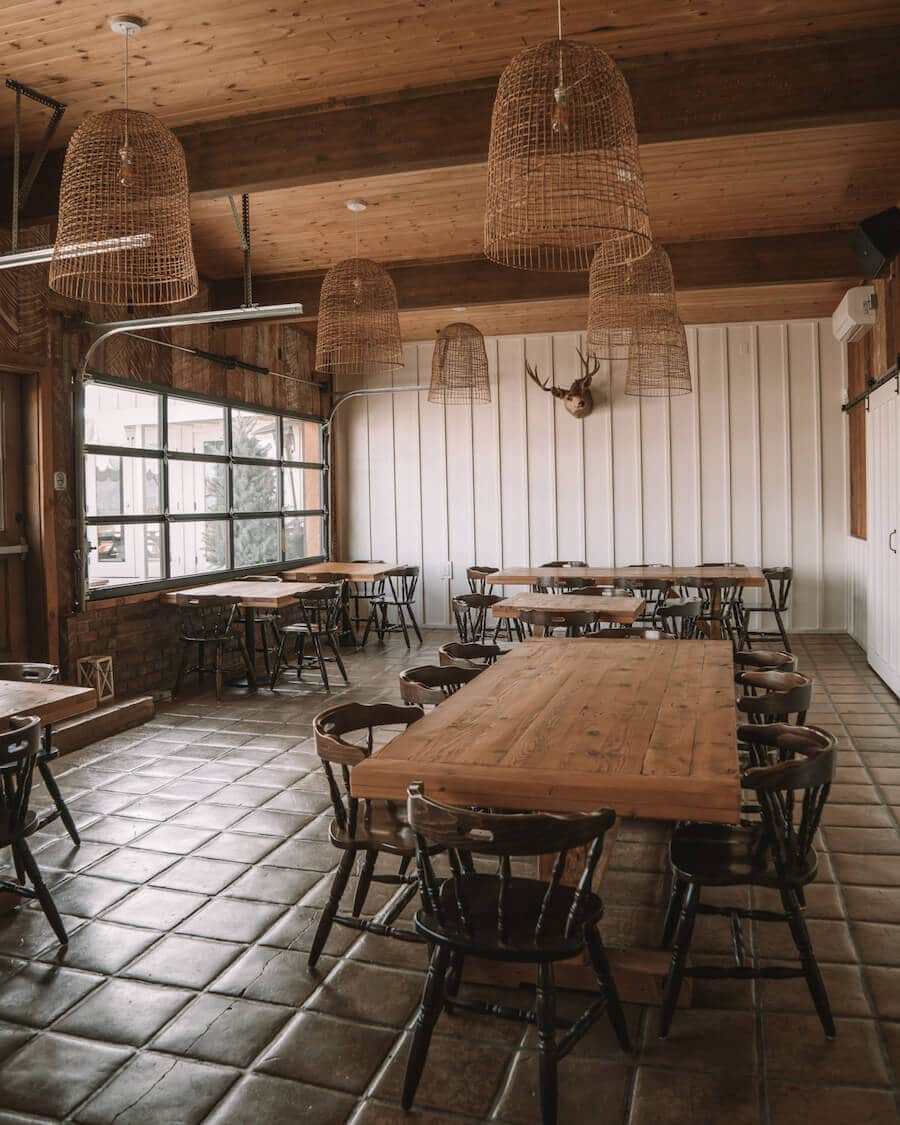 Read More California Posts




Drinking and Dining at Cuyama Buckhorn 
The thing that blew me away the most at the Cuyama Buckhorn was the food. Think comfort food that may seem familiar for a roadside motel, but that's been elevated to gourmet status. I've traveled to enough remote areas of the US to know that low expectations for food options come with the territory, but I was wrong about this place.
Our first dinner was a melt-in-your-mouth pork belly over an addictive base of blue corn grits, which I've never seen on a menu anywhere. Maybe I just haven't spent enough time in the South, but it was literally to die for. I was shocked when the chef came out to introduce himself and he told us he was from Iceland, a destination that has been experiencing somewhat of a food renaissance since tourism skyrocketed there in recent years.
To say we were impressed would be an understatement.
There are so many local ranches and farms nearby that the Buckhorn's culinary director, Matthew Roberts (a Le Cordon Bleu grad), has been moving the hotel's menu towards an entirely farm-to-table dining experience, focusing on highlighting seasonal ingredients and partnering with neighboring farmers and wineries. The full transition may take some time but I loved that this has been a focus.
On the morning of our departure, I ordered up the breakfast burrito, which wasn't as mind blowing as the dinner but still delicious. And if you're a biscuit lover like me then make sure to order that up on the side.
If you don't have time to stay overnight, make sure to check out the Buck Stop Coffee Shop, which serves Verve Coffee Roasters all day even when the kitchen is closed. They also have a selection of baked goods and some thematic caffeinated drinks that I found to only add to the charm, like the Cuyama Campfire, which is basically a s'mores in a mug. Um, yes please.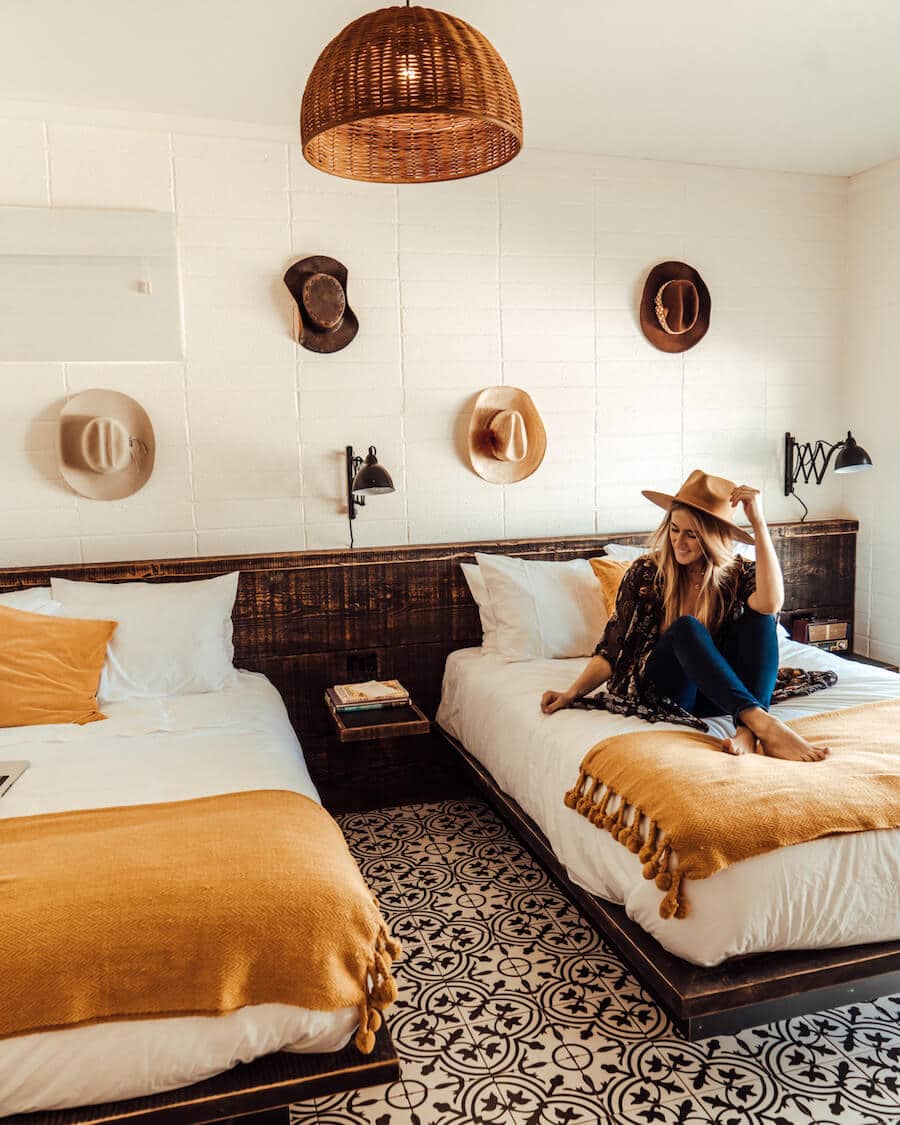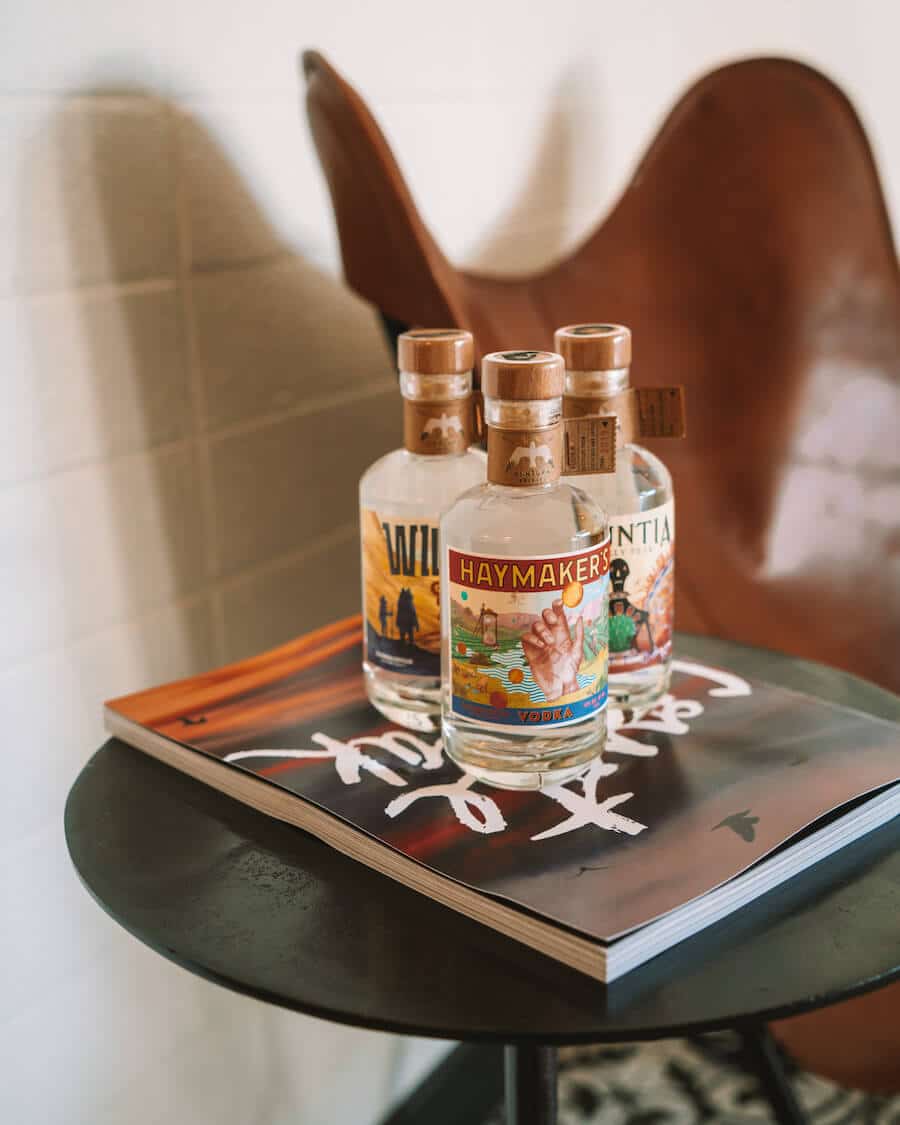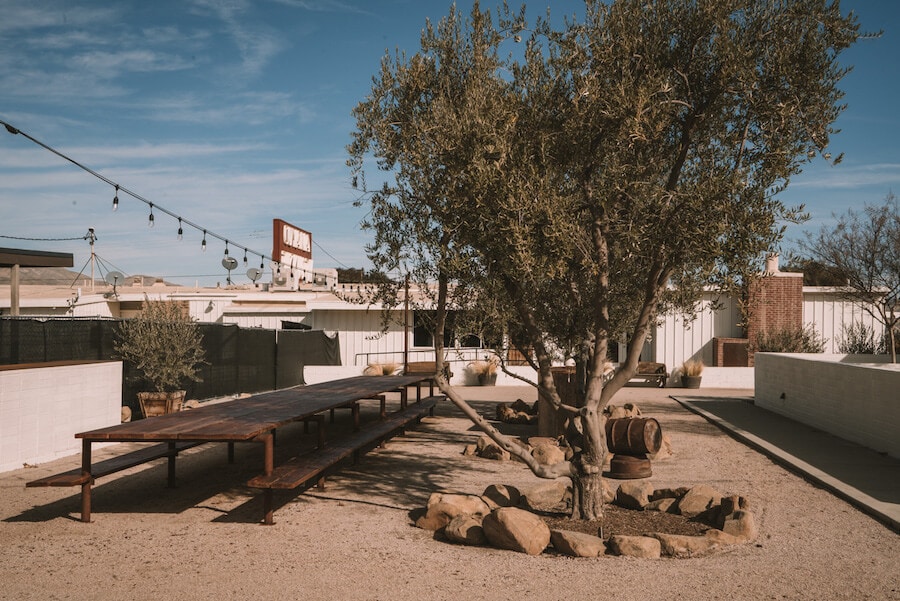 The Room Situation at Cuyama Buckhorn 
As soon as I walked into our room at the Cuyama Buckhorn, I knew this was my kind of place. Old cowboy hats adorn the walls, and since I had my Lack of Colour hat in hand (that I'd bought the day before), I instantly felt at home and on theme.
There are 21 total guest rooms at the Buckhorn, each of which have a similar style but differing options between single beds, doubles and a king bed or suite.
I loved the gorgeous black and white patterned floor tiles and mini bar tray stocked with goodies from local businesses, like pistachio packets from the Santa Barbara Pistachio Company down the street. Each of the rooms have custom built furniture and retro nods with a modern feel. The beds are outfitted with cozy sheets from Brooklinen, the same bedding brand I use at home, which brought new meaning to the term "home away from home."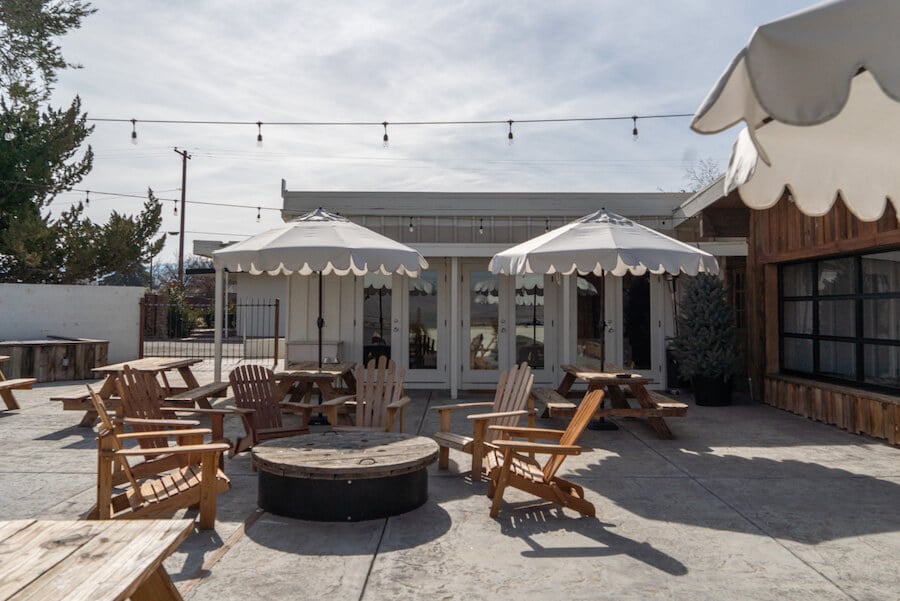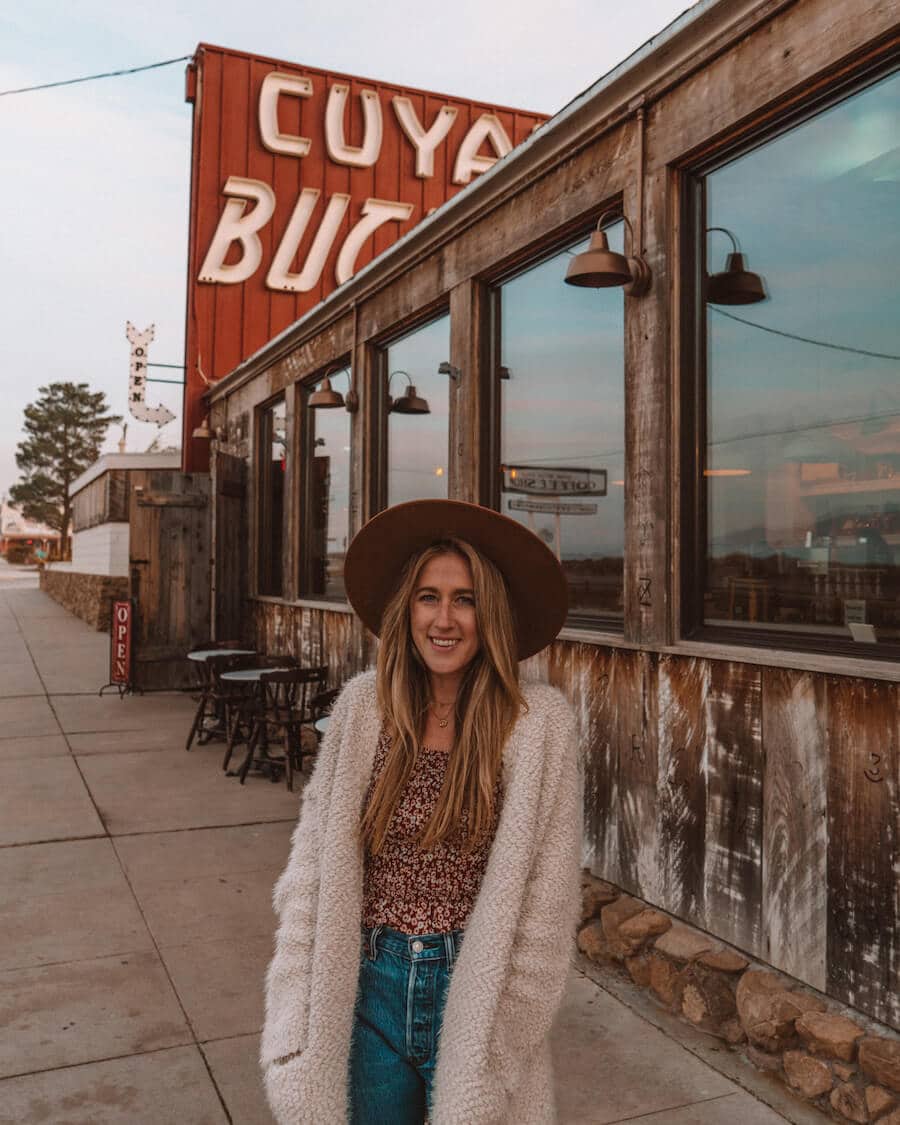 What To Do in Cuyama Valley During Your Stay
In springtime, check out the wildflower superbloom at Carrizo Plains National Monument
Go star gazing at Mt. Pinos
Take a day trip to Ojai
Drive north to Pismo Beach and San Luis Obispo
Go wine tasting at Condor's Hope or Sagebrush Annie's (both often take reservations in advance)
Drive the unmarked scenic highway 33 between Cuyama and Ojai
Go hiking in Los Padres National Forest
For more things to do in the area, check out the Cuyama Buckhorn website.
---
---
Planning a trip right now? Don't miss my go-to websites for booking everything from flights and tours, to accommodation and more:
---
PIN IT FOR LATER
***
Live Like It's the Weekend was graciously invited as a guest of Cuyama Buckhorn, but as always, all my opinions are my own and I would never promote anything I don't freaking love.