If you're looking for a hotel with that true Tulum flavor — aka mystical jungle vibes with some serious luxury mixed in, you're in the right place. These spots are the best of the best Tulum beach hotels you can't miss if you want to have the ultimate dream vacation in Mexico's hippest beach community.
These hotels aren't just about resting your head somewhere cozy at night — they're about having an experience from the moment you step foot in the front door (if there even is one). Plus, you can be sure that all of these properties are either situated directly on the beach or just across the street (ie. a one minute walk) — I even included a handy map at the end of this post for you to check out! It showcases every hotel with its location in proximity to the best restaurants and sites in town, so you can ensure that you're booking the right accommodation for your needs.
Now get out the margarita mix and celebrate, because your epic Tulum trip is about to become a reality!
QUICK TIPS BEFORE YOU VISIT
Book early (6-9 months ahead of time if possible) as the best hotels get booked up FAST. Plus, you'll have a better chance at finding a price you feel good about this way
Tulum is a pretty great year-round destination. However, June, September and October are the wettest months while winter sees the highest influx of tourists. I personally visited in mid-March and didn't feel that it was too crowded for my liking, but it's up to your judgment! November and December are popular times to go for those that enjoy warm weather but nothing crazy hot
Bring the cash you'll need for the trip if possible as ATMs are not super reliable and sometimes run out of money (especially the ones by the beach). Most places prefer cash over credit card. I discuss this more over in my full Tulum guide.
People have been asking me a lot about the "seaweed issue" which is unpredictable and has been going on for years. We had seaweed during my trip, but it didn't personally affect my experience because I still had a blast doing everything else in Tulum like eating, shopping, biking, laying out at the beach, etc. If you must swim in the ocean during your trip, you can still book a yacht cruise and get out on the water no problem. Or you can make sure to book a place that has a pool. You could also get lucky and have a seaweed-free trip, it's just up to Mother Nature!
THE TOP TULUM BEACH HOTELS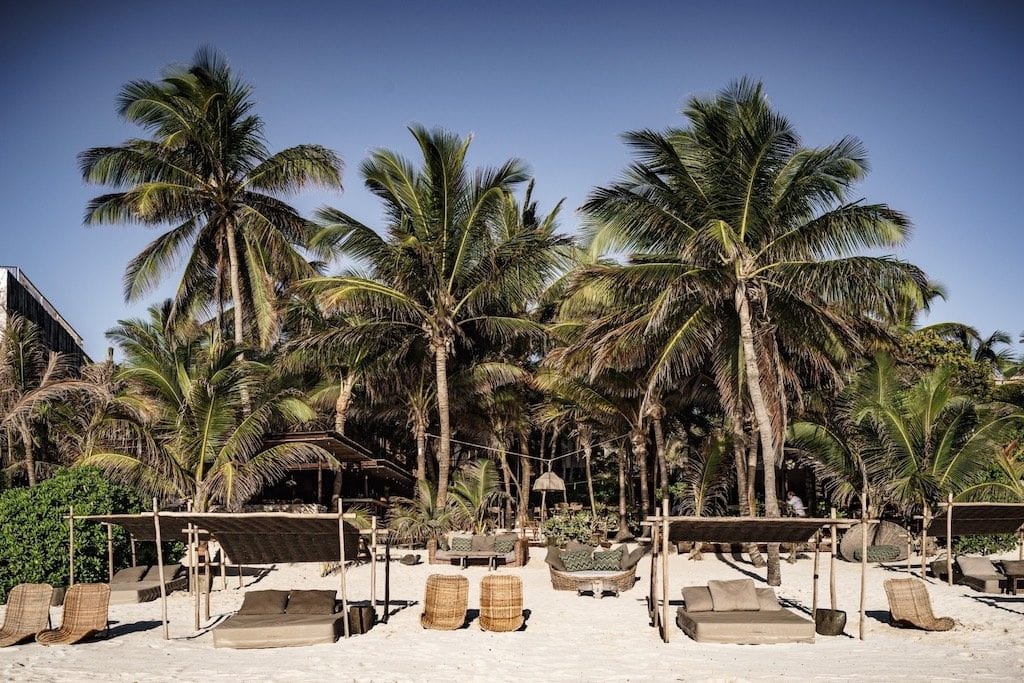 BE TULUM
One of the most beautiful and well-designed properties in all of Tulum, Be Tulum is a must visit if only for a seaside lunch with a side of margaritas. If you're willing to cover the nightly price, you won't regret treating yourself to the celebrity life at this luxurious hotel situated along the most happening strip of town. Bonus: the stunning Yaan wellness spa is directly across the street!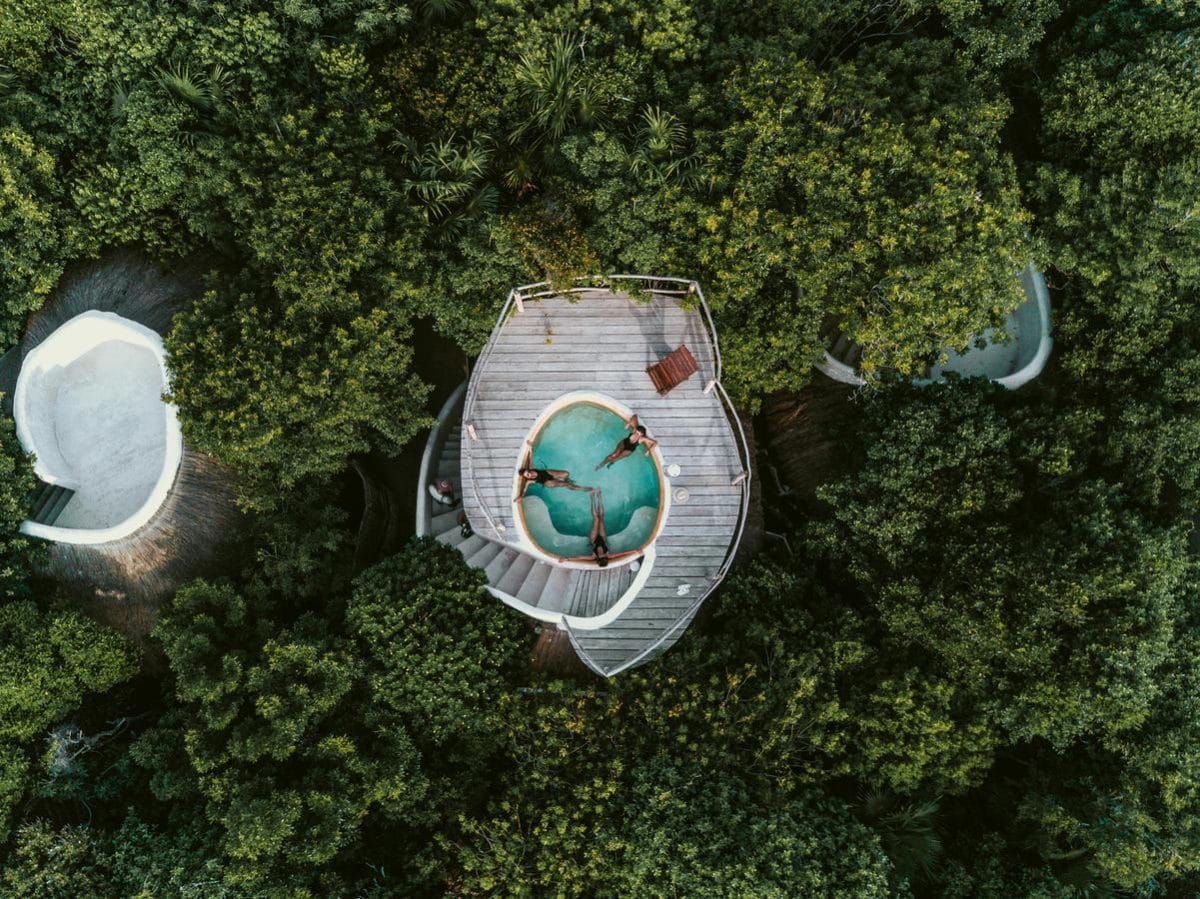 PAPAYA PLAYA PROJECT
For social butterflies, Papaya Playa Project will be your ideal stomping ground. This beach hotel right on the sand in Tulum is known for their epic dance parties in the evenings.
Don't forget to protect your trip with travel insurance. World Nomads is my go-to provider and they've saved me over $1,000 in expenses due to travel mishaps. Get a free quote below! 
LA VALISE
With the perfect mix of beach and jungle vibes, La Valise is a newer boutique hotel to the Tulum scene having just opened in January of 2018. The founder's mission was to capture the true Mexican spirit and La Valise does that in spades. Between the can't-beat-it location and beautiful aesthetics, it's truly the ideal escape for anyone looking to maximize their relaxation time.
NOMADE
One of the more bohemian and eclectic hotels along the Tulum beach strip, Nomade has become well-known on social media for its colorful decor and Moroccan-inspired vibes. Even if you don't book a room here, the on-site restaurant, Macondo, is worth a visit for a delicious veggie-fueled lunch.
THE TULUM TREEHOUSE
Located on the lush jungle side of the main beach thoroughfare, this minimalist's dream villa is still just steps away from the beach and offers an intimate setting that's perfect for travelers visiting Tulum with a group.
Check it out on The Perfect Hideaway
AZULIK
This eco-friendly hotel was built with only local materials and might just be the coolest structure on the planet. Every room, from each guest suite to the upstairs treehouse bar at Kin Toh, looks like it's straight out of a fairytale. This is the ultimate place to unplug — you'll find no TV or electric lights here, and evenings at Azulik have an especially romantic vibe.
NEST TULUM
How does spending your day lounging in a hammock or reading on a daybed with a spicy margarita sound? This intimate 9-room beachfront property is a total dreamscape for traveler's looking for that signature Tulum feel.
MAMASAN TREEHOUSES AND CABINS
Set slightly off the beach on the jungle side of the road, Mamasan Treehouse and Cabins gives guests the chance to experience the best of both worlds — waking up surrounded by lush jungle each morning while spending days soaking up the sun just steps away on the white sand.
CHIRINGUITO TULUM  
Every room includes a terrace at Tulum's beautiful Chiringuito hotel. Free breakfast is also included on site each morning which makes for a relaxing start to the day without having to rush off anywhere at all.
IKAL TULUM HOTEL 
As unique as they come, Ikal Tulum is a once-in-a-lifetime hotel stay that will truly transport you to another world — and one that just so happens to be situated on one of the most gorgeous beaches in the Caribbean. This spot is on the Northern end of the Tulum beach closer to the Mayan ruins but a bit set away from the main restaurants and bars by the beach.
HABITAS 
This chic eco-resort sits at the northern end of the main road in Tulum's beach section of town and is perfect for couples looking for a relaxing stay away from the crowds.
SANARA
Boasting an incredibly scenic yoga studio right off the sand, Sanara is the perfect place for those looking for a Tulum beach vacation infused with a serious side of wellness. This property was voted #3 in 2017 for Harper's Bazaar's 150 Greatest Hotels in the World.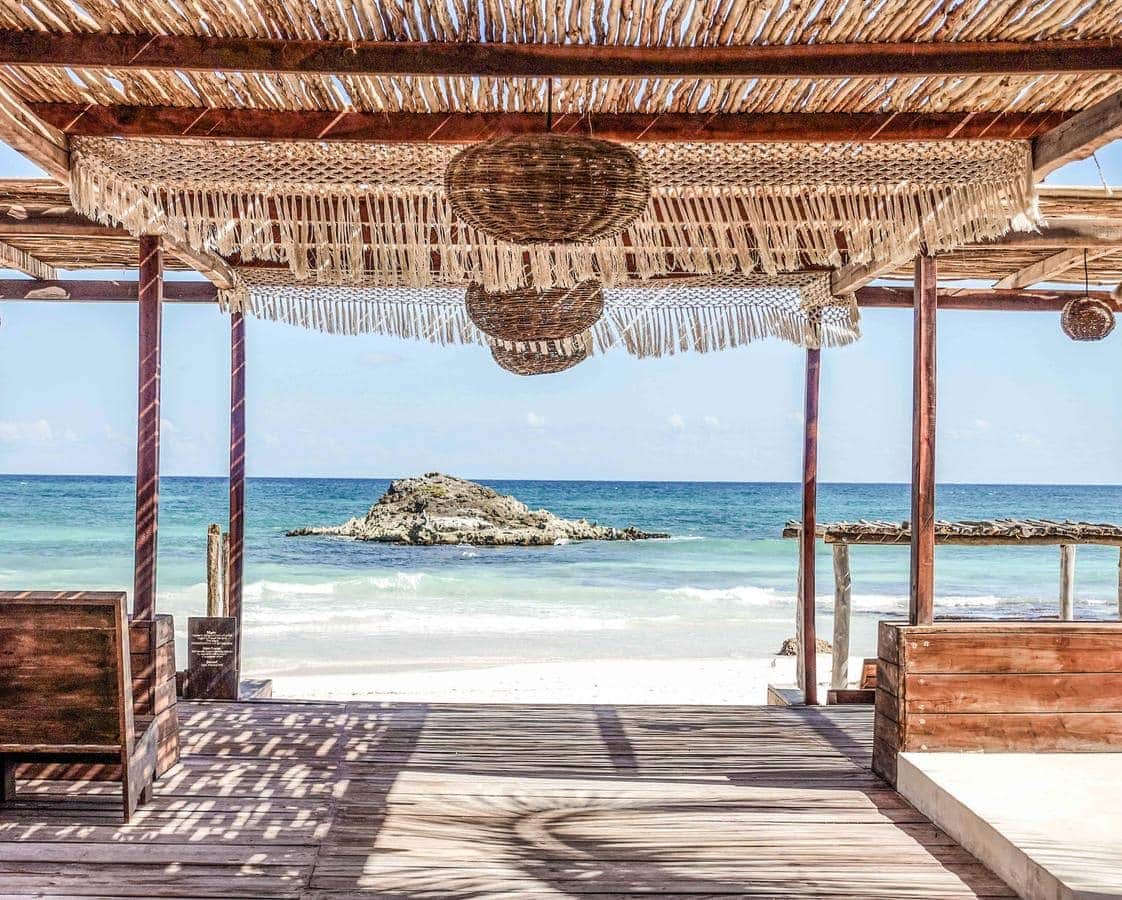 AMANSALA
Another popular spot amongst yoga lovers, this wellness resort is the perfect place to get back in touch with your body while surrounding yourself with the beauty of Tulum's Caribbean waters.
PLAYA MAMBO ECO CABANAS
From penthouse bungalows with ocean views to peaceful whitewashed cabanas, Playa Mambo's eco accommodations are ideal for anyone looking for that laidback Caribbean vibe.
DELEK TULUM BY AHAU COLLECTION
With a strong focus on sustainability, Delek Tulum doesn't sacrifice an inch in comfort. Delek blends indigenous Mexican crafts and materials with the natural surroundings for a perfect blend of culture and beauty that flows seamlessly throughout the property.
Planning a trip right now? These are all the websites and services I love for booking everything from flights, tours, accommodation and more:
READ MORE: 
The Foodie's Restaurant Guide to Tulum
How to Decide Where to Stay in Tulum – Town or Beach?
FOUND THIS POST HEPFUL? PIN IT FOR LATER