If you're looking for a hotel with that true Tulum flavor—aka mystical jungle vibes with some serious luxury mixed in, you're in the right place. These spots are the best of the best Tulum beach hotels you can't miss if you want to have the ultimate dream vacation in Mexico's hippest beach community.
These hotels aren't just about resting your head somewhere cozy at night—they're about having an experience from the moment you step foot in the front door (if there even is one).
Plus, you can be sure that all of these properties are either situated directly on the beach or just across the street (ie. a one-minute walk), but still along the main Tulum beach hotel zone.
I even included a handy map at the end of this post, so you can easily see where everything is located. It showcases every hotel with its location in proximity to the best restaurants and sites in town, so you can ensure that you're booking the right accommodation for your needs.
Now get out the margarita mix and celebrate, because your epic Tulum trip is about to become a reality!
My TOP Picks for the Best Beach Hotels in Tulum!

Don't have time to read the whole post? Take a look at my three all-time favorite beach hotels in Tulum!

➡️ Luxury Boutique Hotel: La Valise
➡️ Best Location: Delek Tulum
➡️ Budget Beachfront: Casa Ganesh
Quick Tips Before You Visit
There are definitely a few things you want to know before planning your trip and booking any of these top Tulum beach hotels, so make sure to read these first!
Book early (6-9 months ahead of time if possible) as the best hotels sell out FAST. Plus, you'll have a better chance at finding a price you feel good about this way
Best time to visit: Tulum is a pretty great year-round destination. However, June, September and October are the wettest months while winter sees the highest influx of tourists. I personally visited in mid-March and didn't feel that it was too crowded for my liking, but it's up to your judgment! November and December are popular times to go for those that enjoy warm weather but nothing crazy hot.
Bring cash! ATMs around Tulum are not super reliable and sometimes run out of money (especially the ones by the beach), so just make sure you're stocked up on pesos before you arrive. More and more Tulum businesses are also taking US dollars.
Know what to expect: Luxury hotels in Tulum are a bit different in the fact that they have a more eco feel. That means that a lot of these hotels might feel a bit more rustic and "one with nature" if you will as opposed to big resorts you might find in Cancun or other parts of Mexico.
Also to note:
You make have heard about the "seaweed issue" that Tulum sometimes faces, which is unpredictable and has been going on for years. People always seem concerned about this when booking Tulum hotels on the beach, but the truth is you can't entirely predict or control it.
The good news is: Tulum isn't one of those places where there is nothing else to do but enjoy the beach.
I've had seaweed during trips to Tulum before, but it never personally affected my experience because I still have a blast doing everything else in Tulum like trying all the restaurants, shopping, biking, visiting cenotes, and exploring the nightlife.
If this is a huge concern for you, make sure to book a Tulum beach hotel that also has a pool so either way you're set!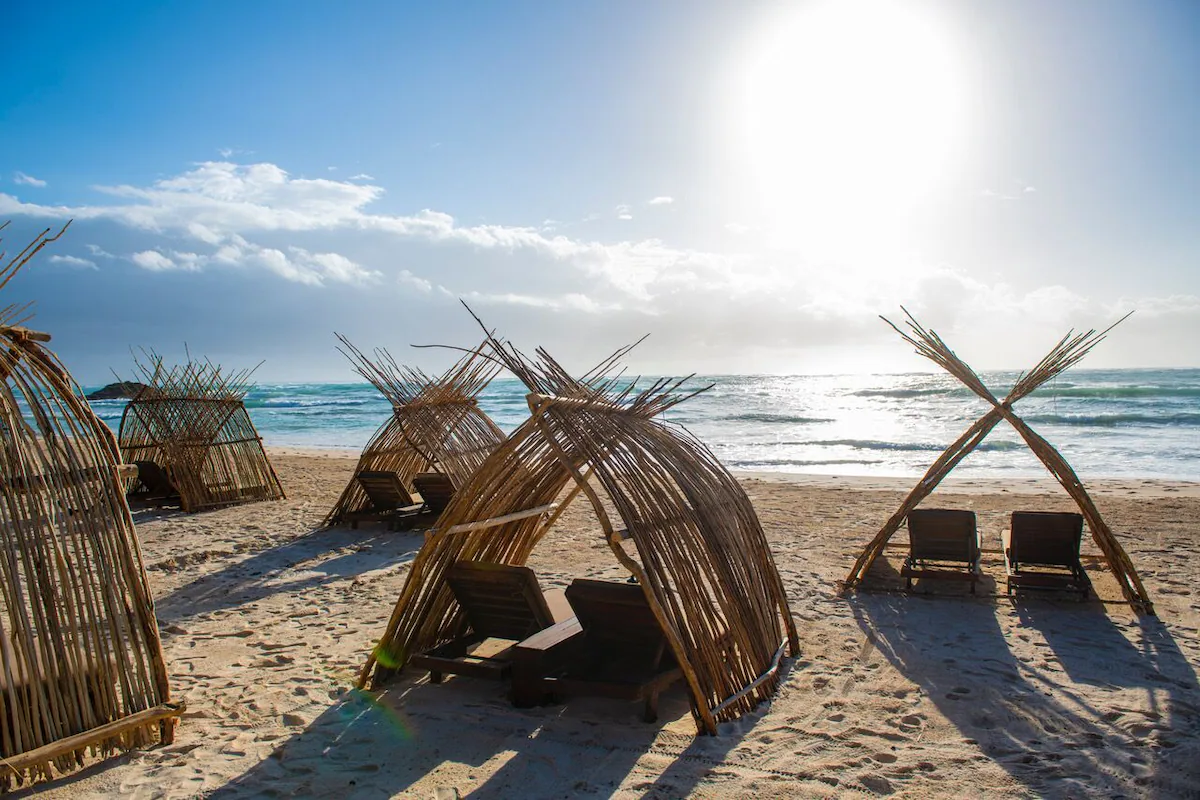 Quick Guide to the Top Tulum Beach Hotels:
The Top Tulum Beach Hotels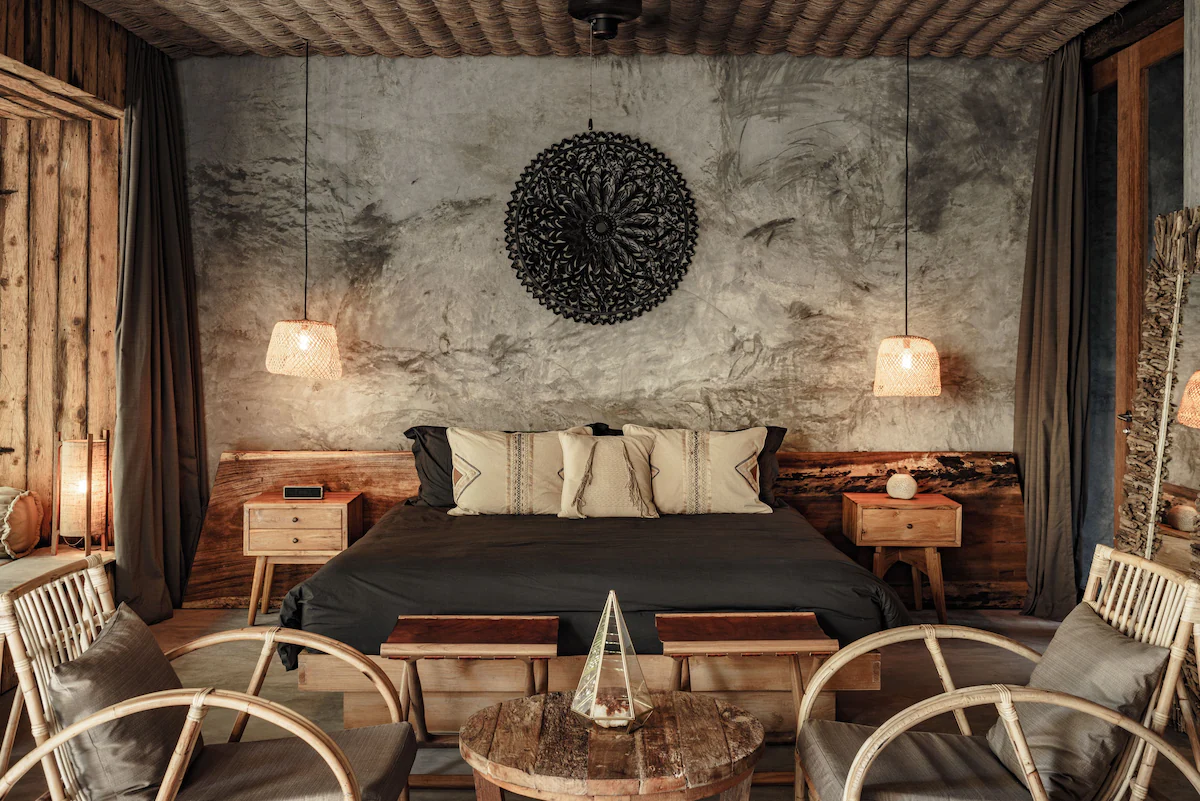 Be Tulum
One of the most beautiful and well-designed properties in all of Tulum, Be Tulum, is a must-visit if only for a seaside lunch with a side of margaritas.
If you're willing to cover the nightly price, you won't regret treating yourself to the celebrity life at this luxurious hotel situated along the most happening strip of town.
It's definitely one of the most incredible hotels in all of Tulum that will blow your trip out of the water.
Best For: Luxury travelers with a high budget and love of eco-design.
Top Amenities : Pool, free cooked-to-order breakfast every morning, free parking, airport transfers, two restaurants on-site, 24 hour room service and a full-service spa.
What's Nearby: The Yäan Wellness spa, Nomade Tulum's beach club, Charly's Vegan Tacos, and Sushiclub Tulum.
Papaya Playa Project
For social butterflies, Papaya Playa Project is your ideal stomping ground. This beach hotel right on the sand in Tulum is known for their epic dance parties and DJs that sometimes play late into the evenings. So if you want to get a true taste of the Tulum nightlife, this is a great place to stay.
You've also probably seen this hotel on Instagram because of the iconic rooftop pools on some of the cabanas. They make for a fun photo opp if you have a drone!
One reason why I especially love this hotel is the location. It's situated more on the northern side of the private Tulum beach, which means it's a bit more secluded than other Tulum beach hotels (aka, you'll get a lot less foot traffic on the beach during the day).
Plus, since it's on the northern tip, it's easier to get in and out of the beach section of Tulum by car if you're planning lots of excursions into town or out to ruins and cenotes.
Want to get the in-depth scoop? You can read my full review from my stay at Papaya Playa project here.
Best For: Social butterflies and late night jungle parties.
Top Amenities: Free parking, individual rooftop pools in select rooms, regular events and parties on site with DJs, airport transfers, on-site car rental, a yoga center, and bike rentals.
What's Nearby: Azulik's Kintoh restaurant, Habitas, and the Sfer Ik art center.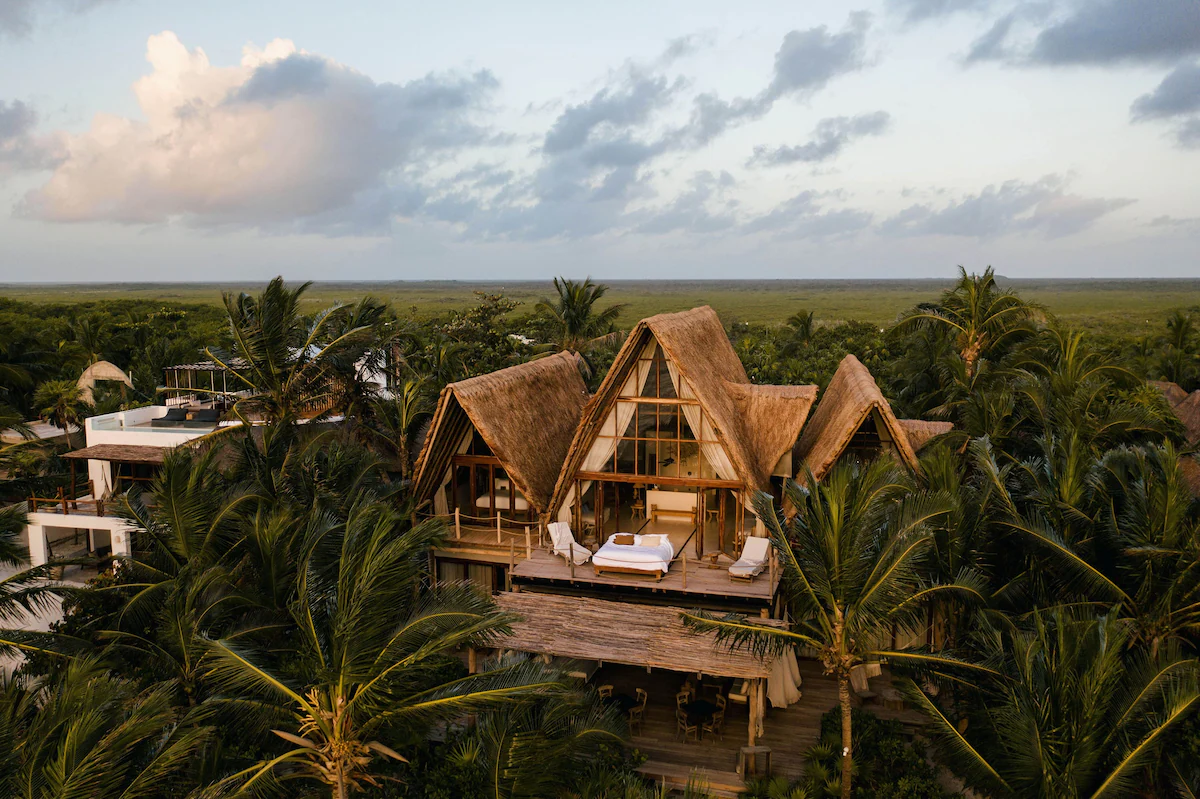 La Valise
With the perfect mix of beach and jungle vibes, La Valise is one of the best boutique hotels in Tulum hands down. La Valise is part of Small Luxury Hotels of the World and has won Travel and Leisure's World's Best Awards multiple times.
This hotel is perfect for couples and honeymooners—or just those that want a bit of seclusion—as it's much more intimate than many of the other hotels on Tulum Beach. There are just 11 beachfront rooms on the beach side of the hotel and 11 more on the jungle side.
The founder's mission at La Valise was to capture the true Mexican spirit and they've accomplished that in spades. Between the can't-beat-it location and beautiful aesthetics, it's truly the ideal escape for anyone looking to maximize their relaxation time.
Best For: Couples, honeymooners, or a secluded escape.
Top Amenities: Free breakfast featuring local cuisine, air conditioning, free parking, pool, airport transfer, two restaurants, two coffee shops, full-service spa and bike rentals.
What's Nearby: Yäan Wellness spa, NÜ Tulum, Sian Ka'an Biosphere Reserve, and some cute local shops.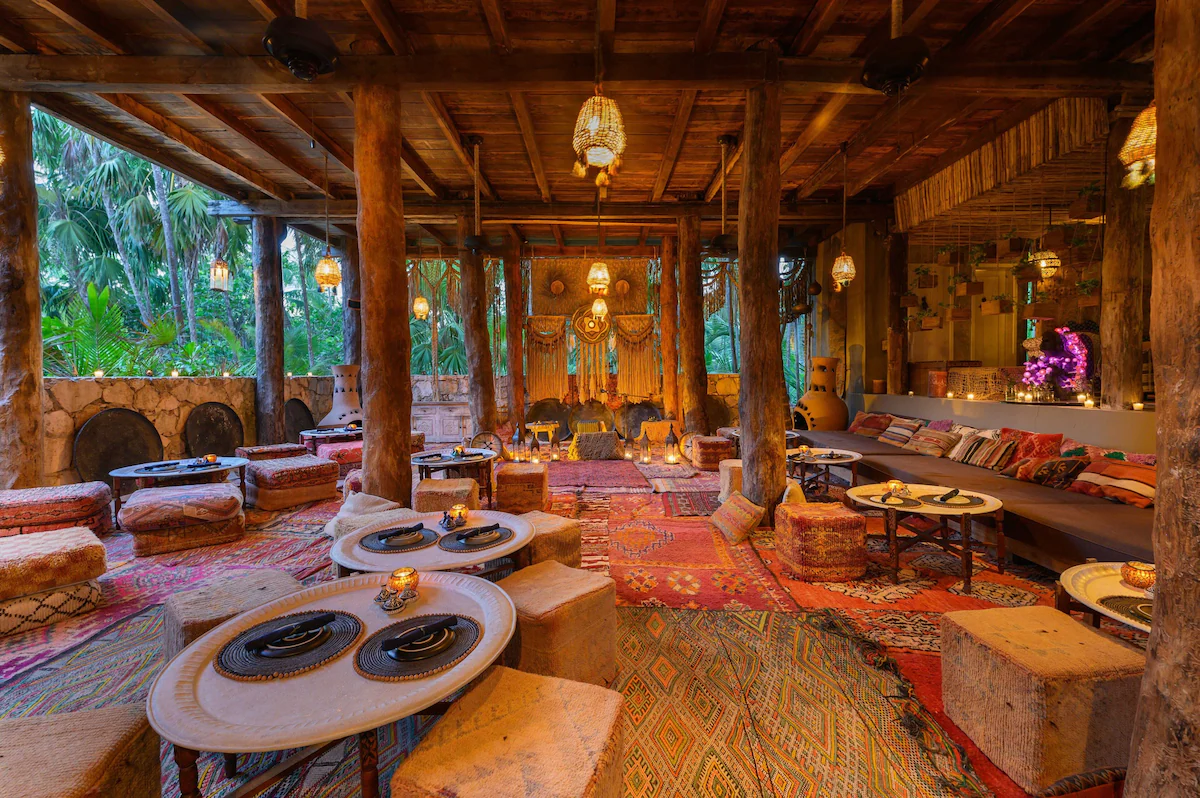 Nomade
One of the more bohemian and eclectic hotels along the Tulum beach strip, Nomade has become well-known on social media for its colorful decor and Moroccan-inspired vibes.
It's been a Tulum beach staple for years and continues to get some of the best reviews in the area, drawing global creatives and wellness travelers. That's thanks to their weekly wellness programming and many beautifully crafted areas throughout the property that cater to mindfulness and relaxation.
Even if you don't book a room here, the on-site restaurant, Macondo, is worth a visit for a delicious veggie-fueled lunch.
Best For: Global creatives and wellness lovers.
Top Amenities: Pool, room service, airport shuttle, air conditioning, on-site restaurant, and yoga classes.
What's Nearby: WILD Tulum restaurant, Yäan Wellness spa, and the Sian Ka'an Biosphere Reserve.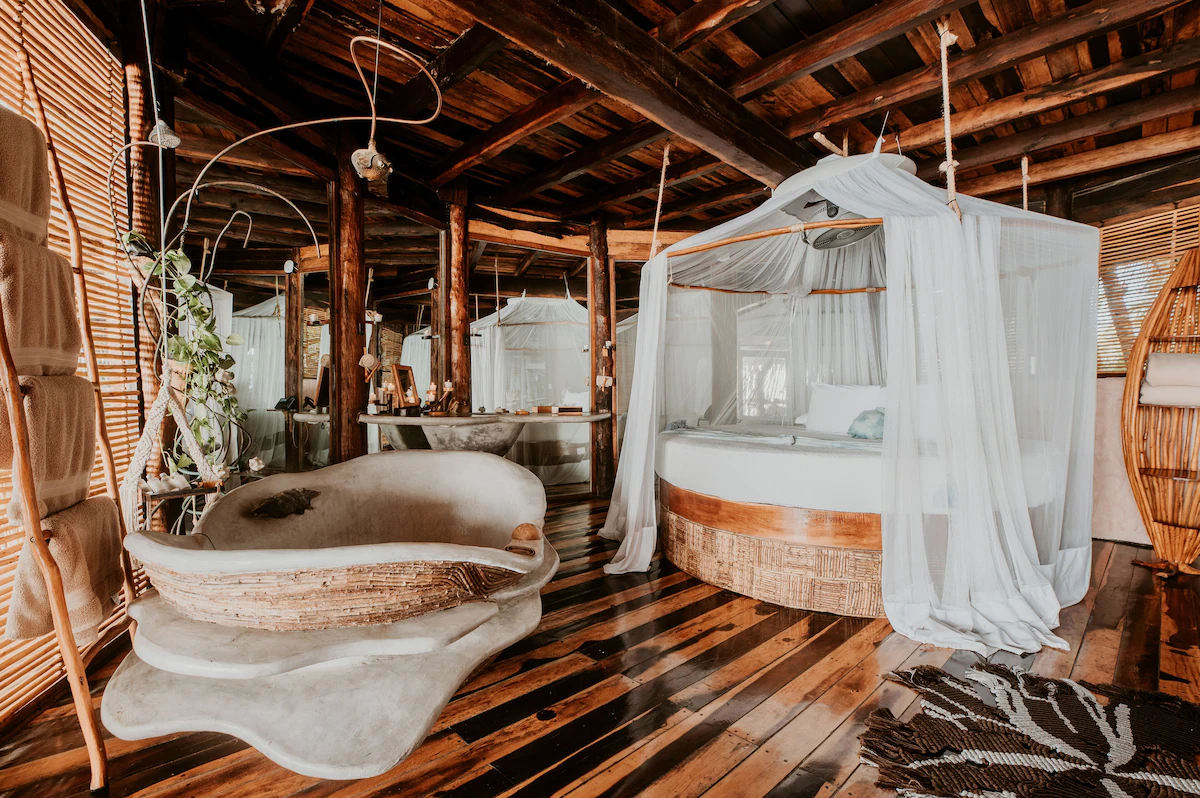 Azulik
If you're looking for a once-in-a-lifetime, adults-only experience in Tulum, then Azulik will be all that and more.
This eco-friendly hotel was built entirely out of local materials (think bamboo everywhere), and it might just be one of the coolest structures on the planet. Every room, from each guest suite to the upstairs treehouse bar at Kin Toh, looks like it's straight out of a fairytale.
Plus, this is the ultimate place to unplug—you'll find no TV, phones or electricity here, giving evenings at Azulik an especially romantic vibe.
Best For: The ultimate eco-friendly fairytale trip to Tulum.
Top Amenities: High-end restaurant Kintoh on site, room service, spa, yoga classes, and free parking.
What's Nearby: Boccanera Pizzeria y Cerveceria, Kin Toh, Sfer Ik, and Papaya Playa Project.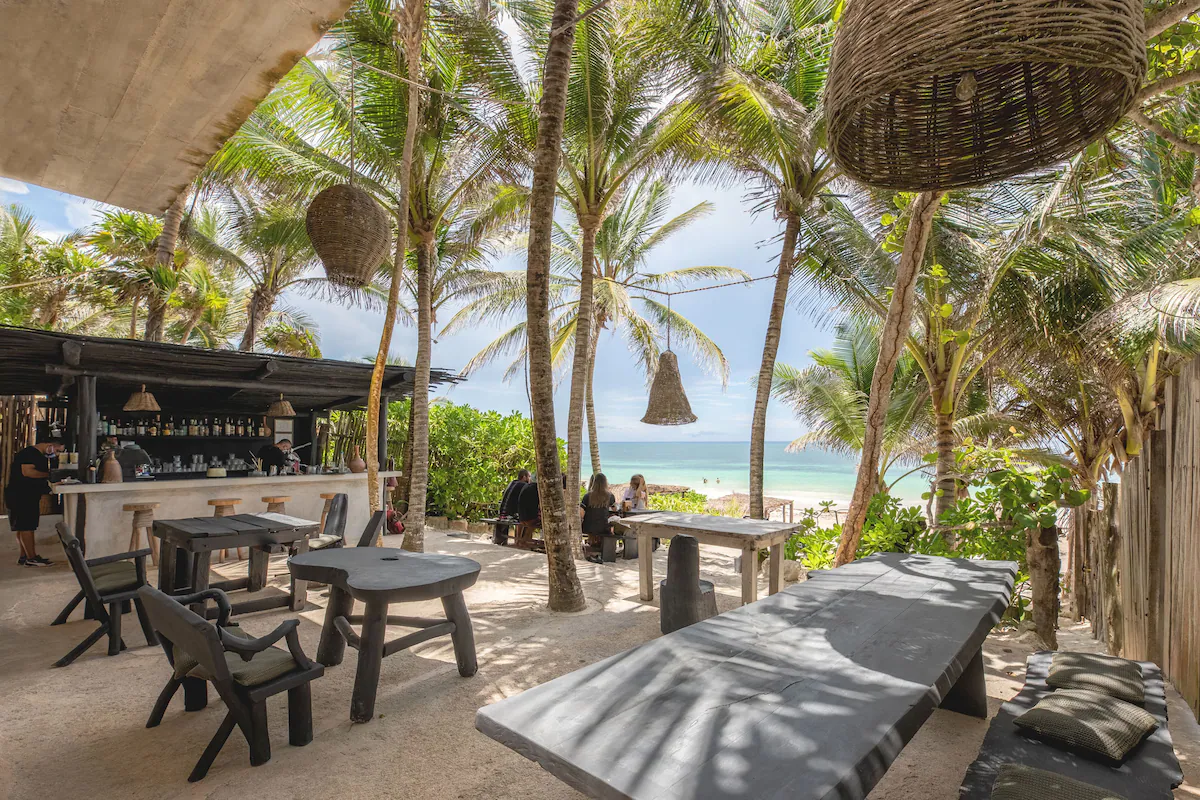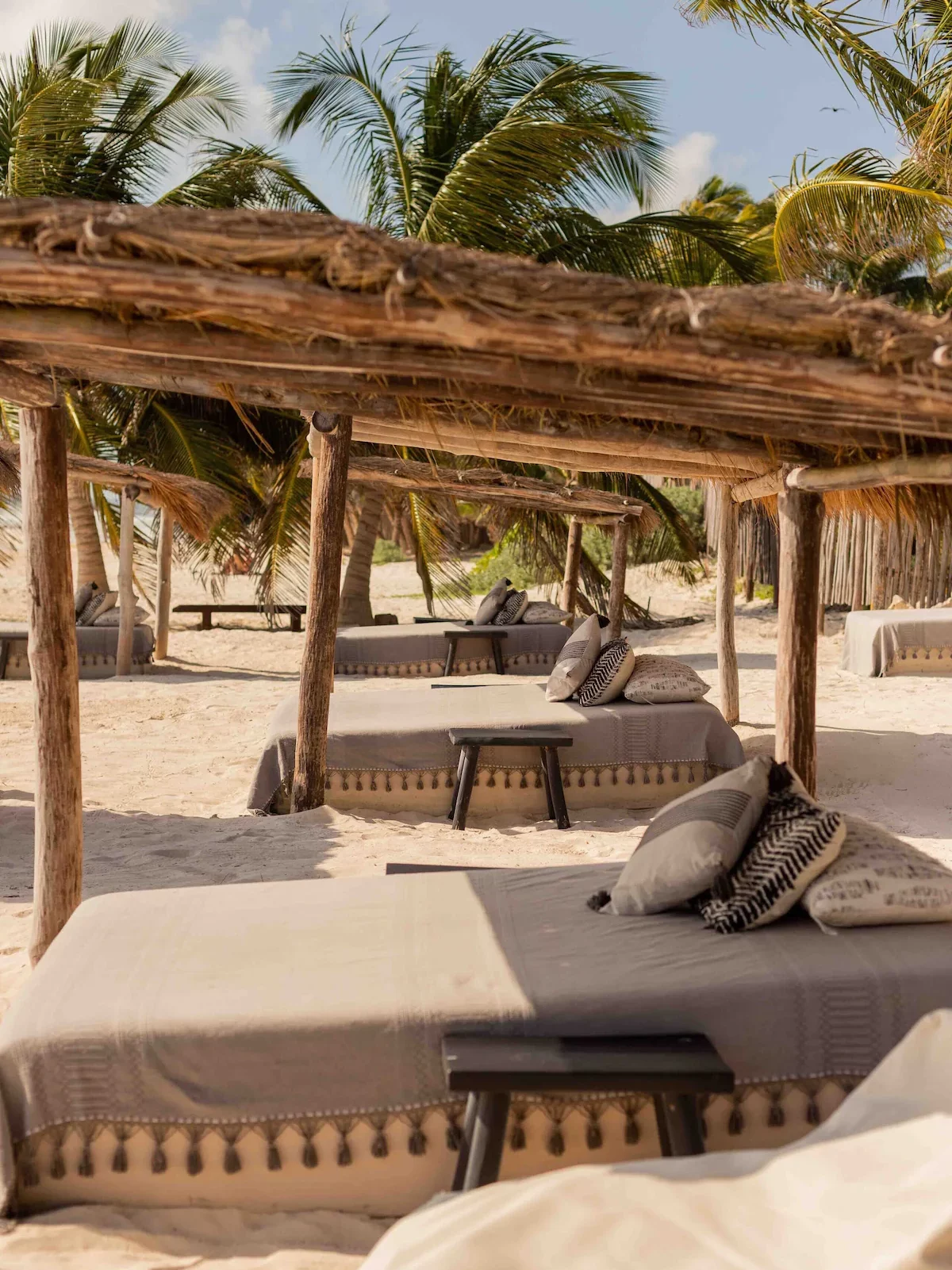 Nest Tulum
How does spending your day lounging in a hammock or reading on a daybed with a spicy margarita sound?
Well, you can get that and much more at this intimate 12-room beachfront property that's a total dreamscape for traveler's looking for that signature Tulum feel.
Plus, the hotel is adults-only and free of WIFI in the rooms, so you can truly breathe easy knowing you're checking in to full relaxation mode. If you need to stay connected, don't worry—NEST still has WIFI in common areas for all guests.
Best For: A laidback and relaxed escape, plus it's a great mid-range boutique hotel.
Top Amenities: Air conditioning, snack bar and restaurant, breakfast included, desk in rooms, airport shuttle, room service and free parking.
What's Nearby: NÜ Tulum, WILD Tulum restaurant, and Macondo restaurant at Nômade,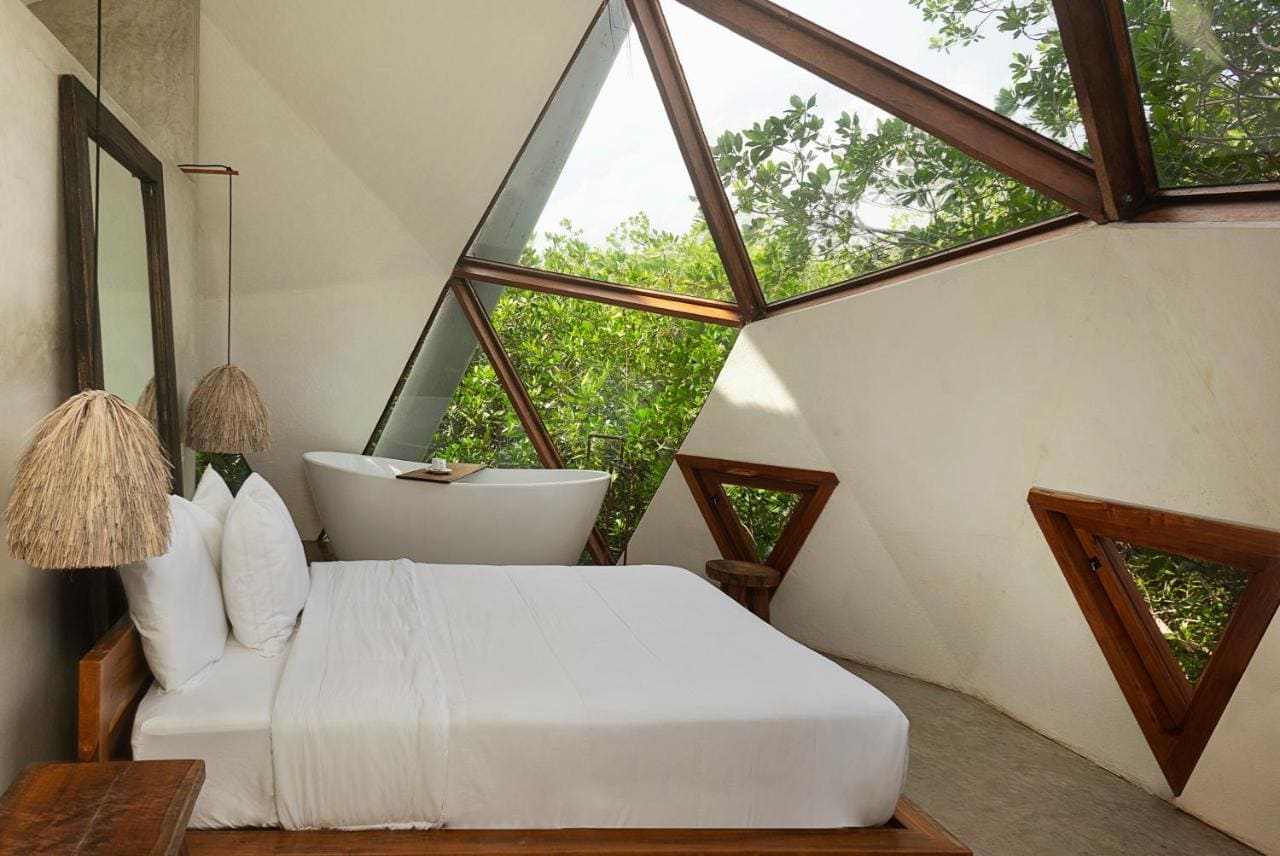 Mamasan Treehouses & Cabins
Set slightly off the beach just on the opposite side of the road, Mamasan Treehouses & Cabins gives guests the chance to experience the best of both worlds: waking up surrounded by lush jungle each morning while spending days soaking up the sun just steps away on the white sand.
The rooms here are really cool architecturally and definitely provide a unique Tulum beach experience, while still being walking distance to all the best restaurants and bars.
The location of Mamasan is truly unbeatable as it's smack dab in the middle of the hotel zone, in walking distance to tons of exciting things to do in Tulum.
Best For: Convenience and those traveling with a furry friend—pets are welcome at an added charge!
Top Amenities: Free parking, pet-friendly, room service, and air conditioning.
What's Nearby: Tulum Jungle Gym, Bagatelle Tulum, Taboo Beach Club, Ziggy's Beach Club, Santo Mercado and Confessions bar.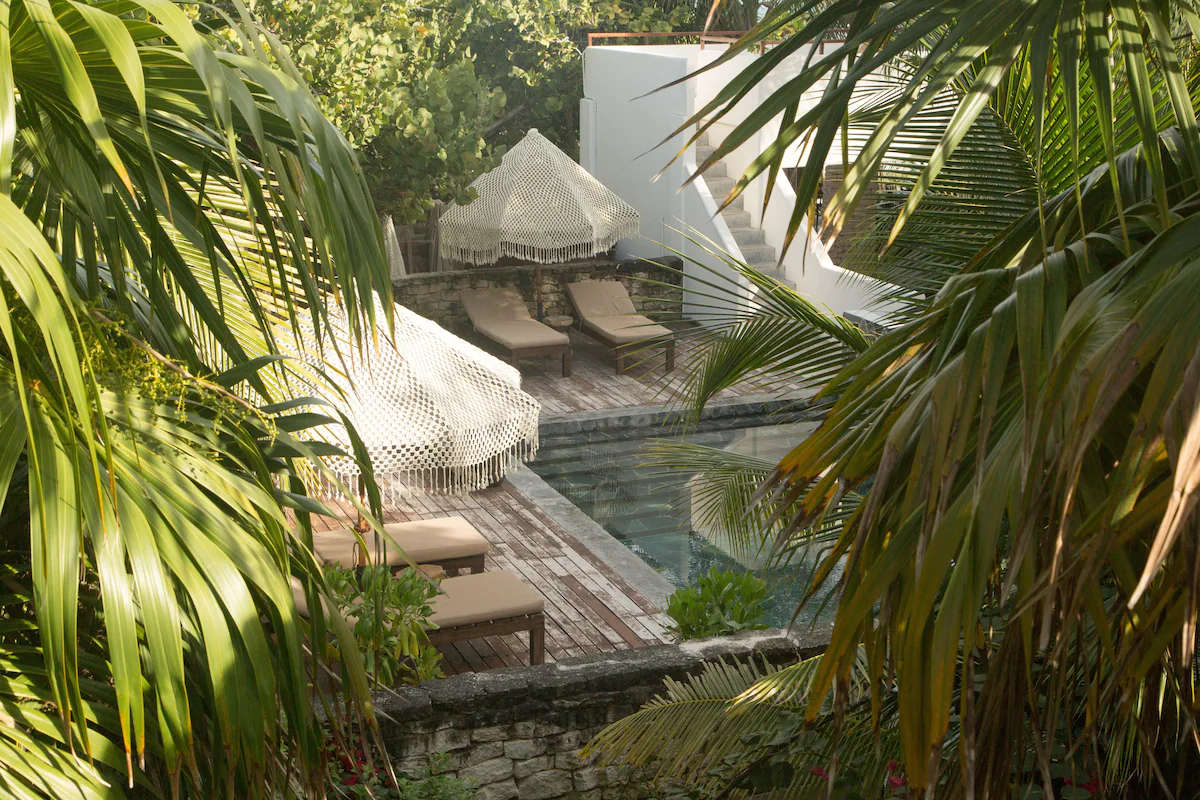 Chiringuito Tulum
Every room includes a terrace at Tulum's beautiful Chiringuito hotel. Free breakfast is also included on site each morning which makes for a relaxing start to the day without having to rush off anywhere at all.
One of the things guests love most here is how quiet and peaceful it is—and if you book early enough, you can snag a room with a private pool for even more privacy and seclusion.
Best For: Boutique hotel lovers looking for peace and privacy.
Top Amenities: Pool, free breakfast, free parking, airport transfer, and spa.
What's Nearby: LOCO Tulum, Charly's Vegan Tacos, Sian Ka'an Biosphere Reserve and Yäan Wellness spa.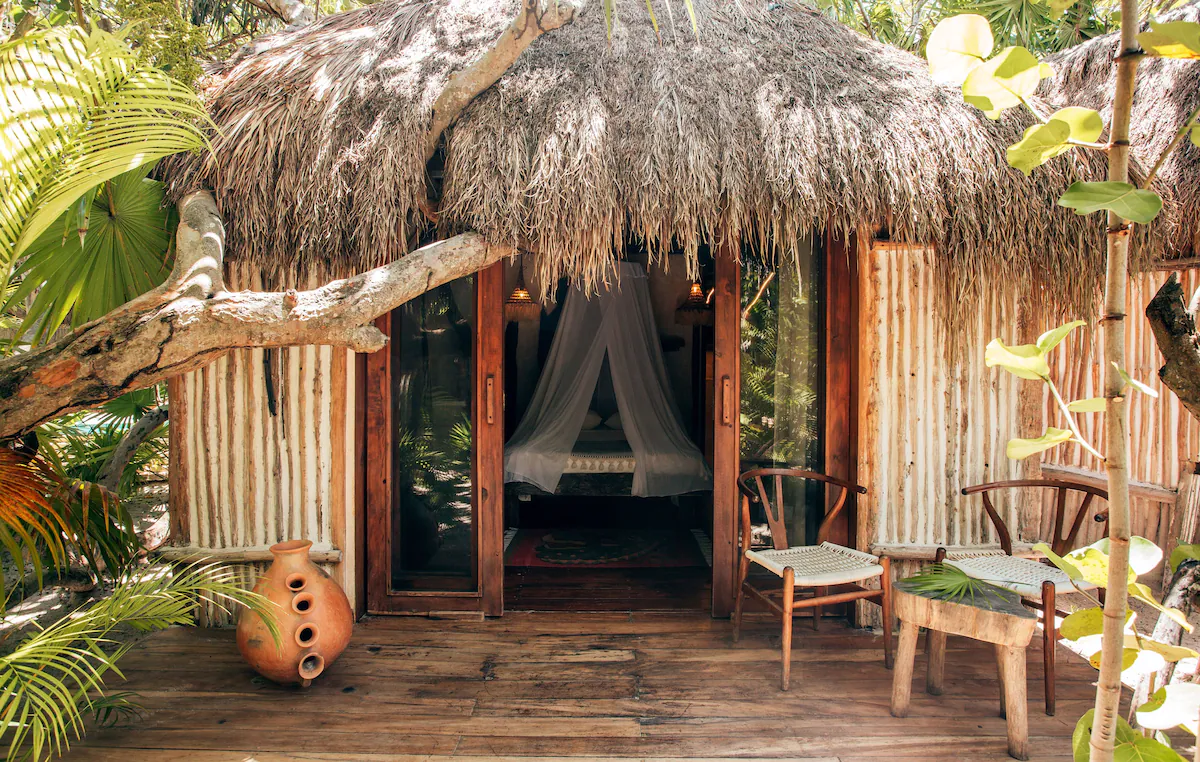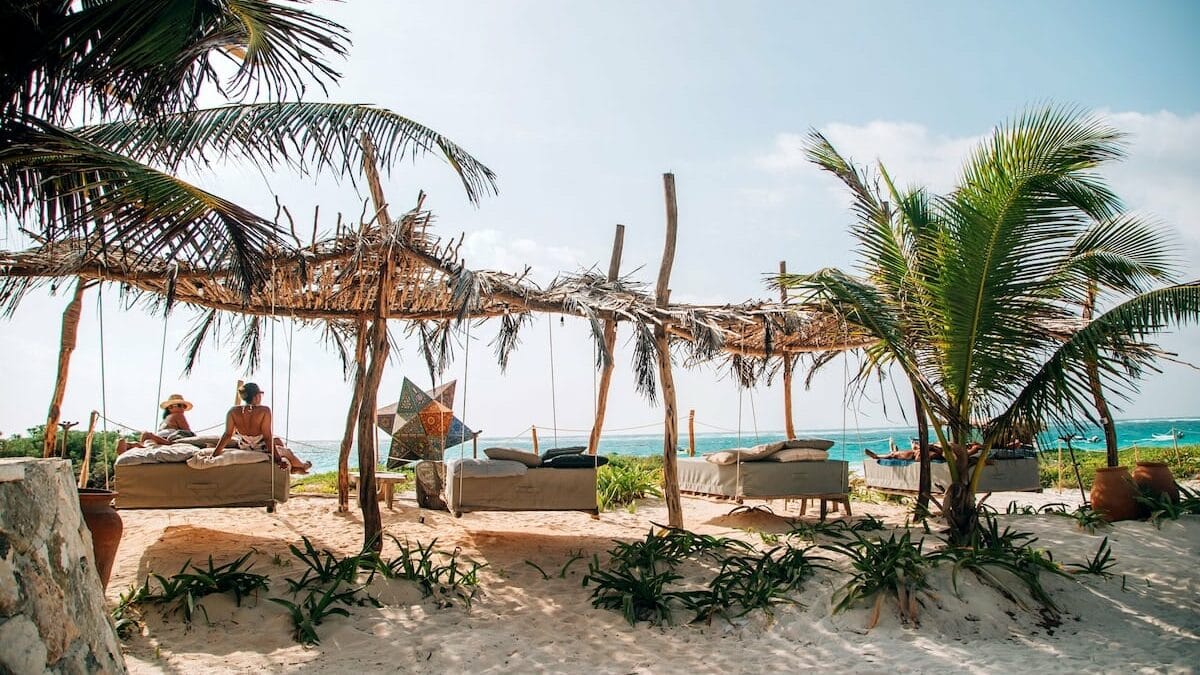 Ikal Tulum Hotel
As whimsical as they come, Ikal Tulum is an incredibly unique hotel stay that will truly transport you to another world—and one that just so happens to be situated on one of the most gorgeous beaches in the Caribbean.
This spot is on the Northern end of the Tulum beach on the public beach side closer to the Mayan ruins. While it's a bit set away from the main buzz of restaurants and bars by the beach, it's super close to the Zona Arqueológica de Tulum where you can view the ancient Mayan ruins.
As far as Tulum Beach hotels go, this one is pretty well priced for those looking for something more affordable.
Best For: Those that want easy access to the Tulum Ruins and public beach area of Tulum.
Top Amenities: Air conditioning, family rooms, room service, swimming pool, yoga classes, restaurant on site and live music performances.
What's Nearby: The Tulum Ruins, Parque Nacional Tulum, Pancho Villa, and CINCO Tulum.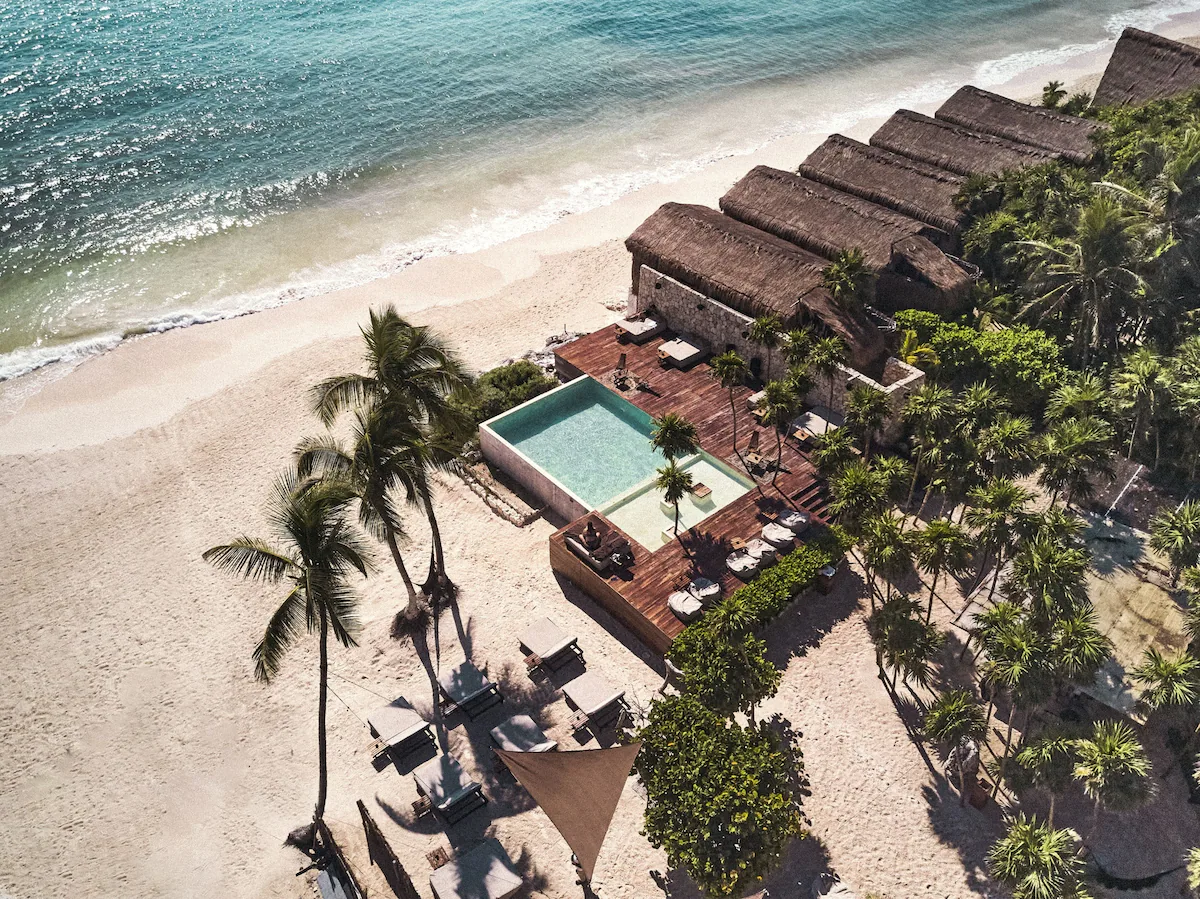 Habitas
This chic eco-resort sits right at the beginning of the hotel zone on Tulum Beach, and is perfect for couples looking for a relaxing stay away from the crowds.
Because of it's location, it's one of the easiest Tulum Beach hotels for getting between downtown Tulum and the beach section without dealing with traffic.
All the bungalows here are glamping-style, but feature air conditioning and private bathrooms so you still get all the luxuries of staying in a regular hotel.
I haven't personally stayed at Habitas yet, but I've spent a good amount of time on the property and I can say that the vibe here is incredible.
So whether you plan on booking as a hotel guest, visiting for one of their events, or booking a meal at their amazing restaurant, you'll definitely want to check it out one way or the other.
Best For: Luxury glamping-style accommodations.
Top Amenities: Air conditioning, pool, yoga classes, and on-site restaurant.
What's Nearby: Downtown Tulum, Papaya Playa Project, and Gitano Beach Club.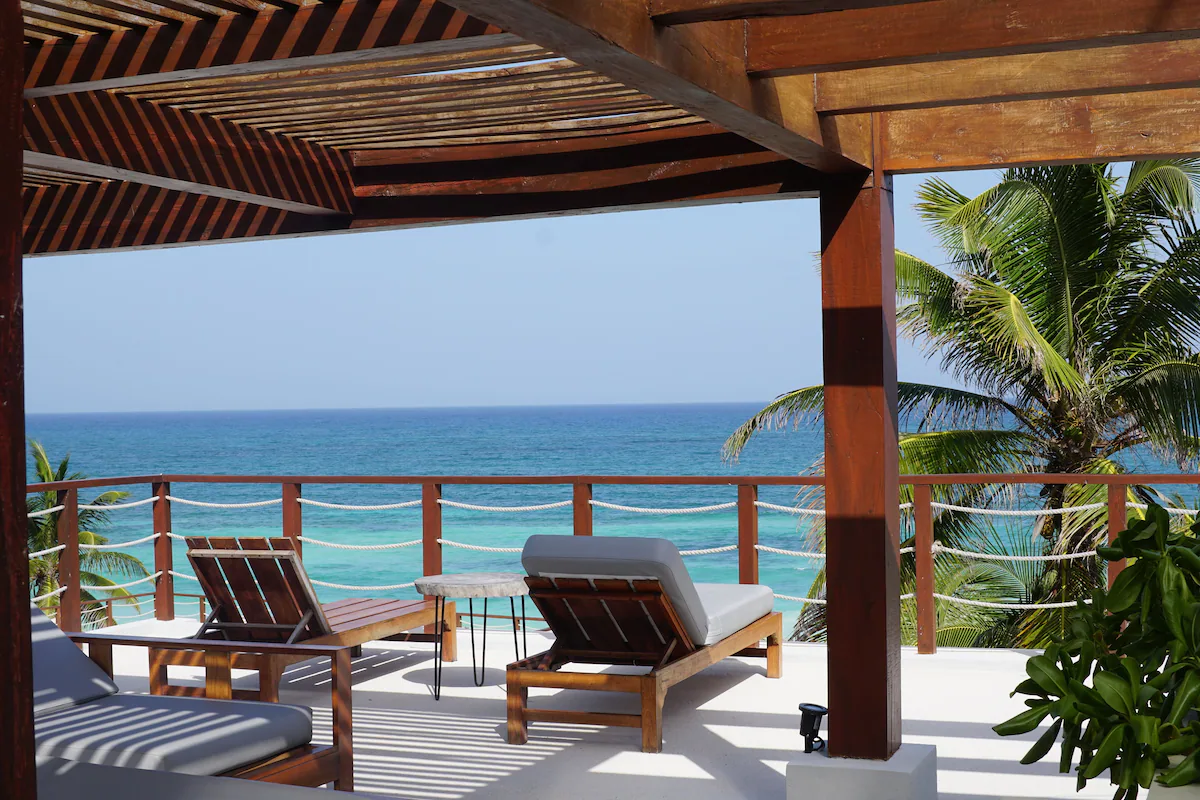 Sanara
If you're looking to stay at one of the best Tulum Beach hotels with kids or small groups, Sanara is a great option. They have various rooms with twin beds in addition to the main bed that allows for your room to sleep up to three or four people.
Besides that, Sanara is a beautiful boutique hotel with a focus on wellness and they have an incredibly scenic gym/yoga studio right off the sand where you can downward dog to your heart's desire all while feeling the ocean breeze on your skin.
This property was voted #3 in 2017 for Harper's Bazaar's 150 Greatest Hotels in the World, and it's the perfect place for those looking for a Tulum beach vacation infused with a serious side of relaxation and wellness.
Best For: Small groups or travelers with kids and/or dogs—they're pet friendly!
Top Amenities: Gym, airport transfer, free parking, pool, pet-friendly, and babysitting with an added charge.
What's Nearby: Matcha Mama, cute local clothing boutiques, BAK Steakhouse, Atila and Bal Nak.
Amansala
This 3-star beachfront resort in Tulum is a popular spot amongst yoga lovers and digital nomads. It's one of the most affordable options in comparison to most of the other Tulum Beach hotels in the area, making it a great option for longer stays.
This wellness resort is the perfect place to get back in touch with your body while surrounding yourself with the beauty of Tulum's Caribbean waters, while still being in the thick of all the best stuff happening at the beach.
Best For: Longer stays, yoga lovers, and digital nomads.
Top Amenities: Free breakfast included, pet-friendly, free parking, pool, on-site restaurant, yoga classes and coworking spaces.
What's Nearby: El Tábano, Posada Margherita, Beso Tulum, Khyra and Coco Beach Club.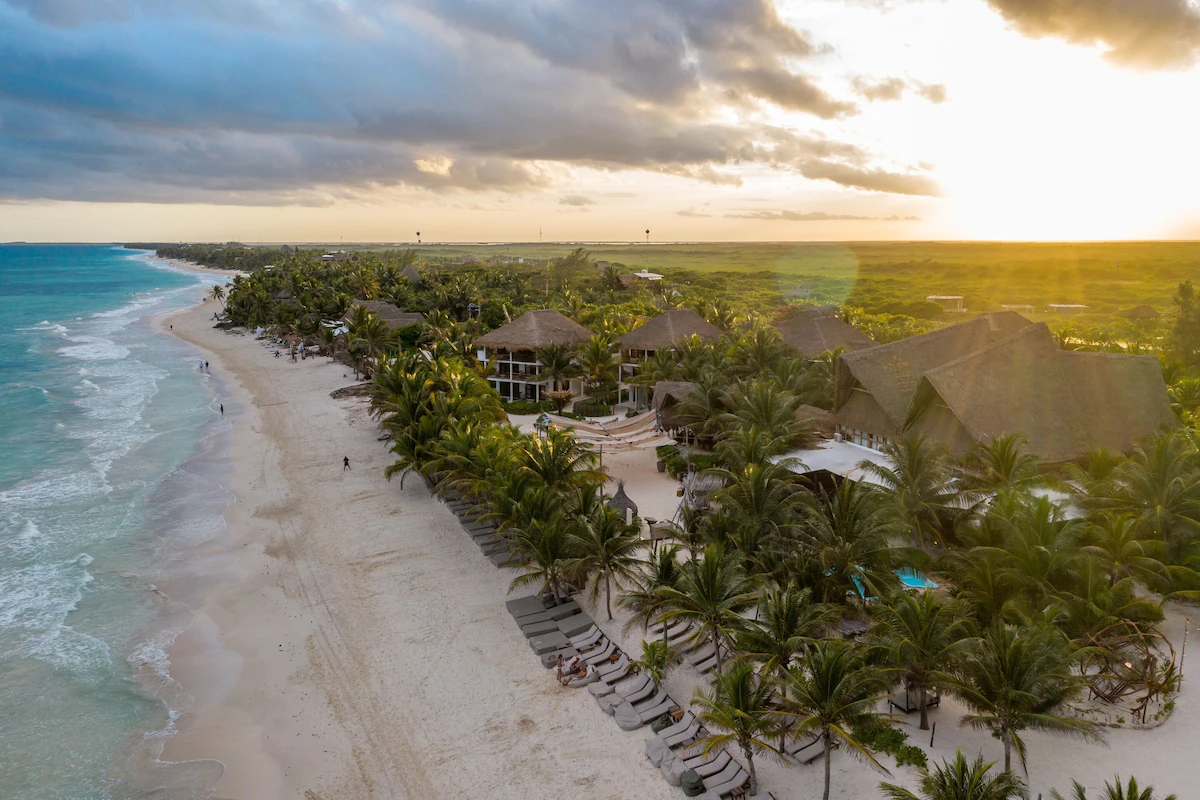 Selina Tulum
If you want to get the best bang for your buck, then Selina Tulum is 100% the way to go. It's technically a hostel/co-living type accommodation, but they have private rooms you can book for a steal.
Here you'll find a great community of international travelers, digital nomads and remote workers who are typically settling at Selina for longer stays, but you can certainly book it just for a couple of nights!
The location here is also unmatched, with easy walking distance to tons of bars, restaurants, and even the Tulum Jungle Gym.
Best For: Budget travelers and digital nomads.
Top Amenities: Free continental breakfast, communal kitchen, dry cleaning/laundry services, pool and business center for coworking.
What's Nearby: Tulum Jungle Gym, Ziggy's Beach club, Fresco's Tulum, and Checkpoint Ciao.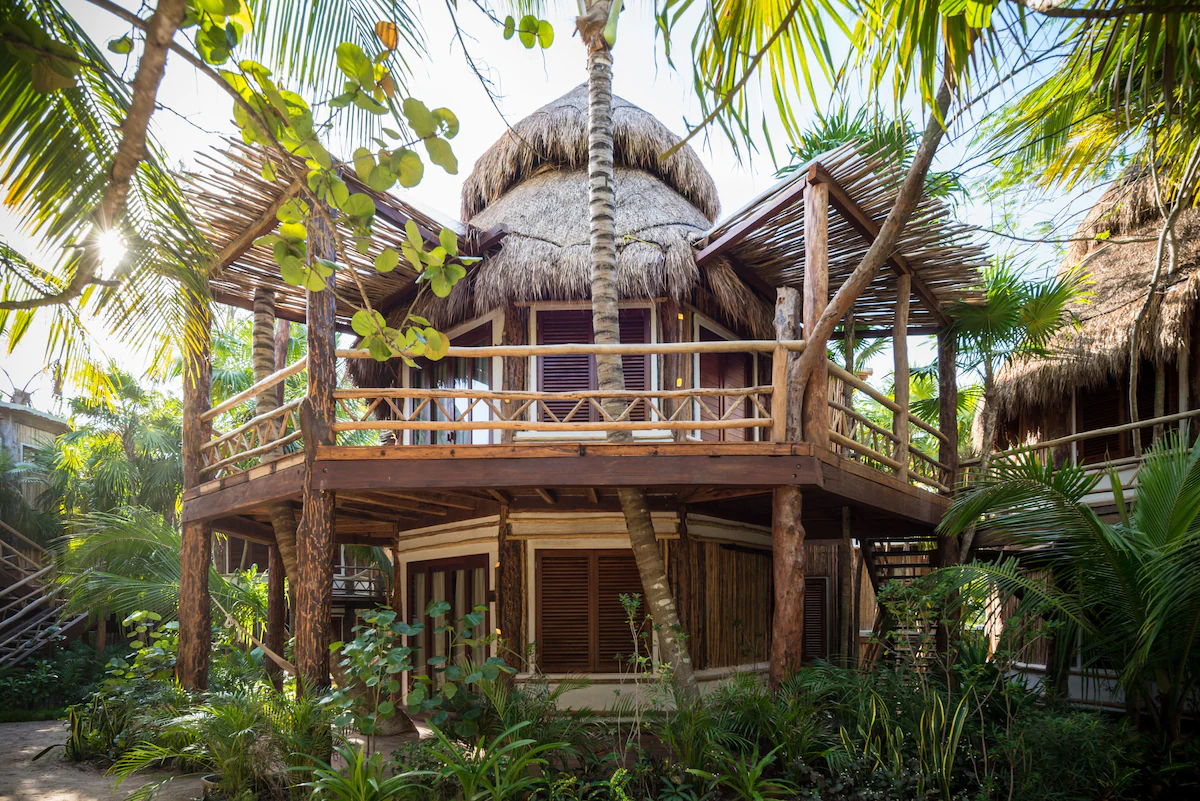 Delek Tulum By Ahau Collection
With a strong focus on sustainability, Delek Tulum doesn't sacrifice an inch in comfort. Delek blends indigenous Mexican crafts and materials with the natural surroundings for a perfect blend of culture and beauty that flows seamlessly throughout the property.
One thing that truly stands out about Delek Tulum is its location. If you want to be in the thick of the Tulum scene, with the most activity and culture right out your front door then don't look any further.
Within minutes of walking out of your hotel room, you'll have the hottest restaurants and bars in Tulum right at your feet.
Best For: Location location location.
Top Amenities: Air conditioning, free parking, airport transfer, and pet-friendly.
What's Nearby: Vagalume social club, Meze, Casa Jaguar, Raw Love, and Bagatelle Tulum.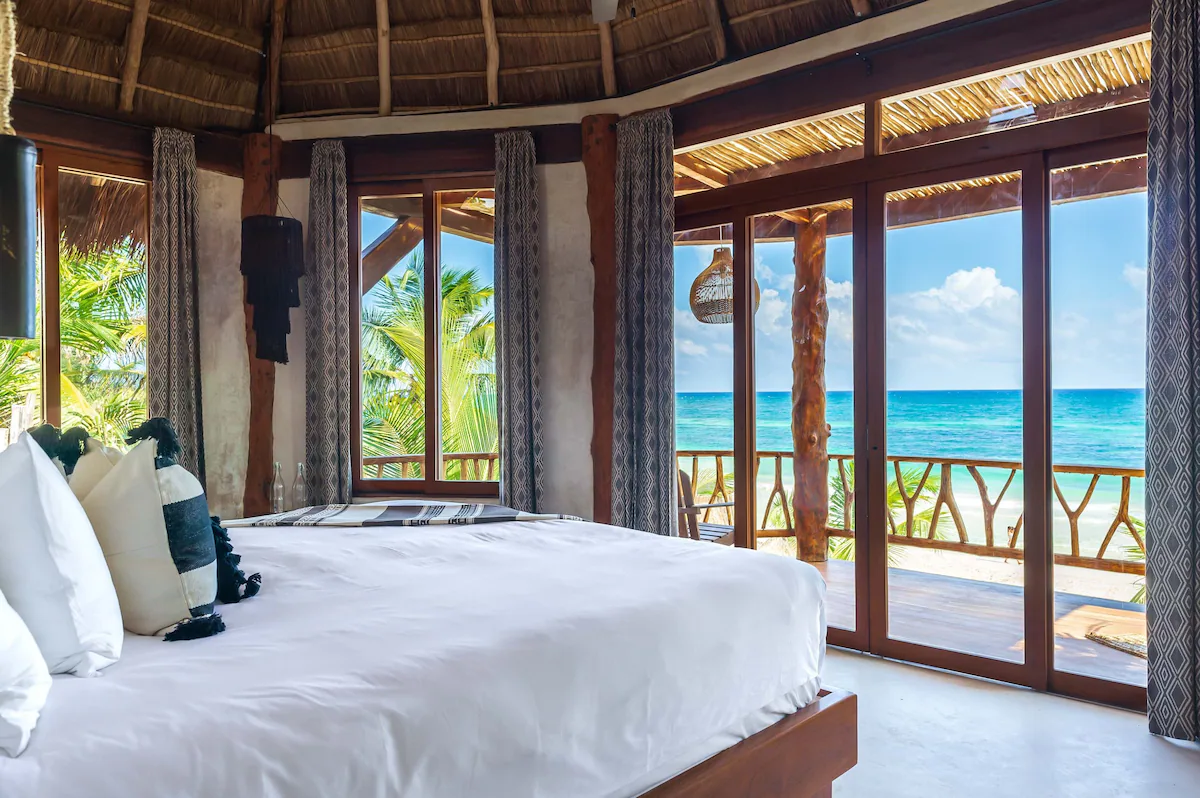 Casa Ganesh
With some of the lowest prices among any of the Tulum beach hotels and an incredible location in the heart of it all, the value you get at Casa Ganesh can't be beat. This is my top pick for budget-conscious travelers who don't mind a bit of simplicity in style.
Still, it's unlikely you'll spend much time indoors with the sandy beach steps from your room and all of the hottest Tulum restaurants and nightlife just around the corner.
I wouldn't recommend this spot with kids as it can get a bit loud from local clubs, but if you're ok with a little nightlife, you'll love this place.
Best For: Budget travelers who want to be in a great location.
Top Amenities: Pet-friendly, air conditioning, airport shuttle, yoga classes.
What's Nearby: Hartwood, Arca, BAL NAK, Kanan Tulum, and Gitano.
---
Read More Tulum Posts
---