Ljubljana was the first stop on my recent Slovenia road trip, and I have to say the city really took me by surprise. For one, I wasn't expecting it to be so photogenic. The city gets overshadowed by other European neighbors like Venice and Vienna, yet it's truly one of the most charming European cities I've visited.
That has a lot to do with the way the city works its way around the Ljubljanica River, which famously has 17 bridges that run across it, each unique in their design. The river divides the charming Old Town from the city's more commercial section, but on either side the waterfront culture comes alive here, with many sections of the river lined with markets and cafes that buzz with energy.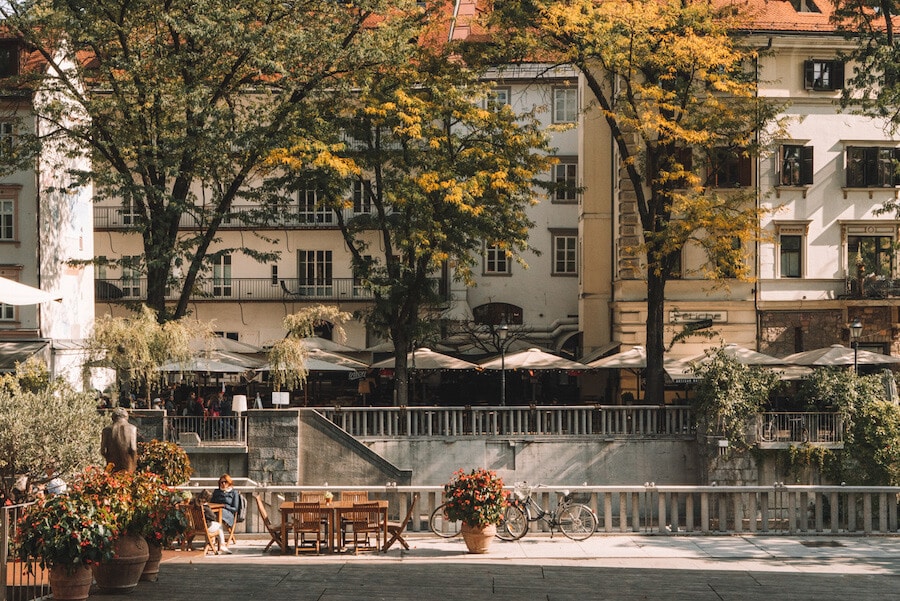 You'll also notice throughout your visit to Ljubljana that it's a young city. Despite Ljubljana being Slovenia's capital, the population is only around 280,000 and about 40,000 of those are students at the nearby University. Luckily for travelers, most of Slovenia's young population speak English — especially in the more urban areas — so you'll find it easy to communicate with locals and navigate your way around.
Another major selling point to this city: it's super safe. When we initially checked in to our Airbnb which was in a less populated area outside of the Old Town, I was surprised when our host mentioned to me that I would be fine walking alone into town at night to grab dinner without issue. As we met more locals throughout Slovenia, it was confirmed that this city is one of the safest in the world (Slovenia currently ranks as the 8th safest country on the Global Peace Index). As a traveler, you should always take normal precautions, but it is very rare to experience violence or crime here.
There are so many reasons to visit Slovenia's capital, but here's a little recap on why you should go here in the first place before we dive into what to do in Ljubljana.
A few reasons why Ljubljana should be on your list:
It's SUPER safe
It was named the 2016 European Green Capital
The city has a young fun vibe, with English widely spoken
It's charming AF
Chock full of interesting architecture thanks to Jože Plečnik (more on him later)
One of the most walkable cities in Europe
It's the easiest city in Slovenia to fly into and is the best hub in the country for traveling in and out via train or bus
The city is also super convenient if you're road tripping through Europe — Ljubljana is only a 4 hour drive from Venice, Italy and 3 hours from Zagreb, Croatia
What To Do In Ljubljana, Slovenia


Planning Your Trip to Ljubljana
When to Visit Ljubljana – Summer will obviously be the best weather in Slovenia, but with that comes the crowds. If you want access to better prices and less tourists, opt for shoulder season. I visited in early October and it was perfect.
How Many Days Should You Spend Here? – I spent 3 days in Ljubljana and that was enough to get a really good feel of the city and see most of the top sites. Ljubljana is so small and easily walkable that you could even spend one full day here and cover a lot of ground. I really loved the city though, so I'd recommend spending longer if you can — especially if you're a culture vulture that wants to experience all the best food, museums, etc.
How to Get to Ljubljana – The easiest way to get to Ljubljana is by flying into the international airport 40 minutes outside of the Old Town center. There are sadly no current direct flights from the US to Ljubljana, but it's pretty easy to connect through cities like Frankfurt, Munich, London, Paris, etc. I personally love using Skyscanner to find the best deals.
Airport Transport – There are taxis that can take you into Ljubljana from the airport, but I found the GoOpti service was the most affordable transfer service (10 Euros) and got me into the city super fast. It's a shared van with a kiosk that you'll find directly outside of baggage claim.
How to Get Around – Ljubljana does not yet have Uber, but the city is so walkable that we got pretty much everywhere on foot without using taxis or public transport. If your accommodation is within walking distance to the city center than you shouldn't have an issue getting around.
Do You Need a Visa? US citizens won't need to apply for a visa to travel to Slovenia for stays up to 90 stays, but as with other countries in the Schengen Agreement, make sure you are factoring in any other travel you've done within the Schengen region to make sure you don't exceed visa-free limit.
Pro Tips for Ljubljana
If traveling with heavy luggage, book a hotel that's slightly outside of the pedestrian zone in Old Town so that you can get dropped off with your bags directly at the hotel. Some hotels in the Old Town will require you to walk with your bags if they can't be accessed by car, so this is good to keep in mind while booking.
Get The Ljubljana Card if you plan on visiting many of the sites around the city. You can choose from a 24 hour, 48 hour or 72 hour card depending on your length of stay. This will give you free admission to 20+ attractions, plus public transport and other perks.
Pack good walking shoes as the city is almost completely walkable and many streets are cobblestone. You'll be on your feet a lot, so packing shoes that are worn in is preferred.
Ljubljana is a great destination for solo female travelers as it's super safe, but use normal precautions when it comes to walking alone at night or with any valuables.
Money used in Slovenia is the Euro, but credit cards are accepted pretty much everywhere. It's always good to have a bit on cash on you to be prepared.
Don't bother renting a car during your time in Ljubljana — if you are planning a longer Slovenia road trip itinerary, just book your rental car for the day of your departure out of the city.
Where to Stay in Ljubljana
Airbnb
During our time in Ljubljana, we opted for an Airbnb rental as there were so many affordable options throughout the city. You can literally find decent apartment stays for $20-$40 a night, so it's a no brainer. We stayed at a place called the Happy Nest (pictured above), which was $39 per night and super cute. It was also a pretty easy walk into Old Town. One thing I would note is that you have to walk up A LOT of stairs to get to this penthouse apartment, so pack light if you decide to book.
If you're new to Airbnb and want $40 off your first rental, check out my exclusive link HERE.
Hotels
Here are some of the top hotel options in Ljubljana, based on recommendations from our awesome guide who lives in the city as well as hotels we personally visited.
Where to Eat and Drink


Julija
This was one of my favorite meals in Slovenia and the restaurant is located conveniently in the Old Town on one of the most charming streets. If you go, don't miss ordering the cheese dumplings. They were truly one of the most delicious things I've ever tasted.
Atelje
For high-end modern Slovenian cuisine, head to Atelje, which does daily prix fixe menus in a beautiful light-filled setting. This one is more for the foodies out there, and not necessarily a casual pop-in spot. If you're interested in exploring the more progressive landscape of cuisine in Slovenia, this is a place to add to your list.
Sisters Kurtoš
If you're looking for the best trdelnik in Ljubljana, this is it. Located right off the river, a stop at Sisters Kurtoš is the ideal way to cap off a river cruise or satisfy any sweet craving. If you're not familiar with trdelnik, this is a very popular Eastern European dessert made from rolled dough and wrapped around a stick. It is then grilled and filled and dipped with toppings of your choice. Sinful but heavenly!
TINK Superfood Café
For healthy avocado toast and açai bowls, head to Tink Superfood Café, which is a bit outside of the Old Town but the perfect way to fuel up for a long day of walking the city.
Črno Zrno Specialty Coffee
Črno Zrno is the cutest hole in the wall coffee shop in Ljubljana. Owned by Alexander, an expat originally from Bogota, Colombia, you can ensure the beans here are the real deal. We got to chat with Alexander who was the one making our coffees and found out that he moved to Ljubljana after meeting his wife in Warsaw, Poland. Definitely a great hidden spot to check out while you're in the city.
L Bistro & Bar
L Bistro & Bar is the lobby restaurant of the gorgeous new Hotel Lev. We grabbed an espresso here in their stunning lobby bar which has some of the most beautiful design we witnessed in Ljubljana. This would also be a great setting for a light lunch or cocktail with friends.
Abi Falafel
When you're sick of Slovenian food, head to Abi Falafel for cheap, delicious Arabic eats. You can order up a massive plate of falafel, hummus and all the works here for under $10.
Stow Coffee
Located inside the City Museum, Stow is a stunning space with high ceilings and minimalist decor that serves up a great cup of coffee. It's the perfect way to begin a day of museum hopping if that's your jam.
El Patron
This tiny hole in the wall taco joint has limited seating and doesn't accept reservations, but if you're lucky enough to snag one of the few spots at their counter, you'll be treated to the best Mexican food in Ljubljana. Living in California, I'm pretty picky about my Mexican food, and while El Patron doesn't beat out my California favorites, it was a pleasant surprise to get good, authentic Mexican cuisine in Slovenia.
Where to Shop


Gud Shop
I didn't do a ton of shopping in Ljubljana, but this was a really cute boutique across the street from Julija Restaurant (my fave) that had a fun selection of goods and giftable items, many of which are made by Slovenian brands and artisans. If you're looking for a few things to take back home to friends, this is a great pit stop.
What to do in Ljubljana
Take a Boat Tour Down the River
If you opt to purchase the The Ljubljana Card, then a boat cruise down the Ljubljanica River comes complimentary with your purchase and is well worth the 45 minute journey. Ljubljana is very much a city that centers around its riverfront, so to experience the buzz and architecture from the water was a fun experience I would definitely do again. It's also a great way to rest your feet after a long day of walking the city!
Kongresni Trg (Congress Square)
This is one of the prettiest squares in the city, with a peaceful park to one side and beautiful views of Ljubljana Castle on the other. Visit on a sunny day during your trip.
Visit Ljubljana Castle
This is the main landmark in the city, and you'll undoubtedly see it perched high up on a hill from virtually every angle in Ljubljana. You can take the funicular up for an easy ride or choose to walk up the hill for a mini workout. We opted for the walk up and funicular down. Make sure to go to the top of the lookout tower for the most epic views over the entire city.
Browse the Markets
Like most European cities, Ljubljana has plenty of charming markets to visit, from flower markets and food stalls to kiosks to pick up great gifts for loved ones back home. Culture Trip has a great breakdown of some of Ljubljana's best markets here.
Try Roasted Chestnuts in Prešeren Square
When it comes to street food in Slovenia, roasted chestnuts are at the top of my list. This was such a treat for me to try roasted chestnuts for the first time during our stroll through Prešeren Square. I can't confirm if this is an all-year-round thing or more seasonal as we visited in October, but if you get a chance to try this delicious and affordable snack, you won't regret it.
Nebotičnik Skyscraper
This spot isn't on the list so much for the food or drink as it is for the views. While those used to city living might chuckle at its "skyscraper" moniker (it's only 231 ft tall), it is without a doubt one of the best views overlooking Ljubljana. As a bonus, a table here provides an ideal vantage point from which to capture the Ljubljana Castle. I'd suggest calling ahead and booking a table for sunset to enjoy a picturesque cocktail or apps — make sure to request the castle side.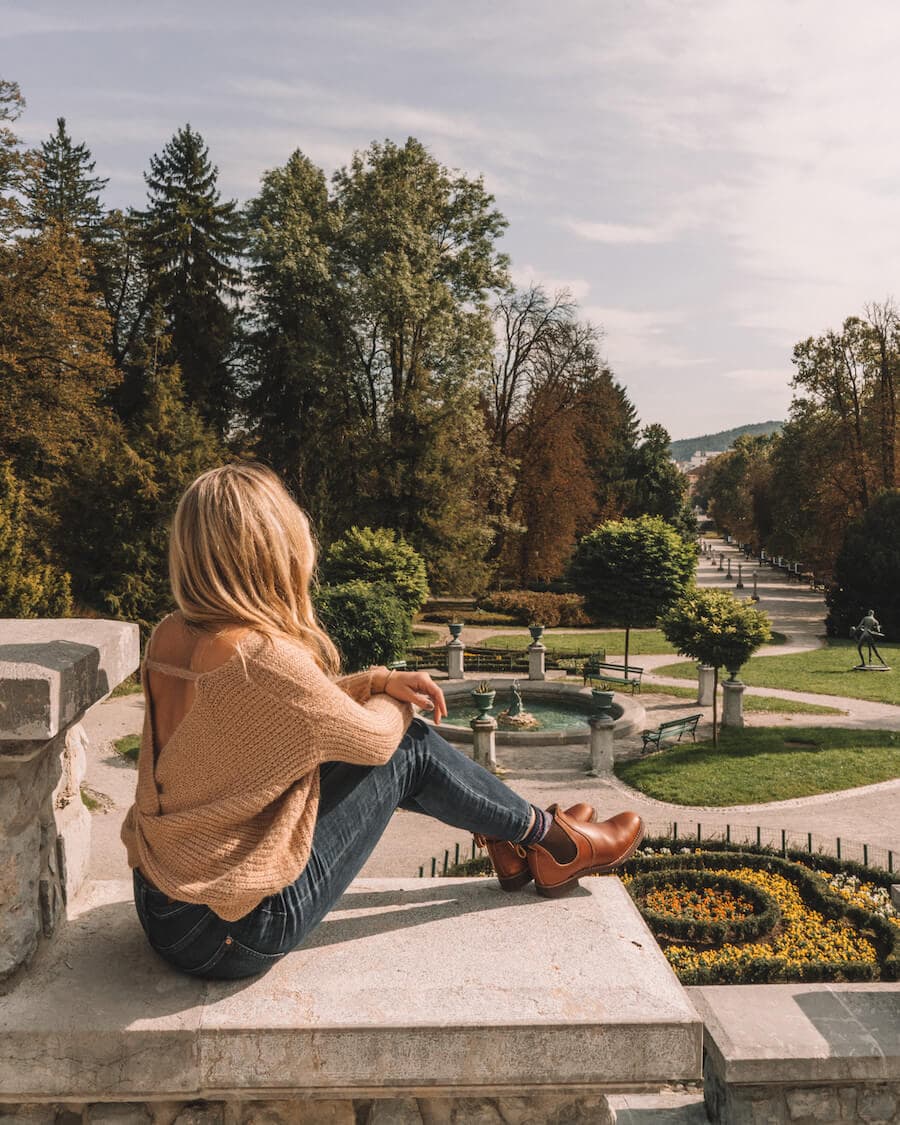 Tivoli Park
On a sunny day, head to Tivoli Park to take in the beautiful scenery and gardens from the largest green space in the city. You'll see plenty of locals jogging and walking their dogs here as the park has tons of different pathways to take for a nature-filled stroll.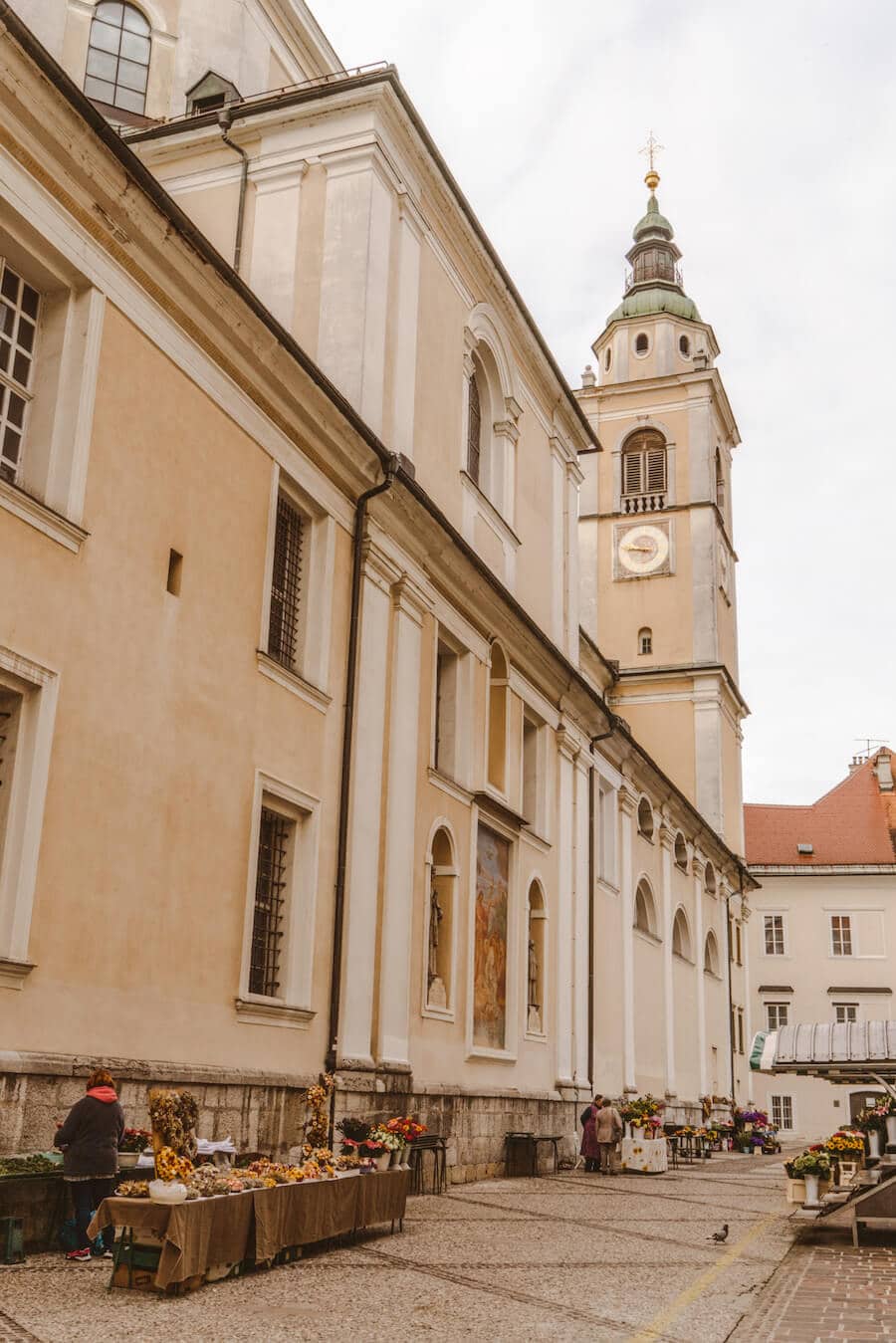 Ljubljana Cathedral
Another major landmark of Ljubljana's skyline is the Ljubljana Cathedral, located in the Old Town center. With its twin towers featuring green domes, it's easy to spot and beautiful to photograph. Originally built as a Gothic Church, the cathedral (also named St. Nicholas's Church) was replaced by a Baroque structure in the early 18th Century.


Visit Plečnik House
One of the more unique experiences during my stay in Ljubljana was our visit to Plečnik House, which is the home of the late Jože Plečnik, Slovenia's most influential architect. Plečnik is to Ljubljana what Antoni Gaudi was to Barcelona. His influences and work can be seen all throughout the city, from the Triple Bridge and Cobbler's Bridge to the Žale Cemetery and National and University Library.
To learn about Jože Plečnik's life at his home is to learn about the city of Ljubljana itself. Small group tours run every hour and have a capacity of seven people, so arrive early to secure your spot.
Wander the Cutest Streets in the Old Town
Ljubljana is filled with charming cobblestone streets that you'll want to capture on camera if you're anything like me. Some of my personal favorite streets to shoot were Gornji trg (pictured above), Stari trg and Križevniška ulica.
Prešeren Square
A central meeting point in Ljubljana is Prešeren Square, which sits just over the river adjacent to the Triple Bridge in the Old Town pedestrian zone. You'll notice that this square is one of liveliest sections of the city, with the bold pink Franciscan Church of the Annunciation marking its spot, and a variety of activities taking place here throughout the year including carnivals, protests, political activities and concerts.


Explore the Many Bridges of Ljubljana
There are 17 bridges running across the city's Ljubljanica River, each with their own unique design and flair. Triple bridge and Dragon bridge are two of the most popular, but I also loved the Butcher's Bridge which is the city's love lock bridge, pictured above. Take a leisurely stroll along the river and take in the architecture that each of these structures has to offer.
***
Planning a trip right now? These are all the websites and services I love for booking everything from flights, tours, accommodation and more:
LOVED THIS POST? PIN IT FOR LATER




READ MORE