I really didn't want to write this post at first. In fact I was going to conveniently slip past any sort of 2017 recaps whatsoever. You see, compared to my adventures in 2016 (the year I traveled solo for almost a year to 14 different countries), my 2017 seemed unworthy of sharing. It seemed depressing and uncomfortable to talk about. How could I bring up the wonderful memories of 2017 without honoring the terrible things that have also happened this year.
As I've written about on Instagram more openly lately, I dealt with a lot of pain in the last year due to both my parents being terminally ill with cancer and then the actual passing of both of them during the Spring (I explain more in the post below). For this reason, I spent A LOT of time at home being with my family and friends, and overall any trips I went on felt overshadowed by the loss and tragedy I experienced.
I felt like my life was on pause for much of the year, and in a travel sense it seemed like I almost cycled backwards. Yes, I still traveled some in 2017, and more than many people in this world ever get to for which I am deeply grateful, but I was stuck comparing this year to a past version of myself instead of honoring how far I had come.
But then I had a sudden shift in thinking…
While doing some personal reflecting, I realized that if I looked at each individual experience on its own without the context of my personal life, I truly went on some incredible journeys this year — even if not all of them took me to new countries or across oceans. And shouldn't the sheer fact that instead of staying in bed for weeks shoveling tubs of Ben & Jerry's into my mouth…I actually got on my two feet and did something, be an accomplishment in and of itself? Sometimes it's the small wins in life.
This past year I went on one of (if not the) most memorable trip of all time with my best friend Lauren through eight National Parks across four U.S. states which gave me a newfound appreciation for the beauty of my own country.
I returned to London, a place I studied abroad in many years ago and was one of the first places that really motivated me to travel more in my life.
I also ticked Morocco off my bucket list — a destination I had been dying to visit for ages.
I visited Barcelona for the first time…and Banff…and the Baja California peninsula in Mexico. So yes, there were definitely incredible memories made in 2017 despite all the despair. Clearly I needed to emerge from the fog.
So, if you want to come on the whole journey with me, I'm breaking it all down below location by location, sharing the good times, the times of heartbreak and the many little mishaps that happened in 2017.
SYDNEY, AUSTRALIA
Kicking off 2017 in Sydney, Australia was definitely the most epic New Year's celebration I've ever experienced. Talk about a city that knows how to put on a show. Sydney was such a fun city to explore, from walking the length of the Bondi to Coogee beach walk (several times over), to eating every "avo smash" dish I could get my hands on, to dancing on the steps of the Opera House and getting lost in the historic Rocks district.
I fell in love with this coastal destination and know I could definitely live here someday! Read more about my trip to Sydney, Australia here.
QUEENSLAND, AUSTRALIA
From Sydney, me and my favorite travel buddy Hannah (who you've undoubtedly met if you follow me on Instagram), flew up to the northern territory of Queensland, then made our way south from there.
We scuba dived in the Great Barrier Reef, visited the beautiful and highly underrated Sunshine Coast, road tripped it to Noosa and saw A KOALA (I know, I know, it's the little things), but mostly just took in the summer sunshine and beauty of Australia. It really is one of the most naturally breathtaking places I've ever been in my life.
This was also an exciting trip for me because I did my very first hotel collaboration and started to see the potential in making my travel blog into a real business. Check out all of my Australia posts here.
BYRON BAY, AUSTRALIA
Oh, Byron, my love for you continues…
I already knew before I arrived in this town that Byron was going to be my favorite place ever. And it 1000% lived up to that expectation. I spent a blissful two weeks in January in this surf town swimming in the crystal clear water, celebrating Australia Day, working on my tan, eating at ALL the cafes, and listening to live music which literally happens on every corner in Byron as busking culture is highly encouraged.
Byron is the hippie paradise of my dreams and I hope it never changes. Is Byron Bay on your bucket list? It should be! Read more about my trip to Byron Bay here.
MANHATTAN, NEW YORK
Next, I spent about a month at home in between Charlottesville and Maine before deciding to head to New York for a work project mid March…which the moment I arrived got promptly rescheduled for May. C'est la vie.
So what did I do? I stayed put of course and explored all my old stomping grounds from when I used to live in the city after college.
This trip took a bad turn quickly though, as my Dad passed away from pancreatic cancer on April 10th, after spending 13 days in hospice. Naturally, I spent a lot of time inside crying, sleeping and ordering delivery but am lucky that I have many incredible friends that live in Manhattan and were there to support me.
I was still able to enjoy the beautiful cherry blossoms in Central Park, some great new lunch spots (check out Banter NYC) and clocked some time working freelance gigs from the beautiful lobby space at the new 1 Hotel Brooklyn Bridge.
SAVANNAH, GEORGIA 
Before the news about my Dad came, I had already booked a trip to attend a friend's bachelorette party in Savannah in May, and thought being surrounded by friends might be a healthy change of pace. I knew I wanted to explore beyond just a long weekend though. Luckily, my friend Lauren was available and came out to meet me early so we could explore Savannah together before the festivities began.
I honestly wasn't sure what to expect from Savannah, but I was so pleasantly surprised. This Southern town is super easy to navigate on foot and we covered a lot of ground during our visit, exploring the famous Wormsloe Historic Site, eating our way through the Southern food scene and visiting many of the squares and haunted buildings that the city is known for. Read more about my Savannah trip here.
BROOKLYN, NEW YORK 
After a few weeks home around Mother's Day, I turned right around and went back to New York for the project that had been postponed in March. I had so much fun doing prop styling for my friend Candice Kumai's new Japanese inspired book Kintsugi Wellness, but my work on the shoot was cut short by a few days when I got an emergency phone call about my Mom.
At this point she had been battling breast cancer for 8 years, constantly see-sawing between remission and stage 4 cancer, which over the last year had been found in her brain and lungs as well. Around the time when I was home on Mother's Day, she was attached 24/7 to an oxygen tank, dependent on it for her to breathe properly in between coughing spells. Still, I didn't believe it was that bad. Call it denial. Her positivity and urging for me to work on this project had led me to go to Brooklyn, but now I found myself right back on a plane fearing the worst.
I flew home just in time. She passed on a little over 24 hours later, with me and my brother each holding one of her hands. My mom's passing came just 43 days after my Dad, so it's safe to say I was a complete wreck at this point.
In the wake of their deaths, I spent time being with family, planning memorial service arrangements and seeing all of my incredible friends who flew out to Charlottesville to be with me during this time. But after several depressing weeks spent at home, I desperately needed to move again to regain some sense of normalcy. I wasn't quite ready for a big trip, but I thought going back to Los Angeles (where I lived before my RTW trip) might at least help take my mind off some things.
LOS ANGELES, CALIFORNIA
In mid June I flew to Los Angeles to go stay with friends and get in the business of regaining some of my joy — or at the very least, not be alone to wallow in misery.
While I didn't do a crazy amount of exploring, I did spend a lot of time in my old neighborhood Venice Beach (you can read my Venice Beach itinerary here), and also spent a day exploring the Downtown LA Arts District which keeps getting cooler and cooler every time I go back. You can read all of my California posts here. 
PORTLAND, MAINE
I had been to Maine a couple times already in February and March, but they were all sad visits with my Dad as he got sicker and sicker. Visiting again in July — this time for my friend's wedding — was a nice departure from those recent trips to Maine.
Portland is where I grew up, and it's absolutely beautiful in the summertime, so I was happy to do some of my favorite things like explore the waterfront, visit with old friends, and eat tons of fresh lobster (ps – if you're ever in town, you have to get the brown butter roll from Eventide. It's divine). Read my post 16 Reasons to Visit Portland, Maine Now here.
NAPA VALLEY, CALIFORNIA 
After spending a couple months in places that were more comforting rather than exciting, I decided it was time to cheer myself up with a little adventure. Candice (whose book shoot I had worked on – see above) was throwing a girl's weekend in Napa Valley, and we spent a blissful three days relaxing at Calistoga Ranch and visiting two of my favorite wineries in the region: Silver Oak and Twomey Cellars.
I'm so glad we did this when we did because only a few short months later in October, the area saw the famous Atlas Fire rage through, which devastated the region, burning over 51,000 acres and destroying close to 500 buildings.
My heart absolutely breaks for the people of this area who have been affected by the fires and I look forward to the next time I can go back and support local business owners in Napa.
JOSHUA TREE, CALIFORNIA
Joshua Tree was the first stop on a three-week long road trip that my friend Lauren and I had conceived as a way to get her Jetta from Los Angeles to her new home in Cleveland. Why would she spend money shipping her car to the Midwest when we could just spend that money driving there and exploring along the way? Genius, I know.
Truthfully, I also really needed to put my explorer hat back on in an effort to heal.
I had been to Joshua Tree before, but I never get sick of the strange and quirky nature of this desert town. We chose to stay at an Airbnb totally isolated from everything else, and spent time exploring Joshua Tree National Park and Pioneertown and basking in the quiet of our peaceful retreat.
ARIZONA, USA 
From the California desert, we continued our road trip into Arizona where our first stop was the Grand Canyon. We spent one night in a teepee full of flying beetles, camped for two nights at an epic campground near the edge of the canyon, had a battle with a rattlesnake during our hike down to Santa Maria Spring, and witnessed the most beautiful rainbow I think I've ever seen in my life.
So far the road trip was off to a good start! Then things started to get interesting…

UTAH / BACK TO ARIZONA, USA
We decided to take a detour into Utah because we wanted to try for our permits to visit The Wave, which is highly restricted and approved through a lottery system. Sadly we were denied, but it was so crazy hot that we figured we were better off.
Then Lauren's phone broke. Since the city of St. George is apparently the only place in practically all of Utah where you can properly get a phone fixed, we spent 48 hours traveling out of our way on this mission. Thankfully, we were still able to squeeze in time for Zion National Park, but it wasn't long before the worst happened. We broke down.
On a primitive camping site at Lake Powell, we made a wrong turn into a softer patch of sand and got stuck just as night was beginning to fall (smart, I know). The area is pretty remote, so we had no phone connection to call AAA and we were pretty desperate.
Finally two nice guys with a large truck offered to tow us out, which sounded like our saving grace. That was, until the entire bumper of the car got pulled off by a sand dune as they were towing us from behind. Um, yeah. Epic fail.
The rest of the night pretty much went something like this: Lauren crying. Me convincing myself that this was the end of our road trip and feeling massively helpless and depressed. Desperately walking around to find cell service to call AAA. Lying in the parking lot staring at the stars silently for two hours waiting for AAA to arrive. And then finally, getting towed 200 miles at 2 AM back to our previous location in Kanab, Utah where we had no choice but to pay $200 for one night (or technically 6 hours) at The Holiday Inn.
Things were looking pretty bleak at this point, but the next morning by some miracle, the guys at the auto body shop were able to secure the bumper back in place for $100 and sent us on our way with our car troubles behind us…or so we thought.
Relieved to continue on, we made our way back to Page, Arizona where we explored Antelope Canyon, Horshoebend, and views of Lake Powell (from a distance!!). We then made our way to Monument Valley where our car promptly overheated at John Ford's Point just as it looked like a storm with flash flood potential was about to roll in.
We ended up making it out alive, but from then on our new road trip rules were as follows: no unpaved roads and no heavy air conditioning use during the extreme July heat in our future.
Interested in going on your own road trip? Get inspiration with my post on 8 National Parks You Have to Visit in Your Lifetime. 

UTAH, USA 
At this point you're probably wondering why the hell we kept driving back and forth from Utah to Arizona, but I don't really have an answer for you. We finally said goodbye to Arizona and trudged on into Utah to make our first stop in Moab, the home of Arches and Canyonlands National Parks.
Besides getting trapped in a motel parking lot while we witnessed a flash flood rage through the town for about an hour, most of this segment of the trip went off without a hitch. This is mostly because we decided to give the Jetta a break and hired a private Jeep tours company to take us around the parks. Best. Decision. Ever.
Moab turned out to be my favorite spot in Utah, but we also visited Park City on our way out of the state which was beautiful. Just a little tip for all you road trippers — beware of mountain passes when you're driving a car prone to overheating. Yep, learned that the hard way. Check out my guide to Moab, Utah here. 
WYOMING, USA
State #4 in our road trip itinerary was one I had never visited before: Wyoming! To kick off our stay in The Cowboy State, we settled into a resort-style tiny home in Jackson called Fireside Resorts, which was perfectly situated between the adorable downtown area and Jackson Hole Mountain Resort's Teton Village. We explored town, rode the gondola up to the top of the mountain and visited Mormon Row during our quick stay before heading to Grand Teton National Park where we camped for two nights.
Then it was onto Yellowstone where we spent a few solid days driving every leg of the park (who knew it was so big??) to try to fit in as many geysers, hot springs and waterfalls as we possibly could. I'm pleased to say we didn't have to utilize our bear spray one time during our trip, but we did have to yield to a few bison along the way.
SOUTH DAKOTA, USA
As our road trip was coming to a close, South Dakota was one of our final stops to visit our eighth and final national park: Badlands. We were pretty exhausted by this point after Yellowstone, so it was nice to visit a park that was so easy to see and explore with a quick drive through all the viewpoints.
I can't say much for the rest of South Dakota as we spent the time in the car, but if you're planning a trip to the area, make sure Badlands is on your list!
CHICAGO, ILLINOIS
Our final destination of the road trip? Hello, Chicago. Boy was it nice to finally arrive in a big city after so many mishaps and fears that the car would never make it this far. We spent the night celebrating that we (and the car) had made it out alive by hitting up a handful of bars and drinking entirely too much entirely too late into the night.
The next day after we emerged from our hangovers, Lauren drove the last five hours to Cleveland while I remained in Chicago to explore the city for a couple of days and catch up on a bunch of work before flying out.
LONDON, ENGLAND
After the road trip, I spent some time decompressing both in Maine in Los Angeles, but come late September I was antsy for an international trip as I hadn't taken one since Australia at the beginning of the year.
This trip to London was basically a long layover to meet up with my friend Hannah from The Sunny Side of Things  en route to Morocco. I have to say, for a 24 hour London stint though, we covered quite a lot of ground! We explored Notting Hill, classed it up at the Rosewood Hotel, peeped the London Eye and Big Ben and made time to eat at the most adorable Australian cafe in Portobello, Farm Girl. London, next time I'll be back for longer!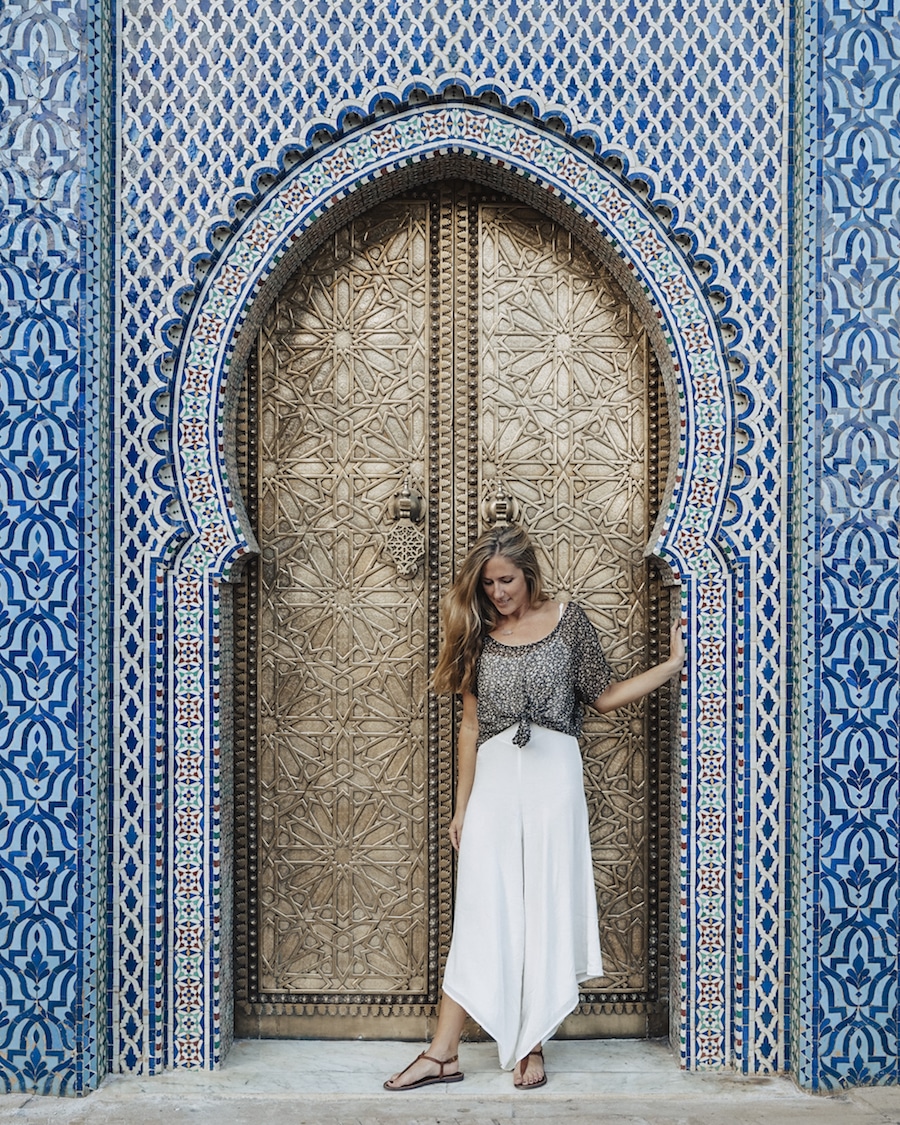 MOROCCO
Morocco was definitely the most highly anticipated trip of my year, as it had been at the top of my bucket list for ages. Hannah and I spent six days in total exploring Marrakech, Fes and my favorite: the blue city of Chefchaouen. It all flew by in a whirlwind, but some of the highlights for me were exploring Ben Youssef in Marrakech, getting lost in the gorgeous blue streets of Chefchaouen and experiencing rug shopping for the first time in Fes.
Morocco was also a milestone for me because it was the first trip I've ever taken as a travel blogger that was highly focused on creating content and working with hotel and fashion sponsors. Read more about my Morocco adventures here.
BARCELONA, SPAIN
From Morocco, I flew directly to Barcelona where I was meeting up with my friends Cassie and Shay who run the badass girl-boss business, Bucketlist Bombshells. Our plan was to explore the city for 10 days and attend a digital nomad conference called 7in7. I'm so thankful we decided to stay for that length of time, because the first two days of the trip were essentially a wash as I was SO sick with a stomach bug that I had clearly caught on the tail end of Morocco.
Once I finally emerged from my hotel bed, I immediately fell in love with the charm of Barcelona. This city truly has all of the best elements of a place (in my opinion) — incredible food, walkability, coastline, gorgeous architecture and so much to do and see.
We checked out all of Gaudi's whimsical creations but mostly just took ourselves on a food tour of every tapas place we could fit into our schedule! Read more about my Barcelona food adventures.
BANFF, CANADA
My November trip to Alberta, Canada was another one that came about because of a wedding-related obligation. My friends were getting married in Canmore, which is located 25 minutes from Banff, so naturally I decided to turn it into an adventure. Luckily Hannah was game to join me again, but this time we swapped desert lands for the freezing tundra!
Banff was seriously one of the coldest places I've ever been, but the beauty of the landscape under snow was magical. We also spent a day exploring Jasper National Park which felt super remote in winter but was so worth all the moments where I felt like my fingers might freeze off. Read my complete winter guide to Banff here.
BAJA CALIFORNIA, MEXICO
I originally planned on ending the year in California, but when my friend Meghan called and asked me to join her on a last minute trip to Baja (literally four days before), I couldn't pass it up! Working with Offshore Outpost Expeditions for this trip was such a dream, especially because I had never visited this part of Mexico before. I had no idea how incredible the Sea of Cortez is, with an insane amount of sea life — no wonder Jacques Cousteau described this place as "the world's aquarium."
We literally saw dolphins, whale sharks, sea lions, manta rays, huge schools of fish and much more during our trip through this UNESCO World Heritage Site. Stay tuned, because I'll be posting a whole blog with everything you need to know about this area shortly.
LOOKING FORWARD TO 2018
Phew. So I guess a lot did happen in the last year. But now it's time to look ahead. So what's next for me and this site in 2018? Well, for starters, I'm hoping there will be A LOT more international adventures in the next 365 days. While I loved exploring new places in the United States this year, I want to focus on ticking more new countries off my bucket list — and I've already got my sights set on destinations like Sri Lanka, the Maldives, South Africa, Colombia and Croatia, to name a few.
I also want to go to more tropical destinations, because while I love a gorgeous mountain town, I know I'm happiest when I've got the sun on my back and a coconut in my hand. We've gotta be honest with what brings us joy, right?
From a business standpoint, I plan to put a lot more focus on this site, providing you with a higher volume of content, not only about the destinations I visit but about travel in general so that you can arm yourself with more knowledge, tips and tricks before planning your next adventure.
I'll also be adding more services to my site that will hopefully allow me to connect with you guys more! I'll be offering travel planning along with some other fun things that you'll just have to stick around to find out! If you want to be the first to know, then you might want to join my email list 🙂
The last thing I've been contemplating lately? A move to somewhere abroad that can be a semi home base. The constant hopping around without a real home the past two years has been exhausting, and I'd like to find a place where I can relax when I am home — or at least a place for my things to live! Bali is definitely the frontrunner at the moment, but I tend to not plan ahead too much, so we'll just have to see.
Hope everyone's new year is off to a great start and here's to more adventures in 2018!
xx
Michelle
***
PIN IT FOR LATER