When it comes to exploring Hawaii's captivating island of Kauai, booking a doors off helicopter tour is the crème de la crème way to do it.
Why? Well, 80% of Kauai is inaccessible by car or on foot, which means the only way to witness most of its untouched beauty is by air.
Plus, doors-off helicopter tours in Kauai aren't just great for the views—they offer an exhilarating and unique experience that will spice up your Kauai adventures like nothing else.
During a helicopter tour of Kauai, you'll have the opportunity to witness numerous waterfalls, hidden beaches and small towns with a bird's eye view. We saw so many waterfalls during our tour that I honestly lost count!
Without a doubt, the two main highlights of a doors off experience are gliding over Waimea Canyon and the breathtaking Na Pali Coast.
Without reflective doors blocking your view, you'll have the chance to witness these insane landscapes completely unobstructed, while getting the best possible photos!
This is absolutely one of the best things to do in Kauai and is a bucket list adventure that you really should consider if it's in your budget.
In this post, I'm sharing all the essential information you need about a doors off helicopter tour in Kauai so you can book with confidence, including info on the best tour companies, costs involved, what to expect, recommended photography gear, what to bring (and what not to bring), and so much more.
Let's dive in!
The #1 Best Kauai Doors Off Helicopter Tour
If you're looking for the best overall tour for the best price, you can't go wrong with Airborne Aviation tours. They have a history of offering rescue services to the Kauai Fire Department and their aircrafts don't feature middle seats, so every passenger gets a great view!

BOOK HERE
Why Book a Doors Off Helicopter Tour in Kauai?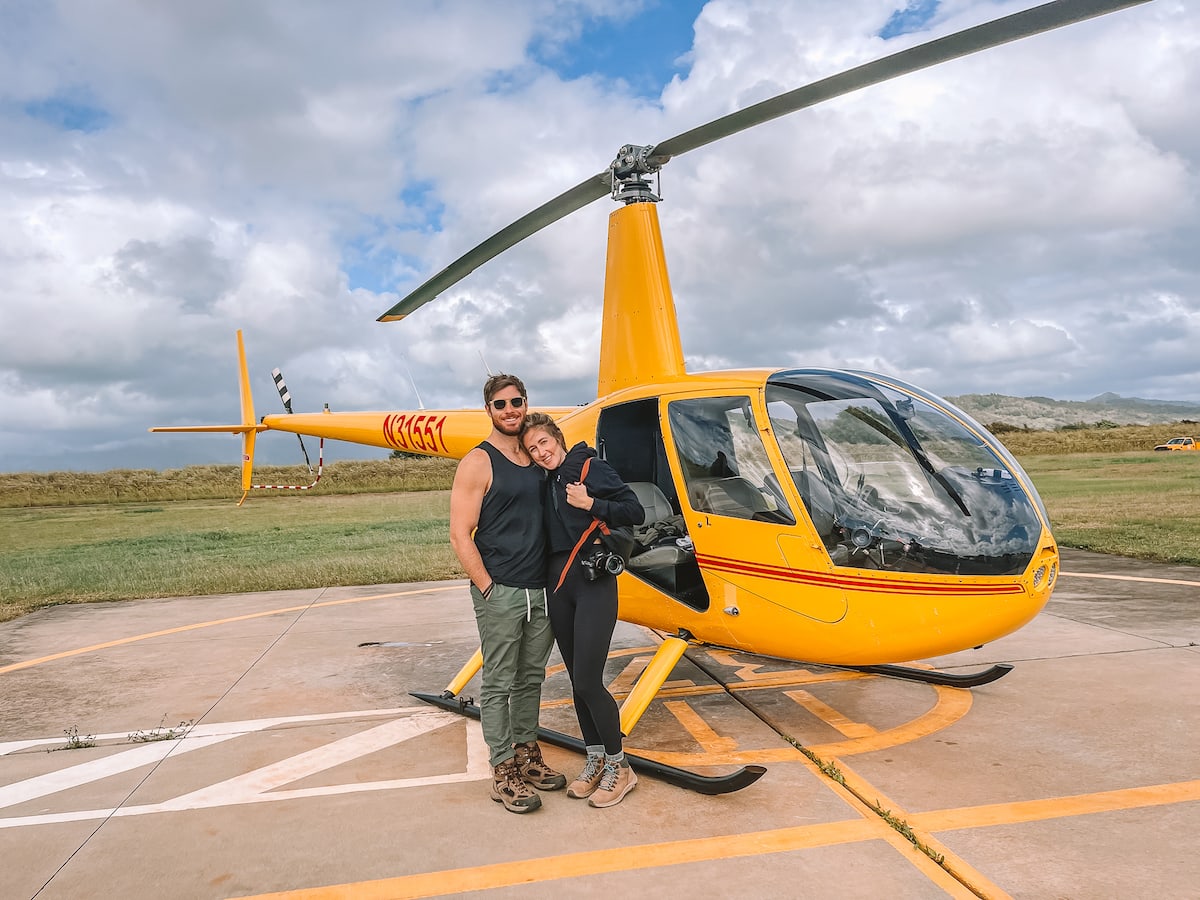 You came all the way to Kauai, so I'm assuming you want to see the most beautiful part of it, right?
Well that would be the Na Pali coast, and let me give you a little spoiler…it's not the easiest place on Kauai to reach!
The Na Pali coast is the most remote part of Kauai and it's tough to explore on foot and even more impossible to explore in the car.
There are parts that you can't access without doing a multi-day hike or camping overnight—and even then you won't get the same perspective of the coastline when you're standing on it.
With a doors-off helicopter tour of Kauai, however, you get to experience the stunning Na Pali coast in its full glory.
Sure, you could take a flight, boat tour, or doors-on helicopter, but you won't quite get the same unobstructed views like you'll get on a doors-off tour.
Plus, in addition to viewing the stunning Na Pali coast, a helicopter tour will fly you over the center of the island, which is inhabitable due to Kauai's geology. The only way to see it is by air!
Which is Better: Doors Off vs Doors On Helicopter Tours in Kauai
Simply put, a doors off vs doors on helicopter tour in Kauai are two very different experiences. While I've only taken a doors off helicopter tour in Kauai, I've been on many doors-on helicopter tours around the world, so I can attest to how different the experience is.
The biggest difference is the visibility. With a doors-off tour, you're able to see much more of Kauai's jaw-dropping landscapes without unobstructed views and annoying reflections if you're trying to capture the moment.
If you're a photographer like me or just want the clearest view of the epic Na Pali coastline, then trust me, you're going to want to book a doors-off tour.
The second biggest difference is that a doors-off helicopter ride is much more of an adventure than a doors-on tour. If you want a bit of an adrenaline rush, you'll definitely get it with a doors-off tour.
A doors-on tour feels more like taking a ride on a small plane, while a doors-off tour is a total thrill, leaving you exposed to the elements of wind and even potentially a little rain. It's all part of the fun!
Doors-off tours are a bit louder because there is more air flowing through the aircraft, however the captain will provide noise cancelling headphones that really help with this.
With a doors-off tour you definitely have to think more carefully about what to bring with you (and more importantly, what not to bring), but we'll get in that in more detail below.
The last difference is the price. The doors-off tours are typically more expensive. If taking a doors-off tour is not within your budget, I still highly recommend taking any helicopter flight over Kauai!
Still think you'd rather go with doors-on? Here's one of the best helicopter tours on Kauai for a doors-on experience.
If a helicopter tour isn't for you, you can also explore the Na Pali coast by boat.
Or book a flight on a small aircraft here.
What to Consider When Choosing the Best Doors-Off Helicopter Tour
I did a TON of research before choosing which company to go with for our doors-off helicopter tour of Kauai, so you can check out my top suggestions in the next section.
However, it's always important to do your own research so here are a few things you should consider before booking.
The Reviews: I can't stress enough to go with a company that has solid reviews. Helicopters can be dangerous and you want to be able to trust that the company is making the right call on the day of your flight based on the weather and potential safety threats. Kauai can have super dicey weather! With that said, all the companies I've included here have great reviews so you can rest assured you're in good hands.
How Many Other People Will Be On the Tour? Depending on the tour company, you may be paired with other people from a group. If that's an issue for you, make sure to double check with the company before booking.
Time of Day: If photography is your main goal, this is important so you get the best light. I go into this in more detail later in the post, but I would suggest shooting for a flight that's later in the day. Morning is often recommended because the weather is typically calmer, but the light is better in the afternoon.
Weight Limits: Every aircraft has specific weight limits, so if you or something you're traveling with is on the heavier side, there's a chance you might have to pay for an extra seat. It's always best to check this ahead of time!
What are the Best Kauai Doors Off Helicopter Tours? 
While there are many helicopter companies in Kauai, there are only a handful that offer a doors-off experience. Below I'm breaking down what makes each one worthwhile.
Airborne Aviation (Best Overall)
Airborne Aviation has a history providing rescue services for the Kauai Fire Department, so you know you're in good hands here. Their doors-off flights carry four total passengers and feature no middle back seats, giving all passengers the best views possible.
These are shared tours though, so if you want something more private you need to select all 4 passengers at checkout.
This is my pick for best tour overall because it checks all the boxes of great reviews, safety and ideal seating configurations. Plus, they offer one of the most affordable doors-off helicopter tours in Kauai, so you're getting great value when you go with Airborne Aviation.
If you're ok with a slightly shorter flight time (50 minutes), this is a great option for you. Flights start at $325 per person.
From the reviews:
"The ground crew was efficient, safety minded, informative, and friendly. The aircraft configuration is perfect for touring the island and getting incredible photos and videos as everyone has a front row seat! Kate, our pilot and tour guide is exceptional. She gave her passengers a sense of comfort with her impeccable piloting skills. She also got us up close and tight for great photos. I'm a pilot as well so i can comfortably recommend kate, and the whole crew as your "go to" aerial guide service for Kauai! Great job team! A+"
Mauna Loa Helicopters (Best for Photographers)
For photographers, this might be the best doors off helicopter tour Kauai has to offer. We went with Mauna Loa simply because they offer a unique Photography Flight which caters specifically to photographers. I also loved that every tour is private, so you don't have to share with other passengers.
Mauna Loa started as a flight school, so all the pilots are very well trained and they provide interesting guided information as you ride as well.
With that said, the photography flight is definitely one of the most expensive doors-off helicopter tours starting at $399 per person, but there are cheaper options if you don't need to do the photography tour.
From the reviews:
"THE BEST EXPERIENCE!!! 5 stars across the board for Mauna Loa Helicopter Tours! We did the Door Off, Photography tour and had some input on what photos we wanted for the tour! And it was amazing!!! I would do it all again!"
Ali'i Air Tours & Charters (Best Private Tours)
This company doesn't have as many reviews on TripAdvisor as the others, but it stills gets great reviews overall and is another option to consider when booking a doors-off helicopter tour.
They only operate private charters (with minimum two passengers) and don't have middle seats on their flights, which means everyone gets a window seat!
Ali'i Air doors-off tours start at $399 per person.
From the reviews:
"An unforgettable amazing experience! My husband, daughter and I loved every second of the whole trip! The flight was absolutely stunning from start to finish. It really is the best way to see the true beauty of Kauai. Everyone was friendly and our pilot was so knowledgeable. We'd do it again in a heart beat and throughly recommend it to everyone!!"

Jack Harter (Best for Longer Flights)
Jack Harter was the first company to start offering doors-off flights and have been operating on the island since 1962. As one of the OG companies, they're definitely a trusted name in the Kauai helicopter space.
This is one of the longer tours at 60-65 minutes per flight, and prices start at $359 per person. They also have even longer tour options if you're looking for something closer to 90 minutes!
"This was one of the highlights of our Hawaii trip. The flight was amazing, and our pilot showed excellent skill navigating the peaks and valleys and Napali Coast, including flying right into some of the "cathedrals" — absolutely beautiful and breathtaking. It will be chilly, so bring cold, close-fitting clothes, but the chill was worth it! The staff at headquarters was extremely helpful in getting us all set up, and even arranged to pick us up at the airport when we arrived. I highly recommend this tour!"
Air Kauai (Best for Larger Groups)
Air Kauai is one of the top-rated helicopter companies that offers both doors-off and doors-on flights. They also offer one of the most affordable tour options on the island.
If you're traveling with a larger group this may be the best option for you as they can fit up to six passengers on board.
The flight time is a bit shorter (45-50 minutes), but prices start at a very reasonable $345 per person. Important note: they only allow cell phone cameras on board (DSLR cameras must stay home).
"This experience was really once in a lifetime! Getting to see the Napali coastline and the Waimea canyon was unlike anything else. Adam was an excellent pilot/tour guide/MC/videographer. I highly recommend a "doors off" ride. With no windows in the way I was quite literally on the edge of my seat for the entire flight. Some of the views will surely be in my dreams for many years to come."
Kauai Doors Off Helicopter Tours Tips
Here are a few pro tips you need to know in order to have the most successful experience on a Kauai doors-off helicopter excursion.
Book at the Beginning of Your Trip
While your inclination might be to end your Kauai trip with a bang and book this for one of your last couple days, here's why you shouldn't do that.
These tours often get rescheduled due to weather, so leaving it for the last day could mean missing your tour altogether. It sucks when they cancel (this happened to us!), but it's only for your safety and better visibility, so it's really better this way.
Another reason why this is a great activity to do early on in your trip is because it will give you the lay of the land and help you truly understand where everything is located around Kauai.
Stay Nearby on the Days of Your Helicopter Tour
All Kauai doors off helicopter tours depart from the Lihue Airport, and as I mentioned, they can often get delayed or rescheduled due to weather.
To avoid wasting a ton of time driving back and forth to the airport, you may want to consider basing yourself closer to Lihue on the days surrounding your helicopter tour.
Anywhere between Kapa'a and Poipu is pretty manageable driving-wise, but I wouldn't recommend staying further away than that.
Wear the Right Clothes
While it doesn't matter as much in an enclosed helicopter, it's really important to dress appropriately for the doors-off experience—both for your safety and to ensure you can enjoy the ride.
It can get quite windy and chilly without the doors on, so you'll want to make sure you wear form-fitting clothes that won't flop around and have everything super secured.
Also, wear something warmer that covers your legs and arms like leggings, sneakers, and a zip up jacket. Don't wear a hoodie like I did which will just flop around chaotically the whole time—learn from my mistakes!
Tie Your Hair Back
In addition to my hoodie issues, my long hair also posed a bit of a problem during the flight as the bun I put it up in immediately started loosening and flopping around once we gained altitude.
I would recommend a braid if you have long hair like me, or do something to secure it really well.
Avoid Motion Sickness
If you're prone to motion sickness, I highly recommend taking some Dramamine beforehand. You'll also want to limit how much you're taking photos with your phone and camera.
I say this because I experienced some pretty extreme motion sickness towards the end of the flight and I think it was mostly due to the fact that I was viewing the scenery through my camera's viewfinder half the time!
Keep your eyes on the horizon and you'll fare much better than me.
What to Expect on the Day of Your Kauai Doors-Off Helicopter Tour
On the day of your tour, you'll need to arrive about 30 minutes prior to your flight time (this might vary depending on the company you choose).
Keep in mind there are weight limits, so if you weigh over 250-275 pounds (this also varies by company), you may have to pay an additional fee. Some companies include anything you might be bringing on the flight as part of your total weight.
All the flights leave from the Lihue Airport, so this is where you'll check in and wait for your flight to depart.
We had our tour cancel due to bad weather on our first attempt, and we were pretty much sitting there and waiting up to the minute of departure before they made the call. This is pretty common!
On the day of our rescheduled tour, the weather was looking much better and we were cleared for take-off.
Once we hopped on board and got secured in our seats, Mauna Loa gave us specific lanyards to secure our devices along with noise-cancelling headphones to reduce noise and allow us to communicate with the pilot.
As we took off and ascended into the air, the epic views were instantaneous. The biggest surprise to me was that the doors-off aspect was not actually as scary as I was anticipating from a fear of heights perspective.
I was more terrified of the wind and dropping something out the window! This is why everything you have is super secured. Either way, it's all part of the excitement.
The first part of the ride is typically where you'll head out over the interior of the island towards Waimea Canyon, spotting sone of the most lush green terrain with countless waterfalls along the way.
We also saw multiple rainbows right at the beginning of the flight, which was super special, but not uncommon given Kauai's weather conditions.
This part of the tour makes you truly feel like you're in a scene from Jurassic Park—in fact, you'll likely fly over Manawaiopuna Falls, which became famous for being featured in the movie.
Finally after making your way through Waimea Canyon (also known as the "grand canyon" of Hawaii), you'll hit the Na Pali coastline, which is the absolute highlight of the journey. It really is one of the prettiest and most epic views in the entire world in my opinion.
Along the Na Pali coast, you'll take in the dramatic scenery, featuring jagged cliffs, pristine hidden beaches, and even sea caves. The open doors really make it so easy to take it all in with the best possible views.
After spending some time on the Na Pali coast, we then flew over towards Kauai's North Shore and then continued clockwise around the island back to Lihue.
Photography Tips for Your Kauai Doors Off Helicopter Tour
If epic photos are your goal during your doors off helicopter Kauai tour, then here are a few tips to keep in mind:
Set your camera to Aperture Priority so you don't have to fiddle with your settings on the fly
Utilize a high shutter speed to reduce blur from the helicopter's motion
Take a mid-day or afternoon flight for the best light on the Na Pali Coast
Make sure your camera is super secure and leave any lens caps or accessories behind before you take off
Unfortunately you won't be able to switch lenses mid flight, so choose wisely the style of photos you want. The photos in this post were taken with my Sony A7R4 on a 24-70mm lens. I would have loved to get some shots on a wider lens as well, but with a wide lens you run the risk of capturing some of the propeller blades or aircraft in the shot.
Kauai Doors Off Helicopter Tours FAQ
Is the helicopter tour worth it?
I think the reviews speak for themselves. Tons of visitors to Kauai say this is the #1 top thing to do on the island, and I would have to agree!
What happens if my trip gets cancelled due to bad weather?
Know that this is super common as Kauai weather is quite finicky! If weather prevents your flight from taking off, the tour will get rescheduled. Make sure to book your tour towards the beginning of your trip to leave room for schedule changes.
What can you bring with you on a doors off helicopter tour of Kauai?
Snug fitting clothing that won't flop around or fall off. Most companies will allow you to bring some type of device like an iPhone or camera to take photos with as long as it's well secured.
What shouldn't you bring on a doors off helicopter tour of Kauai?
Any loose items like hats, sunglasses, lens caps, etc.
What is the best time of day to book a helicopter tour?
This is undoubtedly one of the biggest questions people have before booking a helicopter ride in Kauai, and it's one I researched extensively before booking our trip.
The lighting on the Na Pali coast is tricky, so depending on how much you care about the photos you get, there are a few things to consider.
Many sources online will suggest booking a morning tour because of better weather conditions and fewer chances of cancellations. However, the Na Pali coast is on the west side of the island and so it's mostly shaded in the morning.
As the sun moves overhead and gets closer to setting in the west, the Na Pali coast begins to really sparkle with the best light.
Verdict: If you don't care about the photos or lighting, book in the morning to reduce your chances of rescheduling. If you want the best photos, book from mid-day to afternoon to get better light on the Na Pali coast!
What's the best seat to take when on a Kauai helicopter tour?
The helicopter tours of Kauai circle the island clockwise, so a seat on the right will give you the best views of the coastline. It's best to avoid the middle seat, but several companies don't fill the middle seats anyway to allow for all passengers to have great views.
What will you see on a doors off helicopter Kauai tour?
Some of the top highlights of a Kauai doors off helicopter tour include Manawaiopuna Falls located in Hanapepe Valley (aka Jurassic Park Falls), Waimea Canyon and of course the Na Pali coast.
Did this post inspire you to book an open door helicopter Kauai tour? Let me know in the comments!
Pin it for Later