If you google "best things to do in Tulum," you will find that the top results include cenotes. They're some of the most unique things to do on a visit to Tulum, but with more than 6,000 in the region, it can feel almost impossible to narrow down the best Tulum cenotes.
Don't worry, because we're going to help with that.
As someone who grew up going to the Yucatán Peninsula in Mexico to visit family, I would often hear them talk about these magical cenotes that filled the area, but I didn't truly understand the hype until I visited Tulum for the first time in 2020.
Luckily, my cousin has lived in Playa del Carmen for over 10 years (located less than an hour from Tulum) and acts as a tour guide in the area. He gave me the inside scoop on cenotes that are actually worth the hype, which I've since explored in depth!
This guide will cover everything you need to know about visiting the best Tulum cenotes on your next trip to the Yucatán! It's broken up into two sections: cenotes that are conveniently situated right in Tulum, and ones that are a bit further away (but worth the trip)!
Keep reading for important travel tips including locations, entry fees, hours and much more.
Words contributed by Anissa Borchardt, travel blogger behind Her Jolie Journey. Images by Anissa Borchardt and Michelle Halpern.
But First, What Exactly is a Cenote?
So what exactly is a cenote? Cenotes are natural sinkholes filled with fresh water that have been formed over centuries due to erosion—and they're pretty freaking cool.
Fun Fact: The largest underground system of rivers in the world can be found here and connects all the cenotes along the Mexican Caribbean.
These cenotes were important to Mayan culture, because not only were they a clean water source but also a symbol of life and death. It was believed that these cenotes were a gateway to the underworld and as a result, many rituals and ceremonies took place here.
You will find that the best Tulum cenotes fall under one of the three categories below:
Cavern Cenotes: These cenotes can be found inside caves and sometimes will include cracks in the rock that allow sunlight to pour in.
Open Cenotes: The oldest type of cenote and possibly the most recognizable. The limestone rock once surrounding these cenotes has fallen away, leaving them more open air and surrounded by beautiful jungle vegetation. They are often called natural swimming pools because they are above ground.
Semi-open Cenotes: Walls of limestone surround these cenotes featuring a large opening that allows sunlight and vegetation to funnel in.
Another type of cenote is an underground cenote, but these are tough to reach as only experienced divers can access them.
Tips for Visiting Cenotes Near Tulum
Best time to visit cenotes
Some cenotes are more popular than others, which means you can expect crowds at the most frequented spots. If crowds don't bother you, you will find that most cenotes are generally open from 9 am to 5 pm.
I recommend visiting the more popular cenotes early in the morning to really enhance your experience. There is something special about going for a dip in these cenotes without the crowds and noise of other tourists that will make for a more relaxing visit.
However, if you want the best photos with vibrant turquoise water, that's always easiest to find when the sun is overhead to bring out the color.
What to bring with you to Tulum's best cenotes
Some essential items include towels, bathing suit (it's better if you arrive already wearing one), water and cash.
Some optional items to bring include snorkel gear, water shoes, camera, GoPro, waterproof phone case, snacks, a change of dry clothes, and a life jacket (if the cenotes you are choosing to visit do not provide any on site).
Check out my full Tulum packing list, if you need a more extensive packing guide for your trip.
Do you have to rinse off before going for a swim in cenotes?
To protect the water and the ecosystem found in these cenotes, most require you to rinse off before stepping foot in the water. Yep, that includes your hair—so expect to get your hair wet when visiting the best Tulum cenotes.
Sunscreen, body lotions and perfumes can contain harmful chemicals, so rinsing off eliminates these threats.
What does it cost to visit the cenotes?
Prices vary from cenote to cenote, and we'll cover that in more detail below! Just make sure to bring cash, as we found that most places only take cash and not card.
Can you bring camera gear?
There are many cenotes near Tulum that don't allow DSLR cameras or drones, but permit phones and even GoPros. Some will charge you a fee to use a camera and/or drone, but more details on that below.
How do you get to the cenotes?
This varies depending on the distance. If the cenotes are located within city limits, taking a taxi or even riding a bike is doable from downtown Tulum.
Renting a car or booking a tour will be your best option if you're looking to travel to one or more of the cenotes that are further out.
If you really want to make the most of visiting the cenotes near Tulum, consider booking a full-day private cenote tour, which will allow you to enjoy multiple cenotes without worrying about the parking and logistics or the hidden costs and fees, as these tour companies will charge you for everything up front!
The Best Cenote Tours to Book!
▶️ Private Tour of Cenote Suytun & Oxman – Beat the crowds with this private tour to some of the Yucatán's most photogenic cenotes included in this guide!

▶️ Tulum Ruins and Cenote Tour – If you're traveling from Cancun to Tulum to explore the cenotes, this affordable tour takes you both through the archaeological ruins of Tulum and a nearby cenote.

▶️ Cave Diving Scuba Tour – For the truly adventurous and experienced divers, book this cenote diving tour to experience the rock formations and marine life under the surface.

▶️ Private Tour of 3 Cenotes in One Day – Visit multiple cenotes near Tulum in one day including Gran Cenote and Dos Ojos, without worrying about the logistics.
The Best Tulum Cenotes to Visit
Gran Cenote
Distance from Tulum: Just over 3 miles from the center of Tulum
Location: Quintana Roo 109, 77796 Tulum, Q.R., Mexico
Entry Price: $500 MXN or $25 USD (must be paid in cash)
Camera Fee: Not allowed
Open Hours: 8:00 AM – 4:45 PM
Facilities: Lockers, bathrooms and changing rooms.
Best For: Photos, convenience from Tulum and spotting small turtles in the water, so bring your snorkel gear!
Say hello to the most photographed cenote in Tulum! Due to its location, the Gran Cenote is super accessible and is considered one of the best Tulum cenotes.
This semi-open cenote is filled with some spectacularly, crystal clear blue water and is a popular spot for both snorkelers and divers.
For my snorkel fans, there are several small turtles that call this place home and are easy to spot. And if you forget to bring snorkel gear, you can easily rent some for 80 pesos. The Gran Cenote is 30 feet deep, so it's possible to scuba dive here as well.
Some rules to be aware of when visiting the Gran Cenote include rinsing off at their facilities before you get in the water and wearing a life jacket (they're included in the cost of your entry).
Dos Ojos
Distance from Tulum: 13 miles north of Tulum
Location: Cenote Jaguar Rd, 77780 Tulum, Q.R., Mexico
Entry Price: $350 MXN or $21 USD (cash only)
Camera Fee: 300 MXN or $15 USD
Open Hours: 9:00 AM – 5:00 PM
Facilities: Bathrooms, changing rooms and lockers.
Best For: Scuba diving and visiting multiple cenotes in one trip.
As if Tulum, Mexico needs another show-stopping cenote, Dos Ojos has been featured in multiple movies and documentaries due to its striking beauty.
It's part of the Sac Actun system, one of the largest underwater cave systems in the Yucatan Peninsula.
The English translation of this cenote means two eyes, because this spot consists of two cenotes connected by a passageway that is 1,312 feet long! Talk about a scuba diver's paradise. You can book a diving tour of Dos Ojos here.
If you are worried about the depth of these cenotes, you can rest assured there are both shallow areas and deep areas found here, making it more family-friendly.
A bonus of visiting Dos Ojos is that the space is a tourist park that includes four additional cenotes you can experience for an extra cost.
Cenote Cristal & Cenote Escondido
Distance from Tulum: Less than 2 miles from the southern exit of Tulum
Location: Km 223.8, Chetumal-Cancun, 77760 Tulum, Q.R., Mexico
Entry Price: $120 MXN for both. Cash only.
Camera Fee: No fees and drones are allowed
Open Hours: 9:00 AM – 5:00 PM
Facilities: Access to bathrooms, changing rooms and showers. You can also find a few picnic tables.
Best For: Family-friendly spot and best for beginner snorkelers and divers
These are two separate cenotes that we included together, because they can be found just minutes from each other and the admission price covers a visit to both. Gotta love those two for ones!
Even better, these cenotes are some of the cheapest in the area, making them one of the best Tulum cenotes to visit.
Cenote Cristal is an open cenote with water so clear you don't even need to worry about bringing snorkel gear (unless you want to).
Here you'll find a fun little diving platform and a rope in the water that extends from one end of the cenote to the other where you can rest. I recommend bringing water shoes here, as you will find it can get quite rocky.
Cenote Escondido is another open cenote located just 10 minutes by foot from Cenote Cristal. Cenote Escondido resembles the shape of a river and has more fun features like a rope swing and cliff-diving.
Cenote Vesica
Distance from Tulum: Found on the southern side of Tulum just minutes from Cenote Escondido and Cristal
Location: PARCELA No. 198Z-2P-1 EJIDO, 77760 Tulum, Q.R., Mexico
Entry Price: $300 MXN (cards accepted here)
Camera Fee: No fee
Open Hours: Mondays closed, 11:00 AM – 7:00 PM (Tuesday – Sunday)
Facilities: Towels, showers, bathrooms, wifi.
Best For: Luxury lounging, live music and wellness experiences.
Did you know there is an actual CENOTE DAY CLUB in Tulum?? This place really does have it all, and the best part is it remains relatively unknown!
This spot can be found on the outskirts of Tulum, so you'll want to take a cab here or a pretty long bike ride. There is parking available if you have a car.
It's best to make a reservation in advance, although not essential. Day beds around the cenote have a minimum spend on food and drinks of $1000 MXC per person and chairs around the cenote are $500 MXC per person.
If you want to save on costs and not be tied to a minimum spend, there is seating available just a short distance from the cenote.
This is easily one of the best Tulum cenotes, so if you want to skip the crowds and enjoy an authentic Tulum cenote with some great vibes, add this spot to your Tulum itinerary!
Cenote Calavera
Distance from Tulum: 10 minutes from the center of Tulum
Location: Carretera Tulum Coba Km 1.7, 77796 Tulum, Q.R., Mexico
Entry Price: $250 MXN in cash
Camera Fee: $200 MXN in cash (applies to GoPros as well)
Open Hours: 9:00 AM to 5:00 PM
Facilities: Restrooms and showers
Best For: Cenote jumping!
Though tiny, this cenote packs a punch and is growing in popularity; many locals claim this is the best Tulum cenote!
Did you know that this cenote was named after a skull because of its shape? Looking at the cenote from above, you'll notice two holes in the ground that resemble eyes and the main hole resembles a mouth like the face of a skull.
You can choose to enter the cenote by jumping into one of the three holes, or you can use the large wooden ladder found at the main hole to climb in.
The visibility found deep below the surface is actually quite good making it a popular spot for divers, but I recommend going mid-day if you want the turquoise colors to pop from the sun.
Cenote Corazon
Distance from Tulum: 4 miles from downtown Tulum
Location: Carretera A Tulum Carrillo Puerto KM 200, Tulum, Q.R., Mexico
Entry Price: $150 MXN in cash
Camera Fee: None, drones are allowed and no extra fee is added.
Open Hours: 9:00 AM – 4:30 PM
Facilities: Bathrooms, showers and snorkel equipment for rent.
Best For: Photos and snorkeling
Perhaps best known for its heart shaped (when viewed from above), this cenote is a memorable one.
The wooden platforms that surround this cenote provide plenty of jumping points and seating options. The setting provides more of a tranquil atmosphere, as it's not nearly as well-visited as its neighbors (Cristal and Escondido).
This makes it one of the best Tulum cenotes to relax. The water provides plenty of visibility for snorkeling and diving. If you do plan on going for a dive, you do need to book through a diving center.
Casa Tortugas Cenotes
Distance from Tulum: Less than 20 minutes Northeast of Tulum
Location: Carr. Cancún – Tulum 239, Ejidal, 77780 Tulum, Q.R., Mexico
Entry Price: There are multiple packages to choose from, but the first guided tour package starts at $650 MXN. All packages include four cenotes.
Camera Fee: You must leave personal cameras and phones in lockers, but you can bring a GoPro. A photographer does follow your group and has photos available for purchase.
Open Hours: 9:00 AM – 5:00 PM
Facilities: Bathrooms, changing rooms, lockers, wifi and a restaurant and bar.
Best For: Multiple cenotes in one, guided tours and zip-lining.
What if I told you that instead of bouncing between various cenotes all over the Yucatán, there was a cenote that would entice you enough to stay all day?
Casa Tortugas is home to a natural park filled with four unique cenotes, so you can visit all of them at once!
You will need to book a guided tour to explore these four cenotes, but you get to learn some amazing history along the way. The four cenotes include two open cenotes and two cavern-like cenotes.
After you visit all these cenotes with your guide, you are given a couple of hours of free time to choose which open cenote you would like to explore some more. There are multiple tour packages to choose from including a zip-line!
Cenote Nicte-Ha
Distance from Tulum: Located 20 minutes North of Tulum
Location: Cenote Nic Te Ha Rd, 77774 Q.R., Mexico
Entry Price: $250 MXN
Camera Fee: None
Open Hours: 9:00 AM – 5:00 PM
Facilities: Bathrooms
Best For: Less crowds, snorkeling and diving
When it comes to the best Tulum cenotes, this one checks all the boxes.
Cenote Nicte-Ha can be found within Parque Dos Ojos just 5 miles past the Dos Ojos parking lot. It doesn't get nearly enough attention that it deserves, but that just means less crowds you have to deal with.
This spot will make you feel like you've escaped deep into a secret jungle. It's covered in the prettiest water lilies that float above striking turquoise blue water.
This is a great spot to do some snorkeling and if you want to take a dive, you will need to arrange with diving center beforehand.
Book this highly-rated private tour that takes you to Cenote Nicte-Ha plus one other.
Best Cenotes Near Tulum
Willing to put in a little more effort for some of the Yucatán's best cenotes? Here are a few that are within driving distance from Tulum and worth the hype!
Cenote Oxman
Distance from Tulum: 1.5 hours North West of Tulum
Location: Periférico, 97780 Valladolid, Yuc., Mexico
Entry Price: $150 MXN in cash only
Camera Fee: No fee for cameras, but 150 MXN to fly a drone
Open Hours: Open 7 days a week, 7:00 AM – 5:00 PM
Facilities: Bathrooms, changing rooms and showers.
Best For: Unlimited entertainment and great facilities
Let me start by saying, I had the most fun at this cenote! This semi-open cenote is filled with hanging vines, but the best feature here is definitely the rope swing. I lost count on the number of times I took a swing on that thing.
Although once considered a hidden gem, this cenote has slowly gained more and more popularity so make sure to get there early to avoid the crowds.
Cenote Oxman is actually located on the grounds of Hacienda San Lorenzo hotel, so there are some extra amenities here that you won't find at other cenotes like a large swimming pool, restaurants and bars.
To gain access to Cenote Oxman you will need to pay 150 MXD in cash. If you plan on eating here, you can pay 200 MXN to enter, and this will include a 50 MXN voucher to use towards the hotel restaurant.
Another option includes paying a 300 MXN entrance fee and this grants you access to everything on the property with a 150 MXN voucher to use at the restaurant.
If you aren't planning on spending a lot of time here, I would pay the basic 150 MXN admission fee and head to Valladolid for food.
Want to beat the crowds? Book a private tour here that takes you to Cenote Oxman and Cenote Suytun for the best photos.
Cenote Suytun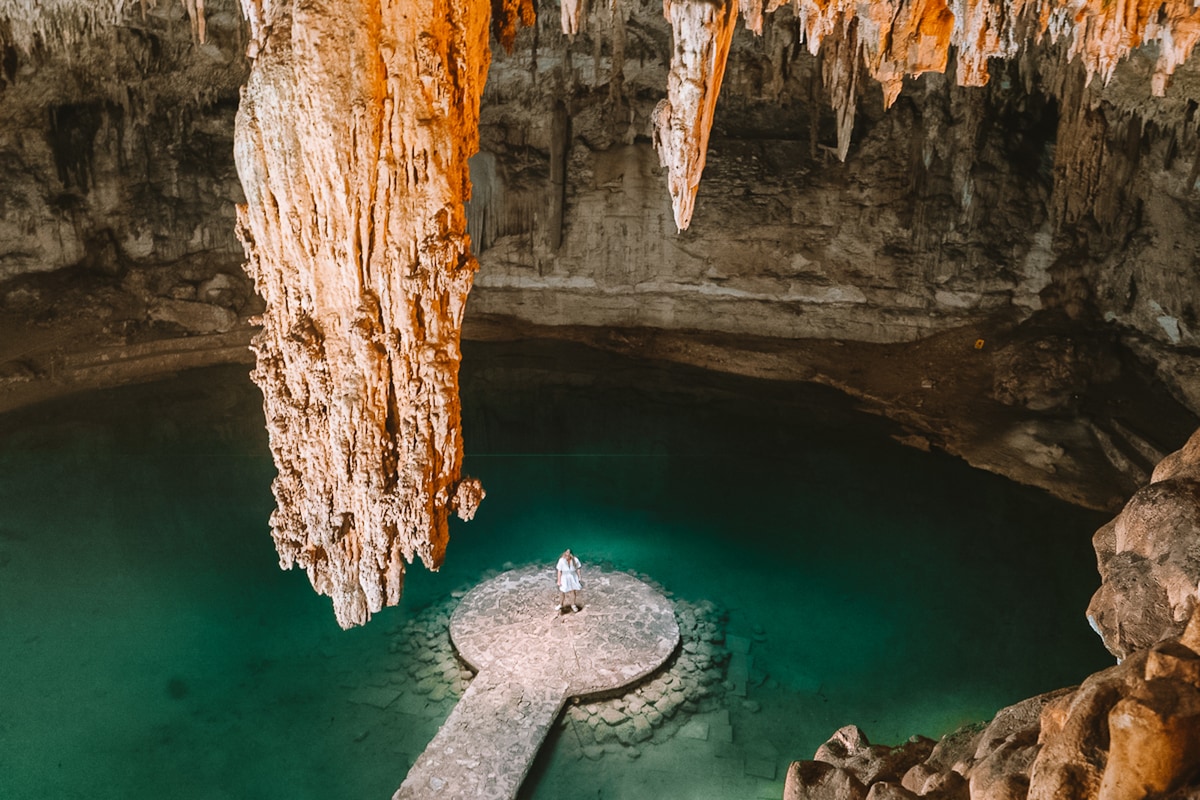 Distance from Tulum: Located less than 1.5 hours North East of Tulum.
Location: Carretera Ticuch Km 8 S/n, 97780 Valladolid, Yuc., Mexico
Entry Price: $200 MXN, but includes entry to 2 cenotes and life jacket rental. Cash only.
Camera Fee: None, but drones are not permitted.
Open Hours: Open 7 days a week from 9 AM – 4:30 PM, but get here early to beat the crowds!
Facilities: Food and drink stands, lockers, changing rooms and restrooms and gift shop. Towels available for rent.
Best For: The perfect Instagram photo.
This is easily the most Instagrammable cenote in the Yucatan Peninsula and can be found less than 15 minutes from Valladolid.
The unique feature of this semi-open cenote is the circular viewing platform that juts out right through its center. Light beams directly overhead hit the center of this platform around midday, making for dream-like photo ops.
INSIDER TIP: Don't expect to do too much swimming here, as it's considered one of the most shallow cenotes in Yucatán. It ranges from 3.5 feet to 16.5 feet. And tbh, you will find that most people come here to take photos.
You can expect to stand in line with other visitors who are also dying to catch the perfect picture, so just be patient and you'll capture your perfect shot. Or book this private cenote tour that will take you to both cenotes Suytun & Oxman before the crowds arrive!
PS – Keep your eyes out for the cenote's resident peacocks on property.
Cenote Ik Kil
Distance from Tulum: Located 2 hours Northwest of Tulum
Location: Km. 122 Valladolid – Merida Tablaje Catastral 510, Merida – Valladolid Km. 122, 97753 X-Calakoop, Yuc., Mexico
Entry Price: $150 MXN in cash
Camera Fee: No camera fee, $50 MXN for domestic video camera, no drones allowed
Open Hours: 9:00 AM – 5:00 PM
Facilities: Lockers, bathrooms, showers, and changing rooms, plus two restaurants.
Best For: Beautiful views and a little cliff jumping
This one is a must-see if you are planning on visiting the Mayan ruins of Chichen Itza.
Cenote Ik Kil is located less than 5 minutes south of these ruins. Given its close proximity to the ruins, you can expect a lot of people, but this shouldn't deter you from visiting.
The cenote resembles something straight out of a Tarzan Disney movie with beautiful vines and vegetation that pour into this cenote.
And if you're looking for a little dash of fun, you can jump in from the edge of the staircase. The cenote is 164 feet deep, so life jackets here are required (but are included in the price).
Cenote X'ux Ha
Distance from Tulum: Located just over an hour Northwest of Tulum
Location: Carr. Costera del Golfo 148, Yucatán, Mexico
Entry Price: $150 MXN, $80 MXN for Children 12 and under
Camera Fee: None
Open Hours: 8:00 AM to 5:00 PM
Facilities: Showers, restrooms, changing rooms, lockers and a snack stand with beverages and fresh coconuts.
Best For: Escaping the large crowds
In an area that is often overrun by tourists, you can feel confident in knowing that this cenote is considered more of a hidden gem.
The sheer size of this cenote makes it stand out. You have to go down 82 feet of stairs to reach the cenote, but will be blown away to find beautiful, deep blue water found inside a massive limestone dome.
There are some small openings at the top of the dome that allows sunlight to filter in and make this cenote feel truly magical.
This is the perfect spot to do some snorkeling and catch sightings of numerous fish and small turtles. And if you love scuba diving, you can find a network of passages and caverns down below.
Another great feature of this cenote is the large diving platform found here, although not for the faint of heart. The diving platform looks mild in height…that is, until you reach the top. It was definitely a one and done jump for me!
Cenote Azul
Distance from Tulum: 30 minutes North of Tulum by car
Location: Riviera Maya, Carr. Cancún – Tulum Km 266, 77734 Playa del Carmen, Q.R., Mexico
Entry Price: $120 MXN in cash
Camera Fee: No fee, but drones are not allowed
Open Hours: 8:30 AM – 5:00 PM
Facilities: Restrooms, changing rooms, showers, snack booth and snorkel equipment available for rent.
Best For: Families and open-air swimming
Just 30 minutes north of Tulum, you will find this incredible open-air cenote filled with some of the most stunning, crystal clear water.
Rumor has it this is one of the largest cenotes in Mexico. This means you will find a good balance between shallow parts and deep parts, making it a great family-friendly cenote near Tulum to check out.
Due to the sheer size of this cenote you can find areas that feel less crowded. And if you're looking for a little bit of an adrenaline rush, you can do some cliff jumping here from as high as 15 feet.
Map of the Best Tulum Cenotes
I hope this guide helped you better narrow down the best Tulum cenotes to visit on your trip and help you feel less overwhelmed by the sheer volume of cenotes near Tulum and the Yucatán.
Here's a handy map you can reference that will help you visualize where all the top cenotes in Tulum are located!
About the Guest Writer: Anissa Borchardt is a part-time content creator based in Arizona and the face behind Her Jolie Journey, a travel blog dedicated to helping part-time travelers make the most of their PTO and weekends. Follow along with Anissa's travels on Instagram and TikTok
Pin it for Later