I recently visited Temecula for the second time around during a road trip through some of the best wine regions in California, and I can confirm that if you're a vino lover like myself, Temecula needs to be on your list. If you've been on the fence about Temecula, I'm going to show you why you should really consider paying a visit to Southern California's wine country, and I'll also share some of the fun things to do in Temecula.
I feel like Temecula has been a bit of a red headed stepchild of wine regions in California in the past (I mean, I get it–it's hard to compete with Napa and Sonoma). However, while it may not have the most accolades for award winning wine in the state, there is still a lot that is appealing about Temecula.
First and foremost, my favorite thing about Temecula is its laidback atmosphere. It's the opposite of snobby wine country. Here, you can rock up to wineries without reservations, wearing whatever the hell you want and not feel judged. While many visitors to Temecula are of course serious about wine, the underlying vibe is that people here just want to have fun. And I can fully get behind that.
For first-time visitors, there are some incredible curated activities including wine tours and epic hot air balloon experiences. Keep reading for a quick guide to visiting Temecula wine country and for my full list of the best things to do in the area.
Why You Should Visit Temecula
The vibe is laidback and casual, unlike some other wine destinations in California–perfect for last minute trips when you don't want to worry about what you're wearing or making reservations ahead of time.
It's one of the most convenient wine regions to get to from Southern California.
There are a lot of incredible experiences and things to do in Temecula that AREN'T wineries, so it's ideal if your group wants to partake in more than just wine tasting.
Temecula is one of the most varied wine regions in the state as far as the number of wine varietals it produces. If you're traveling with a mix of people that like different styles of wine, you'll find it all here.
Old Town Temecula is one of the most historic communities in Southern California and many of the buildings have been preserved from the 1800s. A stroll through downtown is like taking a step back in time!
---
Read More California Posts
---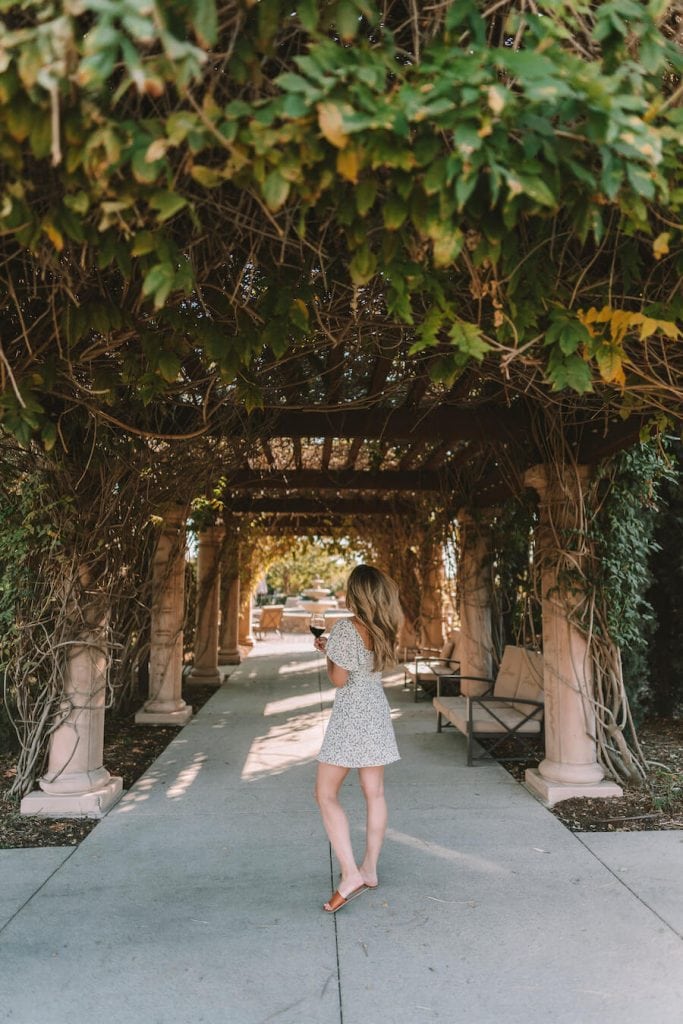 What You Need to Know Before Your Trip to Temecula
How do you get to Temecula?
From San Diego, the drive to Temecula is off the I-15 freeway and takes around 60 minutes. If you're coming from Los Angeles, it's a little longer, around 90 minutes driving Southeast.
Do you need a car in Temecula?
Yes and no. While I recommend people have a car pretty much anywhere they travel in California, because it's just more convenient that way, it is possible to travel to Temecula without a car. In that case, you would have to be OK with flying into a nearby airport like San Diego and taking an expensive taxi or Uber from there and for the remainder of your trip.
In my opinion, the much easier option is to drive yourself and then either take local Ubers between wineries to avoid drinking and driving or have a friend be the designated driver. If you're joining a tour in Temecula, they will also provide local transportation so you don't have to worry about driving in between tastings.
While there are some wineries that are within walking distance, most are more spread out throughout Temecula Valley so you're going to need wheels regardless.
When is the best time to visit Temecula?
Like many Southern California destinations, Temecula has pretty mild weather year-round which makes it a great place to visit during any season. Weekends are definitely more popular amongst visitors, but visiting on a weekday provides certain perks like better access to seating and savings with the area's weekday discounted SIP Temecula Passport.
Spring: Thinking about visiting in Spring? I love Southern California during this season because it's not too hot or cold and usually the greenery is at its peak lusciousness before turning more brown and gold by end of summer. This is a great time to pair your Temecula visit with some wildflower chasing as well.
Summer: July through September are definitely the hottest months in Temecula and also bring the most visitors. If you're planning to visit during this time, definitely make sure to book hotels and tours further in advance.
Fall: Super wine enthusiasts tend to prefer the fall season as it's the time of harvest. Starting in September, wineries in Temecula Valley will begin harvesting their grapes and will continue on into October. This gives visitors and tour-goers a unique look into the annual grape crush, which you can't experience any other time of year.
Winter: This is technically the off season when less visitors flock to California. For that reason it's a great time to take advantage of fewer crowds and better deals on tours and hotels.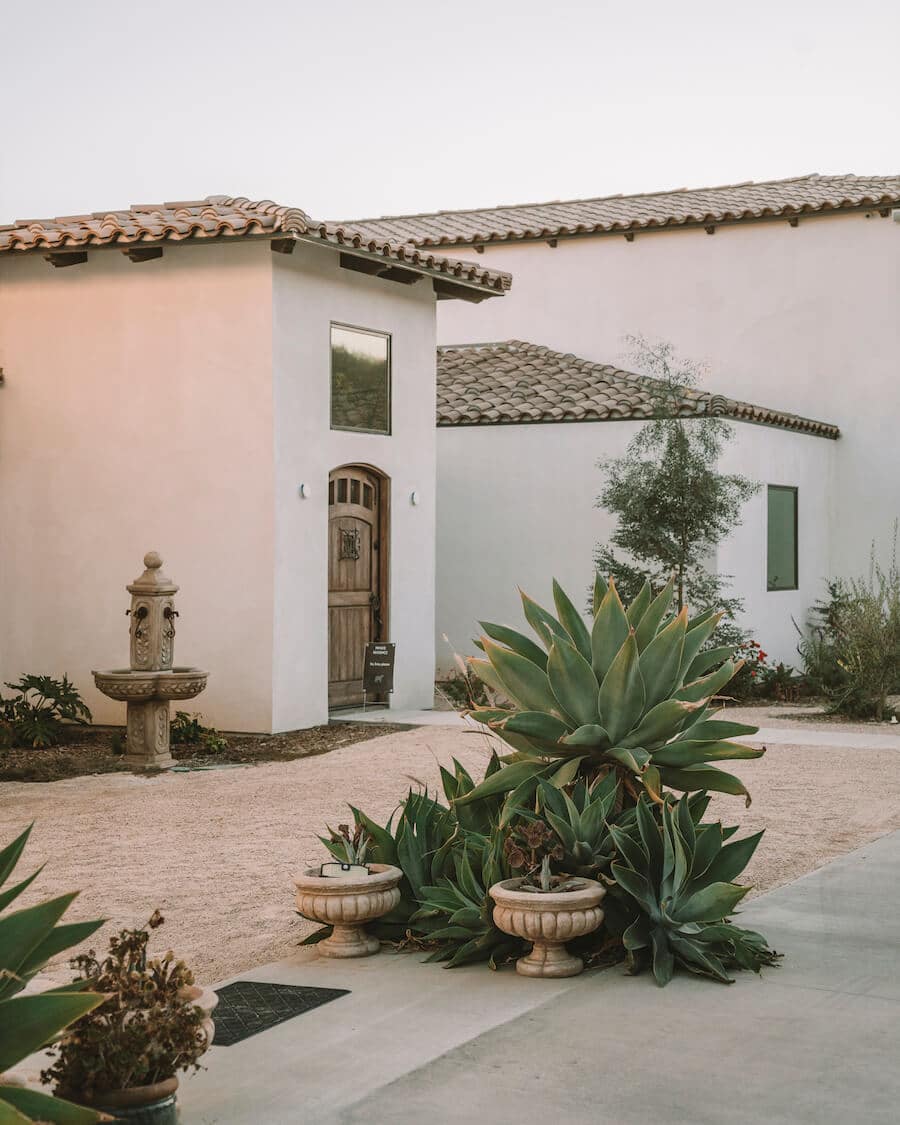 What is there to do in Temecula besides wine tasting?
Temecula has a range of attractions and activities if you're looking to spend a few hours away from the vineyards exploring the local area.
A few fun things to do in Temecula are:
Explore Old Town Temecula
Take a hot air balloon ride
Head to the Alpaca Hacienda
Go olive oil tasting
Horseback riding through a winery
You can even go line dancing at the Temecula Stampede (the West Coast's largest country western music venue) *make sure to check current closures*
Where to Stay in Temecula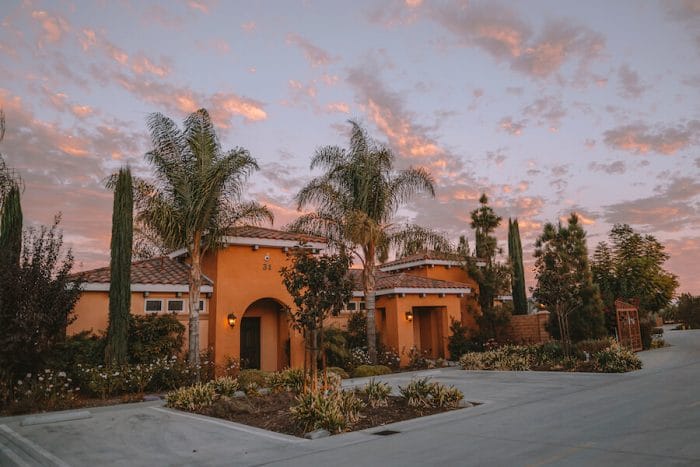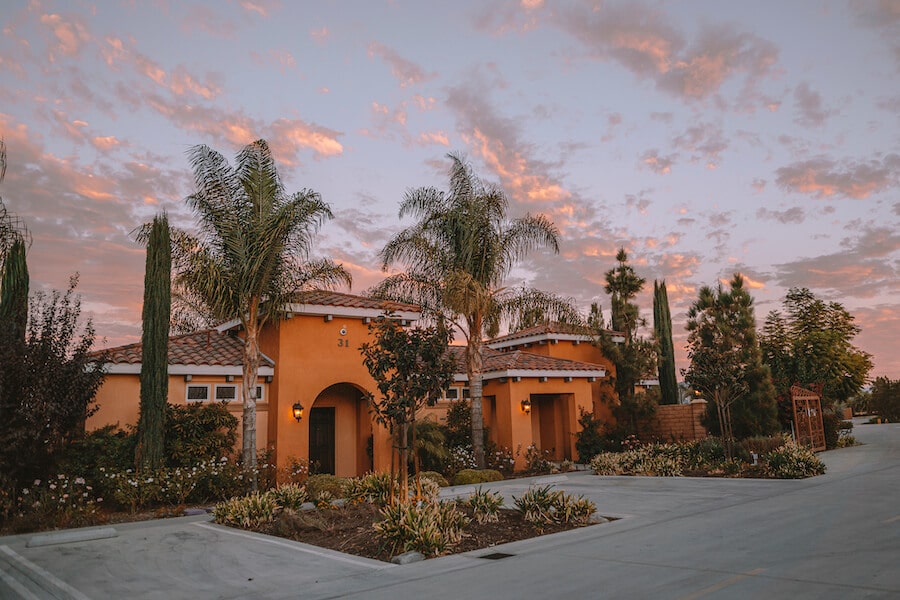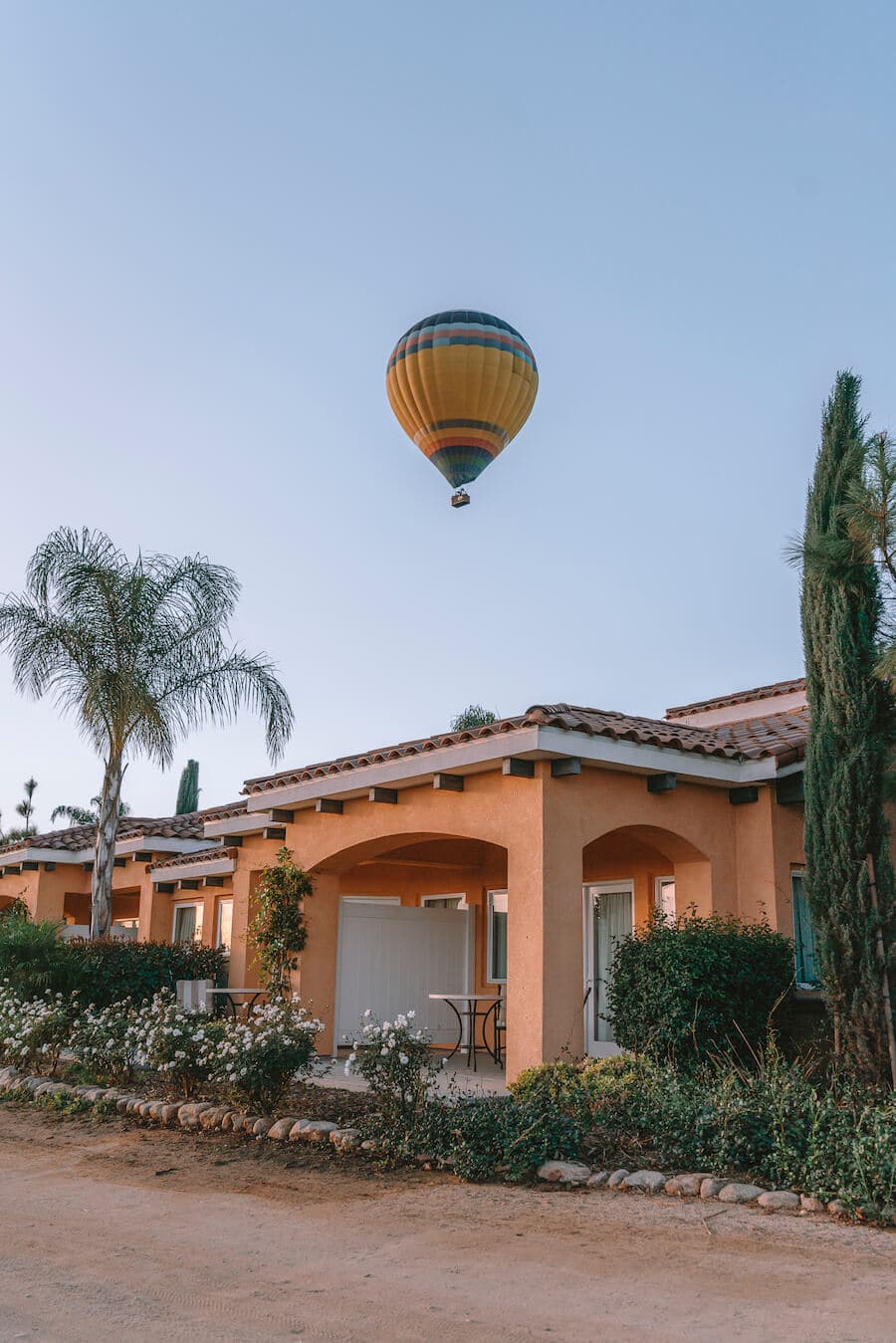 The Best Hotels in Temecula
If you're looking to stay right on a vineyard, the rooms at the Carter Estate Winery can't be beat, with direct access to the grape vines.
Behind a gated community, the private bungalows of Carter Estate feature a mix of modern and traditional design, and the tasting room on premise gives guests access to some of the best sparkling wines in Temecula Valley.
We stayed here during our trip, and I can't emphasize enough how cool it was sipping our coffee on the private patio in the morning with hot air balloons circling overhead. Some were literally so close to the hotel that we could hear conversations happening on the balloon!
I wouldn't say that the rooms here are the most chic or design-forward (honestly, not many places are in Temecula), but if you're looking for a spacious room with an amazing location, this is a great choice. The bathroom alone (with tub and separate shower mind you) was literally bigger than my apartment bedroom.
Extra bonus: There's a complimentary shuttle that will take you to their sister winery, South Coast Winery.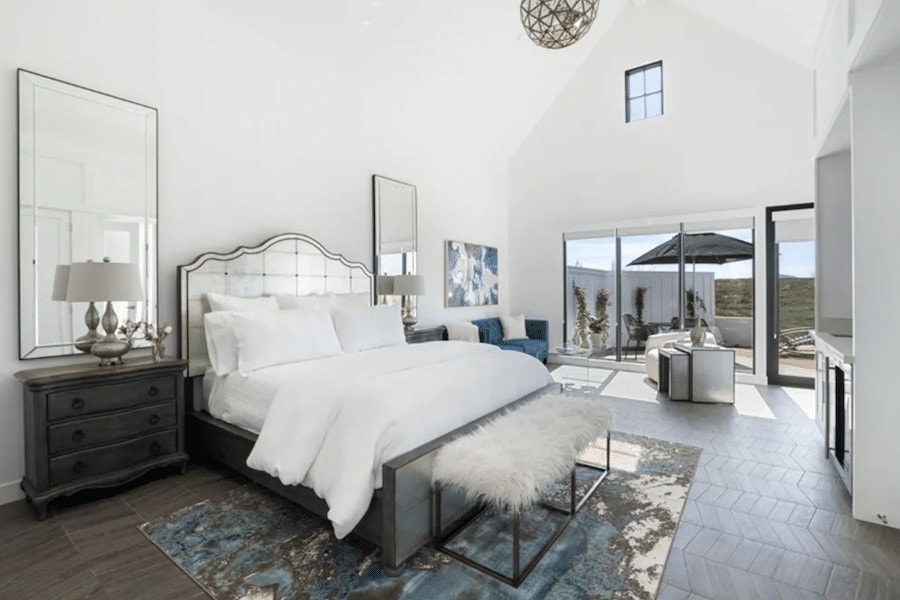 If modern design is your top priority, you'll definitely want to check out The New Inn which just opened up in March of 2020.
Featuring five uniquely designed modern villas, this intimate escape has a clean and contemporary vibe with luxurious amenities like outdoor rain showers, soaking tubs, Bluetooth speakers and private patios with fire pits.
If you're looking for scenic views over the vineyards, New Inn is a relaxing stay that offers customizable packages available for unique and luxury wine experiences.
Ponte Vineyard Inn is one of the most popular places to stay in Temecula for good reason. If you're looking for an all encompassing experience at a single property, Ponte is it.
I stayed here years ago and loved how much you can do without even leaving the premises. The hotel features a tasting room, four restaurants, swimming pool, spa services and a fitness center. Plus, it's within walking distance to three other wineries, so it's perfect for visitors who want everything they need all in one place.
Europa Village
Oozing in charm and character and inspired by the vineyards of Europe, Europa Village is both a winery experience and hotel that brings to life the essence of Spain, Italy and France.
While expansion of Europa Village is still underway and hasn't come to full conceptualization, the resort is currently home to Bolero, their Spanish inspired wine destination and C'est La Vie, their experience focusing on French wines. Next will come the Italian wine section, with fun shops and pathways connecting all three!
For now, guests can book reservations at either The Inn or Bolero, for two different accommodation experiences. If you're a lover of Old World Wines and want to feel like you're escaping to the Spanish or French countryside even if for a weekend, this is the place to be.
The Best Airbnbs in Temecula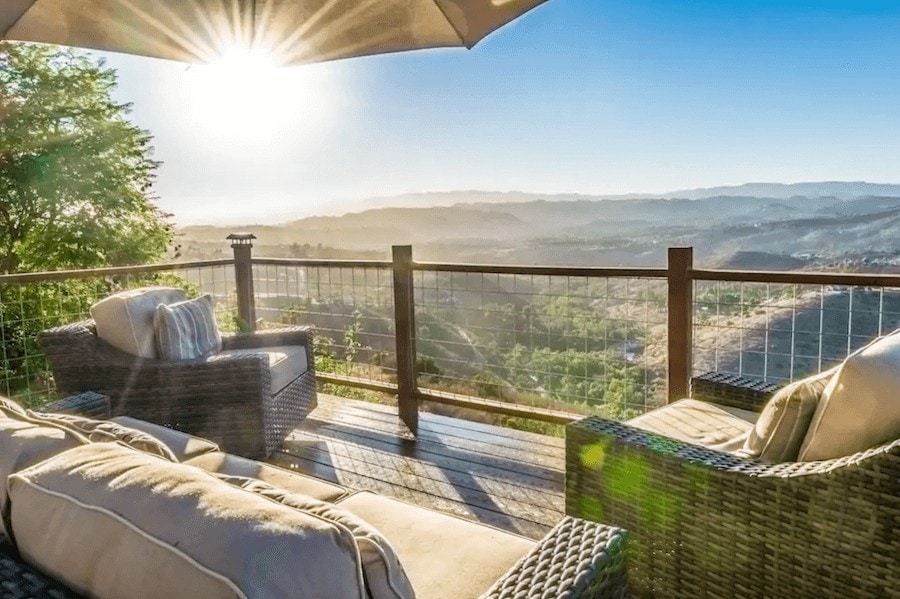 Best Airbnb in Temecula with a View
This Airbnb has a stunning patio that looks out onto the rolling hills and surrounding neighborhood. There are also several Instagram-worthy spots on the property, so be sure to take advantage and snap some cute photos. This is a great spot for larger groups and there is plenty of room to spread out.
Best Airbnb in Temecula Close to the Wineries
This stunning suite is surrounded by eight different wineries, meaning you can even walk to your walk wine tastings should you choose. It can fit up to four guests, so it's a good option for friends or couples traveling together. The property stretches across 4.5 acres, so there is plenty to explore during your stay.
Best Things to do in Temecula
See Temecula from above in a hot air balloon
Taking a hot air balloon ride is one of the most fun things to do in Temecula and if you go for a sunrise ride (which you have to, because they only depart at that time), the views are pretty magical.
I personally had never been in a hot air balloon until this trip and it turned out to be way less terrifying than I imagined. Take off can be a little bumpy, but once you're in the air it feels really peaceful gliding gently above all of the vineyards.
Another bonus I didn't realize I was going to get out of this experience? Spying on all of the epic Temecula real estate. Let me tell you, there are some INSANE homes in the area and even a private aircraft runway we got to scope out.
I recommend going with Magical Adventure Balloons who made the experience feel safe and entertaining.
If you're scared of heights, no worries. You can still experience Temecula's iconic landscape dotted with balloons, you'll just have to suffer an early wakeup call! It's still really cool to see the balloons launch in the air even if you're not up in one and you can get epic backdrops for your photos this way. We had great views of the balloons in flight over the vineyard from our hotel room at Carter Estate.
Go Wine Tasting
OK yes, this might be an obvious one, but you can't go to Temecula without experiencing some of the best wine tasting in the area. If you've ever been wine tasting in Sonoma or Napa, you'll notice that Temecula is nothing like that. It's way more casual and laidback, which can be a nice change of pace.
Many of the wineries are spread out, so it's a good idea to have a car or join a tour that will provide transportation between wineries. If you'd rather do a day of wine tasting by foot only, there are three wineries that are within walking distance of each other: South Coast, Ponte and Wiens Family Cellars.
Wiens Family Cellars
Famous for their "Big Reds," Wiens is the winery to visit for those looking for the best handcrafted red wines in Temecula.
Tastings start at $20, but for a more elevated experience, I'd recommend doing their private patio seated tasting of Reserve wines starting at $40, which were some of our favorite wines we tasted in the area. This tasting comes accompanied with cheese and charcuterie as well.
Carter Estate Winery
If you're a sparkling wine enthusiast, you can't miss Carter Estate Winery where they specialize in the bubbly stuff. Pro-tip: Try to get a table on their gorgeous back patio where you'll feel instantly transported to the Tuscan countryside.
Akash Winery
Perfect for a more modern wine tasting experience with food trucks, live music and hip vibes, Akash Winery is definitely a different change of pace from the typical Temecula wineries that seem set on recreating the Tuscan villa experience.
Akash is a family-owned winery that is newer to the Temecula scene, however the young winemaker is super invested in making Temecula a world class wine destination–and the enthusiasm shows. The winery already does a lot of fun events like Taco Tuesdays and yoga + wine offerings (if you're part of their wine club), but they also have plans to expand with bubble domes and a 49-room resort in the future.
Go for a tasting, or book a private wine tour starting at $35 for a more personalized experience.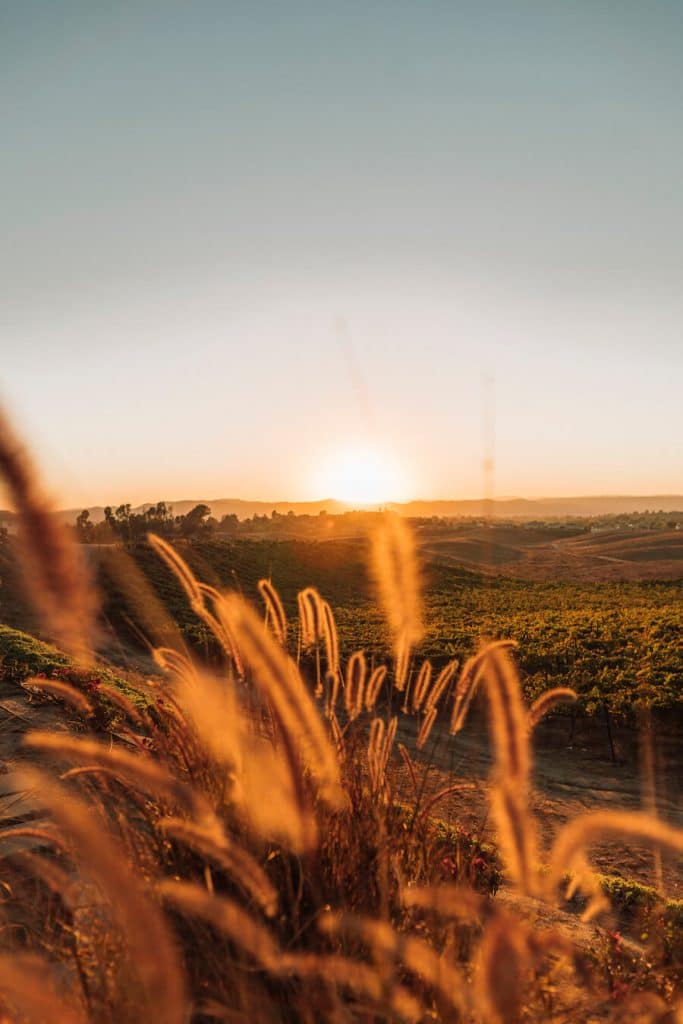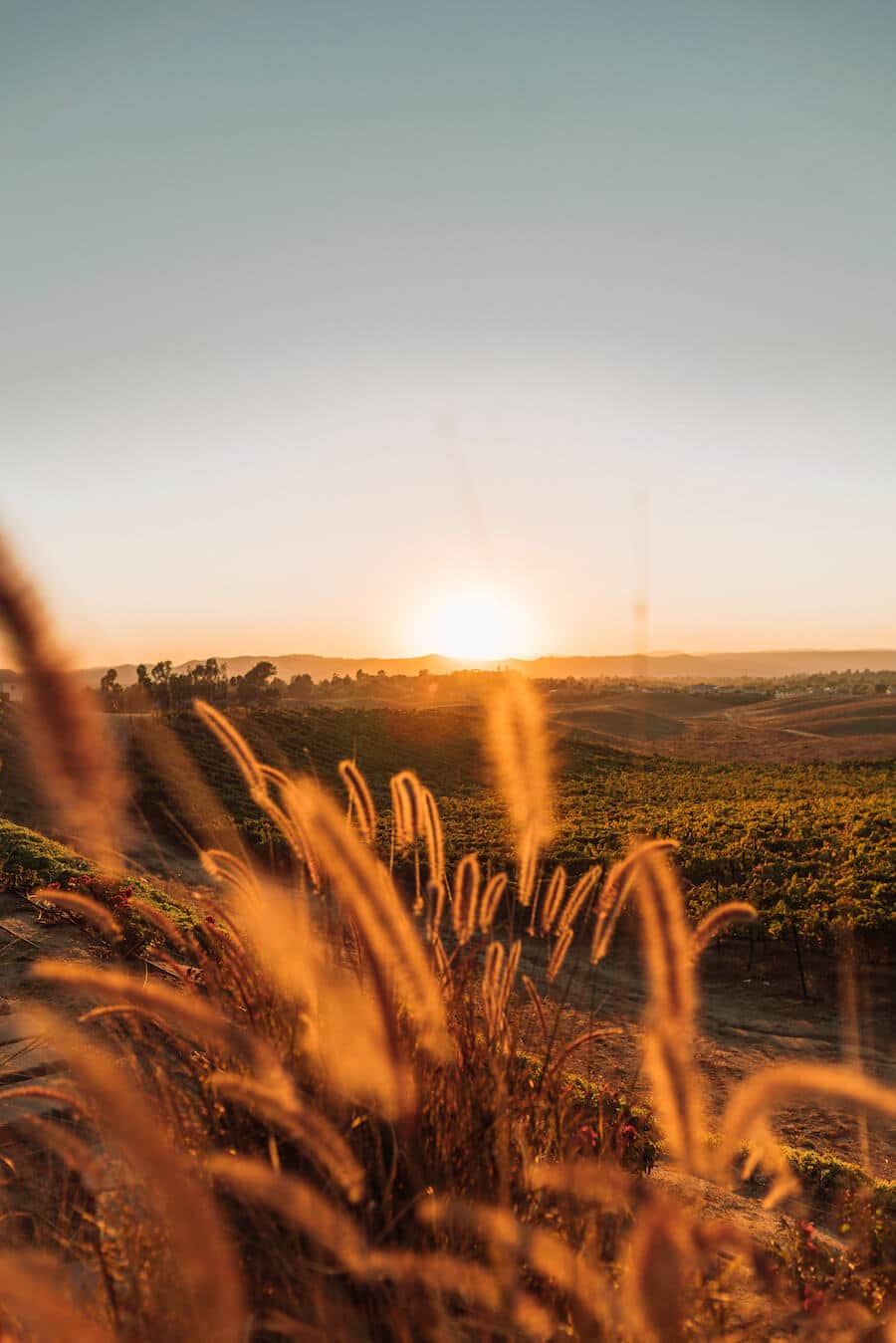 Sunset at Callaway Winery
During our stay in Temecula, we kept hearing the same tip over and over again: You have to go to Callaway Winery for sunset. Turns out they were on the money. While the wine wasn't my personal favorite, the ambiance and valley views are still worth a visit to watch the sun go down over wine country. If you're looking for the best sunset spot in Temecula, this is it.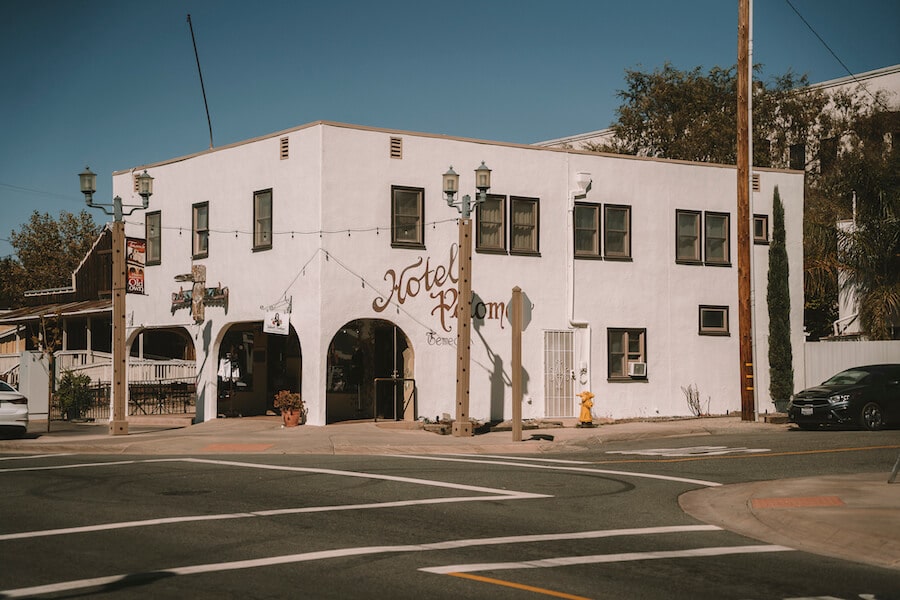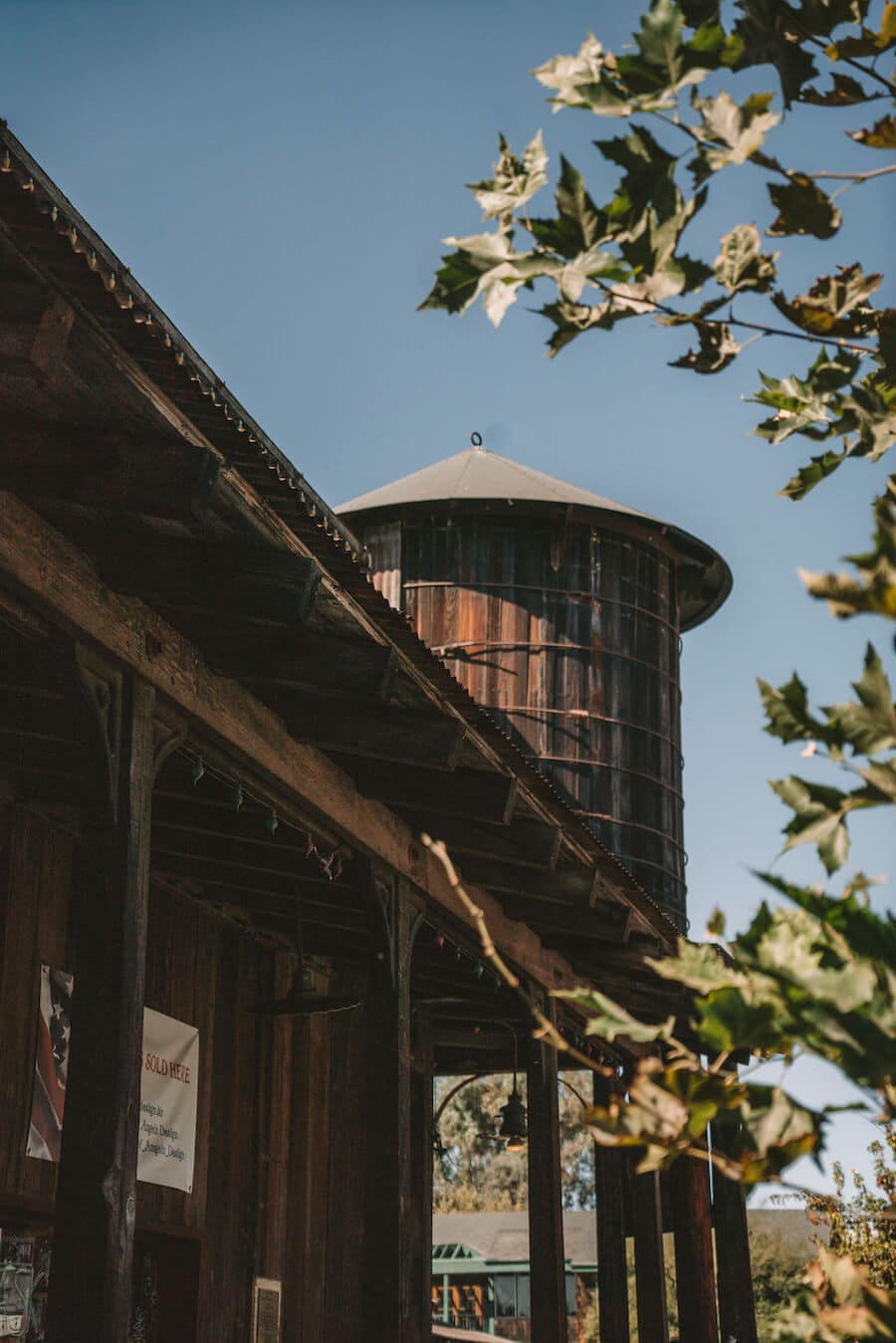 Explore Old Town Temecula
Stepping into Old Town Temecula is a bit like being on the set of an old country western film. It's fun to just casually stroll down the main drag for a couple hours or make a day of it. Either way, there are definitely some fun things to do in Old Town Temecula and it's a must on any trip to the valley.
Originally founded by the Temecula Indians, the area is one of the most historic in Southern California. The heritage and charm have been beautifully preserved in the Old Town with rustic buildings mixed in alongside quirky storefronts. Much of the architecture dates back to the 1800s and it's the perfect place to experience a bit of California history firsthand.
Along the main strip you'll find a mix of artisan boutiques, restaurants and antique shops. It's the ideal place to come and pick up one-of-a-kind gifts for friends and family.
Uncorked E-bike Tours
Want to experience Temecula wine country on two wheels? Hop on an electric bike and explore the valley led by a knowledge tour guide. You'll experience the beautiful landscape of Temecula and cap off the experience with a wine tasting at one of Temecula's oldest wineries.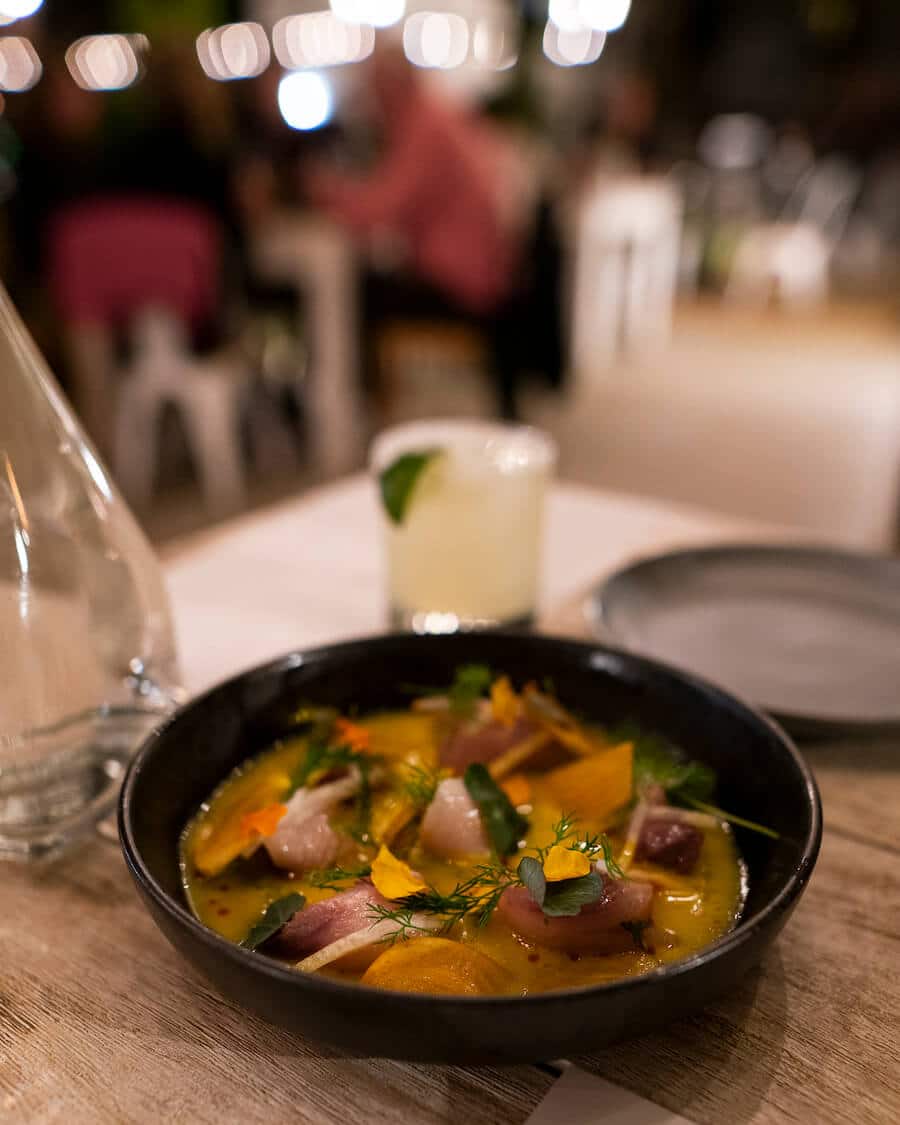 Small Barn
A place where beautiful design meets delicious food, Small Barn is definitely the best new restaurant in Temecula. The menu is led by Top Chef alum Angelo Sosa, and my friend and I literally drooled over every dish that came out to our table. Don't miss the ahi tuna and spiced pumpkin flan for dessert–it will all melt in your mouth.
Goat & Vine
While we didn't get to make it here during our visit, Goat & Vine was specifically recommended to us by the owner of Akash Winery, so I'm adding it to the list. He was very in-the-know on what is new in Temecula, so I 100% trust his opinion!
The restaurant serves freshly baked stone-hearth pizza with interesting combinations like the Thailand (oven roasted chicken, cilantro, green onions, grape tomatoes, bean sprouts, roasted peanuts, jalapenos, cucumbers, and house made sweet Thai chili sauce), alongside amazing wine. This is the place to be for a hearty meal that will soak up all that wine you've been sipping.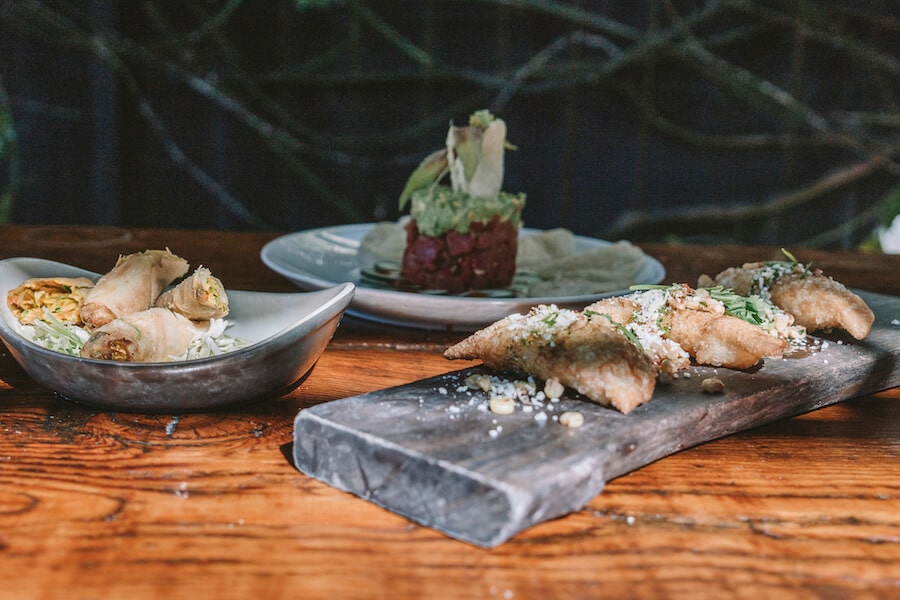 1909 Temecula
Located in the heart of the Old Town Temecula, 1909 is an industrial indoor/outdoor eatery that's open for breakfast, lunch and dinner. It's a great spot that fuses cuisines from all over the world and even offers a menu for visitors' four-legged friends.
Try the veggie wontons and crab and shrimp empanadas. I promise you won't be disappointed!
Take a Guided Jeep Wine Tour
I don't know about you, but Jeeps were my dream car growing up, so I'll take any excuse to hop a ride in one. Enter, Temecula Valley Jeep & Wine Tours, who offer 4×4 Jeep tours through Southern California wine country.
During their open-air tours, you'll stop by three wineries for tastings and have some backroad adventures to get a behind-the-scenes look at the winemaking process.
Weekday / weekend tours cost $120 and $130 respectively, and private tours cost $175 per person.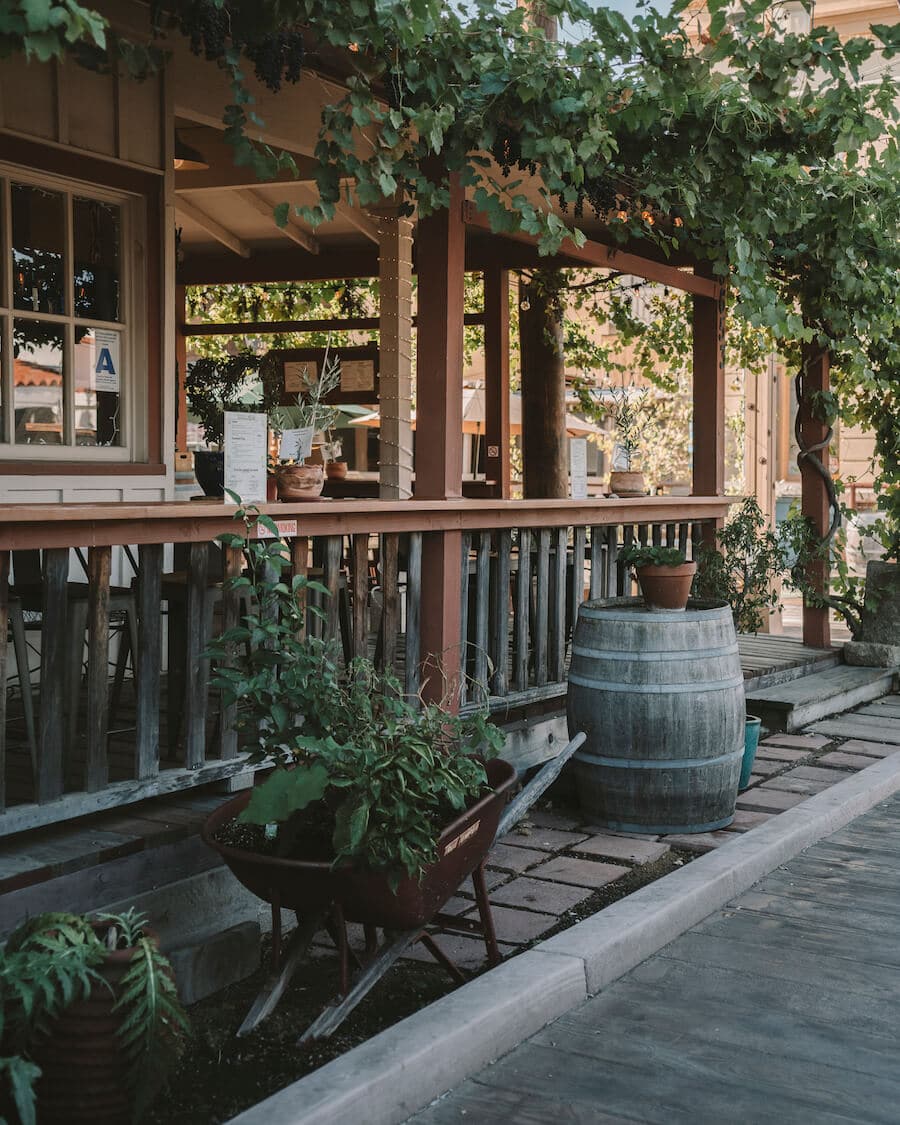 Olive Oil Tasting
When you're sick of taste testing every varietal of wine, head to the Temecula Olive Oil Company or Olive Plantation for a different kind of tasting experience.
At Temecula Olive Oil Company located right in Old Town, you'll find a wide variety of olive oils to try, while the selection at the Olive Plantation is a bit more limited and short-lived. However, I loved the intimate family-owned feel of the Olive Plantation and the property is straight out of a movie.
Temecula Haunted Bar Tour
This is personally something I would never do because I'm the biggest scaredy cat on Earth, but if you're one of those insane people who enjoys being spooked, this is the tour for you.
On this guided walking tour, you'll get an inside look at some of the history of Temecula by way of its most haunted bars. Prices start at $26.50 per person.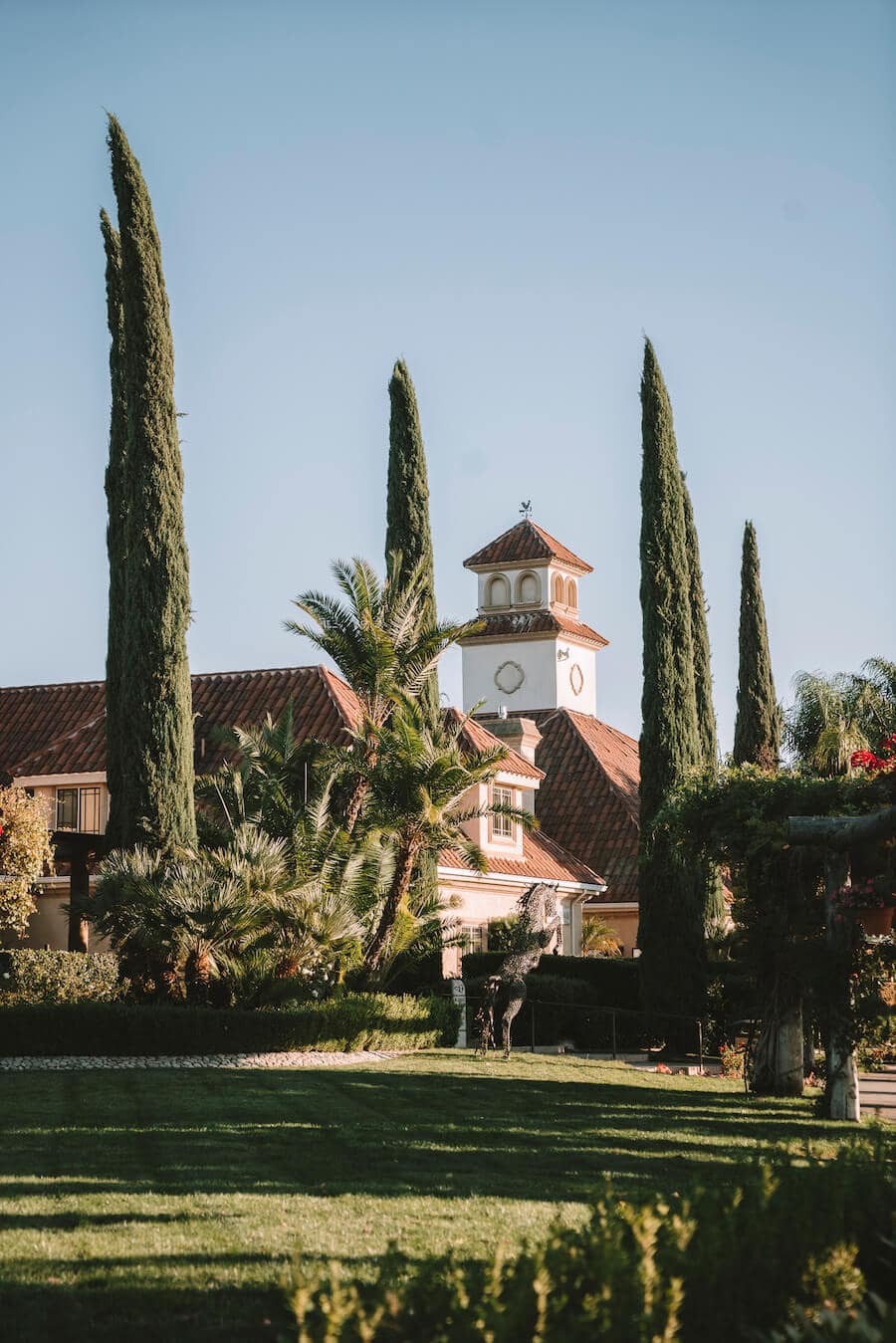 Take a Spa Day at Grapeseed Spa
Sometimes all that wine drinking can tire you out, which is why a spa day at South Coast Winery is the perfect reset. Pop over to the hotel's GrapeSeed Spa for a selection of treatments–which of course come with a glass of wine–and then stroll the nearby "Serenity Path" for a dose of Vitamin D.
Explore the Santa Rosa Plateau Ecological Reserve
A gem that many visitors to Temecula Valley miss, the Santa Rosa Plateau Ecological Reserve is a 9,000 acre nature conservation consisting of over 200 species of birds and 49 endangered animals and plant species.
There are 17 trails in total (9 of them on the easy side) ranging from 1.8 to 9.7 km., so you can pick a route that works best for your skill level while taking in some of the fresh Southern California air.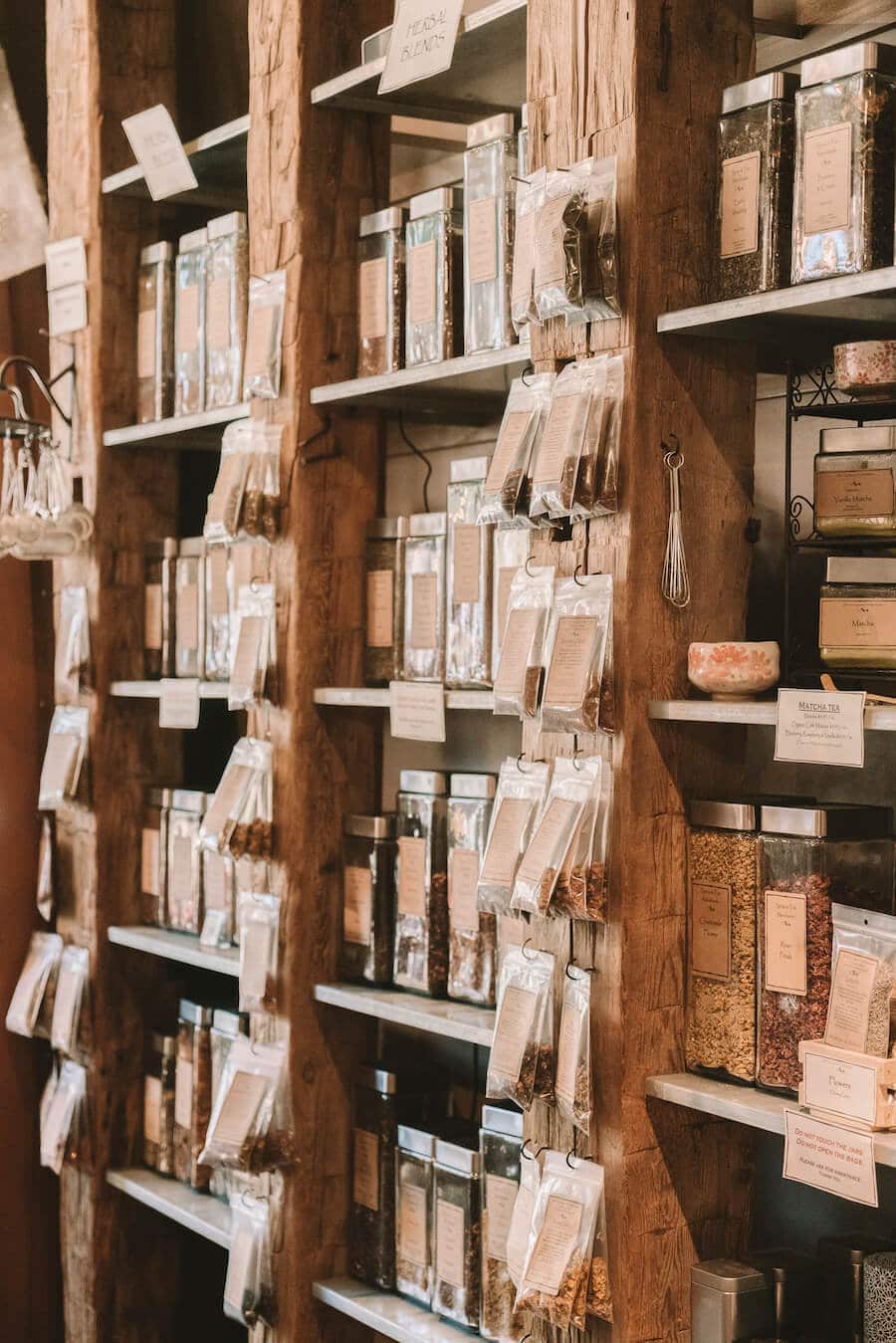 Go Spice Shopping at Old Town Spice & Tea Merchants
For my readers who love to cook, a visit to the Old Town Spice & Tea Merchants is going to be your playground–trust me. With wall-to-wall handcrafted spice mixtures on offer, this hidden shop is the perfect place to stop by to take a taste of Temecula home with you.
I'm still making my way through all of the mixes I bought: a cajun blend, a smoky cheddar popcorn seasoning, and a coffee BBQ spice mix. Are you drooling yet?
The Alpaca Hacienda
Alpacas might just be the cutest animals alive, and luckily you don't have to go all the way to Peru to get up close and personal with some of them. At the Alpaca Hacienda, you can take a private tour and learn about alpacas, while getting the chance to feed and interact with them.
Private tours start at $100 for 1-5 guests.
Horseback Riding Through a Winery
Take a scenic horseback ride through the valley with Wine Country Trails. The horses are all rescued and the owner of the ranch has worked really hard to rehabilitate over 50 horses. This tour is 90 minutes long and prices start at $95 on weekdays and $105 on weekends.
Grab a Coffee at the Press Espresso
Located in one of the western-style buildings in Old Town, this cute little coffee shop was the perfect pit stop during our time exploring the historic section of Temecula. I highly recommend the Press Espresso for a quick pick-me-up during your Temecula adventures.
Go On a Self-Led Brewery tour
Wine isn't the only style of beverage that Temecula has on offer. Discover some of the best breweries in the area for yourself and lead your own tour to Stone Church Brewing, Refuge and Aftershock Brewing, which are all within 10 minutes drive of each other.
Go Line Dancing at the Temecula Stampede
If you're looking to partake in an activity that screams Temecula, you'll want to hit up the Temecula Stampede, the west coast's largest country western music venue.
I hope this post gave you plenty of inspiration on things to do in Temecula for your next trip! If you have any questions, feel free to leave them in the comments below.
---
Planning a trip right now? Don't miss my go-to websites for booking everything from flights and tours, to accommodation and more:
---