You'd think after growing up in Maine that I'd be a pro at knowing what to pack for a winter trip, but when you live in California for 9 years, you sort of forget what…um…anything below 60 degrees feels like. Don't hate me.
With that said, I've basically had to relearn what to pack for a winter trip over the last few years of my travels and in the process, really dial in my winter packing process.
This has served me well on more recent trips I've taken in the bitter cold, like to Norway in the dead of winter to chase the Northern Lights, Banff twice in the snowy season, Iceland in September (which let's be honest, is basically winter), and Scotland in March (again, pretty much winter by any Californian's standards). To say I've picked up a few good winter packing tips along the way would be an understatement.
While packing for a winter trip definitely requires more strategic planning and editing than say, a trip to Tulum, it doesn't have to be rocket science. In this post, I'm sharing the essential items you need to pack in winter, some of my favorite cute winter clothing brands, plus quick tips that will reduce overwhelm and make your pre-trip packing a breeze.
Ready for the ultimate winter travel packing guide? Alright, let's do this.
Quick Winter Travel Packing Tips
Not sure where to start when packing for cold weather? Here are my top tips to consider when choosing what to bring and what to leave at home, plus some fun hacks to maximize your packing efforts.
Invest in Quality Staples
The great thing about winter clothes is that I feel like you can invest in some quality staples for one season or trip and then use them for years to come. I don't get sick of my winter clothes the way I do other items in my closet because I'm really only bringing them out one season a year.
Plus, you can switch up the accessories like hats, gloves and scarves to make an old jacket feel new again. For this reason, I'd suggest not skimping on the main items that will keep you warm like a great jacket and proper winter boots. Invest in items that are high quality and they will serve you for many future cold-weather trips.
Skip Cotton and Pack Wool Instead
You may have heard the saying "cotton kills," which I know can sound a little dramatic, but it's important to keep in mind.
This saying is probably only truly relevant to you if you're packing for say, hiking Mt. Everest or a long trek outdoors, however no matter what kind of cold weather trip you're taking, cotton won't keep you as warm as wool, period.
The problem with cotton is that there are too many air pockets in the fabric that can hold moisture, so when you sweat, cotton will do a terrible job at wicking it away and will instead hold it next to your skin, making you even colder. Sounds fun, right? Wool, on the other hand is much better at insulating your body and wicking moisture away from the skin.
For all your base layers and things like hats and socks, make sure to skip the cotton and look for items made of wool instead.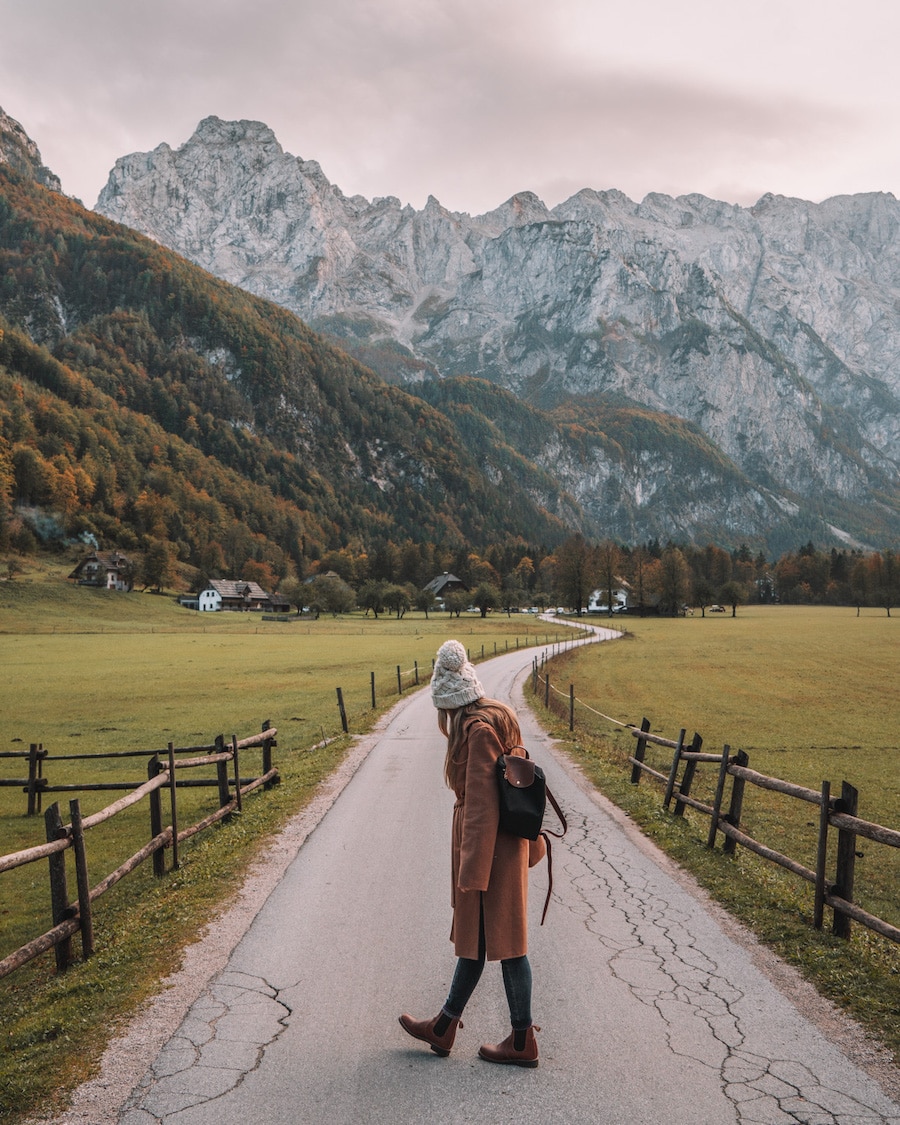 Utilize Packing Cubes and Compression Bags
If your winter vacation involves getting on a plane, packing cubes and compression bags will be life savers. Packing bulky sweaters and accessories can be a huge pain, but packing cubes will allow you to maximize space in your suitcase as much as possible.
For the biggest items like jackets and large sweaters, I seal them up in compression bags, which remove as much air as possible and flatten your clothing more than you ever could imagine possible. They're like a little mini miracle, I swear. Here's a great set of compression bags I highly recommend having in your winter packing arsenal.
---
Read More Packing Posts
---
Don't Stress Too Much About What the Under Layers Look Like
If you're sitting there stressing about each and every winter outfit item you plan on packing–don't! Honestly, you're going to be wearing a coat or chunky sweater the majority of the time (and most likely in all of your photos), so it doesn't really matter what your layers underneath look like.
I'd suggest just focusing on neutral colors like black, grey and white that go with everything and spending more time concerned with how your outer layers will look paired together.
Stick to Neutrals
Piggybacking off the previous tip, sticking to neutrals in general for all your winter clothing staples will make packing for cold weather 1000 times easier than if you decide to throw in loud prints like leopard or tie dye. I mean, do tie dye parkas even exist? And if so, do you really need to wear it on your next winter vacation?
If you want a couple statement items (accessories are preferable) for photos that's fine, but if you're trying to pack as efficiently as possible, neutrals will be your best friend in mixing and matching different outfits.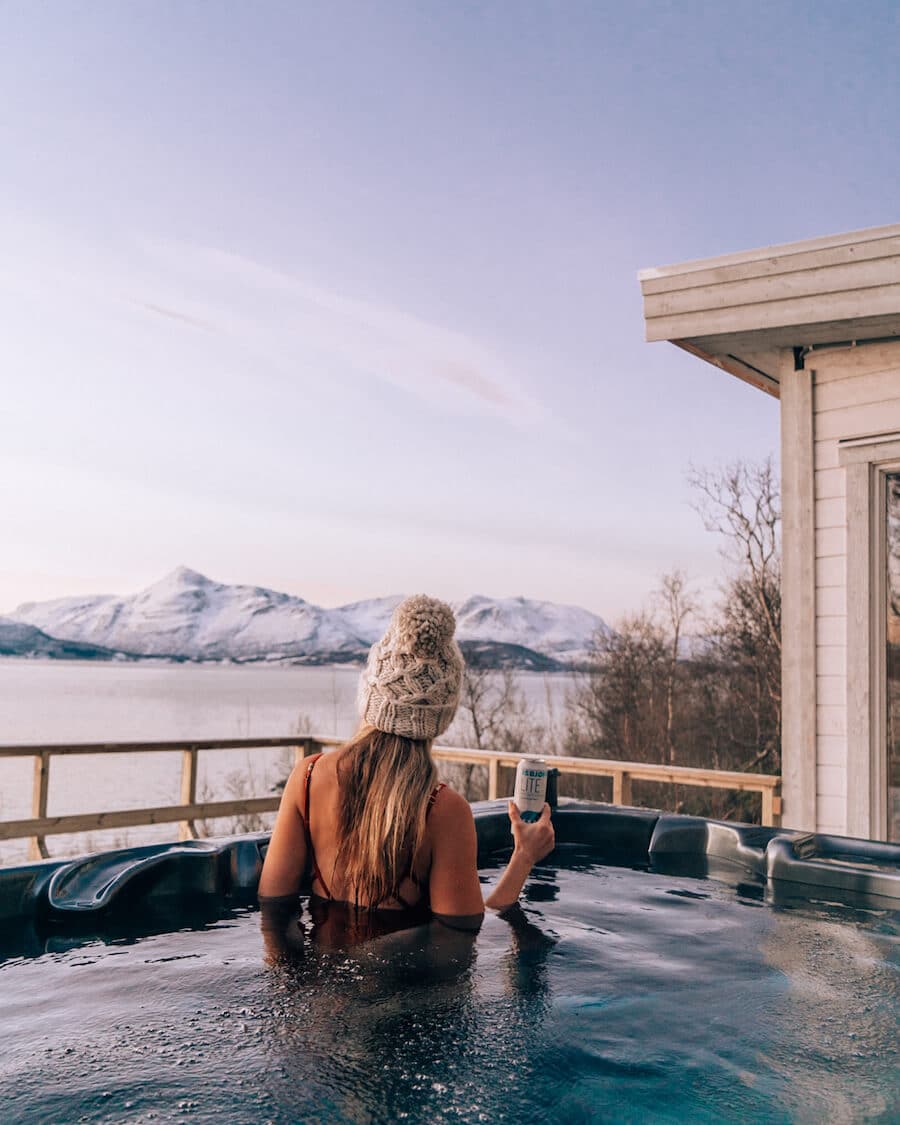 Don't Overlook Items You'd Usually Pack for Warmer Trips
Just because you're not going to be sunbathing on the sand of Jamaica doesn't mean you should skip things like sunscreen, sunglasses and bathing suits.
Trust me, you're going to want to hit up that hot tub at the end of a chilly day, and the white snow can often be more powerful reflecting the sun on the skin and eyes than the most tropical of locales. Don't miss these items!
Packing hack: Use Shower Caps to Cover Dirty Shoes
A given when exploring in winter is that the bottom of your boots are going to get seriously gross. Between mud, slush, salted walkways and wet snow, your shoes are going to be tracking a lot of crap on them, and you don't want it transferring to the items in your suitcase.
My favorite trick is to pack shower caps to pull over the soles of shoes and boots so you can protect everything else you'll be bringing along.
Take Stock in the Activities on Your Itinerary
If you're feeling overwhelmed by all the different items and accessories you might need on your trip, I suggest writing out your itinerary first and working backwards from there item by item.
Snowshoeing through the trails around Banff is going to require much different clothing than exploring the Christmas markets of Munich, so jot down each item on your trip bucket list and note what you'll need for each.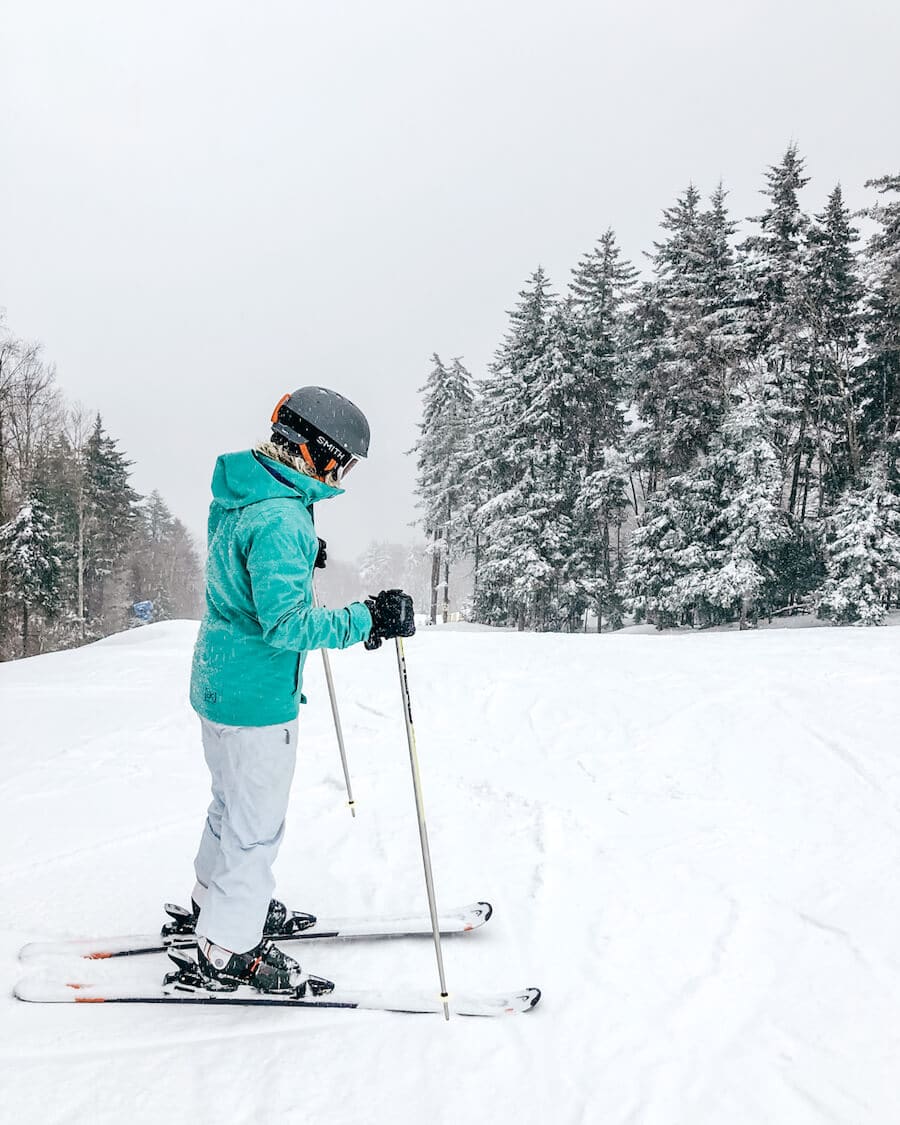 Utilize Every Inch of Space
Since winter clothing staples can be extra bulky, make sure to save space in every way you can. Toss socks and small accessories like mittens into boots, use packing cubes like I mentioned above, and leave behind anything you realistically won't be wearing like lots of jewelry–it'll be covered up by your layers anyway.
Be Strategic About When you Shop for Your Winter Gear
Stocking up on clothing for winter trips can be an expensive endeavor. I panic shopped before my Norway trip because I was terrified I would literally freeze into an ice-encased specimen for people to find me in the year 2100, and it ended up costing me a pretty penny.
Avoid my mistake and instead be intentional about when you shop. There are always tons of sales on winter gear towards the end of the season, so while it may seem lame to shop for jackets or ski gear in April, you can usually find the best deals during this time. Black Friday is also a great time to take advantage of sales as the winter season kicks off.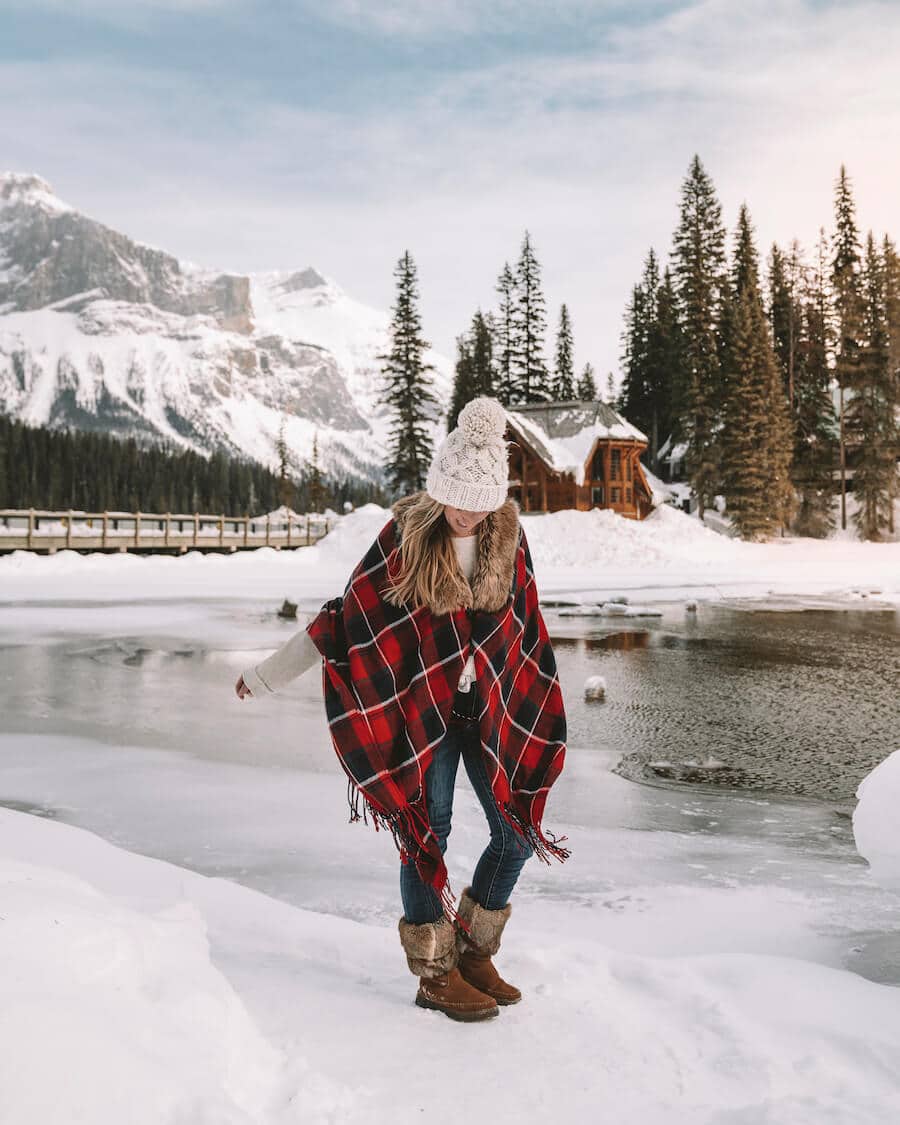 How to Pack for a Winter Trip in a Carry-On
I wrote a whole guide on packing carry-on only in winter, but here are a few quick tips to remember if you're trying to accomplish the seemingly impossible of packing goals.
Wear as many layers as you can in the airport–you might look a little crazy, but you can strip and use them as blankets as soon as you get on the plane.
As I mentioned above, compression bags and packing cubes will be your best friends. You. Need. Them.
Choose the largest carry-on luggage you own or invest in a new suitcase that is at the maximum limit for carry-ons for the destination you're visiting. It's hard enough packing carry-on only not in winter, so don't make things harder for yourself.
Invest in a packable down jacket that can roll up tightly. These are genius!
Choose accommodation with laundry access so you don't have to pack beyond a week's worth of layers.
What to Pack for a Winter Trip
This detailed packing list for winter vacation has been my go-to for trips to places like Norway, Canada and Germany in the past.
Of course, you might need to alter and edit a bit based on the activities you plan on doing during your trip and whether your destination is more outdoor focused or urban. Whatever your trip looks like, here's the ultimate list of essentials for what to pack on a winter trip.
Packing List: The Essentials
Underwear–bring enough for the length of your trip unless your accommodation has laundry
1 comfortable daily bra (trying to adjust a bra under 10 layers of clothing is the worst, so make sure you pack a comfortable one)
1 sports bra for any activities that are more active like hiking or skating
2 Basic short-sleeved shirts
2 Long-sleeved shirts
Sweaters (it's great to mix up styles between turtlenecks, fleece zip-ups, cozy cardigans and more stylish sweaters for different scenarios)
2 pairs of thick wool socks
1 pair of thinner wool socks (if you have tighter fitting boots you're packing)
1-2 hats/beanies
1 pair of mittens
One-piece swimsuit if you plan on hot tubbing! And why wouldn't you? ?
Pajamas
Sunglasses
Scarves
1 pair of waterproof winter boots for snowy outdoor activities
1 pair of stylish winter boots for city strolls
1 pair of jeans–while denim isn't an ideal fabric for cold weather trips, there aren't that many cute pants out there meant for winter wear in my opinion, so just be smart and wear something like fleece-lined leggings underneath
Fleece-lined leggings
Water resistant pants for outdoor activities
Packable down jacket – This is the exact blue one (pictured in post) I have from Patagonia that packs easily without taking up too much space.
1 heavy duty winter coat
1 lighter, stylish peacoat
1 waterproof shell that packs down easily
1 small bag or purse for day trips–my go-to is this water resistant packable backpack by Longchamp because it folds into a little square and barely takes up space in my luggage
1 backpack for more adventurous/outdoor based day trips–you'll want the material to be waterproof or resistant to the elements. This can also double as your persona item on the plane.
Moisturizing lip balm
Hand lotion
Makeup/toiletry items
Camera gear
Shower caps to throw over dirty boots
Reusable thermal water bottle–can be used for carrying both water for day trips and coffee or tea to keep warm
Passport and wallet
Phone/laptop (if needed)
Any necessary medications
Travel insurance–especially if you're traveling outside of your home country, you need travel insurance. Winter trips can be even more dangerous because of the potentials of slipping on ice, hypothermia, etc. Be safe and get travel insurance. Check out this comparison between two of the most affordable travel insurance companies.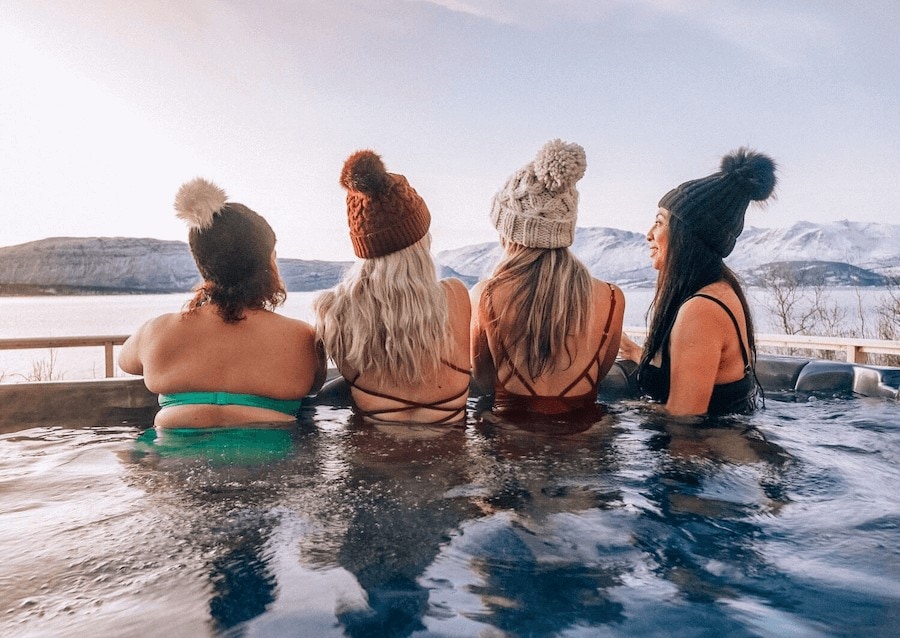 Additional Items to Consider Packing for Winter Travel
The below items aren't 100% necessary when packing for cold weather, but if you have more space in your luggage, you may want to consider bringing them along.
Tank tops (preferably wool or a moisture wicking fabric) for additional layers
Fingerless gloves–these are great if you know you'll be taking a lot of photos with your phone or camera as mittens can be a pain to use in these scenarios
1 set of long underwear/thermal shirt for super cold climates where you'll be spending a lot of time outdoors
Ski gear–if hitting the slopes is part of your itinerary, consider packing your own ski gear like snow pants, googles and ski boots if you don't want to rent. If you need a more detailed packing list for skiing, The Globetrotting Teacher has a great one here.
Fanny pack–if you're trying to pack carry-on only in winter, throwing some additional items in a fanny pack through the airport and hiding it under coats can be a sneaky way to bring more gear without paying for it
Camera Bag–If you're specifically bringing a lot of gear on your trip, you'll want to have a real camera bag that will protect your expensive equipment from rain and snow. I wrote a whole post on the most stylish camera bags for women, FYI.
Packable slippers
Kindle or book
Eye mask
Ear plugs
1 hair styling tool (remember you'll be wearing hats most of the time, so leave at home if you can)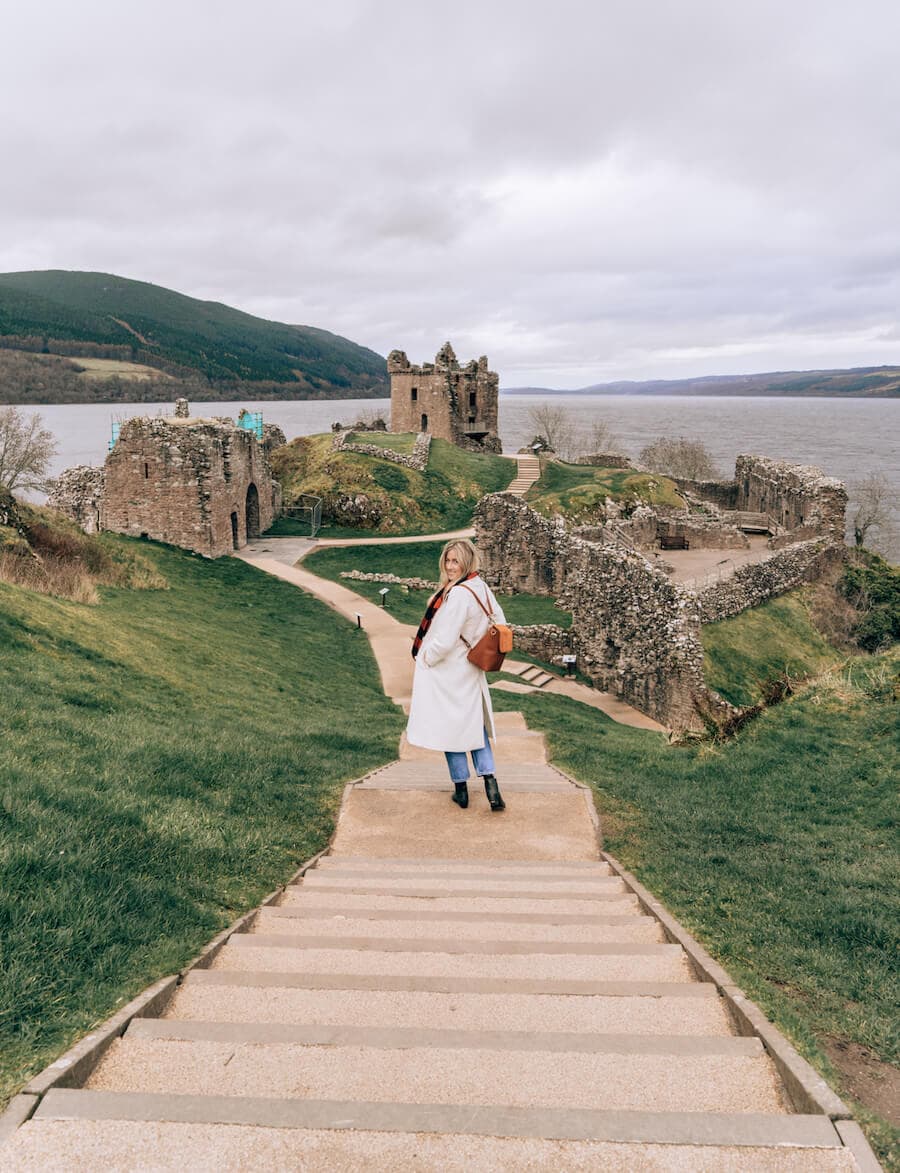 The Best Brands to Shop for Winter Clothing
I think we both know that great winter clothes don't always equal cute winter clothes. Finding pieces that are going to keep me warm while also looking cute (or at the very least, not frumpy) has been the biggest struggle of packing for a winter trip in the past.
Over the years, however, I've found some brands that I love. I'm sharing my go-to list below so you can find clothes for your next winter vacation that you'll actually feel good in!
Best brands for winter accessories:
Best brands for cute sweaters:
Best brands for fleece zip-ups and athletic layers:
Best brands for coats, parkas and down jackets:
Best brands for lighter coats and jackets:
Best brands for rain gear:
Best brands for cute winter boots:
Best brands for underlayers/thermals:
I hope this post gave you more clarity on what to pack for a winter vacation so you can stop worrying about staying warm and get out there and adventure! If you have questions, leave them in the comments below!
---
Planning a trip right now? Don't miss my go-to websites for booking everything from flights and tours, to accommodation and more:
---