When it comes to wine tasting in California, most locals are aware of the more popular spots like Solvang and Los Olivos in Santa Barbara wine country, but my personal favorite? The tiny town of Los Alamos.
Located deeper in the valley along Route 101 just 2.5 hours from LA, Los Alamos is a great spot for a wine-filled getaway with friends or family.
While it might be small in size and population (there's only one main street and under 2,000 residents), it's not nearly as sleepy or slow as it may seem at first glance. Thursday through Sunday is when this Old Western town comes alive with weekend warriors from Los Angeles and other surrounding suburbs. That being said, in such a small town as this, accommodations can book up quickly.
There are some really fun and funky accommodation options here, but naturally due to its size, the hotel and Airbnb scene is a bit more limited. That's why it's important to plan out where to stay in Los Alamos ahead of time if you're looking to stay in town rather than have to drive in for your visit.
You can read my full travel guide to Los Alamos here, but in this post I'm going to dive deeper into where to stay in Los Alamos specifically to help you make the best possible decision for your Los Alamos trip.
From location to style, this guide will explain all of your options so that you can find the perfect place when figuring out where to stay in Los Alamos!
Want to Just Skip to the Chase? Here's Where We Stayed in Los Alamos
During our trip, we stayed at the Alamo Motel (which is a design lover's dream) and it provided us with a great foundation for our trip. The up-and-coming restaurant and tasting room scene on Bell Street (the town's main drag) is totally worth exploring and the Alamo Motel is in walking distance to it all.
The main bonus of the Alamo Motel is its amazing convenience. Especially if you plan on doing a lot of wine tastings, you won't have to worry about driving home after if you stay here—you can simply walk across the street! However, if you're looking for more of a full-service hotel option this is probably not the best fit for you.
Keep reading to see what accommodation options make the most sense for your Los Alamos stay.
What to Know Before Deciding Where to Stay in Los Alamos
Bell Street is the only main street in the entire town, so the closer you stay to it, the closer you'll be to all of the best wine tasting and restaurants. While a super small-town vibe isn't for everyone, there is a real charm that radiates off Bell Street and it's nice to have everything in one place.
If luxury is your preferred way to stay, accommodation options here might fall a bit flat for you. There aren't really any ultra-luxurious hotels here (though there are some in nearby Santa Barbara and Montecito). Instead, you'll find quirky, retro motels or bungalows that have a more eclectic aesthetic and funky vibe.
Since accommodation options are limited in general, it is best to book immediately after deciding where to stay in Los Alamos. If you wait too long, you might have to settle for something else since rooms are limited and the town's popularity as a destination is on the rise.
If you're having trouble finding what you want right in town, you can always stay nearby and do a day trip to Los Alamos instead! Los Olivos, Solvang and even Buellton, are all great options. In my opinion, I think Los Alamos is worth spending a night or two in. However, since everything in Santa Ynez Valley is so close together, it's definitely not necessary.
---
Read more California posts
---
Where to Stay in Los Alamos: Best Hotels
Alamo Motel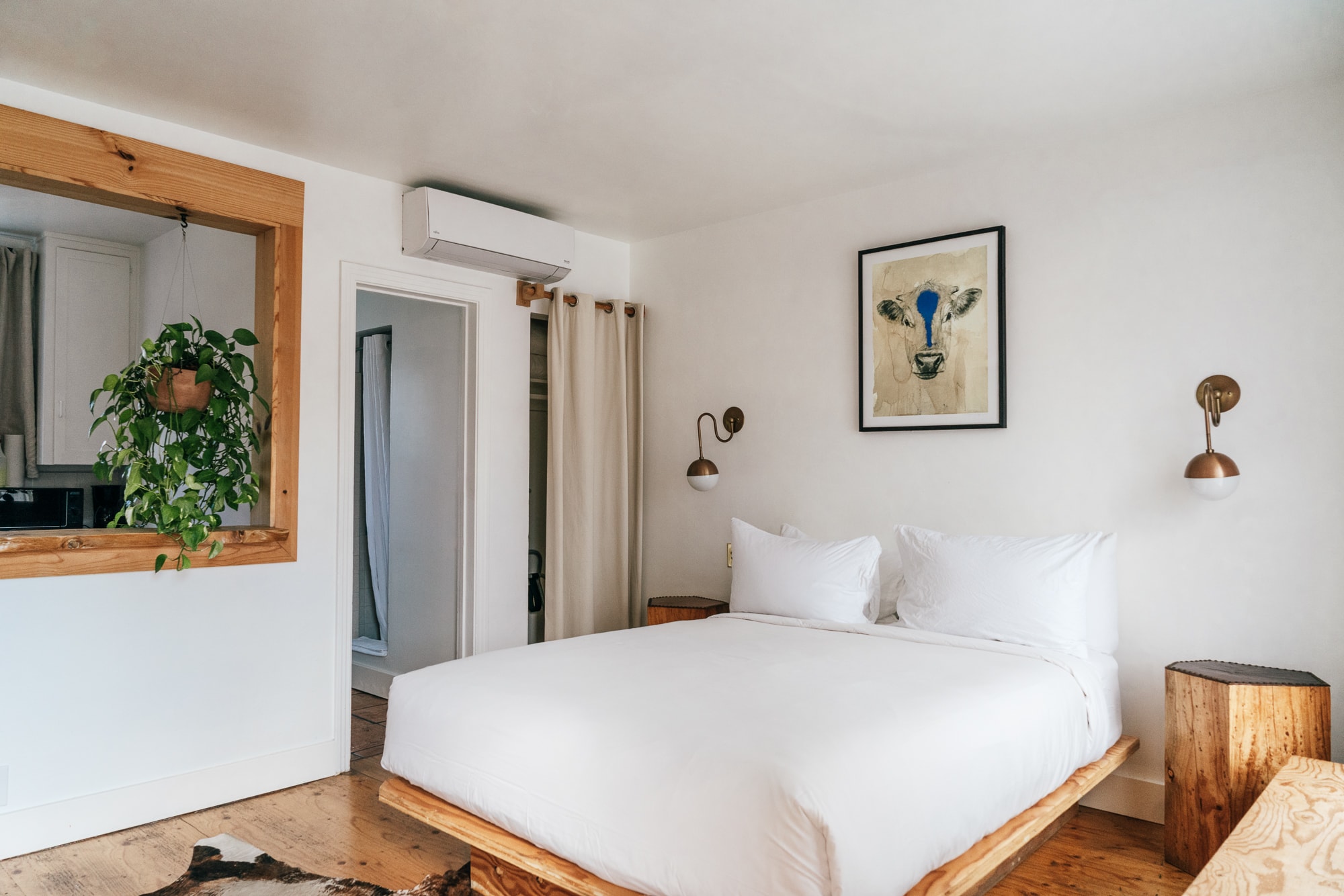 The Alamo Motel is definitely one of the most popular places to stay in Los Alamos, California along with the Skyview (see below). Overall, the Alamo Hotel is a popular option because it combines affordability with one of the best locations in town, plus the vibe has a modern southwestern feel that makes it both cozy and aesthetically pleasing. This is part of the reason I ended up choosing to stay here during my trip.
While it may be described as a "motel," this renovated space is design-forward and far from your typical Motel 6 or Super 8. Each room's entrance opens to the outside, motel style, but the interior has a contemporary-meets-rustic vibe that feels very authentic to Los Alamos' Old West roots. Think cowhide rugs and colorful textiles paired with wooden furniture and metallic light fixtures.
Trust me – you'll definitely be leaving with some inspiration for your next home makeover!
One of the biggest highlights of the Alamo Motel is without a doubt its location. We were able to walk to everything in a matter of minutes and sometimes just across the street. I loved being able to take a short stroll right up the street to Bodega (one of my favorite spots) to taste some local wines and chill in their greenhouse.
If you head in the opposite direction, you'll run into Bob's Well Bread Bakery. No joke, their sesame sourdough loaves are some of the BEST in all of SB county.
I will say though, this is not a full-service hotel option. If you're looking for a place with room service and 24-hour front desk, this is not it. Manage your expectations a bit and appreciate the simplicity here and you'll have a great stay.
Property Highlights:
On-Site Bar – They recently announced the opening of Bar Alamo, which took over the old Muni Wines location on their property. This on-site mini-sized bar serves beer and wine and is literally steps from all the rooms at the hotel.
Free Bike Rentals – If you prefer to ride rather than walk, the Alamo Motel offers free bike rentals to take down Bell Street and beyond.
Fire Pit – Sip on a glass of wine as you warm up by fire pits under some inviting string lights.
Clawfoot Tubs – If you fancy a good soak, make sure to book a Queen + Clawfoot Tub room!
Distance to the center of town:
0 Miles – The Alamo Motel is located right in the heart of Los Alamos on Bell Street!
Why Book the Alamo Motel:
If you're looking for convenience to everything in town at the right price and are OK with pared-down amenities, then Alamo Motel is perfect.
Skyview Los Alamos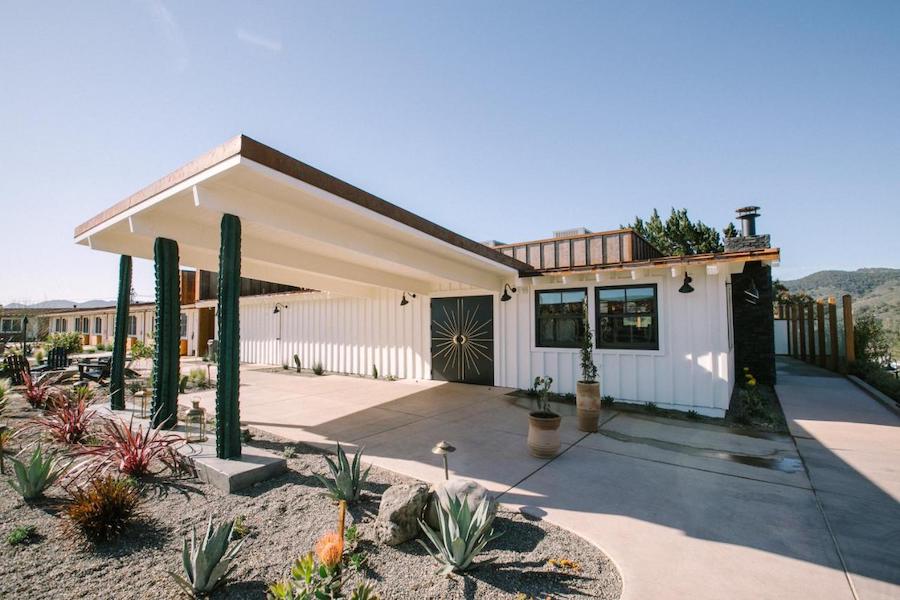 Skyview is a 1950s mid-century roadside motel that has since been renovated into a funky and luxurious boutique offering in Los Alamos. It can be recognized by the classic black and yellow "MOTEL" sign that stands in front of the property and that you've likely seen on Instagram.
The decor throughout the 33 rooms is a bit reminiscent of Old Hollywood, with touches of glamour mixed in with more minimalistic accents. From the velvet bed frames to the cowhide rugs, Skyview is a hip place that is far from what you would expect from a typical roadside motel.
Since it's not right on Bell Street (it's actually about half a mile from the downtown setback on Highway 101) it is not as convenient when it comes to walking and exploring on foot. If that is a priority for you when deciding where to stay in Los Alamos, definitely take this into account. However, if you're ok with a very short drive or bike ride to start each day, Skyview is great!
What the Skyview lacks in convenience though it makes up for in amenities like a full-sized pool to relax by and an on-site restaurant, Norman, in case you prefer to just chill for the day and not have to venture into town. For those seeking accommodations on the more luxurious side, this is your best bet.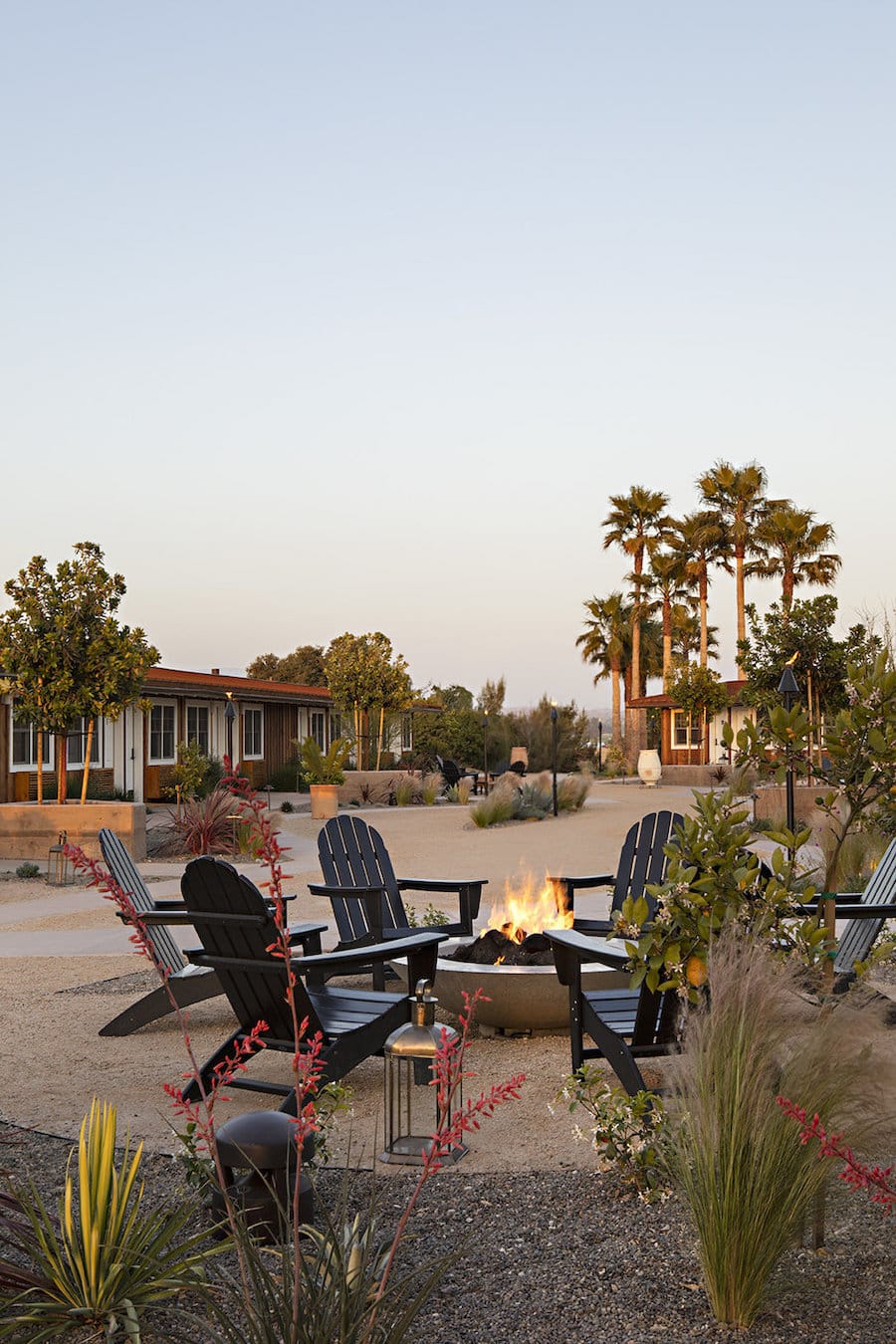 Property highlights:
Pool – Skyview's pool is very retro-chic, fitting in perfectly with the general vibe of Los Alamos. Order a drink or a dish from the on-site restaurant as you lounge and soak up the Santa Ynez sun.
Complimentary Coffee & Muffins – Start your day off with something sweet thanks to Skyview's complimentary espresso shots and pastries.
On-Site Bar and Restaurant – Norman is a stunning on-site restaurant and bar at Skyview. Even if you don't end up booking your stay here, Norman is a great option for dinner or drinks in Los Alamos.
Distance to the center of town:
About .5 Miles – Located right off the 101, Skyview is just a short drive to Bell Street.
Why Book the Skyview
If you plan on visiting Los Alamos for 2 or 3 nights and want accommodations where you'll be the most comfortable and can spend more hotel downtime, the Skyview Motel is the place to be.
Victorian Mansion at Los Alamos
Featuring only six individually decorated guest rooms, this bed and breakfast definitely offers a unique stay in Los Alamos—to put it lightly. In fact, Victorian Mansion was named as one of the "Top 10 Most Quirky Places to Stay" by TripAdvisor.
Each guest room within the 1800's Victorian home is designed with a special theme, ranging from a 50's style room complete with neon lights and an old movie projector to an Egyptian suite with the King Tut paraphernalia to match.
In fact, a lot of love went into the creation of this one-of-a-kind B&B. It took almost 10 years to create the unique rooms that exist today, with the help of over 200 craftsmen and artists. Among the funky features, you can find within the mansion's walls are Egyptian murals, hidden bathrooms, a chariot, and a 1956 Cadillac convertible.
If you live for quirky stays that will give you stories to tell post check out, then the Victorian Mansion is right up your alley.
Amenity highlights:
One-of-a-kind accommodations: Prepare to stay in one of 6 unique and wacky themed rooms unlike anything you've stayed in before
Hot Tub – Every single room features a hot tub for the ultimate relaxation
Fireplace – Cozy up by the fireplace each night with a glass of wine in the privacy of your own room
Distance to the center of town:
0 Miles – Right on Bell Street, this hotel gives you easy access to all the best spots in downtown.
Why Book the Victorian Mansion:
For a wacky, one-of-a-kind stay you're unlikely to forget, the Victorian Mansion should be your first pick.
Where to Stay in Los Alamos: Best Home Rentals
Bodega House Airbnb
If you're craving more privacy and freedom than is often available at hotels, then opting for an Airbnb might be more up your alley. One of the most popular Airbnbs in Los Alamos is the Bodega House, an adorable renovated farmhouse from the 1920s that boasts an unbeatable location.
If you're less into the retro renovated motel vibes of Alamo Motel and Skyview and prefer something more bright and airy, then you'll love the vibes of Bodega House.
The Bodega House actually resides on the property of Bodega Los Alamos' wine garden, meaning that you are able to head right downstairs and enjoy a glass of vino at one of the cutest spots in Los Alamos whenever you please or hop in on a game of bocce.
The grounds here are super relaxing and they even have a stunning greenhouse filled with plants and handmade pottery. While the Bodega House can technically fit up to four people, it's definitely on the smaller side, but there are 2 queen beds to accommodate larger groups.
Amenity highlights:
Wine Garden – Being able to stay on the same property as one of Los Alamos' most beloved wineries is a unique experience unto itself! Enjoy an afternoon in the Bodega wine garden or simply walk over, grab a bottle, and bring it back to the Airbnb for a more private tasting experience!
Pet Friendly – For those who prefer to travel with their four-legged family members, the Bodega House is a great pet-friendly option.
Private Patio – The private patio at Bodega House has a beautiful wooden fence that provides security and privacy.
Distance to the center of town:
0 Miles – If location is the number one priority for you when deciding where to stay in Los Alamos, it doesn't get much better than this. The Bodega House Airbnb is situated right in the heart of the town, right down the street from Full of Life Flatbread and Casa Dumetz Wines.
Why Book the Bodega House:
Both conveniently located and beautifully designed, the Bodega House is awesome if you are traveling with more than 2 people or with young kids and want to stay all together in the same spot.
Camp Cottonwood Airbnb
Another Airbnb option in the area is Camp Cottonwood. This renovated cottage from the 1920s can sleep up to four people between a set of twin beds in one room and a queen in the other—great for couples with young kids.
The decor is both homey and eclectic, and it is obvious that the owners put a lot of time and effort into the design. In addition to having a cozy patio out front, the Camp Cottonwood Airbnb also has a massive backyard that features an outdoor fireplace and furniture so that you can enjoy an evening under the stars. It's also situated in a quiet and relaxing area while still being walkable to Bell Street.
Amenity highlights:
Spacious Backyard – One of (if not the) best features of Camp Cottonwood is definitely the backyard. If you read the reviews, nearly every single one mentions the huge backyard and patio. What better place to sit outside and enjoy a bottle of local Los Alamos wine?
Complimentary Wine – Upon arriving at Camp Cottonwood, guests are welcomed with a complimentary bottle of wine. Definitely a solid way to kick off any trip!
Vegetable Garden – One of the biggest perks of choosing an Airbnb over a hotel is having access to a kitchen. At Camp Cottonwood, guests are welcome to take a peek at the vegetable garden in the backyard and snag a veggie or two to cook up in the kitchen.
Distance to the center of town:
0 Miles – Similar to Bodega House, Camp Cottonwood is located within walking distance of all of the restaurants and tasting rooms on Bell street, however, it's located slightly set back in a neighborhood behind the main drag.
Why Book Camp Cottonwood:
If you're looking for a literal home away from home, Camp Cottonwood will fit the bill with its beautiful patio and large backyard.
More Places to Stay in Los Alamos:
Don't love any of the options right in Los Alamos? Check out these other nearby towns where you can stay
Los Olivos (12 minute drive from Los Alamos
Buellton (15 minute drive from Los Alamos)
Orcutt (16 minute drive from Los Alamos)
Santa Ynez (18 minute drive from Los Alamos)
Solvang (20 minute drive from Los Alamos)
Did this post inspire you to book a trip to Los Alamos? Let me know in the comments below!
---
Planning a trip right now? Don't miss my go-to websites for booking everything from flights and tours, to accommodation and more:
---