After a long day of exploring all the natural beauty that Lake Tahoe has to offer, there's nothing quite like resting your legs with a delicious lakeside meal and a side of views of the surrounding Sierras.
Luckily there are a number of Lake Tahoe restaurants with a view that will make your jaw drop. But here's the honest truth about the Lake Tahoe food scene: it's not exactly a foodie mecca.
Sure, there are plenty of places to grab a pub-style meal after a hike, but it's by no means the place to go for Michelin star dining. With that said, Tahoe dining for me is all about the ambiance and it doesn't get much better than dining lakeside.
In fact, after all the amazing outdoor activities to do, I consider it one of the best things to do in Lake Tahoe in summer. Even if you're visiting Lake Tahoe in winter, you can still enjoy many of these eateries, albeit from their cozy interiors.
I've done the legwork for you and rounded up the best Lake Tahoe restaurants with a view in this post, so you can get to planning your trip without missing any of these must-visit spots.
Read on for my list of restaurants on Lake Tahoe with a view to add to your vacation to-do list.
The Best Lakefront Dining Lake Tahoe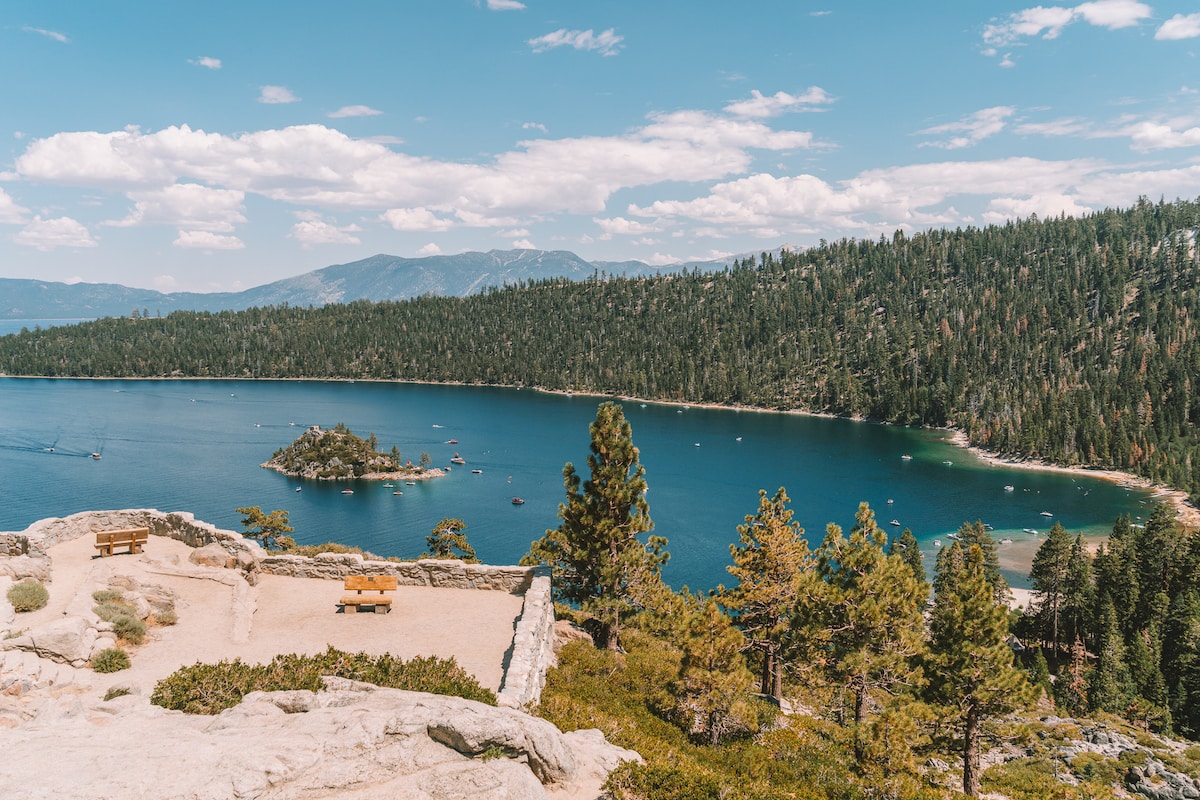 For one of the best views in Lake Tahoe at sunset, you can't miss Sunset Bar & Grille. A cute little spot on the east side of the lake in Nevada, Sunset Bar & Grille is a casual restaurant to get pub fare favorites like buffalo wings and burgers and they have great frozen drinks too.
It's open seasonally from spring through fall and you can eat inside, outside on the deck, or even right on the beach itself because this place is literally right on the lake with a sandy beach below.
Address: Sunset Bar & Grille, 760 Hwy 50, Zephyr Cove, NV 89448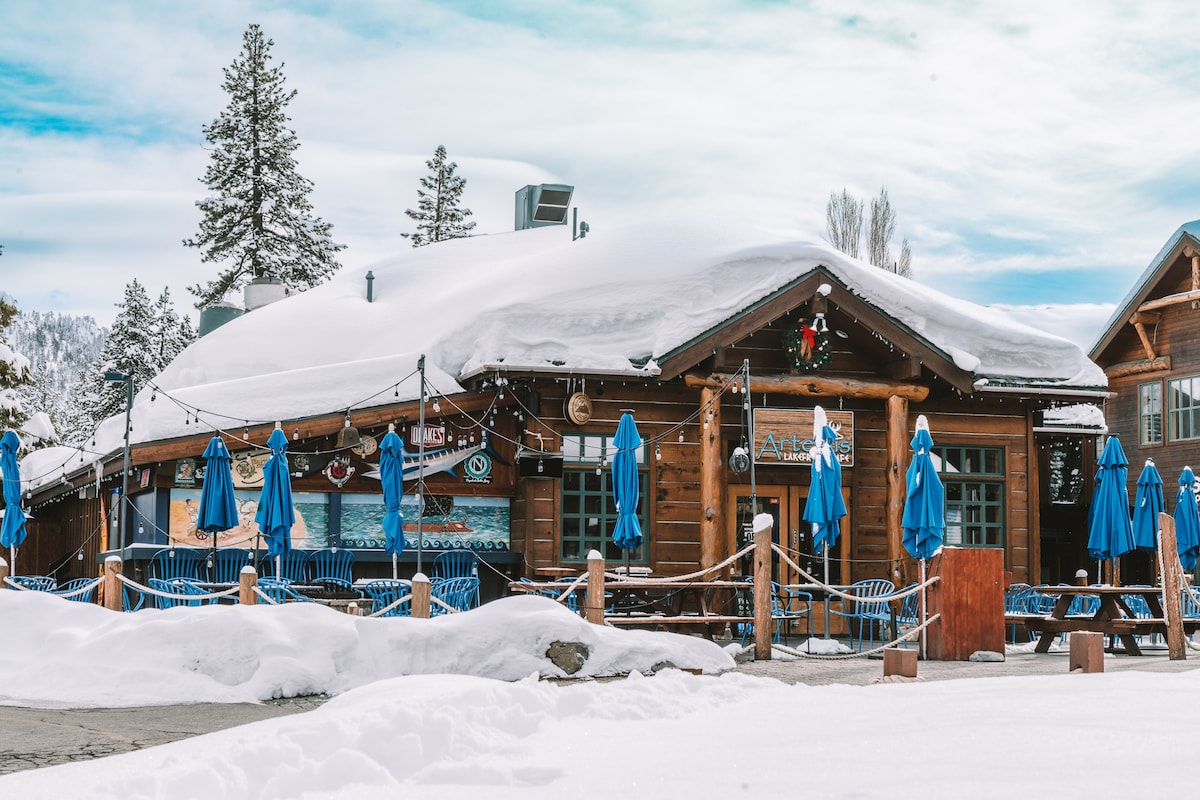 Open for breakfast, lunch, and dinner, Artemis Lakefront Cafe in South Lake Tahoe serves up fresh Greek and Mediterranean food and is just steps from the beach.
Located in a cute, log cabin-style building right on the water, here you'll want to make sure to sit in their front dining room or on the outdoor patio if you want lake views.
There may be a line here depending on the time of day, but it's definitely worth the wait if you're a fan of Mediterranean cuisine!
Pro tip: Don't miss their incredible house-seasoned fries. They're some of the best french fries I've had in a long time! 
Address: Artemis Lakefront Cafe, 900 Ski Run Blvd Ste. 111, South Lake Tahoe, CA 96150
For when you want something a little nicer than pub food, Riva Grill is open for lunch and dinner daily (with brunch on the weekends) and sways more on the fine dining side.
Here, you'll find options like shrimp and lobster bisque, crab cakes, fish tacos, and other American-fare-style dishes on the menu with plenty of seafood.
You can eat inside in their beautiful nautical-inspired dining room with mahogany design details or out on the deck which will give you the best views of Lake Tahoe.
They're known for their rum drinks here too, so definitely order one if you're a rum fan!
Address: Riva Grill, 900 Ski Run Blvd, South Lake Tahoe, CA 96150
Located beside a marina in Tahoe City, Jake's on the Lake is a classic waterfront grille with casual fare for those staying in North Lake Tahoe.
On the menu you'll find seafood items like a grilled ahi burger, king salmon and herb crusted Maine lobster tails, as well as options for various diet restrictions like a vegan buddha bowl and a mandarin miso salad.
Whether dining for lunch or dinner, this is a popular spot to post up on their deck for some of the best views of Lake Tahoe. Make sure to check their event calendar for live music, happy hours and other special events.
Address: Jakes's on the Lake, 780 N Lake Blvd, Tahoe City, CA 96145
If you want to eat on the water—literally—Boathouse on the Pier is exactly what it sounds like: a restaurant that's in a boathouse on a pier directly over the lake—aka panoramic views. It's also a great spot for sunset, as it's located on the southeast side of Lake Tahoe.
This restaurant serves up American cuisine (think coconut shrimp, ahi tuna, and surf and turf) that is a little pricey but honestly not so bad compared to other spots. However, it's definitely worth it for some of the best dining views in Lake Tahoe.
Address: Boathouse on the Pier, 3411 Lake Tahoe Blvd, South Lake Tahoe, CA 96150
If you're looking for upscale dining and stellar scenery, Edgewood Restaurant is definitely one of the top Lake Tahoe restaurants with a view, not to mention one of the best overall restaurants in South Lake Tahoe.
Located in the Edgewood Tahoe Resort, it's a great option if you're looking for a fancy-date-night kind of meal.
The dining room is gorgeous with vaulted wood ceilings and absolutely stunning views of Lake Tahoe from every table.
If you're in the mood for a steakhouse kind of place with menu items like filet mignon and veal chops on the menu, this is the place for you. Just know that the price tag is definitely on the higher side for Lake Tahoe and reservations are highly recommended.
Address: Edgewood Restaurant, 180 Lake Pkwy, Stateline, NV 89449
---
Planning Your Tahoe Stay? Don't Miss My Accommodation Guides
---
An "Old Tahoe" staple, Beacon Bar & Grille in South Lake Tahoe is a no fuss spot right on the shores of the lake. Locals have voted it "Best of Tahoe" for many years, and once you go you'll understand why.
At this spot inside Camp Richardson you'll find laid back vibes, pub-style food, tasty drinks like their signature Rum Runner, live music, and of course, amazing views. Head here for lunch to break up the day, as they typically host live music every day Thursday through Sunday from 1pm-5pm.
Address: Beacon Bar & Grille, 1900 Jameson Beach Rd. South Lake Tahoe, CA 96150
Right across the street from Lakeside beach in South Lake Tahoe, Jimmy's is the well-loved restaurant at The Landing Resort and Spa.
They serve "California cuisine" with a focus on locally-sourced and seasonal meals and are open for brunch, happy hour, and dinner seven days a week.
Though it's slightly set back from the lake, you can still enjoy lake views here especially in their cozy outdoor seating section featuring fire pits.
Address: Jimmy's Restaurant, 4104 Lakeshore Blvd. South Lake Tahoe, CA
The oldest bar on Lake Tahoe (it was established in 1875!), Chambers Landing is a cozy tavern located directly on a pier on the western shores of Lake Tahoe that serves upscale American eats.
The lunch menu has some classics like fish and chips, burgers, and fish tacos, but the dinner menu gets a bit more creative with options like misoyaki atlantic salmon and tomahawk pork chops.
If fruity frozen drinks are your thing, order a Chambers Punch and sit out at the bar to watch the sunset over the lake. 
Note: They just reopened this summer under new ownership so it's worth checking out even if you've been before to get a feel for all the updates.
Address: Chambers Landing Bar & Grill, 6300 Chambers Lodge, Homewood, CA 96141
A classic lakeside restaurant and lodge that's been a staple on the west side of Lake Tahoe since the 1950s, Sunnyside has a huge deck overlooking the lake (which they claim is the largest outdoor deck in all of Lake Tahoe) with views that can't be beat.
The menu is a fresh take on American classics and includes food like fried zucchini (which has been on their menu since 1965), pistachio crusted fresh fish, burgers, and even a buddha bowl if you're looking for something on the healthier side.
Address: Sunnyside Restaurant and Lodge, 1850 W Lake Blvd, Tahoe City, CA 96145
If you're on the north side of the lake, Gar Woods Grill and Pier is one of the Lake Tahoe restaurants with a view that I'd recommend checking out.
Even though it's an upscale eatery, it still feels casual, though you'll find things like Dungeness crab cakes, seared scallops, and hand-cut steaks on the menu—not to mention a bunch of fun rum cocktails like their famous "Wet Woody."
The floor-to-ceiling windows in their dining room and the large outdoor deck will give you a breathtaking view of the lake too. A really cool feature of Gar Woods is that you can arrive by boat! Just pull up to their pier and they'll valet park your boat for you.
Address: Gar Woods Grill & Pier, 5000 N Lake Blvd, Carnelian Bay, CA 96140
Featuring hefty portions and American classics like burgers, fries, steak and baby back ribs, Jason's Beachside Grille is a favorite spot in North Lake Tahoe. The restaurant sits at King's Beach, with views of Heavenly Mountain in the distance.
This is a casual, family-friendly spot that's great for large groups and doesn't require a reservation in advance.
Address: Jason's Beachside Grille, 8338 N Lake Blvd, Kings Beach, CA 96143
Did I miss any favorite waterfront dining spots in Lake Tahoe? Tell me what you think the best restaurants in Lake Tahoe with a view are in the comments below!
Pin it for Later