Lake Tahoe has every type of accommodation under the sun ranging from rustic cabins in the woods to luxury, big-name hotels.
If you are looking for a more intimate, design-centric experience for your Tahoe stay, however, there are some really great boutique hotels that are definitely worth considering as you plan your Lake Tahoe adventures. 
I am personally a huge boutique hotel fan, and I always look for unique places to stay in California with beautiful design anytime I'm planning a trip.
In this post I'm going to do a deep dive into the best boutique hotels in Lake Tahoe (covering both the South Lake Tahoe and North Lake Tahoe areas), including several I've personally stayed at!
Below, you'll find all the details you need to know to pick the perfect place to stay for your Tahoe trip, whether you're visiting Lake Tahoe in summer, during the winter months, or any time of year for that matter. 
Best Boutique Hotels in Lake Tahoe: South Lake Tahoe
Out of all the areas around the lake, South Lake Tahoe is definitely the busiest with the most options for accommodation, restaurants, shopping, and nightlife (including casinos once you cross over into Nevada, if that's your thing).
Because it's such a popular area, the boutique hotel scene is pretty solid here, and I've rounded up my top choices for boutique hotels in the South Lake Tahoe area below.
Coachman Hotel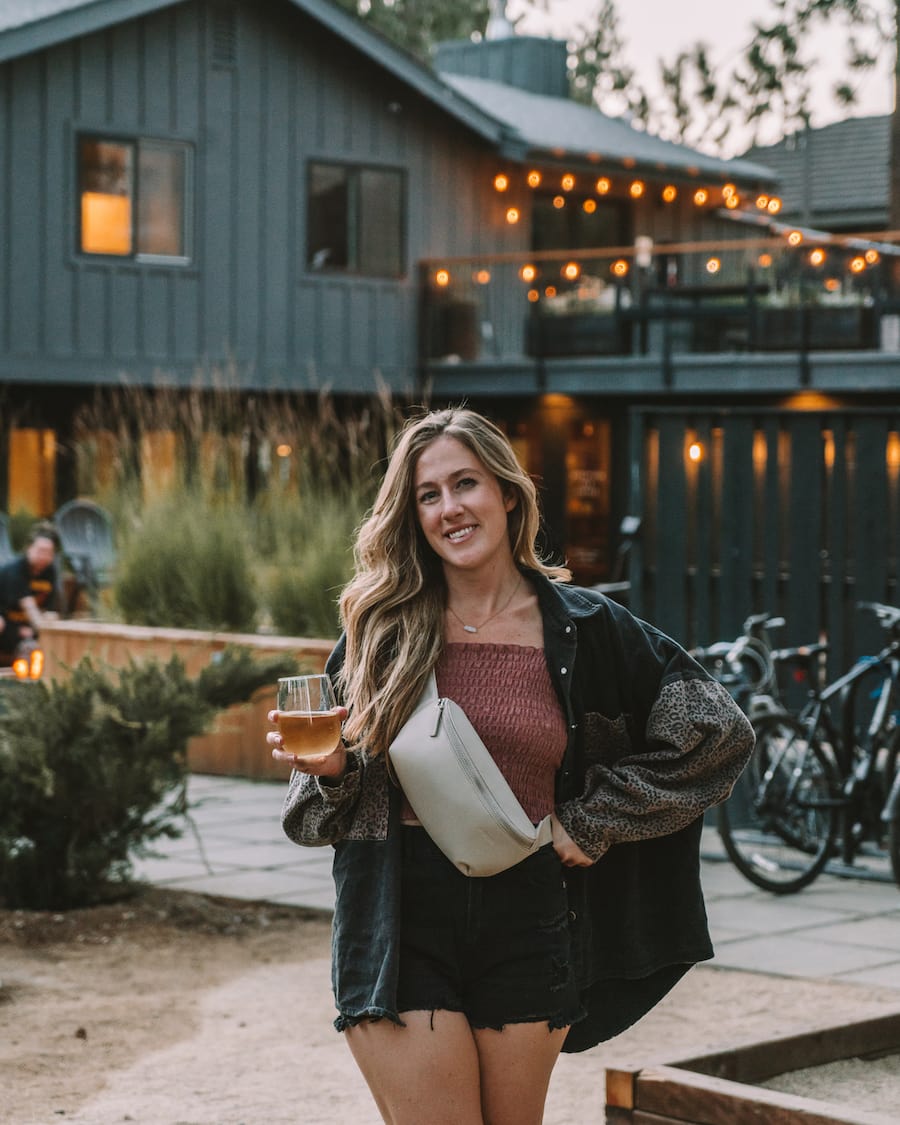 I stayed at The Coachman Hotel last summer, and it's one of my personal favorite boutique hotels in Lake Tahoe.
If hipster vibes, trendy design, and A+ outdoor amenities are at the top of your hotel wishlist, chances are you'll love it too.
It's just a 5-minute walk to Lakeside Beach and is situated right on the state line if you're looking to explore the Nevada side of Tahoe as well.
For those coming into town from cities like LA and San Francisco, the Coachman is definitely one of the most popular Lake Tahoe boutique hotels
Overall Vibe: Design-lovers will be obsessed with this place. It's a renovated motel with a fresh, modern design and all the decor and little finishing touches are on point. There's a great community vibe here too—I especially enjoyed the nightly s'mores and wine.
Room Types: It's standard-sized hotel rooms here with king or queen beds in different configurations and there are also a few different suite options too. Think one bed suites with a bedroom and separate living area (great if you're traveling with kids), and a three bed suite perfect for larger groups of friends or families. Personally, the selling point for me of the Coachman isn't the rooms, it's the overall atmosphere and outdoor spaces. But you're not going to be spending much time in the rooms, anyway!
Amenities: There's a heated pool and hot tub that are open year-round, complimentary bikes, nightly s'mores out by the fire pits, and a daily happy hour featuring craft beer and wine.
Food: There are a few pretty decent breakfast options available for purchase in the lobby, but that's about it for food. Luckily it's only a short walk to the main street in South Lake Tahoe which has plenty of options for dining.
Budget: $$
Black Bear Lodge
If you're looking for boutique hotels in Lake Tahoe for your winter ski trip, Black Bear Lodge is perfect, though it's also great in summer too! With a location literally right across the street from Heavenly Mountain, Black Bear Lodge couldn't be more convenient for those hitting the slopes.
It was renovated in recent years and the owners did a great job of keeping the original mountain lodge charm of the place while also bringing in some contemporary design details.
I've personally stayed here and especially loved the spacious rooms as well as the communal area featuring a large fireplace, mini wine bar, games, and cozy lounging areas.
Overall Vibe: The perfect mix of old school lodge and modern design, you get the best of both worlds at Black Bear Lodge. If you want to hang out and be social, there's a cozy lobby and a bar and lounge area, but you can also just retreat to your room and relax by the fire.
Room Types: Black Bear Lodge offers three main accommodation types: Smaller rooms located in the main lodge, rooms and suites which are more spacious, and some really cozy private mountain cabins too. All rooms have gas fireplaces, and the rooms and suites in their Rubicon building also have kitchenettes and garden views.
Amenities: I'd say the wine bar and lounge is the top amenity here—and the outdoor hot tub too. Otherwise there are some nice little features like board games, DVDs and books that you can borrow, and even a Doterra essential oil diffuser in your room.
Food: There are small plate appetizers at the wine bar, but there's not a full service restaurant or breakfast options here. Luckily, the downtown area isn't far and there are several favorite restaurants within walking distance including Shangrila Himalayan Kitchen.
Budget: $$ 
Desolation Hotel
Everything about the Desolation Hotel is perfection. The design is absolutely stunning, the amenities are unreal, the location is excellent, and the service is above and beyond—you won't want to leave.
It's a newer hotel (they refer to themselves as a "micro resort") that just opened in 2022, and it's quickly becoming known as one of the hottest boutique hotels in Lake Tahoe because it's truly the perfect mountain escape.
Overall Vibe: A little bit Scandinavian, a little bit Japanese-inspired, the design here is beautiful, minimal, and on trend. It's more Architectural Digest vibes than hipster here and really just a total alpine dream.
Room Types: There are three main types of accommodations at Desolation Hotel: Alpine studios which are the smallest, El Dorado Townhomes which are two stories and ideal for group getaways, and Granite Suites which have separate living and sleeping areas and are the roomiest. All 21 studios, townhomes, and suites have a king size bed, spa-like bathrooms, a kitchenette, and a private balcony with a soaking tub (the most amazing amenity in my opinion).
Amenities: Saltwater pool, jacuzzi, cedar sauna, on-site restaurant, poolside bar, fitness center with Peloton bikes, beach access, a co-working space, and EV charging stations. They really have thought of everything.
Food: Maggie's is the on-site restaurant and bar at Desolation Hotel and it serves upscale food for brunch and dinner. You can order food from the Maggie's menu and drinks from Velma's Pool Bar too if you want to have a more casual dining experience poolside.
Budget: $$$ 
Station House Inn
Another one of my personal favorite boutique hotels in Lake Tahoe, the Station House Inn, is centrally located and is only a 5-minute walk to Lakeside Beach, one of the popular public beaches in South Lake Tahoe.
It's cute and cozy and very similar to The Coachman Hotel in many ways (I preferred the overall atmosphere at The Coachman, but enjoyed the rooms more at Station House Inn).
Overall Vibe: I'd say the vibe here is a mix between rustic-chic and hipster and it was a lot like the Coachman but maybe with a little bit less of a communal feel. We really enjoyed our stay here though and loved the fun and funky room interiors and found everything to be really comfortable.
Room Types: The Station House Inn has 96 rooms and suites here that have all been recently renovated. There are rooms with king or queen sized beds and suites that offer a separate living room area with a sleeper sofa. I have to give a special shout out to the amazing shower pressure in the bathroom too—so good!
Amenities: A heated outdoor pool (in season), lawn games like corn hole and giant Jenga, seasonal poolside lunch, daily happy hour, movies in the lobby every Friday night, and complimentary beach passes when you book through their site.
Food: So the inn itself doesn't serve any food, but there is an amazing southern restaurant right next door called Toulouse that serves New Orleans-style food that is a must if you stay here. In the summer months you can order poolside lunch too.
Budget: $$ 
Hotel Azure
A contemporary mountain retreat, Hotel Azure is an older property but the rooms have been nicely updated and feature dark wood accents and a calming neutral color palette.
It's right across the street from the lake, so you'll get some nice views here too.
Overall Vibe: The design here is less hip and trendy compared to the other boutique hotels in Lake Tahoe, with a more contemporary, rustic vibe. If you're looking for something that feels a little more traditional design-wise (but still modern), this might be a good option for you.
Room Types: You can choose from guest rooms with one or two beds, or suites that have kitchens, dining areas, and couches. Some rooms offer lake views too, so make sure to request one when you're booking if that's something that's a non-negotiable!
Amenities: There's a pool and hot tub that's open year-round, a fitness center, picnic area, cruiser bikes you can use, ​and a concierge to help organize activities.
Food: There's no food here, but it's centrally located, making it easy to grab food off property.
Budget: $
The Landing Resort and Spa
The #1 selling point of Landing Resort and Spa is that it's right on the lake on a strip of semi-private beach, so if you want boutique hotel vibes and a killer location, this is a great pick.
Here you'll get beautiful upscale accommodations alongside some of the best views in Lake Tahoe. This is definitely one of the best lakefront hotels in Lake Tahoe.
While this one is idyllic for a summer stay, it's only 2.5 miles from Heavenly Mountain, so the location is great for a winter ski trip as well.
Overall Vibe: The Landing Resort is an upscale, 5-star resort, so if you want your Lake Tahoe stay to feel a little more on the luxurious side, you'll love it here. Design-wise it feels a bit more masculine and opulent, with dark wood finishings, tartan plaid textures and pops of bold color.
Room Types: The Landing has 82 rooms and suites that offer garden or lake views, one bedroom suites, and a three-bedroom suite that has a kitchen.
Amenities: The prime waterfront location means direct beach access which is a huge plus, there's a heated outdoor pool and hot tub, a rooftop deck with a fireplace, a wine bar and lounge, and unlike a lot of other boutique hotels, there's a spa here for post-adventure pampering.
Food: The on-site restaurant and bar here called Jimmy's is well-loved and serves "California-fresh" cuisine and craft cocktails.
Budget: $$$ 
Tahoe Mountain Inn
Want to feel like you're staying in a cabin in the woods…without actually having to stay in a cabin in the woods?
If you just internally screamed 'yes!', then the Tahoe Mountain Inn is for you. It's a super cute motor lodge-style inn that's centrally-located in South Lake Tahoe with all the summer camp cabin vibes.
Not a lot of bells and whistles here, but if you're just looking for a cozy spot to rest and recharge at the end of a day of adventuring, it's a great budget-friendly option.   
Overall Vibe: It's traditional motel-style accommodations here, so think small and simple. The design of the rooms have a fun and quirky design with retro touches and knotty pine detailing that'll satisfy all your mountain cabin cravings.
Room Types: There are only 10 rooms here and all are pretty similar, featuring a queen size bed, bathroom (some have tubs, some don't so double check if this is important to you!), kitchenette, and gas fireplaces.
Amenities: Pretty light on amenities but there is a hot tub and each room features flat screen tvs!
Food: There isn't any food here, but there are plenty of restaurants nearby. Plus, all the rooms do have a kitchenette which is a nice feature if you're someone who doesn't want to dine out every night.
Budget: $ 
Best Boutique Hotels in Lake Tahoe: North Lake Tahoe
North Lake Tahoe is a bit more laid-back than South Lake Tahoe, less built up, and things just move at a slower pace there.
Keeping in pace with that, there aren't quite as many options for boutique hotels in Lake Tahoe in the northern region of the lake, but there are still a few solid choices I'll outline below.
Gravity Haus
One of five Gravity Haus hotels across the west, Gravity Haus Truckee-Tahoe is located in the town of Truckee, nearby to both Palisades Tahoe and Northstar ski resorts.
But Gravity Haus is more than just a hotel—it's a social club, offering memberships to guests who want to travel often between their different locations across popular ski towns.
Perks of their memberships include gear rentals, waived resort fees, waived pet fees, and 25% off things like dining and spa treatments.
Overall Vibe: The gorgeous wood exterior gives off ski lodge vibes, but the interior is super modern design-wise while still feeling cozy and inviting. The rooms at Gravity Haus are simple and comfortable with some really nice design touches. Keep in mind that you're about a 25 minute drive from the lakefront here.
Room Types: Featuring hotel-style rooms, Gravity Haus offers different configurations of king and queen size beds, and a few rooms offer sleeper sofas and kitchenettes too.
Amenities: The amenities here are a huge draw. There's a hot tub and barrel sauna, Stella Restaurant on-site for food and drinks, and a serious fitness facility called Dryland that has gym equipment and group classes. Oh, and we can't forget the onsite co-working space.
Food: Stella Restaurant is on the premises and serves locally-sourced, upscale (read: kinda fancy) food for breakfast and dinner.
Budget: $$ 
Basecamp
Located in the heart of Tahoe City just a five minute walk from the lake, Basecamp has a young, fun vibe that feels welcoming to travelers of all ages and budgets.
With a location in South Lake as well, Basecamp is part of a collection of hotels (there are three total; the third is in Boulder).
The communal areas here are a huge selling point, and this is definitely a great option for solo travelers looking to meet other people.
Overall Vibe: Hipster vibes with a rustic, mountain flair, Basecamp feels like the perfect option for young and international travelers looking to mingle and meet others during their Tahoe adventures.
Room Types: There are 24 total stylish rooms here with king or queen size beds. There's a room option with lofted beds as well (a.k.a. bunk beds) for those traveling with a group or kids, and a fun camping-style room called "The Great Indoors Family Room" that's set up like a little indoors campground, complete with a tent, faux fireplace, and picnic table.
Amenities: Fire pit area with mountain views and outdoor games, happy hour at the lobby bar, and a small meeting room/event space.
Food: The Lobby Bar serves up craft beer, wine, and snacks, but you'll have to venture out for full meals. Luckily there are a number of options within walking distance though. Bonus: The front desk sells s'mores kits, so they've got dessert covered!
Budget: $$ 
Which of these boutique hotels in Lake Tahoe is at the top of your list? Let me know in the comments!
Pin it for Later